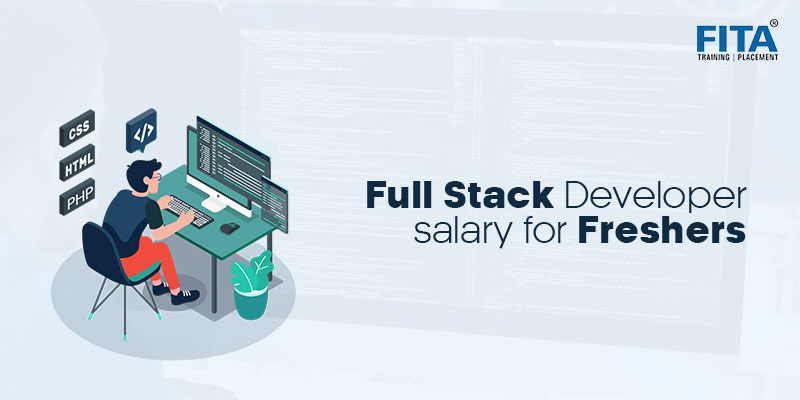 The growing technologies and emerging web-based applications has increased the demand for full stack developers around the world. Because of the huge growth in demand, IT companies have been compensating engineers with good Full Stack Developer Salary for Freshers. We'll go over the Full-Stack Developer Salary in India for Freshers in this article, as well as the expanding demand in the cutting-edge tech era.
A Full Stack Developer works on both the Back End (server side) and the Front End (client side) of an application.Let's talk about the importance of full stack developers, as well as job vacancies and pay scales.
Description on Full Stack Developer
A Full Stack Developer is someone who works on both the Back End (server side) and the Front End (client side) of an application. To execute their work properly, Full Stack Developers must have some expertise in a diverse variety of coding specialities, from databases to graphic design and UI/UX management.
Growing Demand for Full Stack Developers
The demand for full stack developers has been increasing, and depends on the scalability and size of the application. For small scale businesses where limited persons are concerned with the development of simulators. And here, one back-end and one front-end developer are required. So, to handle this situation, full stack developers come into action where the developers handle the entire applications. Additionally, all the IT companies prefer Full-Stack developers more than other developers due to the capability and skill set to handle the complete application. Hence, the full stack developer salary for freshers is always high compared to other developer roles.
Salary Structure of a Full Stack Developer
The Full Stack Developer Salary in India for Freshers ranges from 2.2 to 3.5 Lakhs Per Annum. However, the salary package is tentative and can vary in accordance to the type of companies, work locations, years of work experience, type of job roles, and skill sets. Let's discuss about the freshers salary based on different IT companies
Salary Based on Different IT Companies – Full Stack Developers across various IT companies get compensated through different salary packages shown below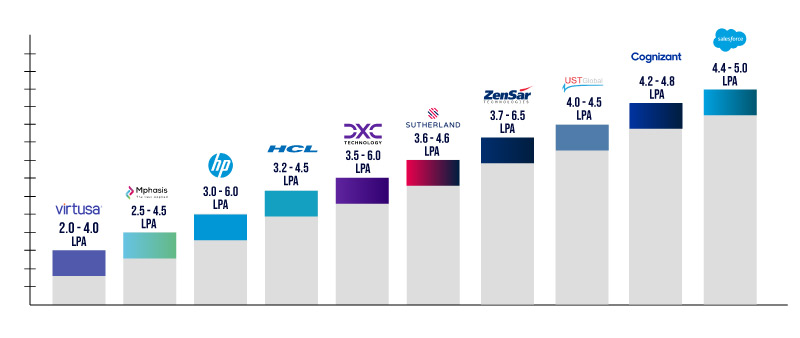 Salary Based on Different Work Locations – Full Stack Developer Salary in India for Freshers varies based on where they work, much like in other IT organizations. Because wage scales are determined by the cost of living in each location. The graph below shows the average salary of a software engineer in different parts of the world.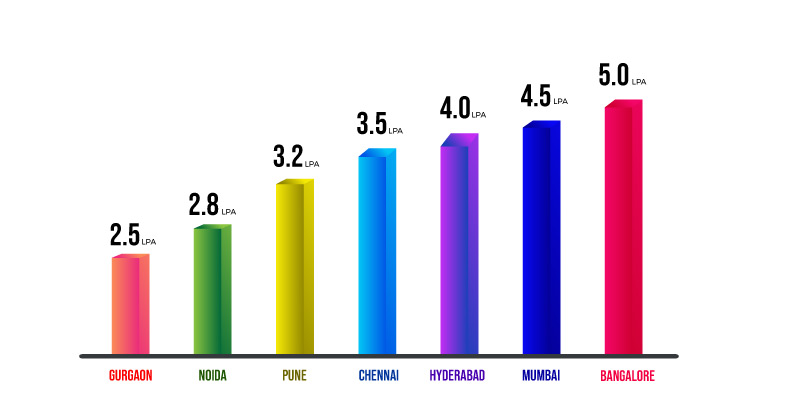 Enroll and clear IELTS Coaching in Bangalore to avail national and international migration opportunities with best salary structures.
Work Experience – Years of experience, as well as businesses and locations, all contribute to a sizable remuneration package. Based on the employee's assessment and comments, we report the average freshers salary.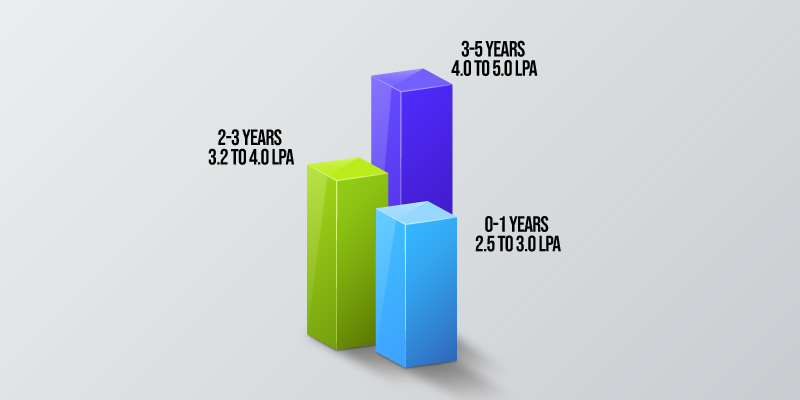 Salary Based on Skills – Aside from location, an applicant's competence determines the wage package for freshers; below are some projected figures.

Learn Python today through enrolling in Python Training in Chennai because the python full stack developer salary in India for freshers get reasonable payments at reputed IT firms.
Qualification Criteria for Full Stack Developer Roles
Applicants expecting for a full stack developer role with good full stack web developer salary for freshers needs to meet the following qualification criteria
Bachelor's degree in computer science or any other relevant field
A expertised project management and organizational skills
Expertise in fundamental programming languages such as Java, Python, Selenium. Etc
Proficiency in HTML, CSS, and Javascript
Familiarity in Javascript frameworks, Rect, JS, Amber, and other platforms.
Expertise in database technology, Oracle, MongoDB, and MySQL.
Excellent writing and verbal communication skills with problem-solving capabilities.
Earn a certification in Full-Stack through completing a Full Stack Developer Course in Chennai at FITA Academy. This might increase your expertise in full-stack development.
Additional Skills to become an exceptional Full-Stack Developer
In addition to academic qualification criteria, there are some additional skills which makes the applicant exceptional against competitors which are
Knowledge on HTML, Javascript, and CSS are front-end programming languages (if you're a newbie, start with these free tutorials to master JavaScript key concepts and create your own website).
Python, Ruby, and PHP are examples of back-end programming languages which must be acquired by the applicants.
Knowledge on Git and GitHub which are two popular and important version control systems.
Proficiency in RESTful and SOAP APIs, as well as HTTP protocol
Expertise in JSON, MySQL, and NoSQL which are all examples of database storage options.
Skills in graphic design and visual communication
Fundamental skills in servers such as Apache or Nginx
Complete a python course through enrolling in Python Course in Bangalore for increasing the chances of getting salary increment with an excellent full stack developer salary for freshers.
Characteristics of a Skilled Full-Stack Developer
To be a great Full Stack Developer, the candidate must have the correct attitude and mentality. Fortunately, if you have the determination and enthusiasm to pursue this as your ideal profession, then these personality qualities can be refined in everyone. Here are some of the characteristics that define a Full Stack Developer's personality:
Master in Time Keeping – Full Stack Developers are web programmers and also great multitaskers. They fly between the back end and the front end to make sure the work gets done, and they often have many responsibilities on their desk at the same moment. To guarantee that everything is completed on time, solid time management skills and the capacity to prioritize are required.
Curiosity – To the proper mind, web development is extremely interesting. You may develop a beautiful, complicated web application by putting a series of characters into the computer screen. Users will interact with it in a number of ways. Excellent Full Stack Developers are curious, keen to learn more about the industry and how users engage with online applications.
Accurate and Perfection – A great Full Stack Developer is diligent in his or her task. Before completing their work, they double- or triple-check it for accuracy. Full Stack Developers are detail-oriented, as seen by their well-written code and polished work.
Innovative and Creative Thinker – To assist their web application stand out from competitors, Full Stack Developers must be prepared to think outside the box and come up with creative solutions. This is not really a profession for someone who just wants to do the same thing as everybody else.
Great Interactor and Collaborator – Back-end and front-end developers typically work together as Full Stack Developers. They must be competent communicators in both written and vocal communication to keep stuff in order.
Become an exceptional Full-stack developer through learning the Full Stack Developer Course in Bangalore. Completing this course may lead you to become an innovative and diligent stack developer. This might increase the probability of getting an excellent full stack developer salary for freshers.
Roles and Responsibilities of a Full Stack Developer 
Full Stack developers are always concerned with working in the front-end and back-end together. However, they have certain key roles and responsibilities to fulfill
Assisting works concerning software design and development to interns and juniors.
Maintaining debug free softwares and undertaking software testing methodologies.
Writing clean code for the software's front and back ends.
Creating user interactions within the web application.
Creating servers and databases for the software's back end.
Optimizing Cross-platform compatibility and ensuring it.
Testing and Maintaining the application responsiveness.
Collaborating with graphic designers for the creation and introduction of new features.
Creating RESTful services and APIs to clients.
Adapting to technological advancements in order to improve the software products.
Educating decision-makers on the benefits of developing technology.
Maintaining and Considering the account security, scalability and other relevant factors.
In order to acquire more crucial roles at senior level, learn PHP Training in Chennai to process the hypertext and scripting languages. Further, it may give you additional experience for stack development.
Benefits of IT Companies through Hiring a Full Stack Developer
Hiring a full-stack developer to supervise a company's project from conception through launch and beyond has several benefits. Many businesses are investing in design; according to Blue Corona, design-driven businesses are 69 percent more likely to have outgrown their competitors. Lets brief some benefits of information technology companies through hiring a full stack developer
Complete & Accomplished Full-Stack Developers – Full-stack developers have the credentials and expertise to introduce game-changing innovations to products that will satisfy customer's needs. Professionals may oversee the entire stack from start to finish. They will need to rely on such knowledge if they want to see any return on their effort. Not everyone has the abilities except for full-stack developers to take care of your web project from all angles.
Versatility – A full-stack developer can work on both the front-end and back-end of a website. Back-end engineers create prototype code that connects websites to other CMS systems. Front-end developers write scripts that govern the look and interaction of a website in a browser (using HTML, CSS, and JavaScript). Both of these jobs are performed by a full stack developer. The specialists are goal-oriented, always anticipating the needs of their customers and devising solutions without relying on others.
Wider Experience – A large number of full-stack engineers have worked on a variety of online projects. They have in-depth expertise in web and app development as a result of their experience. As a result, you can anticipate their advice to be extremely valuable to your project's performance and market response in the long term.
Master of Developer – The key benefit of hiring a full-stack developer is that they can assist with the entire design structure and offer feedback at any level. Their services extend beyond web creation to include system maintenance and optimization.
Up-to-date Strategy – According to a recent survey, web design was the primary reason individuals liked or disliked a website. Professional full-stack developers will improve the usability of your online project. They are well-versed in the most recent technical advancements. They can implement smart features in your project so that your clients get the best responsive and interactive website.
Comprehensive Platform – Full-stack engineers may represent their organization and product to stakeholders in conferences in addition to being the tech head and designing new features that enhance your online project. Their capacity to transition from one activity to another in this manner aids in the streamlining of operations and the acceleration of development.
Easy Troubleshooting – Full-stack developers have extensive knowledge of all aspects and stages of website building. They are capable of identifying issues that develop during the process. They will then put in place long-term solutions to ensure that the website or application runs smoothly.
Cost-effectiveness – If any firm wants a great website on a tight budget, then hiring a full-stack developer is the way to go. They don't need to hire many developers on a single project because they can manage all components of the task. Hiring a capable full-stack developer will save you a lot of money.
Accurate Delivery – When full-stack developers join a project team, it becomes much easier to divide and conquer duties so that everyone can work together to get the greatest outcomes. This also aids in the delivery of the finished product more quickly.
Ownership of all Tasks – Employers will appreciate being able to rely on a full-stack developer for all project requirements. They will be in charge of the MVP development from beginning to end. Even if they arrive in the middle of the project, they will blend in seamlessly and map the best course of action. Full-stack developers assist with the design project's quality assurance and quality control. Besides, a full-stack developer may provide your web/app project the competitive edge it needs to succeed. They may handle the server-side and client-side of the application in addition to the MVP development to streamline and accelerate delivery.
Guide for Becoming Excellent Full-Stack Developer
We will give you with reliable materials for the best interview preparation in this part. There are now a variety of interview preparation materials and blog posts online, but each one has its own range of concerns. We've developed a list of the Best Interview Tips for Freshers importance and relevance and necessity for Full-Stack Developer positions. Following that, candidates are advised to check Python Interview Questions and Answers. These materials will replenish you with the most meaningful insights for both learners and professional experts as they are prepared in a clear and concise, interactive manner. This will encourage participants in developing their skill set and strengthening their interest in preparations for their upcoming interview.
According to our research on Full-Stack developer salary in India for freshers, IT professionals who really want to commence their career advancement right away, they might consider this option. Enroll in Full Stack Developer Online Course, where the candidate will receive excellent training and a guarantee of employment. Freshmen are encouraged to begin a career pathway that will provide them with opportunities and capabilities in the future IT industry. In the IT job market, Full-Stack Developer job roles are in high demand. Finally, we anticipate that this blog has brought you all of the information that needed to apply for Full-Stack Developer careers in India.