Course Highlights and Why Full Stack Developer Course in Pondicherry at FITA Academy?

The Full Stack courses were created by experienced professionals to meet the requirements of the global corporate world.

This courseware was designed by industry experts to emphasise equally both Frontend and Backend technologies.

This course is taught by Full Stack engineers with more than a decade of experience in Web Development.

You will master Web Developer technologies and their ecosystem under the direction of expert professionals.

The Pondicherry FITA Academy provides a comprehensive, instructor-led training session.

Regular review sessions are provided to students in order to reinforce the skills they have acquired.

FITA Academy has smart classrooms that use the most up-to-date technology for Full-Stack Training in Pondicherry.

We offer quality full-stack training at a reasonable price together with certification. The FITA Academy offers batch scheduling flexibility to accommodate weekend, weekday, and fast track training for Full Stack Developers in Pondicherry.

In the FITA Academy training programme, individuals who meet the eligibility conditions receive full placement assistance following course completion.

We have relationships tieups with approximately 1500+ firms, ranging from small to large companies.

FITA Academy has an Active Placement Cell that will aid students in finding the best employment for their future careers.
Upcoming Batches
11-12-2023
Weekdays
Monday (Monday - Friday)
14-12-2023
Weekdays
Thursday (Monday - Friday)
16-12-2023
Weekend
Saturday (Saturday - Sunday)
23-12-2023
Weekend
Saturday (Saturday - Sunday)

Classroom Training
Get trained by Industry Experts via Classroom Training at any of the FITA Academy branches near you
Why Wait? Jump Start your Career by taking the Full Stack Developer Training in Pondicherry!
Instructor-Led Live Online Training
Take-up Instructor-led Live Online Training. Get the Recorded Videos of each session.
Travelling is a Constraint? Jump Start your Career by taking the Full Stack Developer Course Online!
Trainer Profile
The professionals at FITA Academy have more than a decade of experience as full-stack developers in numerous well-known industries.

The highly qualified trainers have managed a variety of live projects and industry-relevant circumstances.

Our mentors seek to analyse the trainees' competencies, learning capacities, and application of knowledge in order to ensure that they are equipped for the job.

Our faculty has trained over one thousand students, many of whom have been placed in executive positions at multinational corporations.

Our mentors are subject matter experts and current on the most recent advancements in practical applications.

Our instructors are responsible for the technical and conceptual mastery of the most effective Full Stack methods.

Mentors from the Full Stack Developer Course in Pondicherry have encouraged a lot of students to participate in interviews and secure employment.

The Trainers of this course have supported a number of students to participate in interviews and acquire employment opportunities.
Learn at FITA Academy & Get Your
Dream IT Job in 60 Days
like these Successful Students!

Features of Full Stack Developer Course in Pondicherry at FITA Academy
Real-Time Experts as Trainers
At FITA Academy, You will Learn from the Experts from industry who are Passionate in sharing their Knowledge with Learners. Get Personally Mentored by the Experts.
LIVE Project
Get an Opportunity to work in Real-time Projects that will give you a Deep Experience. Showcase your Project Experience & Increase your chance of getting Hired!
Certification
Get Certified by FITA Academy. Also, get Equipped to Clear Global Certifications. 72% FITA Academy Students appear for Global Certifications and 100% of them Clear it.
Affordable Fees
At FITA Academy, Course Fee is not only Affordable, but you have the option to pay it in Installments. Quality Training at an Affordable Price is our Motto.
Flexibility
At FITA Academy, you get Ultimate Flexibility. Classroom or Online Training? Early morning or Late evenings? Weekdays or Weekends? Regular Pace or Fast Track? - Pick whatever suits you the Best.
Placement Support
Tie-up & MOU with more than 1500+ Small & Medium Companies to Support you with Opportunities to Kick-Start & Step-up your Career.
Why Learn Full Stack Developer Course in Pondicherry at FITA Academy?
Live Capstone Projects
Real time Industry Experts as Trainers
Placement Support till you get your Dream Job offer!
Free Interview Clearing Workshops
Free Resume Preparation & Aptitude Workshops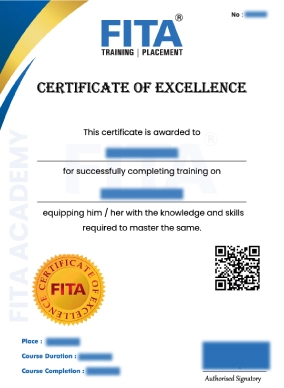 Full Stack Developer Certification Training in Pondicherry
Students who successfully complete this Full stack developer training in Pondicherry at FITA Academy obtain a certificate from our institution. It will highlight the skills and information acquired during the full-stack development course. Students will receive professional recognition for their acquired skills and expertise. FITA Academy's Full-stack Certification in Pondicherry is a testament to its value due to its rigorous practises and wide market expertise.
Furthermore, adding this certification to previously achieved academic credentials will increase your employment opportunities. By assuring a diligent and comprehensive study of this course, students can strengthen their abilities and capabilities. Obtaining this certification will boost your value in the IT industry, and you will be qualified to participate in several job interviews and assessments that demonstrate your remarkable skills.
Have Queries? Talk to our Career Counselor for more Guidance on picking the
right Career for you!
Placement Session & Job Opportunities after completing Full Stack Developer Course in Pondicherry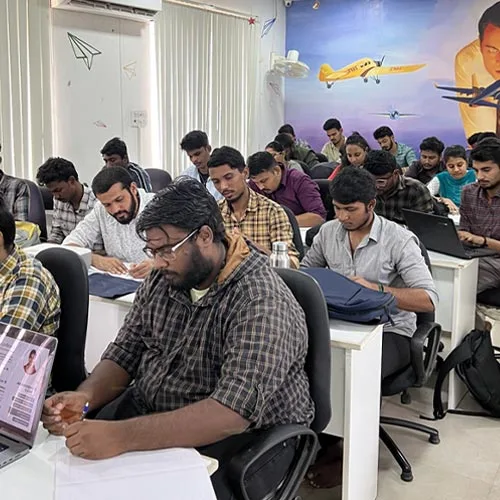 In the field of software development, there is a lot of demand for hiring only highly skilled people like backend developers, frontend developers, database engineers, testers, and quality assurance experts. They are capable of handling various phases of the software development life cycle (sdlc) as well as the creation of a variety of frameworks, tools, and libraries. This has created an opportunity for developers who can oversee the full software application development process, including testing, development, and deployment.
Instead of focusing on specialised professions, several notable sectors have shifted their attention to recruiting and educating full-stack developers. Due to their multiple benefits, the demand for Fullstack has expanded significantly. They can leverage a variety of technologies. In comparison to a conventional programmer, they are capable of handling a broad range of project-related tasks. Globally the median salary for an entry-level fullstack developer is approximately $5,000,000 per year.
The figure might reach as high as $14,000,000 per year for seasoned professionals. Companies are eager to provide high compensation to fullstack developers due to their exceptional talents, capabilities, and capacities.
After completing FITA Academy's full stack development programme in Pondicherry, students will be exposed to employment prospects such as full stack developer, front-end developer, web developer, and web designer. Therefore, attaining the position of full-stack developer will need a high level of knowledge. Any organisation anticipates that they will be effective at handling all parts of web design and development.
This full stack developer training in Pondicherry will teach all of the key industry-relevant information and techniques to make our students into skilled professionals who can compete for the position they desire and for their business. This will enable our students to receive the finest Full Stack Developer Salary For Freshers. By utilising the acquired training, our students can become front- or back-end developers, or skilled full-stack professionals by utilising the various aspects of their skills.
If you are able to successfully complete the Full Stack Developer course  in Pondicherry offered by FITA Academy, you will be eligible to submit applications for the following jobs:
Full-Stack Developer

Back-End Developer

Front-End Developer

Web Developer

Web Designer
Also Read: Full Stack Developer Interview Questions and Answers
Success Story of Full Stack Developer Course in Pondicherry
The FITA Academy was a life-changing experience for me. I was able to land a job after many failed attempts after I joined the Full Stack Training in Pondicherry. I am now a Full Stack developer at a reputed multinational company. I am thankful for the instructors and staff who pushed me to do so.
I'm a fresher, and I just started a Full Stack Developer course in Pondicherry. My classes have been great, and the trainer uses real-life examples all the time to inspire me to come up with our own creative ideas. As for the practical classes, the materials were also super helpful. Thanks to the trainers for your help.
The competition is really high in my company, so I was worried I'd lose my job. The Full Stack Developer Training in Pondicherry gave me a good understanding of both front-end and back-end technologies. Recently, I got promoted to Team Lead. Without a doubt, I highly recommend FITA Academy.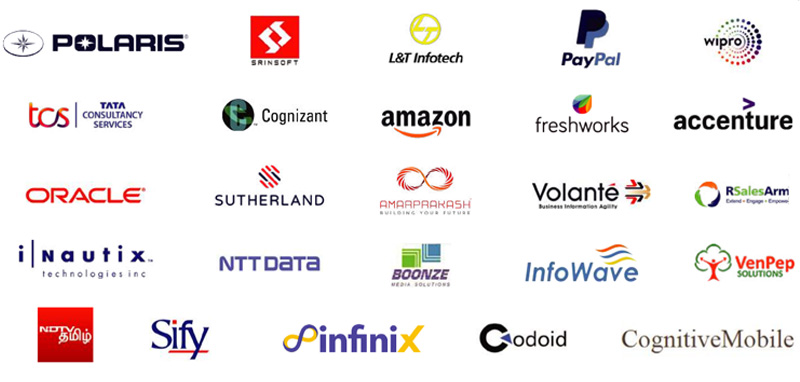 Frequently Asked Question (FAQ) about Full Stack Developer Course in Pondicherry
Additional Information of Full Stack Developer Course in Pondicherry
Full Stack Development is a skill that is in high demand in a wide range of industries today. It is responsible for developing websites, server-side connection programmes, and databases. It also tests projects that clients ask for. Professionals can also expect to make good money and move up in their careers. By using Full Stack Development in a smart way, you can make projects that are new and appealing to your target market.
The course's syllabus is up-to-date so that it meets the needs of the whole business. The mock tests, exercises, hands-on workshops, and projects cover everything that has to do with Full Stack Development skills or benefits for the industry as a whole. You can improve your career in Full Stack Development and other areas by taking this course.
The professsionals who instruct in this programme are experts in the field and have been doing it for a long time.They will make sure that for the interview  they have both soft skills and technical skills that can be used for a wide range of jobs. Students who have a background in engineering or computer science can join this programme. You can take the Full Stack Developer Training at FITA Academy in Pondicherry, or you can learn online. Your potential will be maximised through our training programmes.
Learning outcome of FITA Academy's Full Stack Developer Training in Pondicherry at FITA Academy?
Know everything there is to know about the Web Development process.

A deep understanding of Frontend and Backend programming languages and the newest technologies.

A good understanding of how databases work, how to process queries, and how to connect databases.

A lot of knowledge about MongoDB.

React JS can be used to build front-end apps.

Know how to use Node.js.

Capable of developing real-time applications

RESTful apps can be fully functional and organized, as well as test-driven.

If you know HTML and CSS, you can style and organise web pages.

Learning about the latest technologies and the web developer ecosystem.
Also Read: Full Stack Tutorial
Eligibility criteria and prerequisites for taking the Full Stack Developer Course in Pondicherry
Eligibility Criteria
This course could be taken by any recent graduate who wants to become a Full-Stack Developer. Also, the Full Stack Course in Pondicherry is perfect for professionals like:
Backend and Frontend Designers who want to master their technology and learn about the other side.

People who work in the IT industry as software developers and experts in programming.

Network and Database Administrators.

Managers and Project Leads from the IT industry.
Pre-requisites
The Full Stack Developer Course in Pondicherry has no prerequisites because it also covers the fundamentals. It's important to know the basics of any programming language you use, and knowing how the Web Application Development Process works will help you learn the course quickly. This Full Stack Developer training in Pondicherry at FITA Academy will help you master your skills, starting with the basics of web application development. Web Application development process with the help of our skilled trainers, who are professionals with many years of experience in development.
Why You Should Take the Full Stack Developer Course in Pondicherry
They continue to apply new ways inside their operations as they transition to the agile approach of attaining an indefinable position in the marketplace to be able to serve the wants of clients in their web applications quickly.
The Full Stack practise is a type of technology that has helped companies a lot by keeping their initial costs low and letting them make solid applications that can keep up with growing demand and make the necessary changes in a very short amount of time.
Certainly, being a Full Stack Developer has many advantages for businesses and projects. A Full Stack Developer is someone who can understand all of a project's needs.
To do tasks well when building Web or Mobile Applications, you need a wide range of skills and important knowledge. Also, you must be ready to face new challenges every day. In this situation, businesses choose to hire a Full Stack developer, which is the best choice for them because this developer can meet all of the project's needs at once, allowing the project to be built quickly and without mistakes.
As more companies switch to an Agile process, the need for Full stack developers will grow. Developers need to be ready for the demand to keep growing. Full Stack Training in Pondicherry teaches students the skills that are most needed by the business world  with certification in the Web Development industry.