Course Highlights and Why Full Stack Developer Course in Madurai at FITA Academy?

The Full Stack courses have been designed by experienced instructors to meet the demands of the global business.

This courseware was developed by Industry Experts in order to highlight both Frontend as well as the Backend technology equally.

This course is taken by skilled and experienced Full Stack developers with over a decade of expertise in Web Development.

Under the guidance of real-time experts you will master Web Developer technologies and their ecosystem.

The Madurai FITA Academy offers an instructor-led, interactive full-stack-training session.

Students are offered regular sessions to review the previous classes to strengthen the skills they've developed.

FITA Academy has smart Classrooms that incorporate blended learning for Full-Stack Training in Madurai with the most recent technology.

We provide professional full Stack Training at an affordable cost with the certification. The FITA Academy provides flexible batch timings to accommodate weekends, weekdays, and quick-track training. Full Stack Developer Training in Madurai.

In the program for training at FITA Academy Students who meet the eligibility requirements get 100% placement assistance upon completion of the course.

We have tie-ups with over 1500+ companies that range from small scale to large businesses.

We have an Active Placement Cell in FITA Academy that will assist students in finding the right job that can be the ideal career for them.
Upcoming Batches
| | | | |
| --- | --- | --- | --- |
| 09-12-2023 | Weekend | Saturday (Saturday - Sunday) | |
| 11-12-2023 | Weekdays | Monday (Monday - Friday) | |
| 14-12-2023 | Weekdays | Thursday (Monday - Friday) | |
| 16-12-2023 | Weekend | Saturday (Saturday - Sunday) | |

Classroom Training
Get trained by Industry Experts via Classroom Training at any of the FITA Academy branches near you
Why Wait? Jump Start your Career by taking the Full Stack Developer Training in Madurai!
Instructor-Led Live Online Training
Take-up Instructor-led Live Online Training. Get the Recorded Videos of each session.
Travelling is a Constraint? Jump Start your Career by taking the Full Stack Developer Course Online!
Trainer Profile
The best experts at FITA Academy have a vast knowledge of more than a decade as a full-stack developer across a variety of well-known industries.

The highly skilled trainers are experienced in managing a range of live projects and industrial relevant scenarios.

Our mentors aim to evaluate the capabilities of the trainees, their learning abilities and applying their knowledge in a thorough manner, to ensure they are prepared for the workplace.

Our highly skilled faculty has trained over 1000 students, many who have been placed in an executive position in a multinational companies.

Our mentors are experts in their subject knowledge and are current on the latest developments in practical applications.

Our trainers are accountable for the technical and conceptual learning of the best Full Stack practices.

Mentors from the Full Stack Developer Course in Madurai have enthused a number of learners to take part in interviews and gain job opportunities.

The instructors in this course have encouraged a number of students to take part in interviews and gain career prospects.
Learn at FITA Academy & Get Your
Dream IT Job in 60 Days
like these Successful Students!

Features of Full Stack Developer Course in Madurai at FITA Academy
Real-Time Experts as Trainers
At FITA Academy, You will Learn from the Experts from industry who are Passionate in sharing their Knowledge with Learners. Get Personally Mentored by the Experts.
LIVE Project
Get an Opportunity to work in Real-time Projects that will give you a Deep Experience. Showcase your Project Experience & Increase your chance of getting Hired!
Certification
Get Certified by FITA Academy. Also, get Equipped to Clear Global Certifications. 72% FITA Academy Students appear for Global Certifications and 100% of them Clear it.
Affordable Fees
At FITA Academy, Course Fee is not only Affordable, but you have the option to pay it in Installments. Quality Training at an Affordable Price is our Motto.
Flexibility
At FITA Academy, you get Ultimate Flexibility. Classroom or Online Training? Early morning or Late evenings? Weekdays or Weekends? Regular Pace or Fast Track? - Pick whatever suits you the Best.
Placement Support
Tie-up & MOU with more than 1500+ Small & Medium Companies to Support you with Opportunities to Kick-Start & Step-up your Career.
Why Learn Full Stack Developer Course in Madurai at FITA Academy?
Live Capstone Projects
Real time Industry Experts as Trainers
Placement Support till you get your Dream Job offer!
Free Interview Clearing Workshops
Free Resume Preparation & Aptitude Workshops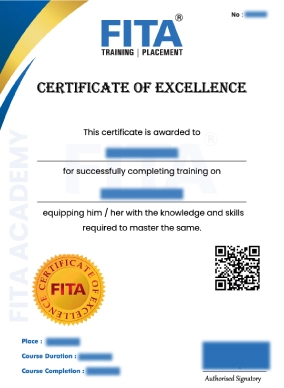 Full Stack Developer Certification Training in Madurai
After successfully completing this Full stack development training in Madurai at FITA Academy, the student receives a certificate from the Academy. It will serve as evidence of the abilities and knowledge gained during the full-stack development course. It will give professional acknowledgement of the skills and knowledge gained by students. The Full-stack Certification offered in Madurai at FITA Academy is a testament to the value due to its strict practice and extensive knowledge of the marketplace. Furthermore, adding this certification to previously earned educational certificates will open your chances of a successful job. By ensuring a meticulous and thorough studying of this course, students are able to improve their abilities and increase their skills. Acquiring this certification will increase your worth in the IT sector and you'll be qualified to appear at many job interviews as well in evaluations that demonstrate your exceptional abilities.
Have Queries? Talk to our Career Counselor for more Guidance on picking the
right Career for you!
Placement Session & Job Opportunities after completing Full Stack Developer Course in Madurai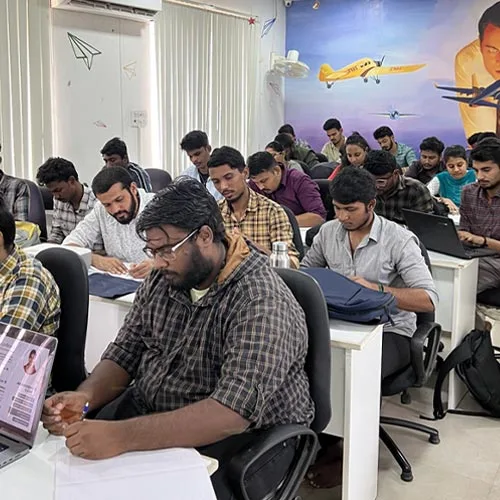 A huge demand has been observed across a variety of industries in the field of Software development in recruiting only highly skilled personnel such as backend developers, frontend developers, database engineers, testers and site reliability engineers. They are skilled enough to handle specific areas of the life cycle of software development (sdlc) as well as the development of a variety of frameworks, tools, and libraries. This has created a chance for developers who can manage the entire development of software applications, as well as the testing, development and deployment of applications.
Many prominent industries have turned their focus on recruiting and training full-stack developers, rather than specific positions. Fullstack's demand has increased dramatically because of their numerous advantages. They are able to utilize multiple technologies. They have the ability to handle a wide range of aspects of a project when compared to a typical programmer. The median pay for a newcomer in the area of fullstack development can be about 5,00,000 per year. 
The amount can be as high as 14,00,000. per year for experts with professional experience. Since fullstack developers have unique skills and capabilities and abilities, companies are willing to offer a substantial value to these experts. After the successful completion of full stack development training in Madurai at FITA Academy, students will be exposed to career opportunities, including full stack developer, front-end developer, web developer, and web designer. Therefore, becoming a fullstack developer will require a high level of expertise. The organization expects them to be proficient in managing all aspects in web design and development. 
To get the best Full Stack Developer Salary For Freshers this full stack developer training in Madurai will provide all the essential industry-relevant information and techniques to turn our students into skilled professionals who can compete for the position they want and their business. Through the use of the knowledge acquired, our students can be a front or back-end developer, or by making the most of the entire spectrum of abilities and becoming a proficient full-stack professional.
In the event that you successfully complete FITA Academy's Full Stack Developer course in Madurai You will be qualified to apply for the following jobs:
Full-Stack Developer

Back-End Developer

Front-End Developer

Web Developer

Web Designer
Also Read: Full Stack Developer Interview Questions and Answers
Success Story of Full Stack Developer Course in Madurai
I have just completed the full stack developer course at FITA Academy in Madurai, which has turned out to be a great career decision for me. FITA Academy provided me with the flexibility in course timings and the support of professional experts that helped me to successfully finish the course.
I was recently placed as a full stack developer with a competitive salary package. I would like to thank my trainer and the FITA Academy for providing me with such valuable training. My experience with this course was excellent. My trainer helped me understand the technologies doubts and cleared all my related to the full stack.
This Full stack developer training in Madurai provided me with the confidence I needed to work with the different tools and programming languages needed for front end and back end development along with database management. My mentors and this course helped me become a full stack developer.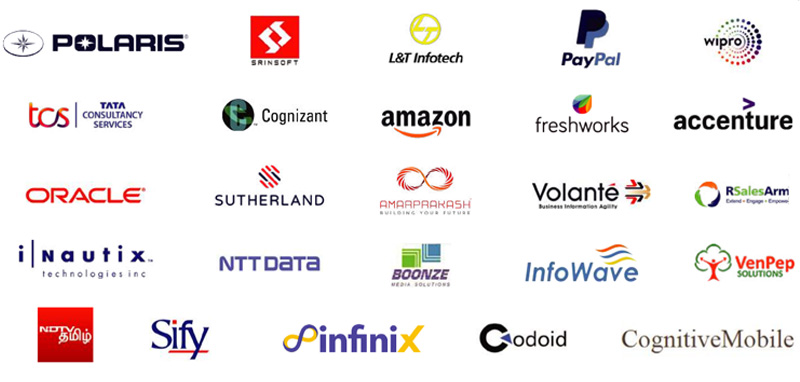 Frequently Asked Question (FAQ) about Full Stack Developer Course in Madurai
Additional Information of Full Stack Developer Course in Madurai
Full Stack Development is a highly sought-after skill in a variety of industry structures of today. It is responsible for the design of websites, server-side connection programs, and databases, as well as testing projects requested by clients. Professionals can also anticipate excellent salaries and a rise in their career graphs. Through responsible use, Full Stack Development helps you develop innovative and contemporary projects to appeal to your target market.
The syllabus for the course is current to meet the expectations of the entire enterprise. The mock tests, exercises, hands-on workshops, and projects cover all areas relevant to Full Stack Development expertise or associated benefits for the industry. Through this course, you will be able to gain career benefits in Full Stack Development and various other areas.
The instructors in this program are experts in the field with many years of experience. They will ensure soft and technical skills for interviewing applicable to a wide range of jobs. Students with engineering or computer science backgrounds can enrol in this program. You can study in FITA Academy's Full Stack Developer Training in Madurai or via online learning. Our training programs make sure that your potential is acknowledged in the market.
What you can Learn from FITA Academy's Full Stack Developer Training in Madurai at FITA Academy?
A thorough understanding of what is involved in the Web Development process.

A deep understanding of Front and Backend programming language and the latest technologies.

An understanding of the basic concepts of databases, processing queries, and the ability to integrate databases.

Deep understanding of MongoDB.

Capable of building front-end apps with React JS.

A knowledge of Node.js.

Capable of creating real-time applications that are real-time.

It is possible to create fully functional and organized, as well as test-driven RESTful apps.

Knowledge about HTML and CSS to style and structure web pages.

Becoming familiar with the latest web developer ecosystem and the latest technologies.
Also Read: Full Stack Tutorial
The Eligibility criteria and prerequisites for taking the Full Stack Developer Course in Madurai
Eligibility Criteria
Any recent graduate who wants to become a Full-Stack Developer could take this course. Additionally the Full Stack Course in Madurai is perfect for professionals, such as
Designers of Backend and Frontend who want to master their technology and vice versa.

Software Developers and Experts in Programming who work within the IT Industry.

Network and Database Administrators.

Managers and Project Leads from the IT industry.
Pre-requisites
There aren't any prerequisites to take how to take the Full Stack Developer Course in Madurai because the course covers all fundamentals as well. It is important to have a basic understanding about any language that you can program in, and an understanding of the fundamentals regarding how the Web Application Development Process and how it works is an additional benefit to you learning the course in a short amount of time. This Full Stack Developer training in Madurai at  FITA Academy helps you to master your skills starting with the fundamentals in web application development. Web Application development process under the guidance of our skilled trainers, who are professionals with many years of experience in development.
The Reason to Study The Full Stack Developer Course in Madurai
In the process of moving to the agile method of gaining an indefinable position in the marketplace to be able to fulfill the needs of customers in their online applications rapidly, they continue to implement new methods within their operations.
The Full Stack practice is a particular technology that has helped companies greatly by helping them to maintain their initial costs as well as enabling them to create solid applications to meet increasing demands and implement the required changes in a very short time.
Certainly a Full Stack Developer is a job that offers a lot of benefits to companies and projects. A Full Stack Developer is one who is able to comprehend the entire needs of a project.
If you're building Web or Mobile Applications it requires a broad range of skills and essential knowledge to run tasks efficiently. Additionally, you must be prepared to take on new challenges daily. In this case, businesses choose to hire a Full Stack developer, which will be the best option for them because this developer can be an all-in-one solution for requirements for the project, allowing it to be developed effectively and error-free.
As more companies shift toward an Agile process , the higher the demand will increase for Full stack developers. Developers must be prepared to keep with the ever-growing demand. Full Stack Training in Madurai  provides students with the core capabilities that are demanded by industry. Web Development industry with certification.
Learning more about the technology that are associated with Full Stack Development
We are all aware that Full Stack is composed of three layers. They comprise FrontEnd – also known as client Side Programming, BackEnd – sometimes referred to as the Server Side Programming, and the Database. Let's get a short overview of the three layers that comprise Web Development.
FrontEnd: It is also known as the client-side. This is the portion of the website or web application that is visible to users at the end of the day and allows users to communicate with the app. Developers are expected to design a web application that entices users to navigate it in an easy manner. We offer a Full Stack Developer Course In Madurai which is taught by experts, you will learn the Front-end modules which you'll acquire the necessary knowledge to become a proficient front-end developer.
HTML: It is the primary language used in front-end applications. It allows you to run the application through the browser without having to install it on the user's device. The language is able to create links between websites and define the text, images, audio and video information within the tags. This ultimately determines the structure and layout of the website page.
CSS: The CSS language is designed to simplify the process of creating websites and making them more appealing to users. This includes the placement of elements on screen as well as its style and design, etc.
JavaScript: It is among the most well-known scripting languages that are used when it comes to Front End applications. It is utilized for creating interactive websites. It is able to execute diverse and complex tasks within the user's or client machine, thereby increasing the speed and effectiveness of the application. This framework can also assist in validating inputs from users and assists in the creation of Interactive design components.
Most popular Front End frameworks: Angular, React JS, BootStrap, jQuery, Express.js, Backbone.js, Ember.js, Semantic-UI Foundation and Materialize. Additionally, Ionic and React Native frameworks are important for creating mobile app interfaces for clients.
BackEnd: It is sometimes referred to as side-to-side programming of your Website also known as Web Application. Developers focus here on the functionality of the Website. In this case, developers should concentrate more on managing the database using APIs or Web services as well as Queries using the client-side requests. This layer also is accountable for security of the data stored by the application.
PHP: It is among the top server-side scripting languages , which was specifically designed to be used for web development. Because the majority of PHP code is run on the server, it is sometimes referred to as"server-side scripting.
C++: This is one of the general-purpose programming languages that are commonly used in the current times in the competitive programming industry. While this language may not be suitable for the idea of the backend, it can be used as a backend language in many complicated applications.
Java: It is the most well-known and widely used platform since it is extremely capable of scaling and handling complex enterprise-level tasks with a high speed and efficiency. Java is mostly used to create large-scale enterprise-level apps although it isn't often utilized to build easy or moderate-level web-based applications.
Python: Python is one of the well-known open-source programming languages that lets us join systems easily and perform tasks efficiently.
JavaScript: JavaScript is highly utilized on the front or on the client side. With the introduction of nodeJS, it can be utilized as a Frontend and Backend language.
Node.js: It is the open-source, cross-platform runtime environment which is used to execute JavaScript programs outside of the browser. It is important to be aware that Node.js is not a programming language nor is it a framework. Many people are confused as to whether it's an actual framework or a language. Most often, we employ Node.js to build back-end Web Services as well as to manage requests for these services from numerous front-end or client apps, such as Mobile Apps.
Popular Backend Frameworks: Express, Django, Spring, Ruby, Laravel, C#, REST, and Rails.
Database: It's an application designed to store massive quantities of data in the form of a tabular or in relation model. It also allows insert, deletion, update and retrieval of information securely.
Oracle: It is the Oracle relational database, an extremely popular RDBMS application for databases that aids in creating and managing enormous amounts of structured information with high efficiency and availability. It is the most popular backend for a variety of large-scale enterprise applications since it is extremely fast and provides security when managing data. Oracle also offers a range of tools to manage the Database like SQL, Reports, Forms and Processual Language Extensions like PL/SQL and essential administrative tools for managing the Database efficiently.
MongoDB: It is one of the most well-known free NoSQL databases. The word NoSQL is a reference to a non-relational approach to keeping and managing data. This implies that MongoDB is not a table-type relational database structure. rather, it offers a totally different method of retrieving and storage of data. They are very efficient in the storage of unstructured data, as and semi-structured data.
SQL: It is the Structured Query Language, shortly SQL is the primary Database language used to create, retrieve and maintain the relational database. SQL is not coding, but similar to English, which aids not just in managing the database but in handling the database itself, such as managing and creating Users and access rights, etc.
As a Full Stack Developer, you will possess the expertise in all of the back-end and front-end technologies required to design, create, and launch a fully-fledged web-based application to the point of being superior in comparison to your peers.
A Full Stack Developer Training in Madurai at FITA Academy will provide you with a complete understanding of the development process for websites with the help of our industry experts. You will be exposed to the complete development process, and you can make a name for yourself as a Full Stack Developer professional.