Course Highlights and Why Full Stack Developer Course in Coimbatore at FITA Academy?

Professionals with extensive industry expertise developed the Full Stack curriculum to address the needs of businesses around the world.

This courseware was developed by industry professionals to emphasise Frontend and Backend technologies equally.

This course is taught by Full Stack engineers with over a decade of Web Development expertise.

You will master Web Developer technologies and their ecosystem under the guidance of qualified instructors.

A thorough training session guided by an instructor can be obtained through the Coimbatore FITA Academy.

Students are provided with periodic review sessions in order to strengthen the acquired abilities.

For Full-Stack Training in Coimbatore, FITA Academy features state-of-the-art classrooms with cutting-edge technology.

We provide full-stack training at an affordable price together with certification.

Full Stack Developers training in Coimbatore can be scheduled in weekend, weekday, or fast track classes at FITA Academy.

After completing FITA Academy training, eligible candidates receive full placement support.

We have tie-ups with over 1500 companies, ranging in size from small to large.

FITA Academy has an Active Placement Cell that will help students find the best jobs for their future careers.
Upcoming Batches
04-12-2023
Weekdays
Monday (Monday - Friday)
07-12-2023
Weekdays
Thursday (Monday - Friday)
09-12-2023
Weekend
Saturday (Saturday - Sunday)
16-12-2023
Weekend
Saturday (Saturday - Sunday)

Classroom Training
Get trained by Industry Experts via Classroom Training at any of the FITA Academy branches near you
Why Wait? Jump Start your Career by taking the Full Stack Developer Training in Coimbatore!
Instructor-Led Live Online Training
Take-up Instructor-led Live Online Training. Get the Recorded Videos of each session.
Travelling is a Constraint? Jump Start your Career by taking the Full Stack Developer Course Online!
Trainer Profile
FITA Academy professionals have over a decade of experience as full-stack developers in a plethora of well-known companies.

The trainers are highly qualified and have handled a wide range of real-world projects and case studies that are common in the field.

Our mentors analyse the trainees' skills, learning abilities, and knowledge application to guarantee that they are ready for the job.

Our faculty has trained over a thousand students, many of whom now hold executive positions at major corporations.

Our mentors are subject matter specialists that are up-to-date on the most recent practical application breakthroughs.

The technical and conceptual mastery of the most efficient Full Stack methods is the responsibility of our instructors.

Mentors from the Full Stack Developer Course in Coimbatore have encouraged a significant number of students to engage in interviews and find employment.

The Trainers of this course have assisted a number of students in obtaining jobs and participating in interviews.
Learn at FITA Academy & Get Your
Dream IT Job in 60 Days
like these Successful Students!

Features of Full Stack Developer Course in Coimbatore at FITA Academy
Real-Time Experts as Trainers
At FITA Academy, You will Learn from the Experts from industry who are Passionate in sharing their Knowledge with Learners. Get Personally Mentored by the Experts.
LIVE Project
Get an Opportunity to work in Real-time Projects that will give you a Deep Experience. Showcase your Project Experience & Increase your chance of getting Hired!
Certification
Get Certified by FITA Academy. Also, get Equipped to Clear Global Certifications. 72% FITA Academy Students appear for Global Certifications and 100% of them Clear it.
Affordable Fees
At FITA Academy, Course Fee is not only Affordable, but you have the option to pay it in Installments. Quality Training at an Affordable Price is our Motto.
Flexibility
At FITA Academy, you get Ultimate Flexibility. Classroom or Online Training? Early morning or Late evenings? Weekdays or Weekends? Regular Pace or Fast Track? - Pick whatever suits you the Best.
Placement Support
Tie-up & MOU with more than 1500+ Small & Medium Companies to Support you with Opportunities to Kick-Start & Step-up your Career.
Why Learn Full Stack Developer Course in Coimbatore at FITA Academy?
Live Capstone Projects
Real time Industry Experts as Trainers
Placement Support till you get your Dream Job offer!
Free Interview Clearing Workshops
Free Resume Preparation & Aptitude Workshops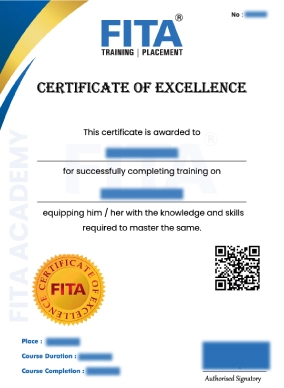 Full Stack Developer Certification Training in Coimbatore
Students who complete this Full stack developer training in Coimbatore at FITA Academy are awarded a certificate by our institute. It will emphasise the knowledge and abilities gained during the full-stack development course. The acquired skills and knowledge of students will be recognised professionally. The importance of FITA Academy's Full-stack Certification in Coimbatore is demonstrated by its rigorous practices and extensive market knowledge. In addition, adding this qualification to your existing academic credentials will improve your work prospects. By ensuring a thorough and careful study of this course, students can enhance their abilities and skills. Obtaining this certification will increase your value in the IT business, and you will be able to participate in a variety of employment interviews and examinations to demonstrate your exceptional talents.
Have Queries? Talk to our Career Counselor for more Guidance on picking the
right Career for you!
Placement Session & Job Opportunities after completing Full Stack Developer Course in Coimbatore

Backend developers, frontend developers, database engineers, testers, and quality assurance specialists are in high demand within the software development industry. They are capable of managing multiple aspects of the software development life cycle (sdlc) and creating a variety of frameworks, tools, and libraries. This has opened up a market for programmers who are capable of managing every stage of making and releasing software applications.
Instead of focusing on specialised jobs, a number of important industries are now looking for trained full-stack developers. Due to their numerous advantages, the demand for Fullstack has increased dramatically. They can utilise numerous technologies. They are capable of handling a greater variety of project-related responsibilities than a standard programmer. The global median income for a full-stack developer at the entry-level is roughly RS 3 to 5 LPA. The value might reach up to Rs8 LPA for experienced workers. Companies are ready to compensate full-stack developers generously due to their remarkable abilities, skills, and talents.
After completing the full stack development training programme offered by FITA Academy Full Stack Developer Training Institute In Coimbatore, students will be exposed to job opportunities such as full stack developer, front-end developer, web developer, and web designer. Therefore, obtaining the role of full-stack developer will necessitate a significant amount of knowledge. Any organisation expects them to be capable of handling all aspects of web design and development.
This full-stack developer training in Coimbatore will provide students with all the industry-relevant knowledge and skills necessary to compete for the position they desire and for the success of their businesses. This would assist our students to obtain the most competitive Full Stack Developer Salary For Freshers. Our students might become front- or back-end developers or expert full-stack professionals by utilising the many components of their gained training.
If you are able to successfully complete FITA Academy's Full Stack Developer course in Coimbatore, you will be qualified to apply for the following positions:
Full-Stack Developer

Back-End Developer

Front-End Developer

Web Developer

Web Designer
Also Read: Full Stack Developer Interview Questions and Answers
Success Story of Full Stack Developer Course in Coimbatore
FITA Academy is the Best Full Stack Developer Course in coimbatore. As a beginner in this subject, I was able to understand and carry out the concepts easily. I am very satisfied with the training that I got during my course period at FITA Academy. The trainers were also very kind and put effort into keeping the classes interactive.
I work in an IT firm but was worried about losing my job because the competition is very high. After my completion of Full Stack Developer Training in coimbatore, I have become proficient in both front-end and back-end technologies. I was recently promoted as the Team Lead as well. Without a doubt, I highly recommend FITA Academy for a bright future.
I am a fresher, and I recently joined the Full Stack Developer course in coimbatore. It has been a wonderful experience. The classes are entertaining and very informative. The trainer often uses real-life examples and encourages us to come up with our own creative ideas. The practical classes and the materials have been extremely helpful as well. I am thankful to the trainers for their effort and training.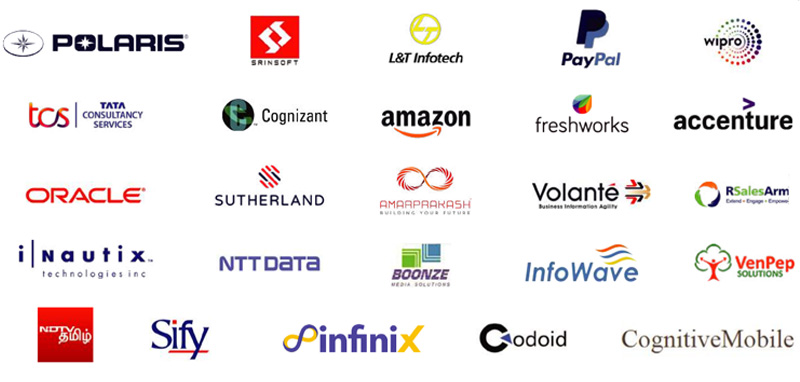 Frequently Asked Question (FAQ) about Full Stack Developer Course in Coimbatore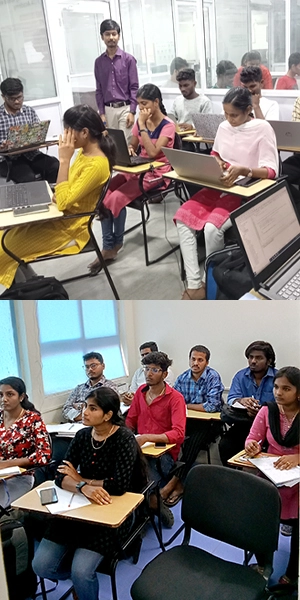 Full Stack Development is a skill that is currently in great demand across a variety of businesses. It is tasked with creating web pages, server-side connectivity programmes, and databases. Additionally, it tests projects requested by clients. Professionals can also anticipate strong earnings and job advancement. By utilising Full Stack Development in a smart manner, you can create innovative and enticing projects for your target market.
The course's curriculum is current so that it fulfils the demands of the entire organisation. The mock tests, exercises, hands-on workshops, and projects address all aspects of Full Stack Development skills and industrial benefits. This course can help you advance your career in Full Stack Development and other fields.
The instructors in this programme are professionals in their field and have been doing so for many years. They will ensure that they have both applicable soft skills and marketable technical skills for the interview. This programme is open to students with a background in engineering or computer science. You can enrol in the Full Stack Developer Training in Coimbatore, or you can study online. Through our training programmes, we will maximise your potential.
What are the learning outcomes of FITA Academy's Full Stack Developer Training in Coimbatore?
Understand every aspect of the Web Development procedure.

A comprehensive knowledge of Frontend and Backend programming languages as well as the most recent technology.

Knowledge of how databases function, how to process queries, and how to link databases.

Extensive knowledge of MongoDB.

React JS can be used to develop front-end applications.

Learn how to utilise Node.js.

Able to create real-time apps.

RESTful applications can be completely functional, organised, and testable.

If you have knowledge of HTML and CSS, you can organise and style web pages.

Understanding the latest technology and the ecosystem of web developers.
Also Read: Full Stack Tutorial
Eligibility criteria and prerequisites for taking the Full Stack Developer Course in Coimbatore
Eligibility Criteria
Any recent graduate who aspires to become a Full-Stack Developer may enrol in this course. Also, the Full Stack Course in Coimbatore is ideal for
professionals such as Backend and Frontend Designers who wish to master their respective technologies and expand their knowledge.

Programming specialists who work as software developers in the IT business.

Network and Database Administrators.

Managers and Project Leads from the IT sector.
Pre-requisites
We offer the best Full Stack Developer Course in Coimbatore that has no prerequisites because it also covers the foundations. It is essential to understand the fundamentals of any programming language you employ, and understanding the Web Application Development Process can help you master the material more rapidly. FITA Academy's Full Stack Developer training in Coimbatore will help you improve your skills, beginning with the fundamentals of web application development. With the guidance of our expert instructors, who all are seasoned developers, you may streamline your Web application development process.
Why You Should Enroll in the Coimbatore Full Stack Developer Course
Companies are constantly implementing novel processes inside their operations as they shift to an agile strategy for securing an irreversible position in the market and meeting the needs of customers in their online applications in a short time.
The Full Stack practice is an example of a form of technology that has been of great assistance to businesses since it reduces startup costs and enables the development of reliable applications that can scale to meet rising demand and include any necessary adjustments rapidly.
Undoubtedly, becoming a Full Stack Developer offers numerous benefits to businesses and projects. A Full Stack Developer can comprehend all of a project's requirements.
To perform successfully when developing Web or Mobile Applications, you must possess a vast array of skills and essential information. Additionally, you must be prepared to tackle new problems daily. In this circumstance, businesses prefer to hire a Full Stack developer, which is the greatest option because this developer can fulfil all of the project's requirements simultaneously, allowing the project to be constructed swiftly and without errors.
As more businesses adopt an Agile methodology, the demand for Full stack engineers will increase. Developers must be prepared for the continued expansion of demand. Full Stack Training in Coimbatore provides students the most in-demand abilities in the commercial sector, along with Web Development industry certification.