Course Highlights and Why Full Stack Developer Course in Jaipur at FITA Academy?

The Full Stack Developer course at FITA Academy in Jaipur is designed by industry experts with equal emphasis on Frontend and Backend technologies.

The course is taught by experienced Full Stack developers with more than a decade of experience in Web Development.

FITA Academy in Jaipur provides comprehensive training in Full-Stack Web Development technologies and related environments under the guidance of skilled trainers.

Students can benefit from periodic refresher sessions to reinforce their learned skills and stay up-to-date with the latest industry trends.

FITA Academy offers state-of-the-art classrooms equipped with the latest technology for Full-Stack training in Jaipur.

The Full Stack Developer course at FITA Academy is reasonably priced, making it accessible to a broad range of learners.

The course is available in weekend, weekday, and fast-track batches, allowing students to choose a schedule that suits their needs.

Upon completing the training, FITA Academy provides full placement assistance to candidates, ensuring they find the best positions for their future careers.

FITA Academy's active Placement Cell has ties with over 1,500 companies, ranging from small to large MNCs, to assist students in finding the best job opportunities.

Students who complete the Full Stack Developer course at FITA Academy can expect to gain expertise in both frontend and backend technologies, making them well-rounded professionals in the field of Web Development.
Upcoming Batches
| | | | |
| --- | --- | --- | --- |
| 09-12-2023 | Weekend | Saturday (Saturday - Sunday) | |
| 11-12-2023 | Weekdays | Monday (Monday - Friday) | |
| 14-12-2023 | Weekdays | Thursday (Monday - Friday) | |
| 16-12-2023 | Weekend | Saturday (Saturday - Sunday) | |

Classroom Training
Get trained by Industry Experts via Classroom Training at any of the FITA Academy branches near you
Why Wait? Jump Start your Career by taking the Full Stack Developer Training in Jaipur!
Instructor-Led Live Online Training
Take-up Instructor-led Live Online Training. Get the Recorded Videos of each session.
Travelling is a Constraint? Jump Start your Career by taking the Full Stack Developer Course Online!
Trainer Profile
FITA Academy's Full-Stack Developer Course is taught by seasoned professionals who have over a decade of experience working for top-tier organisations.
Trainees will benefit from the trainers' expertise, as they have worked on a variety of real-world projects and case studies.
The mentors will assess trainee's skills, learning ability, and practical knowledge to ensure that they are job-ready upon completion of the course.
Over 1,000 students have been taught by these professionals, and many of them currently hold executive positions in major corporations.
The instructors stay current with the latest advances in practical applications and are experts in their field.
Full-Stack Developer Course trainers in Jaipur have helped numerous students secure job interviews and employment opportunities.
The course curriculum is designed to provide trainees with both technical and conceptual knowledge of the most effective Full Stack methods.
The trainers' comprehensive understanding of Full-Stack development will prepare students to tackle real-world problems and scenarios.
Students will gain valuable experience working with cutting-edge technologies and tools.
FITA Academy's Full-Stack Developer Course has a proven track record of helping students obtain employment and excel in their careers.
Learn at FITA Academy & Get Your
Dream IT Job in 60 Days
like these Successful Students!

Features of Full Stack Developer Course in Jaipur at FITA Academy
Real-Time Experts as Trainers
At FITA Academy, You will Learn from the Experts from industry who are Passionate in sharing their Knowledge with Learners. Get Personally Mentored by the Experts.
LIVE Project
Get an Opportunity to work in Real-time Projects that will give you a Deep Experience. Showcase your Project Experience & Increase your chance of getting Hired!
Certification
Get Certified by FITA Academy. Also, get Equipped to Clear Global Certifications. 72% FITA Academy Students appear for Global Certifications and 100% of them Clear it.
Affordable Fees
At FITA Academy, Course Fee is not only Affordable, but you have the option to pay it in Installments. Quality Training at an Affordable Price is our Motto.
Flexibility
At FITA Academy, you get Ultimate Flexibility. Classroom or Online Training? Early morning or Late evenings? Weekdays or Weekends? Regular Pace or Fast Track? - Pick whatever suits you the Best.
Placement Support
Tie-up & MOU with more than 1500+ Small & Medium Companies to Support you with Opportunities to Kick-Start & Step-up your Career.
Why Learn Full Stack Developer Course in Jaipur at FITA Academy?
Live Capstone Projects
Real time Industry Experts as Trainers
Placement Support till you get your Dream Job offer!
Free Interview Clearing Workshops
Free Resume Preparation & Aptitude Workshops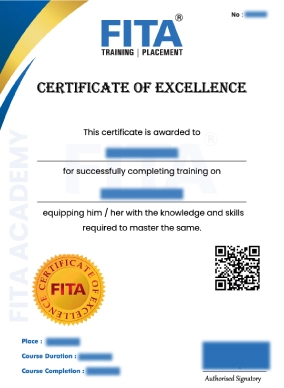 Full Stack Developer Certification Course in Jaipur
The Full Stack Developer Training program in Jaipur offered by FITA Academy results in a certification awarded to those who have completed the program successfully. This certification serves as proof of the knowledge and skills acquired by students during their training in full-stack development. It is a professional validation of the expertise and understanding that students have gained from the program. The Certification from the Full Stack Training Institute in Jaipur holds significant value due to the practical experience and comprehensive market knowledge that students gain from the program.
Acquiring this certification provides students with an opportunity to enhance their career prospects by incorporating it into their existing academic qualifications. By diligently studying the course materials, students can improve their abilities and skills, which in turn will increase their worth in the IT industry. The certification empowers students to display their exceptional abilities during job interviews and evaluations, opening up new career avenues. Overall, obtaining FITA Academy's Full-stack Certification can significantly expand career prospects and pave the way for success in the ever-growing IT industry.
Have Queries? Talk to our Career Counselor for more Guidance on picking the
right Career for you!
Placement Session & Job Opportunities after completing Full Stack Developer Course in Jaipur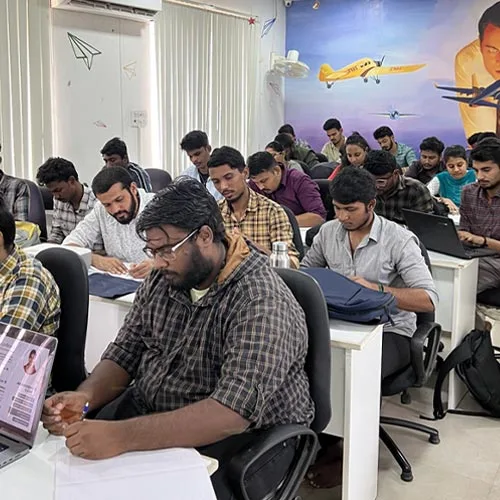 The need for software development experts having a varied set of skills is substantial, particularly for backend developers, frontend developers, database engineers, testers, and quality assurance specialists. These professionals are adept at handling multiple facets of the software development life cycle and can design a diverse set of frameworks, tools, and libraries.
The growing need for programmers who have the skillset to handle the entire process of software program development and distribution is resulting in an increasing demand for them. Rather than concentrating on specialized skills, several important industries are presently seeking proficient full-stack developers.
The advantages they provide have resulted in a significant increase in the demand for full-stack developers.  These professionals possess the ability to use an array of technologies and undertake a more extensive range of project-related responsibilities compared to conventional coders.
In terms of remuneration, entry-level median salaries for full-stack developers worldwide are roughly around Rs 3 to 5 LPA, while experienced professionals can earn up to Rs 8 LPA. Full-stack engineer's exceptional abilities, skills, and talents make them highly valuable, resulting in companies offering significant compensation packages to them. FITA Academy's Coaching Centre for Full Stack Developers in Jaipur provides training that can equip students for various web-related roles, such as full-stack developers, front-end developers, web developers, and web designers. To become a full-stack developer, one must possess extensive knowledge in diverse areas of web design and development, which is precisely what the training program offers.
The full-stack developer training program offered in Jaipur is specifically designed to furnish students with industry-specific knowledge and skills that can enable them to pursue their desired careers and contribute towards organisational success. Our program's objective is to train and prepare students for the competitive Full Stack Developer Salary for Freshers by utilising the various training components offered to them. Upon successfully completing the training program, our students will have the potential to work as front-end or back-end developers, or as proficient full-stack specialists.
After completing the best Full Stack Developer Training program in Jaipur, you will acquire the essential abilities to pursue various career paths in the web development field. This comprehensive training program will equip you to pursue the following roles:
Full-Stack Developer: As a Full-Stack Developer, you will be responsible for handling both the front-end and back-end development of a web application, such as user interface design, server-side logic, and database management.
Back-End Developer: This position focuses on developing the server-side of web applications by writing code that interacts with servers, databases, and APIs to guarantee the smooth and secure operation of the application.
Front-End Developer: In this role, you will be tasked with designing and developing the user interface of a web application using HTML, CSS, and JavaScript to create an aesthetically pleasing and engaging user experience.
Web Developer: This role encompasses both front-end and back-end development and may entail working with databases, servers, and APIs to build web applications and manage data.
Web Designer: As a Web Designer, your job will involve creating attractive and user-friendly interfaces for websites and web applications. This includes designing layouts, selecting fonts and colours, and ensuring the design is responsive and accessible on various devices.
By completing the Full Stack Developer Course in Jaipur, you will gain the necessary skills and knowledge to pursue a gratifying career in web development, with various job opportunities to choose from based on your interests and strengths.
Also Read: Full Stack Developer Interview Questions and Answers
Success Story of Full Stack Developer Course in Jaipur
I completed the Full Stack Developer Course at FITA Academy in Jaipur and was pleasantly surprised by the quality of the training. The trainers were knowledgeable and patient, and the course content was both challenging and engaging. The hands-on experience I gained through practical sessions was invaluable and helped me develop the skills necessary to land a job as a Full Stack Developer. I would highly recommend FITA Academy to anyone looking to start or advance their career in web development.
I had a good learning experience at FITA Academy, Jaipur. The Full Stack Developer Course provided me with in-depth knowledge of the latest tools and technologies used in the industry. The trainers were very supportive and encouraged me to work on real-world projects. The course also helped me improve my problem-solving and debugging skills. I'm grateful to FITA Academy for helping me land my dream job as a Full Stack Developer.
I had no prior experience in web development when I enrolled in the Full Stack Developer Course at FITA Academy in Jaipur. However, the trainers at FITA Academy made the course accessible and easy to follow. The course covered everything I needed to know to get started in web development, and I was pleasantly surprised at how quickly I was able to pick up the skills necessary to start building web applications. Now, I am working as a Full Stack Developer for a growing start-up.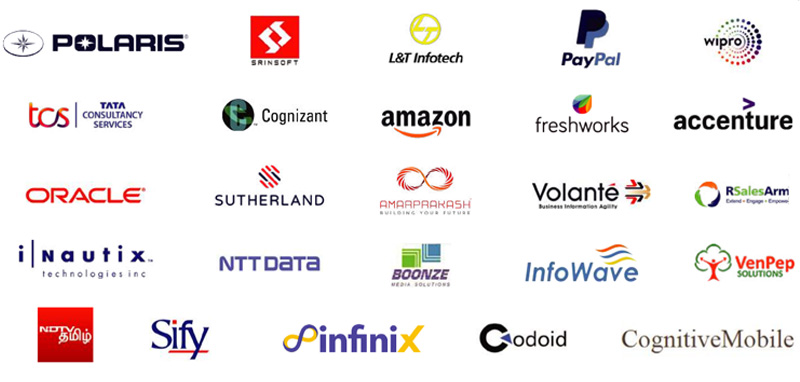 Frequently Asked Question (FAQ) about Full Stack Developer Course in Jaipur
Additional Information of Full Stack Developer Course in Jaipur
The need for Full Stack Development skills is in high demand across numerous industries, as these skills are essential for creating websites, databases, server-side connection applications, and testing client-requested projects. Professionals with expertise in Full Stack Development can anticipate high salaries and prospects for career growth. Implementing Full Stack Development can help you create unique and innovative projects that cater to your intended audience.
The Full Stack Development curriculum is regularly updated and tailored to meet industry demands. The course is comprehensive, featuring practical exercises, projects, and practice tests that highlight real-world application. Enrolling in this program is an excellent way to progress your career in Full Stack Development or related fields.
The instructors leading the program are seasoned experts in their fields, equipped with both technical and soft skills that are sought after in the industry. The program is accessible to individuals with an engineering or computer science background, with the option to either attend the Full Stack Developer Training in Jaipur or take online classes. Our training programs are tailor-made to assist you in achieving your full potential.
Also Read: Full Stack Tutorial
Eligibility criteria and prerequisites for taking the Full Stack Developer Course in Jaipur
Eligibility Criteria: The Full Stack Course in Jaipur welcomes recent graduates interested in pursuing a career as a Full-Stack Developer, as well as Backend and Frontend Designers seeking to improve their skills and expertise in their respective areas. The course is also open to programming experts currently employed in the IT industry as software developers, network and database administrators, project managers, and IT industry managers.
Pre-requisites: While there are no specific prerequisites for this comprehensive course, a solid grasp of programming language principles and familiarity with the Web Application Development Process can accelerate your mastery of the subject matter. The course starts with the basics of web application development and progresses through more advanced topics, helping you develop your skills. With the support of our experienced instructors, all seasoned developers, you can streamline the process of creating web applications.
Learning Objectives of Full Stack developer course in Jaipur at FITA Academy
Gain a comprehensive understanding of web application development with the Full Stack Course in Jaipur.
No prior experience in full-stack development is required for this course.
However, a solid understanding of programming language principles is necessary.
Familiarity with the web application development process can help you learn faster.
The Full Stack Learning Jaipur is designed to help you build your skills and become a full-stack developer.
Experienced instructors who are seasoned developers will guide you through the process.
Streamline the process of developing web applications with the skills you acquire.
Learn all aspects of full-stack development, including server-side and client-side development.
Discover essential tools and technologies such as databases and APIs.
Develop and deploy a fully functional web application by the end of the course.
Whether you're a recent graduate or an experienced IT professional, this course can enhance your skill set and advance your career.
Integrate front-end and back-end components to create a complete application stack.
Utilise the Git Version Control System to document your work and its modifications.
Get hands-on experience with real-world projects to enhance your resume.
Excel as a Full Stack Developer with the help of FITA Academy's expertly designed course curriculum.
Full Stack developers have extensive expertise and proficiencies in diverse areas. With the increasing need for full-stack professionals, it can be said that their prospects are bright. At FITA Academy, we guarantee that our Full Stack Developer Course in Jaipur encompasses all the crucial elements essential for practical exposure in this industry. This entails practical assignments, assessments, and live projects that enable you to acquire practical knowledge.
At FITA Academy, we strive to provide Full Stack Developer Training in Jaipur that covers the most recent industry developments and top techniques for professional advancement. Our program includes mentorship and placement support, making it the most effective Full Stack developer training available. The course materials are simple to comprehend and can be customised to meet the needs of students with varying levels of previous knowledge. This training program is accessible to anyone, regardless of their technical background, and will equip them with the necessary skills to become successful Full Stack developers.