Salesforce is a supreme IT company outsourcing commerce, sales, and marketing. The company integrates its customer 360 platforms to connect various apps for better and stronger business solutions. Among all IT companies, Salesforce has been providing wonderful opportunities for freshers who are seeking an excellent salesforce salary for freshers. The company has been stabilizing global business, marketing strategy, and software products to open a futuristic pathway for delivering exceptional customer experiences.
This article will provide an overview and opportunity of the salesforce company, significant roles, responsibilities, procedures to apply, and other relevant information.
Who can apply for various job roles at Salesforce?
Applicants who are eager to push the frontiers of the digital world and who are capable of performing a competent function are encouraged to apply. The candidate must also have a foundation in information and technology, as well as coding & computing capabilities along with relevant expertise in salesforce services.
How to apply for Salesforce?
Salesforce provides five simple steps to freshers to get their dream job through their official web interface. Through this, the candidate can go and explore various job roles, vacancies and register for interviews. The five steps to salesforce gateway are
Explore Job Opportunities – Candidates are advised to search and explore various job roles which suit or matches their qualification. If any of the job roles matches and makes the applicant competent for that particular role, go ahead to the next step of the application process.
Prepare Yourself – The applicant can find out themselves through asking a series of questions: the area where the candidate wants to excel; the motivation behind job roles; characteristics and compliments; projects associated with the roles; roles where the candidate can spend maximum time without any hesitation. Then, the applicant after preparing themselves, move to the next phase.
Application for the Roles – Proceed to the registration of applications for any roles, which gives the best salesforce salary for freshers.
Interview phase – If any of the submitted applications of entrants matches with any of the job roles that Salesforce has posted, the candidate gets shortlisted for the interview process. A representative from the company will contact the shortlisted candidate for an information session and interview scheduling.
Offer Letter and Grow – This is the final phase, where the selected candidate will receive an offer letter for the job roles along with an appointment letter.
Qualification Criteria for Salesforce Jobs
Salesforce.com has a set of minimum standards that all qualifying candidates must meet. A bachelor's degree in business administration, computer application or master's degree in business administration, and computer application are eligible for apply. In addition, a candidate must also have a solid grasp of the Salesforce platforms' fundamental ideas and functions. Then, if the applicant is passionate about software and related products, they are encouraged to apply for numerous sort of job roles.
Add exceptional credits to your present qualification through learning Python Training in Chennai at FITA Academy.
Examination Process for Salesforce
To pass the test, candidates must be able to develop data models, user interfaces, customized applications, cyber security models, business logic, and construct apps using Salesforce's point-and-click features. It is also necessary to create portals, reports, and dashboards for the completed task. The test is in the form of multiple-choice questions, with a total of 60 questions. The exam lasts 90 minutes and requires a score of 68 percent to pass. Candidates must register and pay a $200 examination fee. Hard-copy or internet materials are not permitted within the test centre as per the examining authority.
Supplemental Skills for Increased Chances of Getting Recruited
Salesforce is looking for people under the age of 35 who have strong interpersonal skills, problem-solving abilities, cognitive intelligence, intellectual talents, excellent administration, proper communication, and basic scripting or programming skills. Candidates that are productive, inventive, clever, eager, and adaptable in the job are also more likely to get recruited.
Salesforce salary structure
Employees at Salesforce are compensated in a variety of ways. The package varies based on the candidate's experience and performance; below in the chart, there is a list of estimated salary packages for freshers.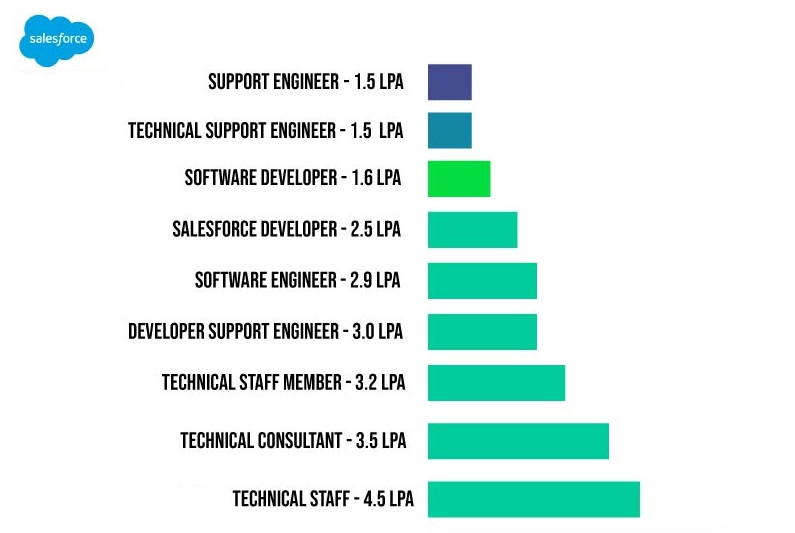 Essential Skills, Key roles, and Responsibilities at Salesforce
Developer Support Engineer
Salesforce expects their fresh development support engineers to have desired skills in the following domains: cloud computing, customer service, management of data, debugging, javascript, open-source services and tools, operations, database management system and structure, system-query language, and Salesforce so that freshers can get into it with a good salesforce package for freshers. In addition, expertise skills in KBS, C, C++, Java, Python, MySQL, PostgreSQL, NoSQL, LAN, WAN, and other software services are highly appreciated. The development support engineer possesses the following key roles and responsibilities to fulfill at the workspace.
Take responsibility for client complaints and resolve them.
To address customer concerns, do research, diagnose, debug, and identify solutions.
Adhere to regular protocols for escalating unresolved concerns to the relevant internal teams.
Provide consumers with timely and accurate feedback.
Ensure that all concerns are correctly recorded and closed.
Prepare accurate reports.
Knowledge should be documented in the form of tech notes and articles in the knowledge base.
For difficulty, concerns refer to SLA
Salesforce Developer
To join as a salesforce developer, the applicant must possess fundamental skills in CRM platforms, MYSQL, Apex, Javascript, VisualForce, Agile, GIT, MTS, Scrum, release management, visual studio, Ajax, application development, cloud computing, and coding. The salesforce developer needs to fulfill the following key roles and responsibilities at the workspace.
To assess CRM requirements, meet with project management.
Using the Salesforce platform to create better solutions.
Salesforce application design, coding, and implementation.
Fixing deadlines with proper development objectives.
Testing the application's stability and functionality
Bug fixing and troubleshooting
Writing papers and delivering technical training to Salesforce employees
Maintaining the application software's security and integrity.
Technical Support Engineer
To get placed into Salesforce as a technical support engineer, the applicant is desired to have the following skills with relevant experience. The skills include technical support services, Salesforce, debugging, troubleshooting, analytics, C++, CRM, coding, customer services, networking operations, product management, system-query language (SQL), and XML. As technical support engineers, they have the following key roles and responsibilities to accomplish
Taking care of technical support tickets.
Making contact with clients to learn more about technology or IT issues.
Using remote access to connect to clients' computers.
Inspect the client's office or the server's site.
Installing new hardware, software, and networking technologies.
Troubleshooting and diagnosing hardware, networking, and software issues.
Proposing easy-to-implement solutions.
Providing basic software training to other employees.
Interacting and sustaining strong customer relations.
Completing proper job reports.
Support Engineer
Both the Technical Support Engineer and Support Engineer require similar skills to get recruited (discussed in the preceding role). Besides, they also possess similar vital roles and responsibilities to fulfill. However, the only difference is that the technical support engineer is associated with the system and cloud-related services. In contrast, the support engineer is associated with non-technical related support and services.
Become a professional technical or support engineer through acquiring knowledge on Software Testing Course in Chennai at FITA Academy.
Technical Consultant
Freshers seeking job role as Technical consultant at Salesforce with an excellent salesforce salary India for freshers must possess the following skills: Salesforce, customer relationship management, extensible markup language, C++, cloud computing, consulting, Javascript, Python, search engine optimization, and other relevant test cases. As a technical consultants, they must manage the following key roles and responsibilities.
Analyzing the capabilities of the hardware, software, and networks.
Consulting with management and other IT departments.
Consultation with end-users and provision of new ideas to improve system efficiency.
Analyzing Web-based portal performance and efficiency
Encrypting recorded faults and maintaining them safely
Processing documents, and monitoring performance indicators.
Assuring that software upgrades are compatible with computer hardware.
Using the most up-to-date technological advances and solutions.
Troubleshooting and performing diagnostic tests.
Providing End-users with how to use the hardware and software packages.
Software Developer
Freshers or freshly graduated applicants for this role at salesforce are expected to have desired skills in the following domains: computer science, management of information systems, multi-tasking staff, product management, system-query language (SQL), Salesforce, technical documentation, and XML. As software developers, they need to fulfill the following key roles and responsibilities
Having a discussion with clients about their needs
Troubleshooting and testing software
Maintaining a system operation.
Participating in technological design
Combine software components.
Creating effective codes
Creating program codes for use in reports and references
Enhance your software development and engineering skill set through learning DevOps Training in Chennai at FITA Academy.
Software Engineer
A software engineer plays a significant and prominent role in any IT company. So, to get hired into Salesforce as a software engineer, the company expects their applicants to have expert skills in Salesforce, Python, CRM, SQL, Computer Science, Automation, MTS, Scrum, Javascript, Open source, coding, computing, Linux, Agile, product management, and other languages. During their role at Salesforce, they need to complete certain roles and responsibilities
Examine the needs of the users
Create a test code, revising and rewriting it as needed.
Interact with programmers working on the project research, design, and writing new software programs (e.g. business applications or computer games) and operating systems
Develop current programs through analyzing and identifying areas for adjustment.
Evaluating the computer's hardware and software operations.
Create technical platforms to integrate current software & products
Writing codes or applications to regulate the scheduling of jobs
Collaborating with technical authors to create operational documentation
Maintain systems through identifying and repairing software flaws
Consult clients and colleagues about the maintenance and performance of software systems, with a view to writing or modifying current operating systems.
Collaboration with other staff members such as project managers, graphic artists, UX designers, other developers, systems analysts, and sales and marketing professionals to improve business.
Investigate new technologies on a regular basis through attending online and external courses, reading manuals, and using new apps to keep technical knowledge and skills up to date.
Become an exceptional software engineer at salesforce through learning Full Stack Developer Course in Bangalore at FITA Academy.
Senior Engineer
Salesforce wants their newer applicants for this role with top skills such as automation, biotechnology, capacity planning, coding, computer science, continuous improvement of services, detailed engineering, monitoring services, project engineering, Salesforce, windows, and customer care support. During their respective postings, they need to complete the following critical tasks and duties.
Management of Business Unit Sector
Management of all works assigned to date
Preparation and Management of Engineering Projects
Interpretation of design life, cost, equipment selection, and program maintenance
Preparing reviews for tenders and business
Conducting surveys to gather or acquire data
Interpret engineering reports, drawings, and layouts
Performing building services, engineering duties, and other technical systems
Management of project concerns, costs, and schedules
Reviewing development plans for salesforce compliance with good engineering standards
Collaborate with global clients for a better insight into business solutions
Preparing and Reporting timesheets on the basis of work hours
Technical Staff Member
Salesforce explicitly expects their employees or freshers looking for a good salesforce salary structure to have considerable skills. The skills include expertise in agile, analytics, coding, data quality, data structures, debugging, forecasting, google cloud computing services, and Python. Member Technical staffs are associated with the following key roles and responsibilities.
Establish technical requirements for CDMA 1X, 1XEVDO, and LTE wireless technologies.
Driving the strategic business goals into the final design, assessing and building new innovative technologies.
Effective project management and delivery, leading small groups or teams.
Maintaining complicated technologies necessitates a thorough grasp of system needs.
Provide technical direction to the team in a strategic manner.
Carry out technological tests.
Keeping up-to-date with trends and technology in the IT sector.
Represent the interests of US Cellular in external industry forums.
Engage and enhance present Web applications and transfer to a single technological platform.
Demonstrate knowledge of client-side web technologies.
To become an expert technical staff member at salesforce by learning Dot Net Training in Bangalore at FITA Academy. The leading institute to train IT, aspirants, for successful campus placement.
Senior Technical Staff
Technical enthusiasts seeking a wonderful opportunity at Salesforce with an optimal salesforce package for freshers must have the following technical skills: Salesforce, system-query language, data structures, javascript, open-source, oracle, SDLC, Agile, development of agile, agile methodology, analytical modeling, application development and implementation, C++, and cloud management services. Senior Technical staff is concerned with the following essential tasks and duties at Salesforce.
To the Operations Team, develop packaging, deployment documentation, and Puppet scripts for final builds (to be used for production deployments)
Primary contact with direct customers (Operations and other service providers) ensures that the Integration and Staging environments are up to date with the latest releases, fixes, and upgrades.
Contribute to the design and execution of the vCloud Usage Meter product's numerous features.
To get features executed in an agile mode, work closely with all stakeholders (product manager, scrum master, developers, test engineers, technical writer, operations, and support personnel).
Developing and Writing automated tests and code coverage activities
Leading the design and development of software components on their own
Identifying potential integration/interop difficulties through reading the PRD and functional specifications.
Working with other developers in a collaborative team context to architect, design, implement, and integrate new and expanded features of the highest quality.
Helps prioritize, organize, and manage projects through profiling and optimizing remoting software performance on Windows.
Employment Benefits at Salesforce
Paid Sickness Leave – Salesforce provides paid-leave-off during employees or family sickness.
Health and Wellness Insurance – Salesforce affords reliable insurances for accidental death, dental issues, health savings, maternity & paternity leaves, vision, disability, health, and life.
Transportation Support – Employees at Salesforce are provided with bikes inside the campus. In addition, they also offered company shuttle and transport allowances.
Cafeteria – Employees may have refreshments from the restaurant during business hours, including refreshing drinks and nibbles.
Home Security and Assistance – Salesforce provides adoption, fertility, and immigration assistance to their employees and other bill allowances.
Retirement Benefits – Employees working at Salesforce get a monthly allowance or compensation benefits.
Discounts and Perks – Salesforce credits $2400 per year and more than a 60% discount for all their purchases. Further, it also affords tuition reimbursement, learning, and education.
Products and Services of Salesforce
Applications and Interfaces
Customer 360 – It unites all the teams for better sales, service, marketing, and commerce.
Sales and Services – It promotes the growth of product sales and services through the sales and services cloud; now, the service is available at Slack.
Digital Marketing – Enables quick and impactful insight into product marketing and sales.
Commerce – Enables world-class customer management system through agile.
Analytics – It generates and drives analytic data for business growth and product sales.
Slack – It interconnects customers, employees, and partners for digital conversation with good workflows.
Platform – Salesforce team and Slack teamwork on this platform for faster and reliable work.
Work.com – Salesforce provides employees with a safety and insurance management system through these web interfaces.
Health – Digitally stores pieces of information of the patient and helps medical experts to get a panoramic view for further treatments.
Sustainability – Gathers data on carbon emissions and energy usage for the betterment of a sustainable ecosystem.
Partner Ecosystem – Enables users and clients to get engaged through this platform for profitable product sales and services.
Types of Industries
Financial Services – Salesforce's cloud and slack services enable banking and financial sectors to make quick, more intelligent decisions and help to maintain compliance.
Manufacturing – Salesforce utilizes its cloud ecosystem and intelligence services to track production, sales, and planning.
Higher Education – The Create-360 degree helps students to monitor their entire life-cycle with salesforce and education cloud.
Retail and Store – Interconnects retailers and customers on a single intelligent platform.
Consumer Goods – Its intelligent services help in delivering packages with personalized experiences.
Media – Salesforce utilizes game-changing tools such as cloud, mobile, and analytics to build relationships with consumers.
Communications – Salesforce affords an integrated platform to communicate with each and every person directly for business concerns.
Healthcare and Life Sciences – Progressing the relationship of patients and medical experts for better consulting and pharmaceutical prescription.
Transportation and Hospitality – Salesforce meets external clients' transportation, delivery, bookings, international trips, and other logistics services.
Small Business – Salesforce also affords digital tools to promote and drive small businesses to the next step.
Customer Support and Services – The salesforce team is tirelessly working towards affording supportive customer care services to achieve the client's business goals.
Global Opportunities at Salesforce
Salesforce has multiple international offices across all countries. So, freshers seeking a good salesforce salary in India for freshers can go abroad for more financial benefits. Some of the countries where Salesforce has offices are
Australia
New Zealand
China
India
Japan
Korea
United States
Africa
Belgium
Denmark
Finland
France
Germany
Ireland
Italy
Norway and Other European Nations
To avail the international opportunity, write and clear IELTS through learning IELTS Coaching in Bangalore at FITA Academy.
Summary on Freshers Benefits at Salesforce
Freshers or aspirants who want to start an accelerating IT career can go for Salesforce. The company affords numerous benefits and supports to new joiners. Some of the key benefits are
A workplace that is both creative and has an excellent work-life balance
A solid remuneration package with outstanding incentives
Financially compensated life and health insurance policies
Offers for foreign migration and international vacations
Expertise abilities and a recognizable designation
An Engaging platform to work with seniors and professionals.
It opens the pathways to a plethora of opportunities and career possibilities.
A prospective-thinking and next-generation platform for launching a new featured professional career.
We have briefed Salesforce's overview, job postings, procedures to apply, respective roles and responsibilities, employment benefits, products and services, global opportunities, and fresher's benefits throughout this article.
The company holds global merit and remains an optimistic platform for IT aspirants and freshers. Its innovative and supportive environment will help make applicants have a featured and bright career. Therefore, our research highly recommends that freshers approach and apply for various job roles at Salesforce. The applicant's experience and work skills will make them recognized and marketable across the globe. Hence, grab the fantastic opportunity for the post of various roles at Salesforce with a good salesforce fresher salary at their official careers page.
Frequently Asked Questions
1) What is the salesforce fresher salary?
The salesforce salary for freshers ranges from 12.0 to 43.4 Lakhs Per Annum. But the package varies for professionals depending on their performance and experience.
2) Does Salesforce pay a high salary package?
Yes, Salesforce tends to pay 45 to 98 Lakhs Per Annum to their Top 10% employees. But, usually, the fresher's salary is affordable.
3) What are the best roles at Salesforce?
Development Manager, Technical Consultant, and Solution Architect are the highest best roles at Salesforce.
4) Do I need coding skills to join Salesforce?
Salesforce affords low-code and no-code applications for app and software development. So, freshers can create an application through their drag and drop features.
5) What programming language is significant for job roles at Salesforce?
To become a salesforce developer, the applicant must have Apex knowledge. So, Apex is the most significant language to join Salesforce.