Course Highlights and Why Graphic Design Courses in Jaipur at FITA Academy?

The FITA Academy offers a concise, up-to-date education coaching program in Graphic Design.

FITA Academy offer digital educational content created by professional experts in the field, covering all necessary elements such as Photoshop, Illustrator, Visual design etc.

FITA Academy's teaching methods combine theoretical and practical approaches, boosting students' understanding of the subject matter.

Advanced classrooms equipped with state-of-the-art computing technology assist students to practice their learning.

Various batch timings are available to suit the students' time commitments.

Students can choose between online and offline courses depending on their convenience.

There is a fast track learning option for those unable to set aside time for regular classes.

As the course concludes, students are provided with job placement training.

The Graphic Design Courses Fees in Jaipur at FITA Academy are structured to be affordable to all students.
Upcoming Batches
| | | | |
| --- | --- | --- | --- |
| 09-12-2023 | Weekend | Saturday (Saturday - Sunday) | |
| 11-12-2023 | Weekdays | Monday (Monday - Friday) | |
| 14-12-2023 | Weekdays | Thursday (Monday - Friday) | |
| 16-12-2023 | Weekend | Saturday (Saturday - Sunday) | |

Classroom Training
Get trained by Industry Experts via Classroom Training at any of the FITA branches near you
Why Wait? Jump Start your Career by taking the Graphic Design Courses in Jaipur!
Instructor-Led Live Online Training
Take-up Instructor-led Live Online Training. Get the Recorded Videos of each session.
Travelling is a Constraint? Jump Start your Career by taking the Graphic Design Online Course!
Graphic Design Courses in Jaipur Trainer Profile
The instructors at FITA Academy are seasoned experts in Graphic Design.
These instructors have a wealth of teaching experience, guiding countless students during their professional journey.
They regularly revise vital concepts to assist students with the retention of their gained knowledge.
The mentors at the Graphic Design Institute In Jaipur at FITA Academy are accomplished Graphic Designers with several years of service in reputed organisations.
Trainers utilize a blend of educational methods to impart learners with a mix of theoretical knowledge and practical experience.
Trainers conduct sessions to clarify any doubts, ensuring learners can fully comprehend the subjects taught.
Trainers also support students in securing employment by discussing potential questions that may be asked in interviews.
Learn at FITA Academy & Get Your
Dream IT Job in 60 Days
like these Successful Students!

Features of Graphic Design Courses in Jaipur at FITA Academy
Real-Time Experts as Trainers
At FITA Academy, You will Learn from the Experts from industry who are Passionate in sharing their Knowledge with Learners. Get Personally Mentored by the Experts.
LIVE Project
Get an Opportunity to work in Real-time Projects that will give you a Deep Experience. Showcase your Project Experience & Increase your chance of getting Hired!
Certification
Get Certified by FITA Academy. Also, get Equipped to Clear Global Certifications. 72% FITA Academy Students appear for Global Certifications and 100% of them Clear it.
Affordable Fees
At FITA Academy, Course Fee is not only Affordable, but you have the option to pay it in Installments. Quality Training at an Affordable Price is our Motto.
Flexibility
At FITA Academy, you get Ultimate Flexibility. Classroom or Online Training? Early morning or Late evenings? Weekdays or Weekends? Regular Pace or Fast Track? - Pick whatever suits you the Best.
Placement Support
Tie-up & MOU with more than 1500+ Small & Medium Companies to Support you with Opportunities to Kick-Start & Step-up your Career.
Why Learn Graphic Design Courses in Jaipur at FITA Academy?
Live Capstone Projects
Real time Industry Experts as Trainers
Placement Support till you get your Dream Job offer!
Free Interview Clearing Workshops
Free Resume Preparation & Aptitude Workshops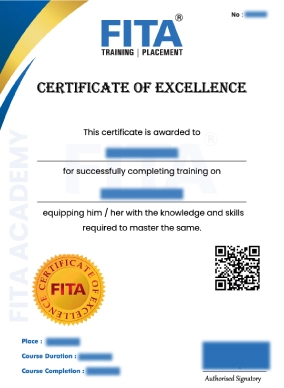 Graphic Design Certification Courses in Jaipur
Once the Graphic Design Courses In Jaipur are completed successfully, students receive a certificate of completion from the FITA Academy. This credential gives graduates a crucial advantage as employers highly revere it. The unique thing about the certificate is that it is not only widely accepted but also represents thorough hands-on experience. Being recognized for such practical engagement underlines the skills students have acquired, showing they are prepared and ready to exceed expectations as a Graphic Designer.
The value of this Graphic Design Course Certificate increases when candidates step into the employment sector. Featuring this certificate prominently on your resume improves your profile in job interviews, opening up many job opportunities. By joining the Graphic Design Institute In Jaipur at FITA Academy, you are setting a path towards a sea of opportunities. This certification can be a springboard to a vibrant career in a highly-desired sector.
The FITA Academy's Graphic Design certification on your resume makes a significant difference during interview sessions. It is valuable proof of your knowledge and skills in the Graphic Design industry.
Have Queries? Talk to our Career Counselor for more Guidance on picking the
right Career for you!
Placement Session & Job Opportunities after completing Graphic Design Courses in Jaipur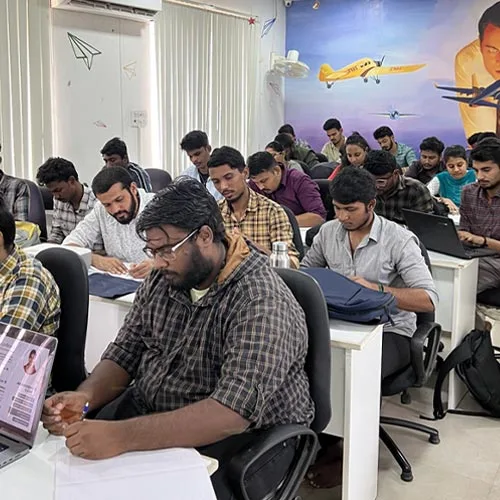 Graphic design is a captivating career that beckons to those with a creative flair. This field is a broad canvas, spanning across industries, offering Graphic Designers a wide array of thrilling projects to sink their teeth into.
For the creative minds behind the design, it's a fulfilling journey as they witness the tangible impact of their work in the real world. But let's break it down to its essence: graphic design requires a blend of creative genius, a discerning artistic eye, and rock-solid technical skills.
Graphic Designers wield powerful software like Adobe Photoshop, Adobe Illustrator, and Canva in their toolkit. It's through these digital brushes that they breathe life into their artistic visions. Yet, a successful graphic designer is a digital artist and a proficient communicator.
In a bid to provide the Best Graphic Design Courses In Jaipur, FITA Academy ensures students gain all of the skills mentioned above and master the tools needed to become successful graphic designers.
The ability to convey ideas effectively to clients is a prized skill. It involves brainstorming, conjuring mood boards, and crafting creative solutions. When working on branding and advertising, knowledge of typography, leading, kerning, and tracking becomes invaluable.
Understanding the art of pairing fonts and mastering color theory are also essential skills for Graphic Designers. These attributes empower them to create compelling visual narratives and captivate audiences.
The employment landscape for graphic designers is projected to grow by 3 percent from 2022 to 2032, roughly aligning with the average for all occupations. This outlook signifies the enduring relevance and demand for graphic design expertise.
The projection indicates an annual average of about 22,800 job openings for graphic designers over the next decade.
FITA Academy ensures its students grab the most of the opportunities mentioned above for Graphic Designing in Jaipur by providing rigorous placement training to students enrolled in the course.
The reason behind this steady demand is the ever-expanding digital footprint of businesses. Companies constantly seek to enhance their online presence, requiring the artistic touch of graphic designers to craft visually appealing and effective web layouts, ensuring they connect with their target audience. In essence, graphic design is not merely a career; it's a vibrant tapestry of creativity, technology, and communication that spans industries and promises opportunities.
Graphic design jobs are fairly high paying, with Graphic Designer Salary for Freshers around 1 – 1.3 lakh per annum. This grows to around 3.5 LPA with significant gain in experience. But these numbers vary based on location, the organization, experience gained etc.
Job roles in Graphic Design
Web Designer
Web designers are the creative architects behind websites. They craft individual web pages, conceptualize page layouts, and give life to graphics. These tech-savvy professionals also design user-friendly navigation menus and site structures.
In some cases, they possess coding and programming skills, enabling them to build entire websites independently. Their work involves close collaboration with a website's brand and marketing team. Together, they decide what content goes on each page and where to position graphics, ensuring a seamless user experience.
Web designers are the IT professionals who breathe life into the visual identity of websites. They're responsible for web pages' aesthetics, layout, usability, and even textual content. Their role extends to designing navigation systems and site structures.
Influential web designers are a unique blend of technical prowess and creative flair. They can envision how a website looks and functions, translating these ideas into captivating designs. With a keen eye for graphics, layout, content, and consistency, they craft the digital face of businesses and individuals who are looking to connect with a global audience.
Over the years, FITA Academy's Graphic Design Institute In Jaipur has trained numerous students, moulding them into successful Web designers. By providing essential learning, hands-on experience and job readiness training, FITA Academy has assisted many students in landing Web Designer roles.
Logo Designer
A Logo Designer is a graphic artist who creates unique visual representations for products or organizations. They can be independent freelancers or be part of design firms and advertising agencies.
This profession holds a promising future. Logo Designers are in constant demand in a world where every business strives for distinct brand recognition. Clients seek their services through outsourcing or by hiring them on a full-time basis for in-house projects.
Logo Designers are responsible for crafting visually captivating symbols that embody a company's or product's essence. They research to understand the preferences and memories of their target audience. With this knowledge, they meticulously select colors and shapes that resonate with the brand identity.
Additionally, Logo Designers need to stay informed about existing designs in the market to avoid replication or infringement of trademarked logos. Their role is to create iconic symbols that set brands apart, ensuring they are both memorable and legally sound.
At FITA Academy's Graphic Design Institute In Jaipur, we provide comprehensive job placement assistance for various roles in the sector, including Logo Designing. Our extensive alumni network includes many logo designers working in respected companies all over the country.
Photo Editor
A Photo Editor is an expert in examining, selecting, and refining the ideal images and visual elements for particular projects. They typically manage a group of photographers and work closely with diverse publications.
Their primary responsibility is overseeing the visual material that adorns the pages of books, magazines, daily newspapers, websites, art exhibitions, and business product catalogs. Photo editors are the experts who handle real-life photos, making adjustments, modifying colors, or even blending images to produce the perfect final product.
Their duties can vary, from basic tweaks like fine-tuning illumination and color harmony to more intricate tasks such as altering clothing hues or seamlessly incorporating logos and banners into pictures. Essentially, they are the creative minds ensuring that the visual components cohesively match the project's objectives and aesthetic principles.
Several students enrolled in FITA Academy's Graphic Designer Courses In Jaipur have landed photo editor jobs through our placement training.
Success Story of Graphic Design Courses in Jaipur
FITA Academy's Graphic Design Course was life-changing for me. Everything I needed to know about Graphic Design was addressed in the course curriculum. The hands-on laboratories and simulations were really beneficial in gaining practical knowledge. The professors were extremely educated and polite, ensuring a pleasurable learning experience.
The Graphic Design Course at FITA Academy exceeded my expectations. It delved into diverse topics, offering useful insights about real-world scenarios. The program had several practical exercises that made it easy to understand and implement my knowledge effectively. I highly recommend FITA Academy for all graphic designers.
The Graphic Design Course at FITA Academy was great. The tutors provided excellent teaching and the experience of gaining practical knowledge was remarkable.The addition of offering online coaching proved very advantageous as I am a working professional. The course helped me land a job as a web designer in a well-reputed firm.

I found FITA Academy's Graphic Design Course extremely resourceful. The trainers have excellent command over the subjects and have helped me in understanding and applying the concepts effectively. Their training led me to get a job as a designer. A big thank you to FITA!!
FITA Academy provides outstanding training in Graphic Design. The trainers are field specialists and superb educators. Besides, they allowed me to gain practical experience in applied learning. The placement training was also beneficial, providing the necessary assistance I needed for job placements.Thank you FITA Academy!!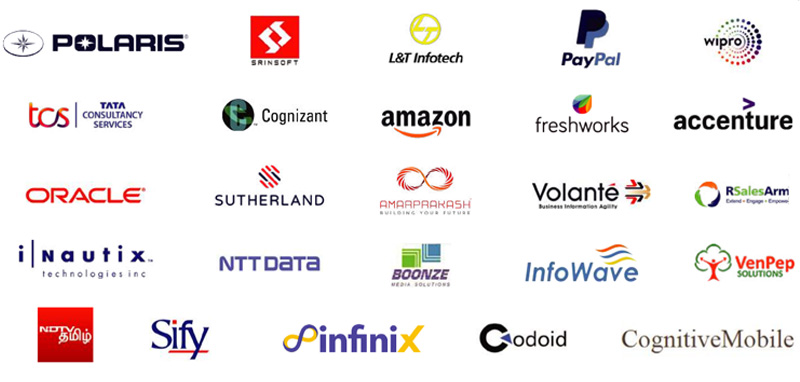 Frequently Asked Question (FAQ) about Graphic Design Courses in Jaipur
Additional Information of Graphic Design Courses in Jaipur
Graphic design is the process of crafting visual elements to convey messages. It involves arranging images, words, and colors to fulfill specific user needs and enhance the user experience. This practice focuses on the logical placement of elements in interactive designs.
Visual hierarchy and page layout techniques are key tools for designers in this field. They work with typography and images to create effective communication. Whether it's shaping the layout of a magazine, crafting a poster for a theater performance, or designing product packaging, graphic design plays a pivotal role.
The impact of graphic design extends to both print and digital media. It surrounds us in various forms. This art produces content through colors, shapes, images, and words. It's not merely about aesthetics; it's about conveying information that inspires and informs, a vital aspect of any business's triumph.
Businesses use graphic design to boost sales through advertising and represent their identity through branding. Websites rely on it to simplify complex information with infographics. Graphic design is a versatile tool that fosters effective communication and supports the success of various endeavors.
FITA Academy offers a comprehensive course on Graphic Design through the Graphic Design Institute In Jaipur, providing students with every bit of knowledge and skill needed to succeed as graphic designers.
Graphic Design Tools
Adobe Photoshop
Adobe Photoshop is a renowned multi-functional software known for its ability in graphic design, raster image editing, and digital art. It uses a layering technique to give depth and flexibility to design and editing workflows, providing a powerful suite of editing tools that collectively enable it to address a wide array of creative requirements.
Most notably, Adobe Photoshop is immensely popular among professional photographers and designers due to its advanced features and multi-functionality.
With Photoshop available to you, your creative potential increases dramatically. It accommodates a diverse range of image-editing tasks, from minor photo enhancements to the creation of high-quality graphics that draw attention.
Adobe Photoshop is an essential part of the Graphic Design Courses In Jaipur, offered by FITA Academy. To get more knowledge about Adobe Photoshop and its capabilities, join FITA Academy.
Adobe Illustrator
Adobe Illustrator is a software used to craft drawings, illustrations, and artwork on Windows and MacOS platforms. This software has gained global recognition and is the go-to choice for graphic designers.With a rich set of advanced drawing tools, Illustrator significantly expedites the illustration creation process. Its impact on reducing the time required for artwork production is substantial. It specializes in the creation of logos, clip art, precise blueprints, and other resolution-independent illustrations.
Adobe Illustrator finds extensive utility in developing logos, fonts, sequential presentations, numerical images, posters, and flexible designs. Being a vector-based application, it offers the advantage of creating images of any size without compromising quality. Notably, Illustrator was the pioneer in introducing this feature, and it swiftly gained popularity within the graphic design industry.
Adobe Illustrator stands as a software tailored explicitly for graphic designers. Its distinctive features cater to the unique needs of the design community. FITA Academy's Graphic Design Institute In Jaipur offers complete training in Adobe Illustrator as part of the Graphic Design Course.
Color Theory
Color theory serves as a fundamental study of how colors interact and their impact on our emotions and perceptions. It functions as a toolbox, aiding artists, designers, and creators in making precise color choices for their projects. This theory equips individuals with the knowledge to select harmonious color combinations that convey the desired mood and message in their work.
Both a science and an art, color theory delves into how humans perceive color and the visual outcomes of color blending, matching, and contrasting. It encompasses the messages conveyed by colors and the techniques employed to reproduce them. Essentially, color theory lays the foundation for the fundamental principles and guidelines governing the use of color to create visually appealing designs.
A grasp of color theory basics allows individuals to dissect the logical structure of color, facilitating the strategic creation and application of color palettes. The ultimate goal is to evoke specific emotions, vibes, or aesthetics in the viewer. Color plays a pivotal role in design, significantly influencing the interpretation of text, user navigation within a layout, and the emotions experienced during the interaction.
By familiarizing oneself with color theory, one gains the ability to be purposeful in crafting visuals that leave a lasting impact. It becomes a tool for intentional design, allowing creators to wield color effectively and communicate their intended messages with precision.
Color theory forms a significant part of the curriculum of the Graphic Design Courses In Jaipur. Students will be learning about the importance of color and color theory in detail.
RGB Model 
The RGB color model, which stands for red, green, and blue, is an additive system where the three primary colors mix in diverse amounts to produce a range of colors. It's widely used in digital displays like TVs, computer screens, digital cameras, and LED devices.
In this model, colors are formed by adding these color components. White encompasses all three primary colors, while black results from the absence of any color.
Each primary color can take intensity values ranging from 0 (minimum) to 1 (maximum). Mixing these primary colors at different intensities produces a diverse range of colors. These combinations collectively form the RGB color space, visualized as a cube.
The starting point of this RGB color cube, located at the coordinate system's origin, represents black. In contrast, the diagonal corner of the cube signifies white. The diagonal line connecting black and white represents the gray axis, encompassing all shades of gray between these extremes.
To know more about RGB and other color models, join the Graphic Design Institute In Jaipur at FITA Academy