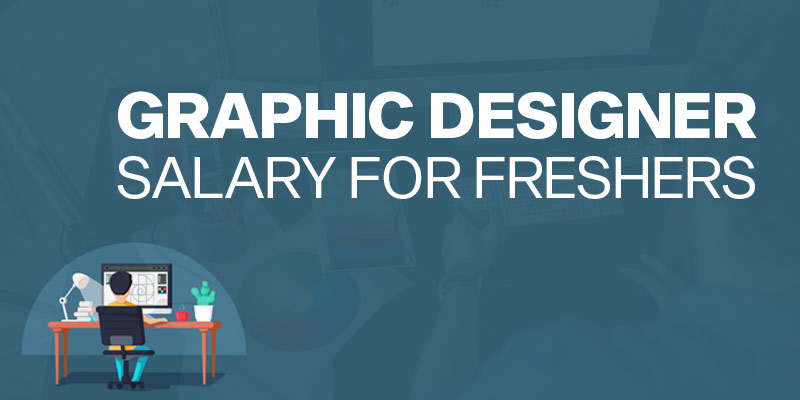 Graphic Designer Salary In India is the best job for students who are looking forward to get a career as a Graphic Designer. They can earn handsome amount of salary by working as a Graphic Designer and they should have good knowledge about web designing and logo designing. There are many companies that hire Graphic Designers but it is very difficult to find one which suits your budget, skills and experience. To make a career as a Graphic Designer, you must know the different ways in which you can make your way into the field. You will also learn how much you will be paid after completing your Graphic Design Courses in Chennai at FITA Academy. The average annual salary of Graphic Designer is around Rs. 10,000-30,000 per month according to recent research.
Depending on your experience and location, salaries can vary a lot. In this blog, we will discuss the average graphic designer salary in India.
Salary of a Graphic Designer in India
A Graphic Designer is an expert in designing all types of graphics related things such as logos, posters, brochures, flyers etc. They needs to design these items so that it attracts attention of target audience and helps them to understand what you want to convey. 
A Graphic Designer has to keep in mind various factors like fonts, colors, shapes, etc. while designing any item. They need to use their creativity and innovative ideas to create eye catchy designs. 
So, if you are planning to start your career as a Graphic Designer then you should first decide your goal and choose right career path. Then only you can achieve success in future.
Salary Range Based On Different Companies 
Graphic designers in India are in high demand as the country's burgeoning economy has created an increasing number of businesses and organizations that need a professional design team to help create their branding, marketing materials, and more. While the salary range for graphic designers can vary depending on the company they work for. Here are list of Salary Range of differnt companies shown some of approximated salary range by ambition box.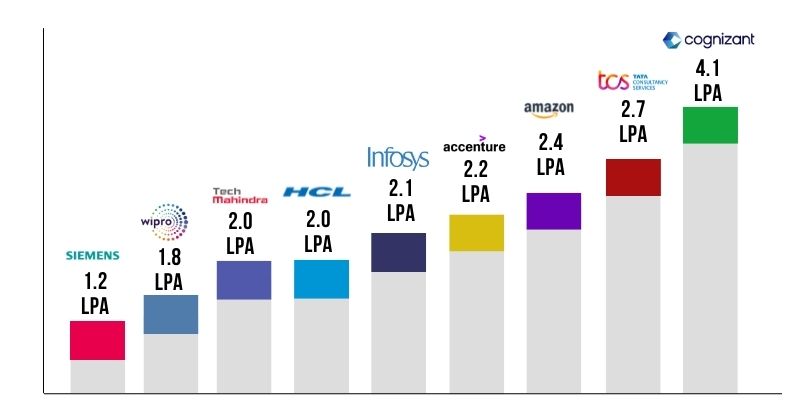 Based on the graphic designer salary range image, it is evident that the salary range for graphic designers varies depending on the company. Additionally, some graphic designers may make earn more than others, depending on their skills and experience. To upskill yourself through Graphic Design Online Course will be beneficial to you and your career.
Salary Range Based On Work Experience
According to a recent study, graphic designers in India with 0 to 3 year experince can expect to make anywhere from Rs 2.9 lakh per year, depending on the level of experience they have. Salaries for designers with five or more years of experience are highest, while those with less experience are paid less. Graphic designers who specialize in branding and advertising are typically paid the most.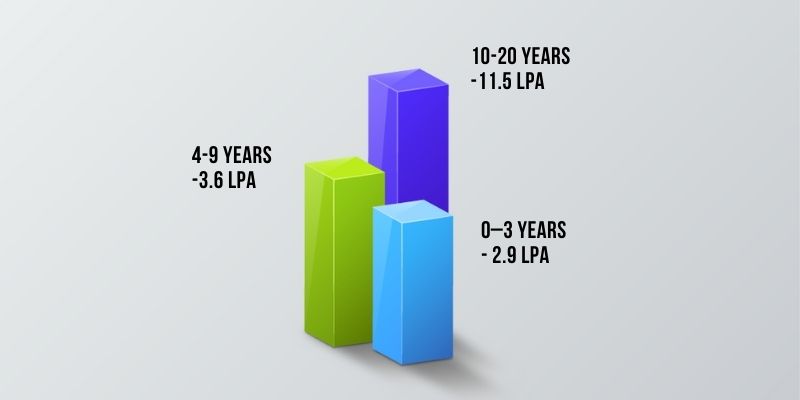 Salary range based on skills
Graphic designers are known for their creative and innovative works. They can design logos, labels, packaging, and other graphics that can help an organization or product stand out from the rest. It is important to have strong skills in Adobe Photoshop, Illustrator, InDesign, and CorelDRAW in order to be successful as a graphic designer. Here is approximated  Salary range based on skills.according to ambition box for Graphic Designers in India.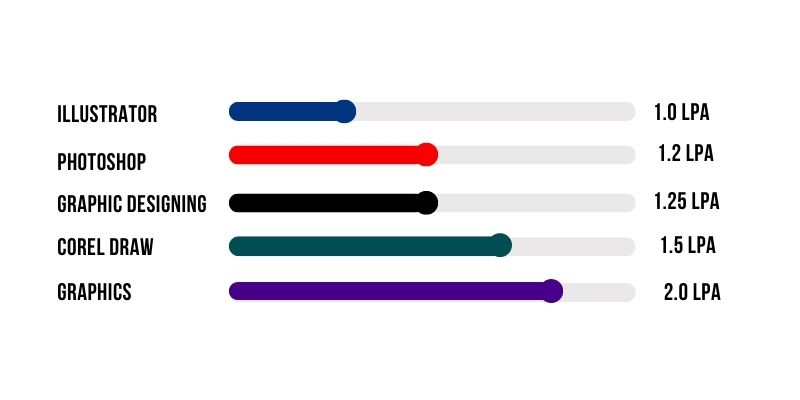 How to become a Graphic Designer
Choosing whether you want to work with print media or digital media is the first step in becoming a graphic designer. Print media includes magazines, newspapers, books, catalogs, leaflets, etc. whereas digital media means websites, blogs, social networking sites, mobile applications, etc. 
After deciding your choice you should go for a certificate course from reputed institute like FITA Academy. This Graphic Design Courses in Bangalore will help you to gain more knowledge regarding this subject. Once you complete your certificate course you should apply for a Graphic Designer Job. 
Nowadays there are lots of companies hiring Graphic Designer candidates. You just need to search for the suitable company according to your requirement.
Responsibilities of a Graphic Designer
Creating visual elements for business and organization promotion is the responsibility of a graphic designer. This includes everything from logos and advertisements to posters and book covers. 
In addition to designing graphics, designers are often involved in marketing campaigns, writing copy, and managing projects. It is essential that designers collaborate with other professionals, including writers, marketers, and accountants. They must also possess strong organizational skills and attention to detail.
Graphic design jobs typically require a bachelor's degree in art or fine arts, although some employers prefer applicants with a master's degree. Some companies offer internships during college, while many schools offer courses related to graphic design.
A growing number of graphic designers are predicted to enter the workforce in the next decade, according to the Bureau of Labor Statistics. By this year job prospects are expected to grow by 25% nationwide. However, wages vary depending on location. Average annual pay for graphic designers with 0 to 3 years ranges from 1 to rs. 2.9 LPA.
Top Skills that can Uplevel Your Graphic Designer Salary
In today's world of work, employers are looking for people who have certain skills. As technology advances so quickly, keeping up with the needs of today's workforce is getting increasingly difficult. As a result, companies are seeking individuals who possess additional skills beyond those typically associated with their role. 
For example, while graphic design might seem like a fairly simple skill set to acquire, many companies are now requiring employees to have some sort of experience working within Microsoft Office programs. This is why it is important to learn about the skills that are most sought after among employers.
According to Indeed, graphic designers are expected to use Adobe Creative Suite tools including Adobe Photoshop, Adobe Illustrator and Adobe Indesign. These programs allow you to create logos, posters, flyers, brochures, advertisements, etc., which are used in marketing campaigns. Make sure you know how to effectively use these programs if you want to impress potential employers. It isn't necessary to become an expert, but knowing how to use these programs can help you get a better paying job.
Another key element of being successful as a graphic designer is understanding how to effectively communicate ideas visually. Many times, graphic designers are responsible for creating visual representations of products, concepts, and processes. To do this, they must be able to demonstrate good communication skills. 
While the ability to draw well isn't always necessary, having the ability to explain complex designs clearly and concisely is essential. Additionally, graphic designers must be able to effectively collaborate with others. Although collaboration doesn't mean you have to work alongside other professionals, it does mean you should be willing to discuss projects with colleagues and clients.
Finally, graphic designers must be adept at learning new software applications and technologies. You can improve your skillset by attending the best Graphic designer training program at FITA Academy. By constantly staying abreast of industry trends and developments, you can ensure you remain competitive in the field.
What Do Graphic Designers Do?
Graphic designers are responsible for creating visual identities for brands and organizations. They do this by employing computer technologies to produce unique visuals to help businesses attract customers and retain existing ones. This role requires extensive knowledge of typography, color theory, layout, and digital media creation.
The job description varies depending on the type of organization one works for, but here are some of the most common responsibilities:
Conceptualizing, designing, formatting, and supervising print production while conforming with deadlines

Communicating with clients to work out requirements

Collaborating with brand owners to develop creative ideas

Creating logos, posters, flyers, brochures, advertisements, and packaging

Developing marketing campaigns and web graphics

Managing social media accounts
Different Graphic Designer Job Profiles 
In the business and product world, graphic designers develop graphics for companies, brands, and products. They work closely with marketing teams to develop visual assets such as logos, brand identities, advertisements, packaging, and promotional materials. 
Graphic designers use software programs like Adobe Illustrator, Photoshop, InDesign, CorelDraw, etc., to create images and layouts for print media.
The job profile of a graphic designer varies depending upon the type of industry they work in. Some companies hire graphic designers to create logos, while others require them to create brochures, posters, flyers, banners, and even web pages. Graphic designers are usually employed full-time by large corporations or small firms.
Web Designer
A web designer creates websites that look professional and are easy to navigate. You can design anything as a web designer, which is one of the best things about the job. You can create anything from simple websites to more advanced ecommerce sites or mobile apps. Then you can get a job that involves designing websites for other companies. If you are looking to gain skills in web design, there are a lot of things that you can do in your everyday life to advance your skill set. You don't need any formal training to start learning more about the field of web design, this Web Designing Course in Chennai can be a good starting point which will help you to develop a strong foundation for understanding the core concepts of web design.
Brand Identity Designer
A brand identity designer is responsible for developing a company's overall image. He/she will often work closely with the marketing department to come up with a cohesive branding strategy.
UX Designer
A UX designer works closely with product managers and engineers to ensure that the design of the product meets customer needs. They are responsible for testing and improving the usability of the product. A UX designer might work directly with customers to understand what features are most important to them. This information helps the team come up with the best possible solution.
The main job of a UX designer is to make the services or products offered by the company easy to use and understand. Their role involves creating prototypes, wireframes, and mockups to test how people interact with the system.
They also help improve the overall experience of the product by working closely with developers and engineers. They do this by running tests to find out where there are problems and how to solve those issues. Other tasks include making sure that the interface is intuitive and easy to navigate.
Product Developer
Product development is a process where a team works together to develop a product that meets the customer's needs. This includes understanding what those needs are, crafting the product, presenting it to the customer, and ensuring that the product delivers on expectations.
A product developer is typically responsible for one or more of these tasks. A product manager oversees the project, while a designer creates the look and feel of the final product.
The responsibilities of a product developer vary based on the type of product being developed. For example, a software engineer might work on building out the backend infrastructure for a mobile app, while a graphic designer might focus on designing the UI/UX. Then UI UX Design Course in Chennai can train you on how to apply those skills in becoming a product developer.
In some cases, there isn't even a clear distinction between a product developer and a designer. For instance, a UX researcher might spend most of his time working on defining the problem statement and researching potential solutions, while a visual designer might spend most of her time sketching wireframes and laying out mockups. In either case, both roles are crucial to making sure that the end product is polished and ready for release.
Creative Director
It is the responsibility of the creative director to ensure that the overall look and feel of the project is on point. They ensure that the product stays on-track while keeping aesthetics and artistic integrity intact. A creative director must constantly be aware of how the final product looks like, what it represents, and how it fits into the brand or industry.
The person who holds this position oversees the entire process from concept development to production, including post-production. He/she acts as the visionary for the project, providing guidance and direction throughout the creation process. In addition, he/she ensures that the product's design and other aesthetic aspects remain on track.
UI Designer
The role of a user interface designer is to create the look and feel of a product based on the requirements it has. They help businesses understand what their target audience wants and how it interacts with their products. This person is responsible for creating a visual layout of a product or site. A UI design professional is often involved in the development process. You might even hear about a UI designer working directly with developers.
UI designers work closely with usability experts and graphic artists to ensure that sites and apps are easy to use and navigate. As a user interface designer, the first step in becoming successful is to have a solid understanding of HTML and CSS. Learn basic coding and learn how to code within a framework like Bootstrap 4.
Graphic Designer
Graphic designers create logos, icons, illustrations, and other designs that represent a company or business. These professionals are responsible for developing a unique style that helps brands stand out from competitors.
Graphic designers usually have experience in a variety of different mediums, such as print, web, motion graphics, and so forth. Some specialize in certain areas, such as typography, illustration, or photography. Others may be versatile and able to work across multiple platforms.
Animator
Animators are responsible for creating complicated graphics. In fact, animators are often referred to as "graphic designers." However, there are some differences between the two jobs. While a graphic designer creates images that are meant to represent ideas and concepts, an animator creates images that tell stories. This includes animation sequences that accompany text and video.
An animator can also create 2D animations or 3D models. The latter requires more skill and knowledge since they need to know how to model characters and set them up for animation.
Graphic designer interview questions and answers you should know
What is the significance of communication in graphic design?
Graphic designers are often asked what the most important aspect of their work is. They might say it's communicating ideas effectively, but that's really just one part of the equation. Graphic design encompasses many different fields, including typography, printmaking, illustration, photography, web design, motion graphics, animation, and video editing. As such, there are many ways to communicate information visually. In fact, there are so many options that you could spend a lifetime studying each medium and still not explore every way to convey ideas.
The question of what makes graphic design unique is actually a great place to start thinking about how to answer this question. What makes graphic design special is that it crosses over into so many different disciplines. A good designer knows how to use a variety of tools and techniqu dees to tell stories, express emotions, and solve problems. A successful graphic designer can follow many paths; there is no one path that leads to success.
What should be a designer's priority while creating a design?
Designing is about solving problems. Most of the time, we do not know what problem needs to be solved, which is especially true when it comes to designing something. We're given certain parameters and told to do our best within those boundaries. However, how do we decide what is important and what is not? What should be prioritized? There are many perspectives to consider here, so let's discuss some common ones.
The first thing to remember is that everything is relative. You might say that typography is more important than content because it makes information easier to read. Someone else might disagree and say that content is more important than typography because it provides context to the reader. So, what is important depends entirely on the situation.
Another factor to consider is the intended audience. If you're doing something for yourself, you'll probably want to focus on things like usability, visual aesthetics, and typography. In contrast, if you're solving a real problem, you may want to make sure your solution resolves the underlying problem.
Finally, there is no one "right way." Based on their experiences, skills, and personalities, everyone has different preferences.
How is 3D graphic art helpful for designers?
3D graphics are often used in movies, TV shows, video games, and advertisements. They allow you to see things from different angles, which makes it easier to design something like a car, house, or robot. You can use 3D graphic software to build realistic objects. These tools let you manipulate images and draw shapes in real life.
You can use 3D graphic art to help you understand how to create a product better. For example, you might want to know where a certain part needs to go on a vehicle or what color paint you should apply to a surface. With 3D modeling, you can imagine the object in your head, and then translate that into reality.
How well do you know Adobe Pagemaker?
Adobe Pagemaker is one of many software applications that are used to make printed materials. In fact, there are several different types of pagemakers. One type is known as a "desktop publisher." This program allows people to design and print documents like brochures, flyers, postcards, posters, newsletters, and books. Another type of pagemaker is called a "web publisher," which enables web designers to build Web sites. Still another type of pagemaker is designed to help graphic artists create images for printing purposes. Finally, there is a "pagemaker" meant for creating and editing PDF files.
The key word here is "printing." Many people think that Pagemaker is just a tool to create documents for the Internet. However, it can actually be used to produce high quality printed products. For example, some companies use Pagemaker to create brochures, booklets, catalogs, and leaflets. In addition, some businesses use Pagemaker to create business cards, letterheads, envelopes, calendars, and other marketing materials.
Tell us some of the core principles of graphic design?
Some core principles of graphic design are contrast, proportion, rhythm, color, and visual hierarchy. These concepts are used in many different areas of design, including web design, print design, packaging design, product design, illustration, animation, photography, advertising, fashion, typography, architecture, interior design, etc.
Contrast- Contrast refers to the relationship between elements within a design. For example, you might use a dark background against a light textured paper. This creates a strong contrast because it draws attention to one element over another.
Proportion- Proportion refers to how much space something takes up compared to the size of the surrounding area. In general, most things take up about 50% of the space around them. If there is too little room, the object becomes cramped and crowded. If there is too much space, the object looks empty and sparse. In between these two extremes, you should strike a balance.
Rhythm- A rhythm is a pattern of repetition. A good rule of thumb is that no two items in a row should look exactly alike. This helps keep the eye moving smoothly across the screen.
Color– Color is an important aspect of any design project. It's often used to set moods and convey emotions. Color also plays a role in making objects more noticeable. For example, if you put red letters on a white page, they will stand out more than if you had black letters on a white page.
Visual Hierarchy– This concept refers to the way in which we organize information visually. We usually start with the largest or most important thing first. Then we move down to the next level, then the next, until we get to the smallest details.To make the viewer feel less overwhelmed, we organize the information into logical sections.
What is the difference between a logo and a brand identity?
Logos serve as symbols of a company's identity.  It may be simple or complex. It could be abstract or represent a specific image. Logos are typically used on stationary, such as business cards, letterhead, envelopes, and stationery. They're also used on websites, social media pages, and mobile apps.
Basically, a brand identity is the way your company looks and feels in general. It includes everything from logos to colors to fonts to images. Brand identities are used on all types of stationary, including business cards, letterhead and envelopes, but they're also used on websites and mobile apps.
End Summary
Graphic designer salaries can be significantly different based on company, experience, job role and related graphic designer work nature. Accordingly, this UI/UX Developer Salary For Freshers will help you with understanding what the salary of a UI/UX Developer could be and also how the salary can grow with time.  During an interview, if you want to stand out from the other candidates, you should do your research on the firms and adapt your CV accordingly in order to stand out. Additionally, be well-versed in the different graphic design roles and know how they relate to the industry to give yourself a strong foundation for a successful career.