Course Highlights and Why Video Editing Course In Chennai at FITA Academy?

FITA Academy is one of the best institutes for Video Editing Course in Chennai.

We have expert faculty members who are well versed with latest trends in the field of video editing.

Our training program is designed as per industry standards with Adobe Premiere Pro.

We provide 100% placement assistance after completion of our video editing course in Chennai.

The fee structure of our video editing course is very affordable and you can join it without any hassles.

Get trained from experts and certified trainers.

Join hands with experienced professionals and gain knowledge on how to make your own videos.

Gain practical experience and get job opportunities.

Learn all about the latest technology used in video editing.
Upcoming Batches
09-12-2023
Weekend
Saturday (Saturday - Sunday)
11-12-2023
Weekdays
Monday (Monday - Friday)
14-12-2023
Weekdays
Thursday (Monday - Friday)
16-12-2023
Weekend
Saturday (Saturday - Sunday)

Classroom Training
Get trained by Industry Experts via Classroom Training at any of the FITA Academy branches near you
Why Wait? Jump Start your Career by taking Video Editing Course in Chennai!
Instructor-Led Live Online Training
Take-up Instructor-led Live Online Training. Get the Recorded Videos of each session.
Travelling is a Constraint? Jump Start your Career by taking the Video Editing Online Course!
Syllabus
Module 1: Adobe Premier Pro – Introduction and Setup
Introduction to Video Editing
Understanding the importance of Editing
Understanding Linear Editing and Non-Linear Editing
Introduction to Adobe Premier Pro
Advantages, Features of Adobe Premier Pro
Understanding Hardware Requirements to setup Adobe Premier Pro
Understanding GPU and CPU
Learning special GPU features of Adobe Premier Pro
Downloading and Installing Adobe Premier Pro
Learning to Optimize the System settings
Launching Adobe Premier Pro
Overview of the User Interface
Learning to handle Preferences Settings and Other key settings
Module 2: Adobe Premier Pro – Essentials
Understanding Adobe Premier Pro Projects

Learning to Open an Existing Project
Learning to Create a New Project
Exploring Adobe Premier Pro Project components
Learning to Move and Delete Projects
Handling Multiple Open Projects
Learning to use Shortcut keys in a Project
Handling Projects of older versions
Understanding Project Templates
Learning to Export Projects
Understanding the Adobe Premier Pro Editing Workflow
Understanding Cloud Syncing of Projects

Understanding Workspaces and Workflows

Understanding the Home Screen
Understanding various Panels of Adobe Premier Pro
Learning to Navigate in the Home Screen
Understanding Workspaces
Creating and Saving workspaces
Learning to Customize Workspaces
Selecting the required Workspace
Learning to Modify and Delete Workspaces
Working with Panels – Docking, Grouping, Floating
Learning to work with Multiple Monitors
Exploring more panels – Tools Panel and Options Panel
Learning about various Tools in the Tools Panel
Working with the Options Panel
Understanding Info Panel
Learning to Navigate Panels
Understanding and using Windows Touch and Gesture Controls
Setting up and working with Dual Monitors
Module 3: Adobe Premier Pro – Managing Digital Assets
Understanding Assets in Adobe Premier Pro – Video files, Still Images, Audio Files
Learning to Capture Videos

Understanding Capturing
Capturing Videos from Live Camera
Capturing Videos from Camcorders
Learning to use Adobe OnLocation
Learning to Digitize analog videos
Learning to handle Capture Settings and Preferences
Handling audio while capturing
Handling Stereo and Mono Tracks
Understanding and using Device Controls
Learning to capture HD, DV and HDV Videos
Understanding and using Batch Capturing
Learning about Recapturing

Importing Assets

Learning to Transfer Projects between computers
Exploring the Transfer Projects Settings
Understanding Ingest
Learning Ingest Settings
Importing Still Images in Adobe Premier Pro
Understanding Rendering Time
Optimizing still images before import
Learning to Import files from Photoshop and Illustrator
Handling Layered Files for import
Understanding and importing images as image sequences
Learning to Import Audio
Exploring Import Audio Settings
Using Audio CDs for audio
Learning to handle Compressed Audio Formats
Understanding Audio Sampling Rates
Understanding Audio Conforming
Learning to Import Assets from other tools – Adobe Audition, Avid,
Final Cur Pro
Learning the benefits of using Timecode
Handling Timecode display formats
Learning to Capture Timecode
Handling Tiemcode manually
Exploring various options and settings for Tiemcode
Module 4: Adobe Premier Pro – Exploring Editing
Understanding editing in Adobe Premier Pro
Exploring Features, Tools and Options for editing in Adobe Premier Pro
Learning to Capture Videos

Introduction to Sequences
Understanding Sequences in detail
Understanding Timeline panels and its importance
Learning to navigate the Timeline panel
Creating a Sequence
Working with Sequence Presets, Settings and Options
Exploring Sequence Presets
Learning to create custom Sequence Presets
Working with Sequence types – Widescreen Sequence, HD Sequence,
Mobile device Sequence
Learning to handle multiple Sequences
Understanding Clips and Adding Clips to Sequences
Handling Tracks in Sequences – Audio Tracks and Video Tracks
Inserting Clips, Overwriting Clips in a Sequence
Learning to Move and Rearrange Clips in a Sequence
Learning to use the Razor Tool to Cut or Split Clips
Lifting and Pasting Frames in Adobe Premier Pro
Understanding and Handling Gaps
Learning to Search for a Clip in a Sequence
Learning to Group Clips
Learning to Enable or Disable Clips and Snap Clips
Understanding and using Nested Sequences
Learning to Simplify Sequences
Working with Rendering and Previewing Sequences
Understanding and working with markers
Introduction to Scene Detection and its use cases
Learning to use Scene Detection

Performing Video Editing

Understanding Clips in detail
Learning about Master or Source Clips, Clip Instance, Sub clips
and Duplicate Clips
Creating A Subclip from Project Panel and Timeline Panel
Adjusting the Start and End timecodes of a Subclip
Learning to Convert a Subclip into Master Clip
Learning to Trim Clips using the Trim Edit Tool
Understanding the Trim Mode Interface
Understanding and using the Trim Mode and Trim Monitor
Learning In Points and Out Points
Understanding and using Edit Points
Learning to use Ripple and Rolling Edit Tools
Learning to Perform Regular Trim, Ripple Trim and Rolling Trim
Working with multiple Edit Points
Understanding and performing Slip and Slide Edits
Performing J-K-L Dynamic Trim
Understanding and performing Asymmetrical Trimming
Understanding Merged Clips
Performing Edits in Merged Clips and Limitations of Merged Clips
Understanding Render and Replace Feature
Learning to use the UNDO Command
Understanding and using the History Panel and Events Panel
Understanding Frame Hold Option
Using Frame Hold to Freeze Video Frames
Extracting and Exporting a still frame
Understanding Aspect Ratios
Exploring various Aspect Ratios
Understanding Pan and Scan
Handling distorted images

Performing Audio Editing and handling Audio Effects

Understanding Audio in Adobe Premier Pro
Understanding Stereo, Mono and 5.1 surround channels
Learning about Standard Tracks and Adaptive Tracks
Understanding Audio Channels
Learning to Mix Audio Tracks and Clips
Understanding Audio Data
Understanding the Wave form and Viewing Audio Waveform
Introduction to the Audio Track Mixer
Understanding the Audio Track Mixer Interface and Options
Understanding Channel Functions
Learning to apply track effects – EQ, Reverb, Panning
Performing Volume Level Monitoring while capturing
Understanding Scrubbing
Handling Gain and Volume in Audio tracks
Understanding and Normalizing Audio Tracks
Handling Audio in Batches
Learning to Edit Audio Tracks
Performing Audio Track repairs
Learning to Improve Audio Quality
Understanding Audio Keyframes and Ducking
Understanding and Performing AUDIO REMIX
Understanding and using the Audio Clip Mixer
Performing Audio Balancing
Handling Submixes, downmixing and routing
Applying and Handling Audio Effects and Transitions

Understanding Audio Effects
Performing Amplitude and Compression Effects
Performing Delay and Echo Effects
Understanding and using various Filter effects
Working with Equalizer Effects
Handling Modulations
Learning to Apply Noise Reduction and Restoration
Handling Reverbs and Special filters
Handling Time and Pitch Effects
Performing Crossfade Transitions
Handling Stereo Imagery

Understanding and Performing Advanced Editing

Understanding Multi camera feeds
Understanding Multi Camera Workflow
Learning to handle Feature films Editing Workflows
Understanding and editing Immersive Video

Learning Industry Best Practices for Editing
Module 5: Adobe Premier Pro – Editing Enhancements
Understanding Image and Video enhancements
Understanding Video Effects and Transitions
Working with Video Effects

Understanding Effects in Adobe Premier Pro
Learning the use cases for Effects
Understanding types of effects – Fixed, Standard, Clip-based and Plug-ins
Understanding GPU-Accelerated Effects, 32-bit color effects and YUV Effects
Exploring the Effects Panel
Learning to apply Effects to clips
Learning to Enable or Disable Effects
Working with the Effects Properties
Learning to Remove Effects
Understanding Fx Badges
Understanding Effects Presets
Learning to Apply and Remove Presets
Understanding and creating Custom Presets

Applying and using various Effects

Applying and using the Auto Reframe Effect
Understanding and Applying Colour Correction Effect
Applying and using the Time Remapping Effect
Understanding and using Adjustment Layers
Learning to stabilize footage with the Wrap Stabilizer Effect
Exploring other commonly used Effects

Working with Transitions

Understanding Transitions in Adobe Premier Pro
Advantages, Features and use cases for Transitions
Understanding the Transition Types – Audio, Video and VR Transitions
Learning where to place Transitions
Understanding Clip handles
Learning to apply transitions between two clips
Understanding and applying a single sided Transition
Understanding and setting Default Transitions
Learning to copy and paste Transitions
Learning to replace transitions
Handling Transitions from the Effects Control Panel
Learning to Align Transitions
Handling Transitions Duration
Handling Transitions Settings
Understanding the Morph Cut Transition
Applying and using Morph Cut Transition
Learning to apply various Transitions

Working with Graphics and Title

Understanding the importance of Graphics
Understanding Graphics Workspace in Adobe Premier Pro
Introduction to the Essentials Graphics Panel
Understanding the Essentials Graphics Panel
Learning the Graphics Components – Text Layer, Shape Layer and Clip Layers
Learning to Create Text, Shape and Clip Layers
Handling Layers in Groups
Understanding and using Styles
Handling Text Attributes
Learning to Animate Layers and applying Animate Effects
Learning to Create and manage Titles
Learning to Create and manage Shapes
Handling Titles and Shapes Alignments
Working with Distributions
Learning to apply Text Gradients
Understanding and using Responsive Design Features
Understanding and using Motion Graphics
Learning to handle Motion Graphics Templates

Working with Animation and Key Frames

Exploring the Animation Features of Adobe Premier Pro
Understanding Animation in Adobe Premier Pro
Understanding the "change through time" and "Moving object" animation
Understanding Keyframes in Animation
Planning for an Animation using Keyframes
Learning to Add, Select, modify and Delete Keyframes
Handling Keyframes from the Effects Control Panel
Understanding and handling Keyframe Properties and Keyframe Values
Applying Motion effects in Clips
Learning to Rotate a Clip
Understanding and Optimizing Keyframe automation
Optimizing Effects and Keyframes
Module 6: Adobe Premier Pro – Advanced Enhancements
Understanding Compositing in Adobe Premier Pro
Understanding Color Correction and Grading
Working with Compositing

Understanding Compositing in detail
Learning and use cases and importance of Compositing
Understanding Colour Information
Understanding the Red, Green and Blue Colour Channels
Understanding Alpha Channels and Mates
Understanding Straight and Premultiplied Channels
Understanding Keying effects
Applying Three Keying and Ultra Keying Effects
Performing Compositing in Adobe Premier Pro with examples
Understanding Masks in Adobe Premier Pro
Learning to Create Masks
Creating Masks in various shapes
Learning to Create free form shapes
Learning to Create Complex Angles
Learning to modify and Move Masks
Understanding and using Mask Settings
Learning to Apply Masks with various effects
Understanding Mask Tracking
Performing Masking and Tracking with examples
Understanding and using Blending Modes

Working with Colour Correction and Grading

Understanding Colour Workspaces
Creating and setting up a Colour Workspace
Understanding the Colour Correction Workflow
Performing basic Colour Corrections – Input LUT, White Balance
and Tone corrections
Working with Lumetri Colour Panel
Understanding and Control Surface Support
Understanding and using Lumetri Looks
Performing Adjustments with Lumetri Looks
Understanding Intelligent Colour Corrections
Applying and using Auto Colour in Adobe Premier Pro
Performing Colour Correction using RGB and Hue Saturation Curves
Understanding and using the Colour Wheel
Learning to Match Colours between Shots
Understanding Vignettes
Understanding the importance of Vignettes in Editing
Creating and Applying Vignettes using Masks
Trainer Profile
FITA Academy trainers have a combined experience of over 10+ years in the video editing field. 

Trainers are carefully hand-picked by an elite group of educators within our academy to ensure the quality of their services. 

To provide students with upgraded knowledge, the instructors of the Video Editing Course In Chennai keep up with the growing technologies and changing trends. 

Mentorship is provided by FITA Academy trainers to help students channel their interests in the right direction.

The trainers are responsible for ensuring that the subject matter is understood conceptually and practically. 

The trainers at FITA Academy also provide soft skills training to students in order to prepare them for working in a corporate environment.

Our trainers help students prepare for recruitment drives by providing interview tips and creating effective resumes.

The trainers at FITA Academy conduct numerous mock and stress interviews at the end of each course in order to boost students' confidence. 

Trainers assess our students' assignments and assessments constructively, enabling them to improve their most difficult sections.
Learn at FITA Academy & Get Your
Dream IT Job in 60 Days
like these Successful Students!

Features of Video Editing Course In Chennai at FITA Academy
Real-Time Experts as Trainers
At FITA Academy, You will Learn from the Experts from industry who are Passionate in sharing their Knowledge with Learners. Get Personally Mentored by the Experts.
LIVE Project
Get an Opportunity to work in Real-time Projects that will give you a Deep Experience. Showcase your Project Experience & Increase your chance of getting Hired!
Certification
Get Certified by FITA Academy. Also, get Equipped to Clear Global Certifications. 72% FITA Academy Students appear for Global Certifications and 100% of them Clear it.
Affordable Fees
At FITA Academy, Course Fee is not only Affordable, but you have the option to pay it in Installments. Quality Training at an Affordable Price is our Motto.
Flexibility
At FITA Academy, you get Ultimate Flexibility. Classroom or Online Training? Early morning or Late evenings? Weekdays or Weekends? Regular Pace or Fast Track? - Pick whatever suits you the Best.
Placement Support
Tie-up & MOU with more than 1500+ Small & Medium Companies to Support you with Opportunities to Kick-Start & Step-up your Career.
Why Learn Video Editing Course In Chennai at FITA Academy?
Live Capstone Projects
Real time Industry Experts as Trainers
Placement Support till you get your Dream Job offer!
Free Interview Clearing Workshops
Free Resume Preparation & Aptitude Workshops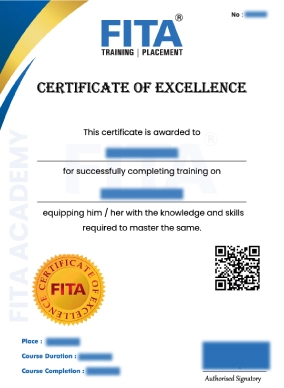 Video Editing Certification Course in Chennai
All major global companies around the world accept FITA Academy's certification as a global standard. Our training is provided to both freshers and professionals with theoretical and practical sessions. Having this certification increases the value of your resume and allows you to attain leading positions at leading multinational companies. The certificate will be provided upon successful completion of our training program and practical projects.
FITA Academy offers an opportunity to work on projects and gain real-time experience. This helps students to understand the working environment and develop skills required for a particular project. Our training programs are designed to help students acquire the necessary skills to become competent professionals.
Key Benefits of Getting Certified at FITA Academy
You will be able to add more value to your CV.

It will increase your chances of getting selected for higher-paying jobs.

Your salary will go up once you get hired.

You will be able to achieve success faster than others.

You will be able to build a strong network of contacts.
Have Queries? Talk to our Career Counselor for more Guidance on picking the
right Career for you!
Placement Session & Job Opportunities after completing Video Editing Course In Chennai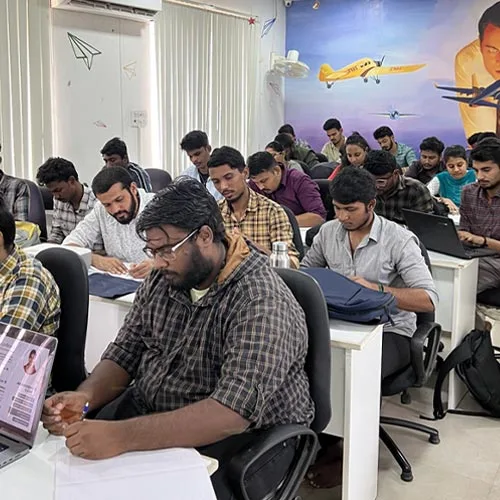 Are you looking for a new career after completing a video editing course in Chennai at FITA Academy? If so, you'll be happy to know that there are many opportunities waiting for you. Thanks to the changing technology and its impact on the video industry, businesses are quickly developing new ways to produce videos. And with the right training, you can be one of them.
FITA Academy offers this video editing course that will give you the skills and knowledge you need to create quality videos. You'll learn how to use Premiere Pro, After Effects, and other software tools to create stunning final products. In addition, we'll help you develop your business skills and grow your resume. So whether you're looking for a new career or just better job options, FITA Academy is the perfect place for you!
There are a lot of career opportunities in the video editing industry. It is one of the most popular careers in the world. Many companies are hiring people with high skill levels in video editing, and there is a high demand for people with a high level of proficiency. Once you have completed your course at FITA Academy, you will be able to start working on real projects. You will be able to start learning new technologies and tools. You will be able to learn about different software.
Success Story of Video Editing Course In Chennai
The best part of the course is that it teaches you everything you need to know about video editing. The instructors are extremely helpful and make sure you grasp the concepts well. The practical sessions are also quite useful as they allow you to apply what you've learned. Overall, the course is excellent for learning video editing.
I was not sure if I wanted to pursue my dream of becoming a filmmaker. But when I came across this course, it gave me confidence. The course helped me to explore my creative side. The faculty members were very friendly and helpful. They made sure that each and every aspect of the course is covered thoroughly. I am glad that I chose FITA academy
My friends were telling me that it was difficult to get a job without having any professional experience. But when I joined FITA Academy, I realized that it's not true. I learned everything I needed to know during my video editing course. I got a job within 2 months of completion of my course. Now I am very confident and I'm ready to take on any challenge.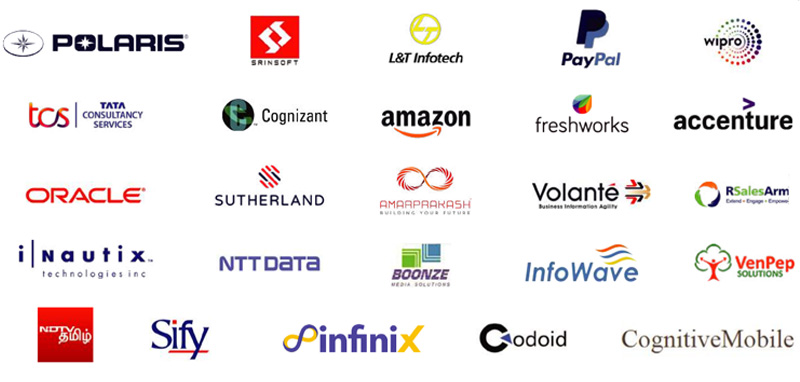 Frequently Asked Question (FAQ) about Video Editing Course In Chennai
Additional Information of Video Editing Course In Chennai
When it comes to learning video editing, the best way to get the most out of it is by taking a course from a top-notch institute like FITA Academy. Our video editing course in Chennai will give you the skills you need to create videos that are both professional and interesting.
Learning Outcomes of Video Editing Course in Chennai at FITA Academy
Learning about the various types of video editing software.

Understanding the basics of video editing.

Learning about the different tools used in video editing.

Create videos using Adobe Premiere Pro.

Edit videos using Adobe Premiere Pro and learn about the various ways to add effects to videos.

Learning to Capture Videos

Learning to Apply Noise Reduction and Restoration

Learning to handle Feature films Editing Workflows

Learning the use cases for Effects

Learning to stabilize footage with the Wrap Stabilizer Effect

Learning to apply transitions between two clips

Learning to handle Motion Graphics Templates

Learning about advanced features of Adobe Premiere Pro.

Learning about the latest trends in video editing.
Video editing an Overview
The term 'video editing' refers to the process of creating a new version of a previously recorded video. It involves removing unwanted parts (such as background noise) and adding new content (like text). This makes the video more appealing and easier to watch.
Adobe Premiere Pro is a Type of Video Editing Software as it is a powerful tool for editing videos. It allows users to cut, copy, paste, trim, split, merge, rotate, zoom in/out, adjust audio levels, apply filters, and much more.
Understanding the Importance of Editing
Editing is very important because it helps us make changes to the original footage. If we don't edit the footage then there would be no point in making a video. Editing is done to improve the quality of the video.
Editing helps in making your video look good.

Editing helps in making the video sound better.

Editing helps in making sure that the video is not too long.

Editing helps in making a video easy to understand.

Editing helps in making videos more attractive.
Understanding Linear Editing and Non-Linear Editing
Linear editing means cutting the video into smaller pieces and rearranging them according to the sequence they should appear in. For example, if you want to show a person walking down a street, you could start with him standing still and end with him walking away from the camera.
Non-linear editing means cutting the video in such a way that the final product appears to have been edited continuously. For example, if the person walks towards the camera and turns around, he can walk back again. The non-linear editing technique is often used when filming live events or interviews.
Advantages, Features of Adobe Premier Pro in brief
Easy to use:

Premiere Pro is one of the easiest video editors available today. It has a simple interface which makes it easy to navigate through all its functions.

Powerful:

It is one of the most powerful video editing programs available today. With this program, you can easily edit any type of media file including AVI, MPEG, WMV, MOV,MP4, etc. You can also import photos, graphics, music, and other files into the program.

Versatile:

It offers a wide range of features that allow you to do almost anything you want with your videos. From basic tasks like cropping, rotating, resizing, splitting, merging, zooming, color correction, and many others to complex ones like adding special effects, titles, transitions, and animations.

Affordable:

This software is affordable and comes at a reasonable price. You can download it free of cost from their website.

User friendly:

Premiere Pro has a user-friendly interface that makes it easy to work on even without having prior experience.

Multimedia support:

You can create videos in different formats like MP4, AVI, MOV, MPG, FLV, MKV, etc.

Compatibility:

You can run this software on Windows XP, Vista, 7, 8, 10, Mac OS X, Linux, etc.

Customizable:

The program lets you customize it according to your needs by changing the settings, fonts, colors, themes, etc.,

Flexible:

The program allows you to add effects, text, titles, transitions, etc. to your videos.

Advanced tools: There are advanced tools in Premiere Pro that helps you perform various tasks efficiently. These include the ability to convert between different formats, trimming, audio mixing, etc.