Course Highlights & Why Graphic Design Courses in Madurai?
The courseware has been professionally crafted to match global standards as well as with the evolving design and technological trends.
Learn the fundamentals of motion graphics, interface design, and editorial design.
FITA Academy has over 1500+ tie-ups with local and big firms to provide placement assistance.
Learn about popular graphic design software such as Adobe Photoshop, Adobe InDesign, Adobe Illustrator, Sketch, Inkscape and others.
Graphic Design courses in Madurai use project-based learning.
Classes are a perfect blend of theory and practise to encourage students' creativity.
FITA Academy carefully selects both industrial specialists and professional trainers to lead sessions.
Students should attend regular review sessions to hone their skills.
Batch times are convenient - weekdays and weekends. Other timings can also be modified in response to requirements.
Graphic design courses in Madurai provide a very engaging classroom setting.
Mock interviews are held to help students improve their interview abilities.
Along with technical skills, students receive soft skills training, which is highly valued by employers.
Upcoming Batches
| | | | |
| --- | --- | --- | --- |
| 05-10-2023 | Weekdays | Thursday (Monday - Friday) | |
| 07-10-2023 | Weekend | Saturday (Saturday - Sunday) | |
| 09-10-2023 | Weekdays | Monday (Monday - Friday) | |
| 14-10-2023 | Weekend | Saturday (Saturday - Sunday) | |

Classroom Training
Get trained by Industry Experts via Classroom Training at any of the FITA Academy branches near you
Why Wait? Jump Start your Career by taking the Graphic Design Training in Madurai!
Instructor-Led Live Online Training
Take-up Instructor-led Live Online Training. Get the Recorded Videos of each session.
Travelling is a Constraint? Jump Start your Career by taking the Graphic Design Online training!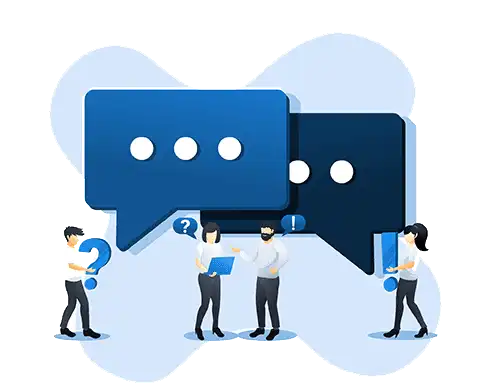 Have Queries? Talk to our Career Counselor
for more Guidance on picking the right Career for you!
Trainer Profile
Our instructors prepare students for the real world by training them the most complex and challenging technical and soft skills.

FITA Academy's instructors are industrial specialists who teach students based on their own experiences.

Trainers are well-versed in new technologies and applications that can be used to train students. They are also knowledgeable about changing design trends.

Graphic design instructors in Madurai assist students in developing a distinct portfolio that will set them apart from the pack.

Our instructors help students improve their creativity, design, and vision.

Trainers provide helpful feedback to pupils in order for them to develop a strong grasp of the topic despite their imperfections.

They offer personalised mentoring to students in order to help them channel their ideas and creativity for improved performance.

Trainers combine academic knowledge with practical abilities in the classroom to help students improve their talents.

The engaging class atmosphere is maintained by all of the academy's trainers, who are eager to clear any of the students' doubts.

They improve students' confidence by doing regular mock interviews and supporting them with resume development.
Features
Real-Time Experts as Trainers
At FITA Academy, You will Learn from the Experts from industry who are Passionate in sharing their Knowledge with Learners. Get Personally Mentored by the Experts.
LIVE Project
Get an Opportunity to work in Real-time Projects that will give you a Deep Experience. Showcase your Project Experience & Increase your chance of getting Hired!
Certification
Get Certified by FITA Academy. Also, get Equipped to Clear Global Certifications. 72% FITA Academy Students appear for Global Certifications and 100% of them Clear it.
Affordable Fees
At FITA Academy, Course Fee is not only Affordable, but you have the option to pay it in Installments. Quality Training at an Affordable Price is our Motto.
Flexibility
At FITA Academy, you get Ultimate Flexibility. Classroom or Online Training? Early morning or Late evenings? Weekdays or Weekends? Regular Pace or Fast Track? - Pick whatever suits you the Best.
Placement Support
Tie-up & MOU with more than 1500+ Small & Medium Companies to Support you with Opportunities to Kick-Start & Step-up your Career.
Graphic Design Certification Institute in Madurai
About Graphic Design Certification Institute in Madurai at FITA Academy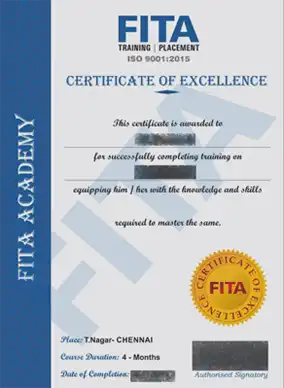 Graphic Design Certification Institute in Madurai
Graphic Design Course Certification is a professional accreditation that demonstrates a person's ability to create innovative and unique graphic designs for projects. It also states that the individual can operate efficiently with Graphic Designing programmes such as Coreldraw, Illustrator, Photoshop, and Adobe Indesign. Furthermore, having the Graphic Design course certificate on your CV enables you to make a good impression during the interview and increases your chances of getting prioritized.
FITA Academy's Graphic Design Training with Certification for freshers and working professionals looking to broaden their design skill set. Graphic Design Training in Madurai is provided by educators with a decade of experience in Graphic Designing, who assist students in honing the necessary abilities for a professional Graphic Designer.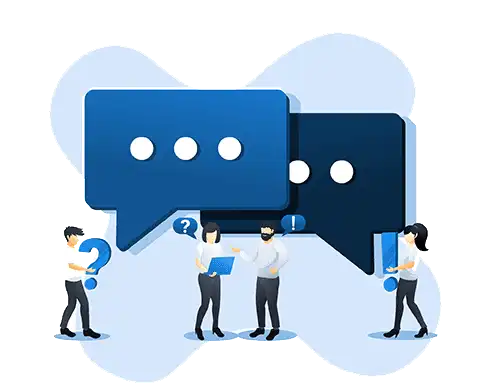 Have Queries? Talk to our Career Counselor
for more Guidance on picking the right Career for you!
Job Opportunities After Completing Graphic Design Courses in Madurai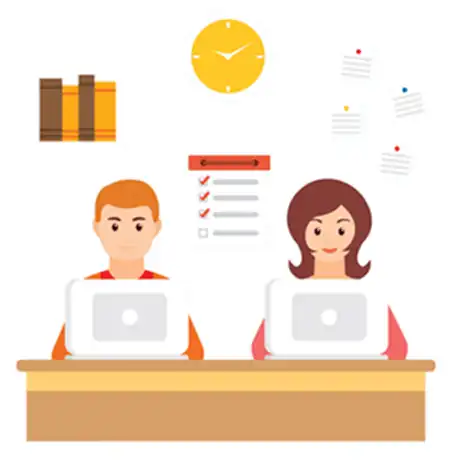 A career in graphic design can lead to a variety of job opportunities in areas such as advertising, publishing, industrial design, public relations, media, and other demanding sectors. Completing the Graphic Design training in Madurai at FITA can broaden professional options to include a diverse range of creative jobs, including leadership roles in well-known organizations such as advertising agencies and several industrial design firms. 
After completing the Best Graphic Design Courses in Madurai, students will be exposed to a variety of job offers with the best Graphic Designer Salary for Freshers and will be able to pursue and advance their selected job role. Most of the well-known and in-demand job titles include creative director, who is responsible for ensuring the aesthetic and unified appearance is maintained by guiding their team with some efforts to create products such as video games, films, publications, or commercials.
Another well-known employment opportunity in this industry is that of a user experience (UX) designer, who is in charge of creating goods, processes, and services for customers. Various well-known industries have also expressed an interest in hiring user interface designers.
Such designers concentrate on the layout of the product. They construct and generate specific screen and web pages, ensuring that the layout follows the course that the designer has charted. Production artist, product developer, art director and marketing specialist, multimedia artist or animator, and freelancer are other essential and difficult employment roles in the field of graphical design.
Graphic design is such a flexible and resourceful subject that your passion and imagination in this field can lead to ultimate success in life. Choosing the best Graphic Design Institute in Madurai will provide students with skills such as managing client proposals through typesetting, design, print, and production, as well as creating and generating concepts, graphics, and layout for product illustrations, company logos, and websites.
Student Testimonials
I'm an active employee, currently working as a Graphic Designer for a reputable IT company. Finished my Graphic Designer certification at FITA Academy. All my doubts were clarified immediately by my trainer of the Graphic Design training in Madurai. The way my trainer teaches is simple, and he also provides me with practical examples. I was able to land this job and build my career with FITA Academy's placement program thanks to my trainer and staffs for their support.
For me, this Graphic Design training in Madurai has proved to be a very helpful course. I found the instructor to be very patient and informative. There was a lot of interaction in the class. This helped me gain a deeper understanding of design principles and how they can be applied to the creation of user interfaces. After taking the course at FITA Academy, I was able to create visually appealing user interfaces for my projects and am now able to create them with ease.
In Madurai, I have completed my training at FITA Academy's graphic Designer Course and got certified. Trainers taught me with hands-on practice sessions and provided plenty of real-life examples that helped me better understand concepts. During my placements, I received continuous support and guidance from the FITA Academy staff. thanks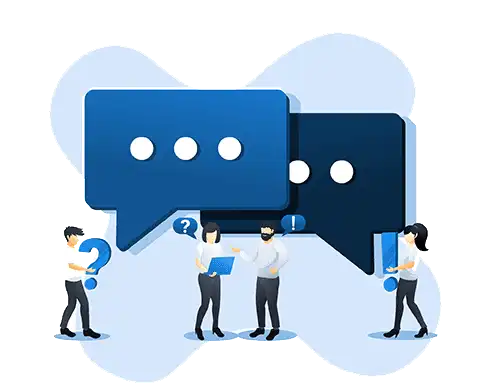 Have Queries? Talk to our Career Counselor
for more Guidance on picking the right Career for you!
Additional Information
Though William Addison Dwiggins coined the term "designing" in 1992, the phrase "designed" can be traced back to ancient times. From ancient hieroglyphics and caves to modern web designs, the term design plays an important part in displaying the message or information. Even in this day and age, the word "Graphic Design" is the "mode of operation" for a wide range of firms. Many organisations rely on Graphic Design to create aesthetically appealing designs and logos in order to establish a distinct identity for their company.
Understanding Graphic Design
Graphic design is a means of presenting the goals and services of a company to the public using photography, typography, animation, and illustration. Few people believe that graphic design is an art form, however this is not the case. According to the preceding remark, Graphic Designing is a subtle creative skill that may be imbibed with consistent practise, whereas Art is an inborn trait or talent in oneself. Furthermore, if a person enters a professional institute, their idea or originality are not confined to their skill set. FITA Academy's Graphic Design Training in Madurai teaches you the course under the supervision of skilled animators and editors, allowing you to expand your skill sets in Graphic Designing.
Graphic design is about more than just aesthetics. It has a variety of elements, all of which are  Size, Line, Colors, Value, Shape, and Texture.
The elements described above are utilised in combination with and in contrast to one another to create visually appealing and impactful designs. Aside from that, the Designer should adhere to Graphic Designing principles such as focus, balance pattern, repetition, proportion, movement, variation, and unity in order to create compelling designs. A skilled designer must understand when and how to apply the above principles and aspects. Enroll in the best Graphic Design Institute in Madurai, FITA Academy, to gain a more comprehensive understanding of the Elements and Principles of Graphic Designing.
What will you learn at FITA Academy's Graphic Design Training in Madurai?
Understanding of the core skills required of a Graphic Designer

Understanding and Applying Color Theory

Making Use of Digital Painting and a Virtual Painting Box

Ability to convey a message through typography and image-making Photoshop filters

Learning how to do image alignment, layout, and composition

Understanding how to use numerous Graphic Designing tools

A greater understanding of logo and brand design Capable of producing business cards, flyers, brochures, and web graphics

Knowledge of past and current design trends is required for the creation of new and creative work.
Eligibility and Prerequisites Criteria for enrolling Graphic Design at FITA Academy in Madurai
Prerequisites: There are none for taking this course. Except that one must have the will to learn this course.Eligibility Criteria: Any fresher can start their career by learning Best Graphic Design Courses in Madurai with certification at FITA Academy.
Knowing the Fundamentals of Graphic Design
Today, we live in an age where graphic design is an integral part of almost any type of communication. Whether it's a billboard, a magazine cover, a website, or even a business card, good design plays an essential role in how your brand is perceived.
If you want to create a professional and polished design, here's a some key points that'll help you learn the fundamentals of graphic design.
Understand the Basics
Before you jump into creating your own logo, there are several important terms and concepts you should understand.
Vector: A vector image file contains only geometric shapes. They are scalable, meaning they can be resized without any loss of quality.
Pixel: A pixel is the smallest unit of information used to describe a digital image.
Color: The color of a particular area in an image determines its appearance.
Pattern: A pattern is a repeating shape or design.
Line: A line is the edge of an object.
Gradient: A gradient is a smooth transition between two colors.
Blend: A blend is a mix of two or more colors.
Understand Your Goals
Once you know what you want to create, you'll need to decide the best way to go about it.
There are many different ways to achieve a particular goal. And depending on what you want to create, each method may be appropriate.
Here are a few examples of goals and their corresponding methods:
Creating a logo: If you want to create a logo for your business, you'll probably need to use Photoshop. If you want a simple logo, you can create one in Illustrator.

Creating a website design: If you want to create a website design, you'll need to use Photoshop or Fireworks.

Creating a brochure: If you want to create a brochure, you may need to use InDesign.
Define Your Design Process
Now that you've decided what you want to create and what your goals are, you'll need to set up a process for yourself.
What kind of graphic design process do you use?
If you don't have a process, chances are you're going to have a hard time getting started and keeping your project on track.
Here are some things you should include in your process:
Establish a schedule.

Set a budget.

Decide who'll be involved in the project.

Decide how long it's going to take.

Decide what materials you're going to use.
Know Your Tools
Tools are not just for making your designs look great. They're also important for helping you stay organized, which is key to creating a successful design.
Before you even think about creating a design, you need to know your tools.
Which software do you use?

What's your workflow like?

 How do you communicate with others?
Create a Design Strategy
A design strategy is a plan for designing a particular type of project.
For example, you might have a design strategy for a brochure, a logo, or a website.
The design strategy will tell you what to do and how to do it.
Here are some basic things you should include in your design strategy:
What are the goals of the design?

What are the objectives of the design?

How will the design be presented?

Who is it for?

What are the target audience's needs?

What's the purpose of the design?

How will the design be used?

How will the design be maintained?
Define Your Style
Style is the visual characteristics of a design. You can have a strong, distinct style. Or you can be more subtle, incorporating a variety of elements and styles into your design.
Defining your style is a personal decision. But here are some things to consider:
How do you want your work to look?

What are your design preferences?

How do you want to be perceived?
Now that you've got the basics down, it's time to get to work!
You'll be learning about the tools you'll need to get started, working through a sample project, and practicing your new skills.
As you complete each module from our Graphic Design Courses in Madurai, keep a design file handy. This will help you capture your thoughts and ideas as you're working.
Popular Graphic Designing Tools
Anyone who wants to start a career in graphic design needs to know how to use a few essential tools. They're,
Adobe Creative Tools
There are three different video and picture editing tools in Adobe Creative Tools. They are  Photoshop, Illustrator, and InDesign.
There are raster graphic editing tools in Adobe Photoshop. The tool is used to improve photos and other works of art that look like photos. Adobe Photoshop lets you change 2D and 3D images, edit videos, combine images, and analyse images. You can make graphics, cartoons, logos, and fonts with Adobe Illustrator. Adobe InDesign has the same features as the other two, but it is easier to use than them.
Procreate
Procreate is the tool for IOS, and it comes with a lot of different brush sets. It lets you use Apple Pencil to draw on the screen, and the results are amazing. It has a feature that lets you record the whole thing. It makes a layer that makes it easy for the user to work by letting them change the sections that came before instead of starting from scratch.
Coreldraw
CorelDraw is a tool for making and editing vector graphics. It has interactive sliders, a live sketch tool, improved vector previews, handles, and nodes that make it easy to make and change things. Students at FITA Academy get to work with these tools right from the start of the course. Develop a successful career in design by enrolling at FITA Academy for Graphic Designing.
Graphic Design Business Ideas
Graphic designers often start out working for agencies, or as independent contractors. Then they realize that starting their own business is what they have always wanted to do. You can grow your clientele by using your creativity in the creative shop board design. Many clients prefer simple designs to be incorporated into creativity.

Because there is so much competition online, it takes only 50 milliseconds for customers to get a first impression of your website. Your website will be viewed by a visitor in less than 0.05 seconds. It is important to understand the importance of visual design to attract the right clients.
You are ready to start working on your graphic design business plan if you want your company's image to last. Begin with a professional logo, product packaging, sales pages on your website, online ads and social media posts.
A buyer who is looking to purchase your brand quickly online will be most likely to do so before purchasing. Your internet presence should reflect the history of your brand, no matter if you choose a bold colour scheme with wacky fonts or a modern color scheme with muted fonts. These elements reflect your brand's story, which leads us to the next idea.
The majority of customers' first interactions with your business today will be online, rather than in person. This combined with the fact many businesses are entirely online makes it imperative that your website leaves a positive impression to win customers.
According to a survey, visitors often leave websites that have poor design. Poorly designed user interfaces and company graphics are often linked to visitor rejection and mistrust. Let's look at some examples of the differences between two shopping portals. One is organized and takes care of design while the other is messy and haphazard. Poorly designed websites will ruin any content you have.
Professional websites can be built by paying close attention to layouts and user-friendly navigation tools. Engaging banners, eye-catching photographs, font size, flash introductions quickly loaded, font size, etc.
Do not overspend on graphic design if your goal is to make your brand memorable and unique. Brand design is more than just how the product looks. You get to know people better and discover their hidden talents.
It is the foundation of memorable brands that strong brand strategies pay attention to every aspect, such as logo colors and font selections. Creative shop boards are a great way to show your brand. Research has shown that specific colours can improve memory function. This can increase your chances of creating a memorable and lasting brand identity. Learn more about visual branding concepts at the Graphic Design Institute in Madurai.
A difficult concept can be simplified into simple design
Organizations working with unusual numbers, concepts and other data can find it challenging to convey their messages in words. By allowing people to see the information, rather than read a lengthy paragraph of unreadable text, good graphic design business ideas will help.
Research has shown that 65% of people learn visually better and are able to comprehend concepts much more quickly if they are presented visually. A good graphic design for businesses can look professional while also helping clients understand your idea. Visual aids that are well designed can make your website more professional and help you to communicate with clients.
A consistent brand image is another way to build credibility in your sector. While it might seem simple and easy to follow, it's not possible if the initial design is strong. Consistent content creation is key to building a loyal customer base, who will trust and believe in your message.
A new company spends a lot to determine its target market. While it might seem simple to establish a target market that is diverse, putting this strategy into practice can prove difficult. Graphic design for companies can be a great help when this happens.
If you know your audience's demographics and preferences, you will be able to create a better brand image and meet their needs. You might want to take the Graphic Design Courses in Madurai if you are looking to improve your skills and start a business. Design is a language that can be understood by all. This makes it much easier to find the right audience.