Course Highlights and Why RPA Training in Jaipur at FITA Academy?

FITA Academy in Jaipur offers RPA training led by automation experts with a minimum of 8 years of experience in the field.

Trainee's progress is evaluated based on their performance and development at the end of each session, ensuring personalized attention.

Practical training is a key focus of the RPA course, with students working on real-world projects with IT industry professionals.

With over 1,500 partnerships with IT organizations, FITA Academy guarantees job placement assistance to all its RPA students.

The RPA course is available in weekday, weekend, and fast-track batches, allowing trainees to choose a schedule that works for them.

FITA Academy's RPA Training in Jaipur prepares students for various positions in the industry and encourages them to pursue international certifications.

The RPA course covers both basic and advanced topics, ensuring that trainees are well-equipped with the necessary competencies for a successful career in the field.

Trainees have the option of attending online or offline classes, making it convenient for them to manage their training around their busy schedules.

FITA Academy focuses on providing practical knowledge and skills to its trainees, ensuring that they are ready to tackle real-world challenges.

The RPA course has been tailored to meet industry demands and equip students with the essential competencies needed for a flourishing career in this field.
Upcoming Batches
| | | | |
| --- | --- | --- | --- |
| 09-12-2023 | Weekend | Saturday (Saturday - Sunday) | |
| 11-12-2023 | Weekdays | Monday (Monday - Friday) | |
| 14-12-2023 | Weekdays | Thursday (Monday - Friday) | |
| 16-12-2023 | Weekend | Saturday (Saturday - Sunday) | |

Classroom Training
Get trained by Industry Experts via Classroom Training at any of the FITA Academy branches near you
Why Wait? Jump Start your Career by taking RPA Training in Jaipur!
Instructor-Led Live Online Training
Take-up Instructor-led Live Online Training. Get the Recorded Videos of each session.
Travelling is a Constraint? Jump Start your Career by taking the RPA Training Online!
Trainer Profile
The trainers at FITA Academy possess a wealth of knowledge and experience in RPA or related fields, ensuring that trainees receive the most up-to-date and relevant training possible.
Our trainers deliver course modules that incorporate the latest advancements and improvements in RPA technologies and practices, providing students with cutting-edge training.
All of our instructors have a 100% success rate in motivating and guiding students to achieve industry-specific certifications, which validates their expertise and enhances their career prospects.
FITA Academy's mentors utilize practical evaluations and personalized instruction to create an optimal learning experience for trainees, enhancing their practical skills and abilities.
Our small group classes encourage student interaction and foster a supportive and collaborative learning environment that fosters creativity and problem-solving skills.
FITA Academy provides access to highly qualified professionals, comprehensive teaching methodologies, and relevant practical exercises, ensuring that trainees receive the most comprehensive and effective training possible.
Our experienced instructors possess extensive knowledge of the subject matter and provide hands-on training, ensuring that trainees are well-equipped to succeed in the industry.
FITA Academy's RPA training program is designed to provide students with the necessary skills and expertise to succeed in the industry, delivered by a team of experienced mentors and trainers.
Our trainers have a passion for teaching and a commitment to their students' success, ensuring that trainees receive personalised attention and support throughout their learning journey.
Learn at FITA Academy & Get Your
Dream IT Job in 60 Days
like these Successful Students!

Features of RPA Training in Jaipur at FITA Academy
Real-Time Experts as Trainers
At FITA Academy, You will Learn from the Experts from industry who are Passionate in sharing their Knowledge with Learners. Get Personally Mentored by the Experts.
LIVE Project
Get an Opportunity to work in Real-time Projects that will give you a Deep Experience. Showcase your Project Experience & Increase your chance of getting Hired!
Certification
Get Certified by FITA Academy. Also, get Equipped to Clear Global Certifications. 72% FITA Academy Students appear for Global Certifications and 100% of them Clear it.
Affordable Fees
At FITA Academy, Course Fee is not only Affordable, but you have the option to pay it in Installments. Quality Training at an Affordable Price is our Motto.
Flexibility
At FITA Academy, you get Ultimate Flexibility. Classroom or Online Training? Early morning or Late evenings? Weekdays or Weekends? Regular Pace or Fast Track? - Pick whatever suits you the Best.
Placement Support
Tie-up & MOU with more than 1500+ Small & Medium Companies to Support you with Opportunities to Kick-Start & Step-up your Career.
Why Learn RPA Training in Jaipur at FITA Academy?
Live Capstone Projects
Real time Industry Experts as Trainers
Placement Support till you get your Dream Job offer!
Free Interview Clearing Workshops
Free Resume Preparation & Aptitude Workshops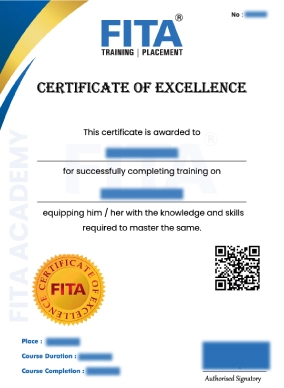 RPA Certification Training in Jaipur at FITA Academy
Getting an RPA certification validates the completion of a comprehensive training program that aims to equip trainees with a broad range of industry-specific knowledge and practical skills. This certification acknowledges their expertise and training, enhancing their chances of securing professional recognition and advancement opportunities. Additionally, the RPA certification can be a useful reference for recruiters in the job market. FITA Academy's RPA course in Jaipur provides an advantageous training experience as it covers an extensive range of subject matter and utilises thorough methodologies that align with industry standards. It is a valuable asset for professionals seeking to excel in the field of Robotic Process Automation.
RPA certification has significant value for professionals in the job market, with many businesses considering it a valuable addition to a candidate's skillset. At FITA Academy, the choice of the appropriate RPA certification course is based on the specific RPA software that the trainee has gained expertise in. Pursuing relevant certification and training programs in software such as Blue Prism or UIPath can provide an opportunity to acquire in-depth knowledge and practical experience, making candidates more competitive in the job market. Obtaining RPA certification from FITA Academy can also enhance career growth and professional success opportunities.
Have Queries? Talk to our Career Counselor for more Guidance on picking the
right Career for you!
Placement Session & Job Opportunities after completing RPA Training in Jaipur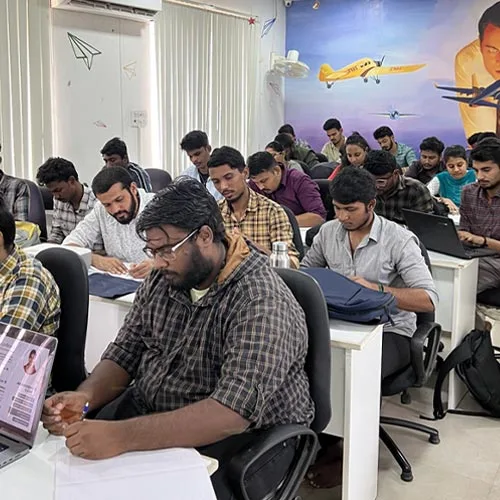 Robotic Process Automation (RPA) has rapidly established itself as the preferred method of IT automation due to its versatility and ability to cater to a diverse range of needs. RPA has immense potential in various sectors, including Artificial Intelligence, as it enables innovative decision-making and facilitates employment opportunities.
The banking and finance industry is another key area where RPA has a significant impact. In this industry, the automation of mathematical calculations and financial transactions by robots is a critical aspect of RPA. RPA is also being increasingly adopted in other cutting-edge sectors, such as automobile and aircraft manufacturing.
Blue Prism and UI Path are just a few examples of the various RPA solutions that are widely used in all IT-related industries and organizations. The growing significance of Robotic Process Automation (RPA) is apparent to businesses, who recognize the diverse opportunities that RPA offers. As a result, there is a high demand for skilled individuals in the field.
Our trainees have access to various positions, such as project manager, who ensures timely and effective completion of each production stage and resolves any problems that may arise. A career as an RPA developer is highly sought-after due to its potential for high earnings, particularly for freshers, with the highest RPA Developer Salary For Freshers. As an RPA developer, one is responsible for adhering to established RPA rules and conventions, implementing business process automation, designing products for international clients, and collaborating with global teams to deliver them.
FITA Academy's Robotic Process Automation Training in Jaipur provides students with the most effective and technically advanced skills to become proficient RPA developers and secure employment in reputable IT enterprises. In addition to technical skills, FITA Academy's RPA training provides students with essential non-technical skills, such as communication, presentation, and interview skills, which are essential for professional growth.
Including the FITA Academy certificate in your CV will enhance your professional profile and broaden your employment opportunities. Freshers with less than three years of experience can expect to earn between Rs. 4 LPA and Rs. 5 LPA, which can increase to Rs. 7 LPA and eventually Rs. 9 LPA as they gain knowledge and skills.
FITA Academy's RPA curriculum is designed to provide students with a comprehensive understanding of the fundamental principles of RPA, their applications, and their implementation across various RPA technologies, including Blue Prism, Automation, and UIPath. The automation market is expected to grow rapidly, resulting in a vast employment network. FITA Academy's extensive training will equip our students with the expertise and knowledge necessary to play a vital role in this employment network and succeed in their careers as RPA developers.
Also Read: RPA Interview Questions and Answers
Success Story of RPA Training in Jaipur
As someone with no prior experience in RPA, I was nervous about enrolling in the course. However, my experience at FITA Academy was fantastic. The instructor was approachable, and the classes were engaging and interactive. The course content was well-designed and provided me with a comprehensive understanding of RPA. Thanks to FITA Academy, I now feel confident in my ability to secure a job as an RPA developer.
I had an excellent experience at FITA Academy during my RPA training in Jaipur. My instructor was knowledgeable and professional, and the curriculum was well-structured and comprehensive. The hands-on experience with various RPA tools was particularly helpful, and I feel confident in my ability to take on any RPA project. The skills I acquired during this course have already proven valuable in my professional career.
The course content was thorough and engaging, and the instructor was approachable and well-versed in the subject matter. The hands-on experience with various RPA tools was an excellent addition to the course and allowed me to apply my knowledge to real-world scenarios. I am grateful for the comprehensive training I received, which has prepared me for a successful career in RPA.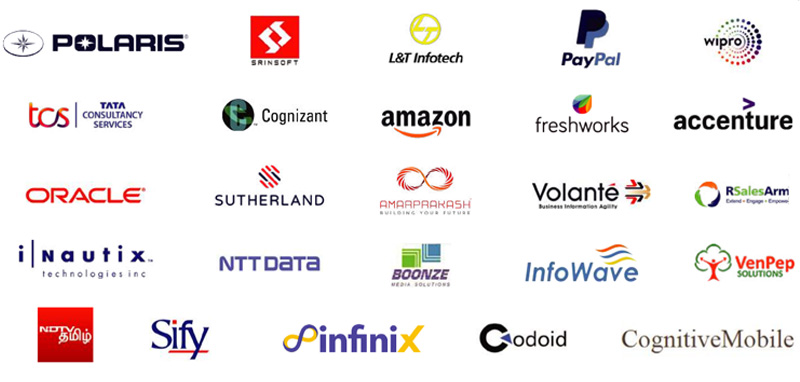 Frequently Asked Question (FAQ) about RPA Training in Jaipur
Additional Information of RPA Training in Jaipur
Robotic Process Automation (RPA) is a revolutionary technology that automates tasks that were once performed by humans in the back office. With the help of software robots, RPA can perform tasks such as data extraction, form completion, file movement, and process checking with ease. This automation is achieved through User Interface and APIs, making it efficient and reliable. RPA is gaining popularity among businesses due to its technical and business benefits. With RPA, businesses can quickly extract data from legacy systems and integrate it into new applications, enabling the automation platform to work like a person. Furthermore, RPA bots can operate continuously, allowing businesses to complete more work with precision. By integrating RPA procedures into their workflow, companies can reduce expenses and increase profits. At FITA Academy, we offer comprehensive RPA Training programs that equip students with the necessary skills to succeed in the industry.
At FITA Academy, we provide a comprehensive RPA Course in Jaipur that not only teaches students about the RPA development process but also its practical applications in real-world scenarios. The course curriculum covers the most in-demand automation skills that are highly sought after in the corporate world. Our RPA trainers are experienced professionals who have hands-on knowledge of the practical applications of RPA in different industries. One of the significant advantages of RPA is its user-friendly interface, which allows even non-technical employees to perform complex tasks with ease.
What are the Benefits of implementing RPA in business processes? 
Implementing RPA in business processes can bring many benefits, such as increased efficiency, accuracy, and productivity. It can also help reduce costs by automating repetitive tasks and freeing up employees to focus on more value-added activities. Additionally, RPA can improve customer satisfaction by providing faster and more consistent service.
Consider an example of an insurance company that needs to process a large number of claims every day. With RPA, the company can automate the manual tasks involved in the claims process, such as data entry, verification, and validation. This can help the company save time, reduce errors, improve efficiency, and free up employees to focus on more complex tasks, such as reviewing claims and making decisions. Overall, RPA can help the insurance company improve its customer service and increase profitability.
What are the Types of RPA tools and their features? 
There are three types of RPA tools:
Attended RPA: This type of RPA tool is designed to assist human workers by automating repetitive, rule-based tasks. It operates on an employee's workstation and is activated when certain conditions are met. Features include screen scraping, task automation, and workflow integration.
Unattended RPA: This type of RPA tool is intended to run completely autonomously, without the need for human intervention. It runs on a server and is used to automate back-office tasks, such as data entry, data manipulation, and report generation. Features include error detection and recovery, scheduling, and remote control.
Hybrid RPA: This type of RPA tool combines the features of both attended and unattended RPA. It can run autonomously or with human interaction, depending on the task. It is commonly used in customer service and contact centres, as well as in healthcare and finance. Features include real-time decision-making, self-learning, and natural language processing.
Overall, the features of RPA tools include:
Ease of use: most RPA tools require little to no coding skills to use.
Scalability: RPA tools can automate tasks at any scale, from small-scale to enterprise-wide.
Cost-Effectiveness: RPA can significantly reduce costs associated with manual labor and human error.
Efficiency: RPA can perform tasks much faster and with higher accuracy than humans.
Compatibility: RPA tools can work with a wide range of systems and applications.
Enroll in the top-rated RPA Classes In Jaipur provided by FITA Academy and seize the growing opportunities in the field of Robotic Process Automation. FITA Academy offers personalized training sessions in small batches to ensure that each student receives personalized attention from experienced instructors. With FITA Academy's comprehensive RPA training, you can gain practical knowledge and hands-on experience in various RPA tools and techniques, making you industry-ready and competent for a rewarding career in RPA.