Course Highlights and Why Graphic Design Courses in Bangalore at FITA Academy?
Graphic Design courseware that has been expertly crafted to meet international standards.
The FITA Academy's Graphic Design Courses in Pondicherry encompass all the essential fundamental concepts of the field.
Graphic Design Institute in Pondicherry offers classes with industry-relevant tools.
The trainers of the Graphic Design Courses in Pondicherry at FITA Academy are working professionals that instruct the students effectively by outlining each component of the software.
A mixture of both theoretical and practical classes in a smart classroom with certification upon course completion.
Nominal fee structure and course timing with Students and working professionals in mind.
Classes are available as Weekday, Weekend and Fast track classes in accordance with the student's comfort in Graphic Design Institute in Pondicherry.
We support completed students in finding employment through a dedicated placement portal.
The FITA Academy has partnerships with more than 1500 small and major businesses, which helps in placements.
Upcoming Batches
| | | | |
| --- | --- | --- | --- |
| 23-09-2023 | Weekend | Saturday (Saturday - Sunday) | |
| 25-09-2023 | Weekdays | Monday (Monday - Friday) | |
| 28-09-2023 | Weekdays | Thursday (Monday - Friday) | |
| 30-09-2023 | Weekend | Saturday (Saturday - Sunday) | |

Classroom Training
Get trained by Industry Experts via Classroom Training at any of the FITA branches near you
Why Wait? Jump Start your Career by taking the Graphic Design Courses in Pondicherry!
Instructor-Led Live Online Training
Take-up Instructor-led Live Online Training. Get the Recorded Videos of each session.
Travelling is a Constraint? Jump Start your Career by taking the Graphic Design Online Course!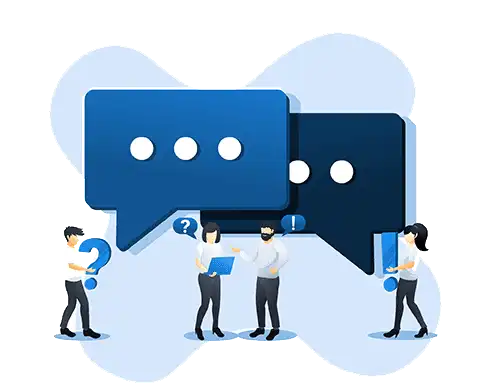 Have Queries? Talk to our Career Counselor
for more Guidance on picking the right Career for you!
Trainer Profile
FITA Academy firmly supports a blended approach to education.
Students are taught skills that are applicable to the industry by graphic design instructors at FITA Academy.
Industry experts in the field of graphic design are the trainers of Graphic Design Courses in Pondicherry at FITA Academy.
FITA Academy's instructors are working experts who give the students practical training.
Trainers upgrade students' design skills by instructing them using design software such as Coreldraw, Illustrator, Photoshop, and Adobe Indesign.
Trainers at Graphic Design Institute in Pondicherry give each student the necessary amount of one-on-one time and thoroughly clarify the concepts.
Features
Real-Time Experts as Trainers
At FITA Academy, You will Learn from the Experts from industry who are Passionate in sharing their Knowledge with Learners. Get Personally Mentored by the Experts.
LIVE Project
Get an Opportunity to work in Real-time Projects that will give you a Deep Experience. Showcase your Project Experience & Increase your chance of getting Hired!
Certification
Get Certified by FITA Academy. Also, get Equipped to Clear Global Certifications. 72% FITA Academy Students appear for Global Certifications and 100% of them Clear it.
Affordable Fees
At FITA Academy, Course Fee is not only Affordable, but you have the option to pay it in Installments. Quality Training at an Affordable Price is our Motto.
Flexibility
At FITA Academy, you get Ultimate Flexibility. Classroom or Online Training? Early morning or Late evenings? Weekdays or Weekends? Regular Pace or Fast Track? - Pick whatever suits you the Best.
Placement Support
Tie-up & MOU with more than 1500+ Small & Medium Companies to Support you with Opportunities to Kick-Start & Step-up your Career.
Graphic Design Certification Institute in Pondicherry
About Graphic Design Certification Institute in Pondicherry at FITA Academy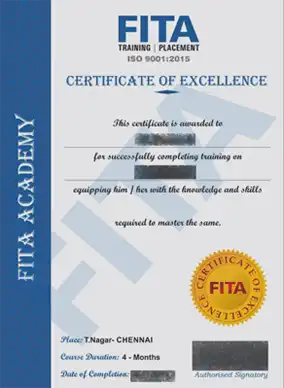 Graphic Design Certification Institute in Pondicherry
An individual's ability to conduct original and innovative graphic designs for projects is indicated by their graphic design course certification, which is a professional certificate. Also mentioned is the individual's proficiency with Adobe Indesign, Corel Draw, Illustrator, Photoshop, and other Graphic Designing software. Additionally, if you have a diploma from a Graphic Design course on your resume, you'll come across well in interviews and have a better chance of getting the job.
FITA Academy's Graphic Design Courses in Pondicherry offer Graphic Design with certification for recent graduates and working professionals looking to expand their design skill set. At the FITA Academy, graphic design instructors with ten years of expertise in the field provide students with the opportunity to develop the skills necessary to become qualified graphic designers.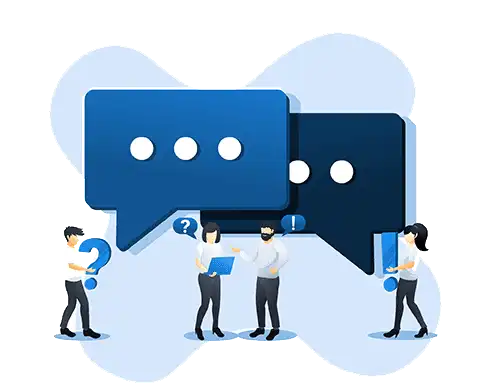 Have Queries? Talk to our Career Counselor
for more Guidance on picking the right Career for you!
Job Opportunities After Completing Graphic Design Courses in Pondicherry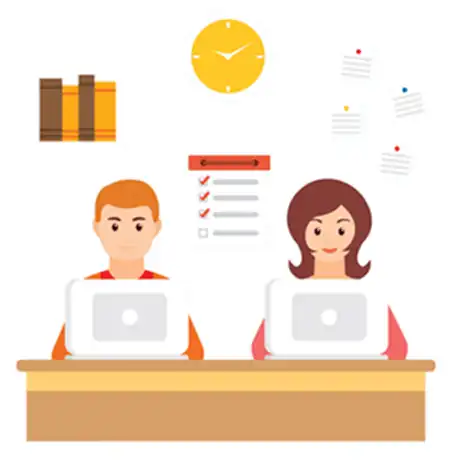 In India, there is a high demand for graphic designers and occupations associated with the field. This platform gradually developed after businesses and society shifted into the digital age. According to recent survey findings, the average Indian is reported to spend more than 5 hours each day online. Additionally, it is mentioned that 50% of daily human activities are carried out online. The Internet is used for various things, including reading the news feed, making financial transactions or paying bills, listening to music, playing games, and watching online movies.
Every single one of these apps that people use regularly was created by a graphic designer. It's common to think that just web developers or mobile app developers work on app design. However, the graphic designer also contributes significantly to the app's design. Since all businesses have migrated to the digital platform for the purpose of marketing their goods and services, the demand for graphic designers can range from small to large-scale firms.
The cost-effectiveness of this platform and the appropriate level of consumer focus are two of the main arguments for employing it. These are the various domains that hire a Graphic Designer,
Web Design Studio
Advertising Agencies
E-learning Companies
Graphic Design Studio
Web Development
TV and Multimedia Production houses
Print and Publishing companies
A graphic designer may make between Rs. 3,00,000 and Rs. 3,50,000 on average in their first year out of school. With three to four years of expertise, a graphic designer can make between Rs. 3,50,000 and Rs. 4,50,000 annually. Senior graphic designers can expect to make between Rs. 4,50,000 and Rs. 7,00,000 annually if they have 4 to 7 years of experience. The package and compensation may change depending on the company's needs and the designer's skills. To be well-versed in the numerous design techniques. Join the Best Graphic Design Institute in Pondicherry to learn the course in a professional setting with tools that are applicable to the industry and to expand your job options.
Student Testimonials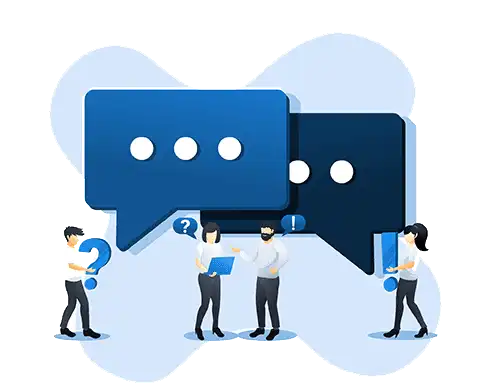 Have Queries? Talk to our Career Counselor
for more Guidance on picking the right Career for you!
Additional Information
Graphic design is a dynamic and ever-evolving field that combines creativity, communication, and aesthetics to convey messages and evoke emotions through visual elements. It is essential to many different businesses, including publishing, web design, marketing, advertising, and more. This in-depth article on graphic design will examine its background, guiding principles, notable practitioners, current trends, and social implications.
Historical Overview
Graphic design has a rich history that dates back centuries. It can be traced back to earlier civilisations, where concepts were conveyed through symbols and pictographs. The development of the Printing press in the 15th century marked a significant milestone in graphic design, allowing for the mass production of visual materials such as books and posters.
During the Renaissance, painters like Leonardo da Vinci and Albrecht Dürer combined art and communication by incorporating design ideas into their works of art. The Industrial Revolution further propelled graphic deisgn with the rise of commercialism, leading to the need for visually appealing advertisements and packaging.
The 20th century witnessed the emergence of influential movements and designers that shaped the field of graphic design. From the Bauhaus movement, emphasising simplicity and functionalism, to the Swiss Style, characterised by clean typography and grid systems, these movements laid the foundation for modern graphic design.
Fundamental Principles
Effective graphic design is built upon fundamental principles guiding designers' creative process. These principles include:
Composition and Layout
The arrangement and organisation of visual elements on a page or screen, considering balance, hierarchy, proximity, and white space. An effective composition captivates the viewer and ensures clarity in conveying the intended message.
Typography
The art and technique of arranging typefaces, including font selection, size, spacing, and alignment, enhance readability and conveys the intended message. Typography plays a critical role in setting a design's tone, hierarchy, and overall visual impact.
Colour Theory
The study of how colours interact with each other, including their psychological and emotional impact. Understanding colour harmonies, contrasts, and symbolism helps designers create visually engaging compositions that evoke the desired emotions or responses from the audience.
Visual Hierarchy
The arrangement of elements guides the viewer's attention, emphasising important information and creating a sense of order. Visual hierarchy helps viewers navigate a design, making it easier to understand and absorb the intended message.
Contrast and Repetition
The strategic use of contrasting elements creates visual interest and establishes a sense of unity and consistency. Contrast can be achieved through colour, size, shape, or texture differences. The repetition of elements creates a sense of cohesion and reinforces the overall design.
Imagery and Illustration
The selection and creation of images and illustrations complement the message and evoke the desired response from the audience. Imagery and illustrations can enhance storytelling, create visual impact, and provide context to the design.
Influential Designers
Graphic design has been shaped by visionary designers who have made significant contributions to the field. Their innovative approaches and iconic works have left a lasting impact on the industry.
Paul Rand, known for his clean and iconic corporate logos such as IBM and ABC, emphasised simplicity and symbolism. Rand's approach to design emphasised the importance of creating memorable and timeless visual identities.
Saul Bass, renowned for his film title sequences and poster designs, brought a fresh and modern perspective to graphic design. His minimalist and conceptual approach transformed the way graphic design was perceived in the film industry.
Milton Glaser, the designer of the enduring "I Love NY" logo, believed that simplicity and boldness had great force. One of the most prominent designers of his era, Glaser was known for his ability to distil complex ideas into aesthetically appealing visuals and his adaptable style.
Contemporary designers such as Stefan Sagmeister, Paul Scher, and Massimo Vignelli have contributed significantly to the field. Sagmeister's experimental and thought-provoking designs challenge traditional notions of graphic designs, while Scher's use of typography and bold visuals has redefined the field of environmental graphics. Vignelli's minimalist and timeless designs have become iconic symbols of modernism.
Evolving Trends
Graphic design constantly evolves, influenced by technological advancements, cultural shifts, and changing design practices. Digital design has gained prominence in recent years, with designers harnessing the power of software and interactive media to create immersive experiences.
Minimalism has emerged as a dominant trend, characterised by clean lines, ample white space, and simplicity. Minimalist design focuses on essential elements and effective communication, stripping away unnecessary clutter.
Flat design has gained popularity in digital interfaces, emphasising simplicity, vibrant colours, and two-dimensional illustrations. Flat design provides a clean and intuitive user experience, allowing for easy navigation and understanding of information.
Responsive design has become essential in the era of mobile devices. Designers are now required to create flexible and adaptable layouts that seamlessly adjust to different screen sizes and orientations, ensuring a consistent user experience across various devices.
The integration of motion graphics has added a new dimension to graphic design. With technological advancements, designers can now create dynamic and animated visuals that engage and captivate the audience. Motion graphics are widely used in video production, website design, and digital advertising to convey complex ideas or create visually appealing narratives.
Impact on Society
Graphic design profoundly impacts society, shaping public opinion, promoting brands, and facilitating communication. It plays a vital role in advertising campaigns, political movements, and social causes.
Through strategic design choices, designers can evoke emotions, influence behaviour, and effectively convey messages to a wide range of audiences. They have the power to shape narratives, challenge societal norms, and bring attention to important issues.
Moreover, graphic design is increasingly utilised in user interfaces (UI) and user experience (UX) design. Well-designed interfaces enhance the usability and accessibility of digital products, making them more intuitive and enjoyable for users. Designers consider factors such as layout, colour schemes, typography, and interaction design to create visually appealing and functionally efficient interfaces.
Graphic design also impacts branding and marketing strategies. Logos, packaging designs, and advertisements are carefully crafted to reflect a brand's values, personality, and identity. Graphic design that effectively brands a company enables it to stand out in a crowded market, build consumer trust, and leave a lasting impression.
Furthermore, graphic design plays a crucial role in disseminating information and promoting cultural events. Posters, brochures, and infographics are designed to communicate complex ideas in a visually engaging manner, making information more accessible and memorable.
Graphic design is a multidimensional discipline that combines artistic expression, technical skills, and effective communication. From its historical roots to the current digital landscape, graphic design continues to evolve, adapting to new technologies and social needs.
As we have explored in this essay, the fundamental principles of graphic design, the contributions of influential designers, the emerging trends and their impact on society, it is evident that graphic design is an indispensable tool for visual storytelling and effective communication.
In a world driven by visual culture, graphic design plays a central role in conveying messages, shaping perceptions, and creating memorable experiences. Its influence extends far beyond aesthetics, making it a crucial discipline in the modern era. With its ability to captivate, inform, and inspire, graphic design bridges creativity and communication, leaving an indelible mark on our visual landscape.