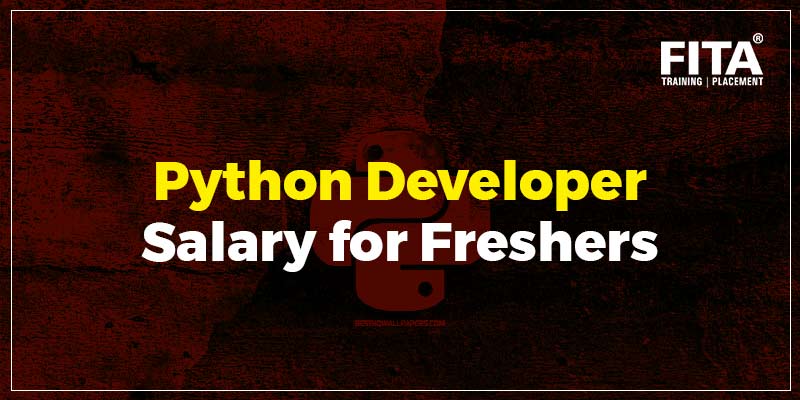 Are you passionate about becoming a next-generation programming expert! Python is a great place to start if you're looking for a highest-paying IT job. We'll walk you through the prospect of Python Developers Salary for Freshers in India. Though the language is new, its popularity is increasing tremendously every year. The language has gained popularity among the developers to prefer Python rather than Java, C#, and PHP. Because this language is simple and it is easy to learn with basic coding skills. If you are interested in learning Data Science, Machine Learning, Web-Development, then Python is your key! Let's discuss about Python developers' demand with their salary potential, and benefits in this blog.
About Python & Its Significance
Python is a dynamic and high-level programming language extensively used to develop websites and applications, perform automated operations, and machine learning. According to a survey conducted by StackOverflow Developer, Python ranked third among all the programming languages; also, it remains the most loved programming language preferred by Web and Application developers. Besides, the potentiality of Python is very versatile, exponentially increasing, and has broader applications & is not limited to. Henceforth, the Python Developer Salary keeps on increasing to the peak, comparable to Java and other competitive coding languages. Let's take a look into Python's specialized features and computing benefits.
Learn Python scripting and computing courses through enrolling Python Training in Chennai.
Special Features of Python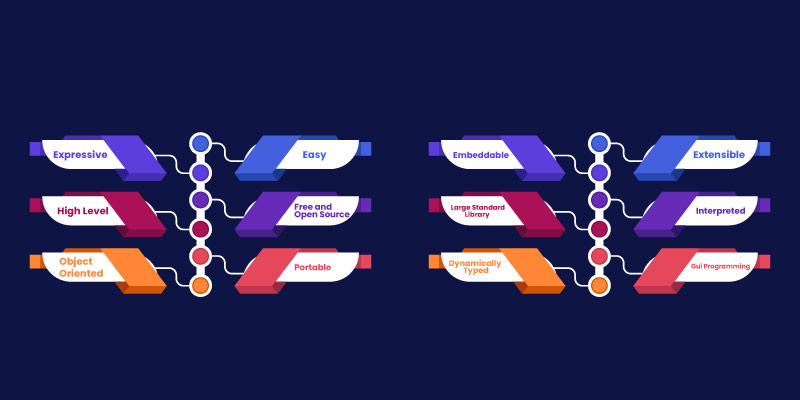 Python has several special features, that is why the language remains the most preferred and versatile tool for every programmer. Let's discuss the top most features along with their descriptions.
Simple to Learn and Implement – The syntax used in Python is almost similar to the English language. It's very easy for beginners and there is no need to use curly brackets, semicolons, and code blocks.
Expressive Programming Language – Python affords the easiest way to perform complex tasks through a few lines of code whereas Java and other programming languages require multiple code lines to execute.
Portable and Interpreted Language – The feature of executing one line at a time provides the easiest way to debug and make portable.
Platform Independent – Python can operate on a number of platforms, including Windows, Linux, UNIX, and Macintosh. As a result, we may state that Python is a versatile scripting language. It enables programmers to write applications for multiple competitive platforms while creating only one code.
Open Source Software – Python is a free programming language that anyone can use. On its official website, www.python.org, it is free and accessible. It has a large community worldwide striving tirelessly to establish new Python packages and operations. The Python community welcomes contributions from everyone. "Anyone can get its source code without spending a cent," states open-source.
Object-Oriented Language – Python features object-oriented computing, which provides the concepts of classes and objects. It allows for heredity, flexibility, and packaging, among many other features. The object-oriented method aids programmers in writing reusable code and developing applications with less code.
Expanded and Extensible – This feature allows users to utilize C or C++ codes to modify and improvise in Python.
Extended Library Standard – Python provides a wide range of supporting libraries from machine learning to scripting. Some examples for libraries were Pytorch, Tensors, Pandas, and Keras.
Programming Support with GUI – The Graphical User Interface is mostly used for developing desktop and its related applications, but libraries like PyQT5 and Kivy are used for development of web applications.
Integrated and Embeddable – As Python is versatile, it can be integrated with C, C++, and Java. In addition, Python allows programmers to use its source code to embed other language codes.
About Python Developer or Programmer
A Python Developer tends to work on the server-side of development projects, scripting, developing, deploying, and troubleshooting them (or back-end). They may, however, be willing to facilitate corporations with their digital infrastructure. On the other hand, Python Programmers are also concerned with coding and computing. Both of them play an important role for the development of Python Programs and its supported web-application.
Python Developer Salary in India
The Python Programmer Salary in India varies from entry-level to experienced. Also, it differs based on the work experience the candidate has and performance. So, the estimated fresher's salary for Python developers ranges from 2.5 to 4.2 LPA, and experienced salary exceeds 20 LPA. Here the chart shows approximated salaries for freshers in Indian IT firms.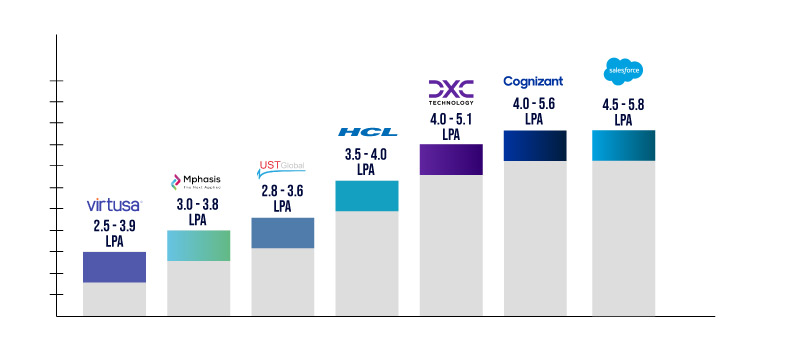 Python Developer Roles and Salaries
Python aspirers are associated with five responsive roles where the python developer salary entry level ranges from 2.4 LPA to 3.4 LPA. Here the chart shows Python developer roles and their respective pay scales.

Learn DevOps through choosing DevOps Training in Chennai, and increase the probability of getting more Python Programmer Salary.
Fundamental Skills Required for Python Developers
Python developers need to maintain a constant upgradation of their skills in accordance to newer technologies or trends. But, freshers looking for a good python programmer salary, must possess the following significant skills:
Git
Machine Learning
Cloud Computing
Django
Linux
Unix
Docker
Critical Roles and Responsibilities of a Python Developers
Python Web Developer
Creating, Writing, and Scripting Reusable, Scalable, and Efficient Code
Analyzing and Implementing Codes to meet business requirements
Developing backend and frontend components for incorporation proper security and logging principles
Debugging, Testing, and Validating Applications
Enhancing and Improving the functionalities of existing applications
Data Scientist
Collecting the bunch of structured and unstructured data
Sorting and Processing the data for company's insight.
Developing and Delivering potential applications for intelligence data analytics, and its related strategies.
Resolving complex issues through proper troubleshooting and data-driven solutions.
Become a professional Data Scientist through learning Data Science Courses in Bangalore at FITA Academy.
Machine Learning Engineer
Designing, Modifying, and Developing Machine Learning Tools and Models
Training the Machine Learning Models
Compiling Data in a Datasheet to train the models
Utilizing the Statistical approach to tune the results
Implementing advanced Machine learning models, tools, and algorithms to meet the client's requirements
Factors that Determines the Salary of a Python Developer
Work Experience – The Python Developer Salary Entry Level is about 2.5 to 4.0 LPA whereas the salary package of a mid-senior level is about 4.0 to 8.0 LPA. Therefore, the years of prior experience determines the salary package of applicants.
Work Location – Numerous IT sectors have been offering Python Developer posts across leading centers that are Chennai, Bangalore, Pune, Hyderabad, and Mumbai. Therefore, the Python Developer Salary in India for Freshers varies from 3.54 to 7.81 LPA.
Job Role – As discussed earlier, the type of Job role determines the fundamental salary package of freshers at Python Centers.
Reasons to Learn Python
There are multiple reasons for freshers who are looking for Python Developer Posts. Let's discuss the prime factors to consider Python
Python language is easy to use and learn, it affords readability, and ensures the easiest of all programming languages.
It has multiple library supports, frameworks, and supportive packages.
It has wider applications in the following domains: healthcare, financial services, marketing, education, and recruiting.
The language can be dynamically typed and extended.
Global Tech giants such as Facebook, Amazon, YouTube, IBM, Netflix, and NASA use Python as their primary programming language.
Preparation Tips to Become Python Developer
As the demand for Python Developer roles is expanding worldwide, we intend to deliver tutorial materials and interview tips to both freshers and experienced professionals.
Preparation for Interview
Before discussing the interview tips, preparatory tips and course guides are significant for freshers. Choosing reliable sites for course materials, tutorials, and book pages are essential as the right resource will provide the right knowledge. So, Python admirers are highly recommended to Learn Python Programming Tutorial and to read the Best Python Books for Beginners. These resources will provide adequate knowledge as it follows simple and understanding language apt for both beginners and experts. Also, it will strengthen the knowledge base and confidence of admirers for the interview phase.
Interview Question and Answers Guide
Now, Interview Question and Answers are also important for freshers looking for various Python Developer Fresher's Jobs. Nowadays, we have plenty of study resources and interview tips online, but identifying genuine and reliable resources is difficult. Therefore, if you are looking for an auspicious resource, follow Python Interview Questions and Answers which are reviewed and published by experts. Also, to gain additional knowledge on promising Interview guides, follow Important Interview Tips to be confident about the Interview round.
We have read the importance of Python which has been entering all the leaps and bounds of IT work and every sector! As a consequence, the demand for Python Developers in India has been potentially increasing with excellent benefits. Python is the unlocking key to innumerable opportunities to either freshers or experienced professionals. Hope this blog has driven your intelligence to diverse opportunities for a Python Developer, Enroll and Improve your computing skills through learning Python Training in Bangalore at FITA Academy.