Course Highlights & Why Python Course in Madurai at FITA Academy?
A comprehensive curriculum is provided by FITA Academy and it complies with the Global requirements for Python developers.
Training instructors will guide students through the use of lists, tuples, and dictionaries in Python programs, helping them to become proficient programmers.
This course will assist students in identifying Python object types and utilizing them effectively.
Students will be able to become proficient in using indexing and slicing to access data in Python programs after diligently training on the practices.
Through persistent evaluation and practice, the students will be able to develop the skills necessary to write functions and pass arguments in Python with ease.
Students will acquire programming skills in core Python through our Python Training in Madurai at FITA Academy.
A vital skill that is imparted to students through this course is the capability to design graphical user interfaces in Python.
Students will have the opportunity to explore Python's features that revolve around object-oriented programming in order to gain an understanding of this language.
There will be a series of demonstrations given to the trainees that will demonstrate how to handle errors and exceptions properly in order to make the code robust.
Including Match and Search, Search and Replace, and extended regular expressions, we'll cover everything you need to know about regular expressions.
Upcoming Batches
| | | | |
| --- | --- | --- | --- |
| 05-10-2023 | Weekdays | Thursday (Monday - Friday) | |
| 07-10-2023 | Weekend | Saturday (Saturday - Sunday) | |
| 09-10-2023 | Weekdays | Monday (Monday - Friday) | |
| 14-10-2023 | Weekend | Saturday (Saturday - Sunday) | |

Classroom Training
Get trained by Industry Experts via Classroom Training at any of the FITA Academy branches near you
Why Wait? Jump Start your Career by taking Python Training in Madurai!
Instructor-Led Live Online Training
Take-up Instructor-led Live Online Training. Get the Recorded Videos of each session.
Travelling is a Constraint? Jump Start your Career by taking the Python Online Training!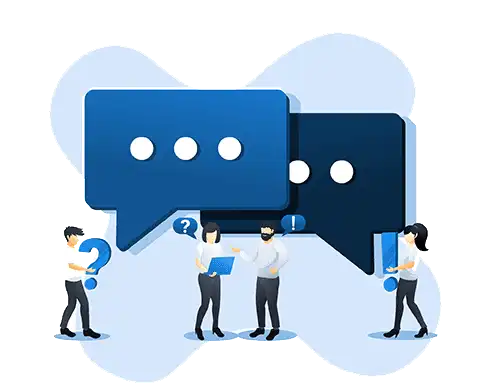 Have Queries? Talk to our Career Counselor
for more Guidance on picking the right Career for you!
Trainer Profile
The blended learning model is a way of learning that we fervently believe in.

Students at FITA Academy are taught Python concepts and frameworks along with case studies to make them more familiar with the latest Python concepts. By doing this, the students are able to get a practical experience of the Python Coding and Scripting language.

Our Python trainers at FITA Academy are industry experts and have a collective experience of more than 12 years in the field of Software Development.

Working professionals from the programming community are the ones who provide Python training.

Expert trainers will continuously assess the students and upskill their knowledge with tools in line with those used in the industry.

Students at FITA Academy learn how to create reliable software using Python code from their tutors.

Trainers assist students with developing a professional resume and provide

interview tips

so that they can prepare for the interview with ease.
Features
Real-Time Experts as Trainers
At FITA Academy, You will Learn from the Experts from industry who are Passionate in sharing their Knowledge with Learners. Get Personally Mentored by the Experts.
LIVE Project
Get an Opportunity to work in Real-time Projects that will give you a Deep Experience. Showcase your Project Experience & Increase your chance of getting Hired!
Certification
Get Certified by FITA Academy. Also, get Equipped to Clear Global Certifications. 72% FITA Academy Students appear for Global Certifications and 100% of them Clear it.
Affordable Fees
At FITA Academy, Course Fee is not only Affordable, but you have the option to pay it in Installments. Quality Training at an Affordable Price is our Motto.
Flexibility
At FITA Academy, you get Ultimate Flexibility. Classroom or Online Training? Early morning or Late evenings? Weekdays or Weekends? Regular Pace or Fast Track? - Pick whatever suits you the Best.
Placement Support
Tie-up & MOU with more than 1500+ Small & Medium Companies to Support you with Opportunities to Kick-Start & Step-up your Career.
Python Certification Training in Madurai
About Python Certification Training in Madurai at FITA Academy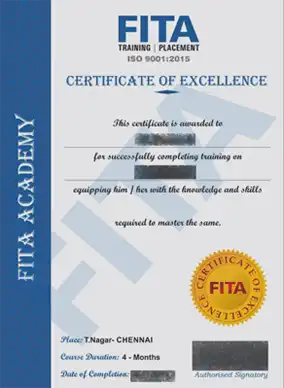 Python Certification Training in Madurai
Python course in Madurai provide the candidate with the skills and knowledge necessary to perform coding tasks that are directly related to the basic concepts of programming in Python and to the techniques and concepts that are used for Object-Oriented Programming, Web Design, and Games Design, as well as other forms of programming. Furthermore, having a Python certification on your resume will greatly increase your chances of being prioritized during an interview, z and, as a result, you will be hired more quickly.
Our Python training in Madurai at FITA Academy with Certification is suited to all levels, whether you are a beginner or an experienced software professional. In this course, you will receive training from tutors with more than a decade of experience in this field who will help you improve your programming skills with in-depth knowledge that will help you excel in your career. You can also get employed as a Python programmer in any kind of company that has a requirement for Python programmers. Since the demand for skilled developers is increasing on a daily basis, the number of job opportunities is also increasing. This certificate teaches you how to manage projects effectively and efficiently, and will make you self-reliant. Taking this course will help you develop your analytical skills and problem-solving abilities.  As a result of this course, you will also be able to develop your critical thinking skills and understand business logic in a better way. Lastly, it helps you deal with errors gracefully.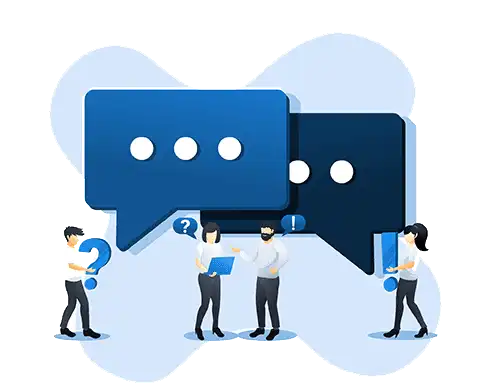 Have Queries? Talk to our Career Counselor
for more Guidance on picking the right Career for you!
Job Opportunities After Completing Python Training in Madurai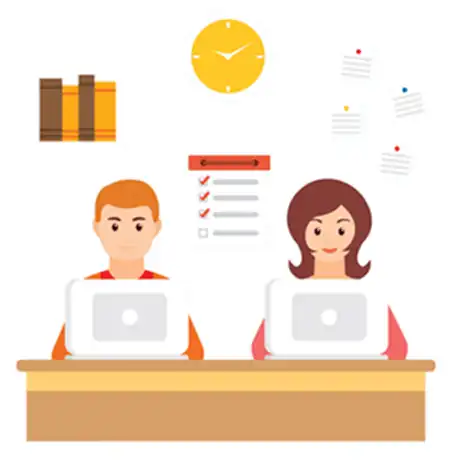 The most significant benefit that Python training in Madurai could offer is that it's easy to learn and simple to utilize programming language. Numerous job opportunities are also provided, along with a wide range Python Developer Salary for Freshers with benefits. One of the most sought-after career opportunities in this area is a Python developer, who is responsible for creating websites, solving problems related to data scientists, writing code that is flexible and efficient, improving algorithms for data, and creating data security and protection. 
There are many reputable firms looking for individuals who can handle massive amounts of data they can access. Furthermore, these companies are seeking to hire highly skilled Python experts, such as pandas, scipy and various Python libraries. Another important job role that has an important role within the business is that of an executive in charge of product development who directs and aids their business in analysing and understanding the market and recommending why the design and development of a product will be more advantageous in comparison to other products.
They are responsible for researching the market, and analyzing some of the features and characteristics related to the product as well as its market, leading to the creation of massive profits for the company. Data is considered to be the most essential aspect of their day-to-day work. Data managers with expertise in Python are extremely sought-after by these firms. Alongside the above-mentioned jobs one of the careers popular in the marketplace and with the most reputable companies is the machine learning engineer. The person who is in this position is accountable for creating and teaching machine programs as well with other computer-based systems in order to use their acquired abilities and knowledge to make precise forecasts.
Also Read: Python interview Questions and Answers
Student Testimonials
I recently completed my Python programming course here at FITA Academy. Their teaching quality is excellent, and I am pleased with it. Compared to theory classes, there are more practical sessions offered which helps me to develop my technical skills. The syllabus of the Python training course has been updated and it was covered in detail in the training course. Thanks FITA for your guidance.
My friend suggested that I join FITA Academy for Python Training in Madurai. During the training, the syllabus followed industry standards, and the training staff were knowledgeable about the topics and were able to explain them clearly to me. Since I am a fresher; I feel it is the perfect syllabus to learn the Python programming language from the basics and also to gain an understanding of its potential as a programming language.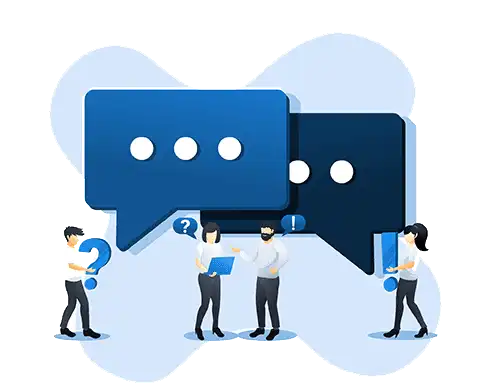 Have Queries? Talk to our Career Counselor
for more Guidance on picking the right Career for you!
Additional Information
Python Training at Madurai in India at FITA Academy, is an ideal spot to take a Python course. You will gain knowledge about Python code and scripts as well as its data libraries such as Pandas, NumPy, and Matplotlib. You will learn about the use of Python in various fields including Machine Learning, Artificial Intelligence, Networking, and Data Science.
Almost all programmers and graduate students use Python as an interpreted general-purpose programming language. Linux, Windows, and Mac are all supported platforms by Python, which is an object-oriented programming language. Python has gained prominence in the area of Rapid Application Development because of its dynamic binding options and typing capabilities. Python features a unique syntax that is primarily focused on usability and readability. Python isn't just an ever-growing programming language that is well-liked by Software Engineers as well Data Scientists, Accountants, Network Engineers, and Mathematicians. Many people prefer Python in comparison to the other language types due to its user-friendly design and decrease in maintenance of programs and development.
Take part in Python Training in Madurai at FITA Academy. Learn the subject professionally under the supervision of experienced professionals. You can also improve your programming skills to become a Software Developer in the near future.
Objectives of Python Course in Madurai at  FITA Academy 
Students will
Learn the Basic and Advanced Programming in Python

Learn Python scripts on Windows and UNIX environments

Experience with Python Editors and the most popular IDEs

Learn to develop functions in Python

Highly proficient in file handling in Python

Perform string manipulation

Expertise in working using programs

A solid understanding of classes

Learn about the Django framework
Why FITA Academy Python Course Madurai?
More than 50,000+ students and professionals get started and help to move their careers into IT.

We have only 5-6 students in each batch, ensuring the individual attention given to each student is assured.

We have tie-ups with over 1500+ businesses. Our Placement team works hard to assist you in obtaining the IT job you've always wanted!

FITA Academy is a global leader in software training by introducing innovative sessions as well as industry knowledge and methodologies.

Our instructors provide high-value corporate training, which allows you to increase your skills and increase your productivity.

We offer real-time classroom instruction using a variety of IT courses taught by our highly skilled instructors.

Learn by taking the best Python Training in Madurai to acquire a thorough understanding of each concept.

We offer real-time case studies for cracking interviews.

Learn from us to gain the most extensive learning experience, turning ideas into innovative applications.

Training instructors from the most reputable IT firms to offer intensive and thorough training using real-time projects with

Python tutorials

.
Learn more about Python Frameworks
Python is a well-known open-source programming language that offers a great deal of flexibility in terms of its use. When thinking about how to implement software, you should know which framework will work best. First, could you tell us what a Python framework is? Frameworks are groups of packages and modules that make it easier for developers to write Web apps. Developers don't have to worry about things like sockets, protocols, and thread management when they use Python Frameworks. When Python Frameworks are used, it makes the work of the Developer easier. 
Using Python Frameworks helps us with Web Security, URL Routing, Database Section, Request Interpretation, Session Storage, Session Retrieval, and Validating and Handling Input. Also, using frameworks makes it easier for developers to reuse the code for common HTTP operations. Also, they help the other developers structure the projects in the best way. The fact that changes and additions can be made to frameworks is among the most compelling arguments in favour of using them. Frameworks help developers set up their projects in a way that makes it easy for other developers who know the framework to maintain and build applications. By using Python frameworks in our projects, we get the tools we need to make the features even better.
Python frameworks that are well-known
The following is a list of some of the most popular Python frameworks, along with a detailed explanation of what each one does.
Django

Flask

Bottle

CherryPy

Web2Py

Turbo Gears

Sanic

Pycnic

Tornado

Falcon
Django: Django is a Python framework that is used by a lot of developers. Django is a high-level framework that helps design that is both clean and effective. The main idea behind this framework is "DRY," which stands for "Don't Repeat Yourselves." This framework was made for the Content-Management system at first, but it is now used in many different types of Web Applications. This is because it has features like Template Engine, URL Routing, Authentication, ORM, and Database Schema Migrations. Also, Django's main database works with MySQL, Oracle, Postgres, and SQLite. With the help of third-party libraries, Django can also work with a number of other databases. Join the python training institute in Madurai at FITA Academy and learn from working professionals how to use the Django framework and its applications well.
Flask: Flask is a tool that is a microframework. It is one of the most popular frameworks among developers and is licensed by the BSD. When a piece of software has a BSD license, it means that there are some rules about how it can be shared. This framework also has built-in support for building servers and unit testing. This framework works best for small applications that don't do much. The main parts of this framework are the Werkzeug WSGI toolkit and the Jinja2 template. The most important thing about this tool is that it lets you test, debug faster, send messages through REST, and keep cookies safe.
Bottle is another popular microframework that makes a single source application for each file. This framework was made so that API could be built. This framework is special because it lets developers work closely with the hardware. Also, this framework only needs the Python Standard Library to work. Here are the most important parts of the bottle frames: Routing, file uploads, cookies, access to form data, headers, templates, and a built-in HTTP server.
CherryPy: This was the first Python framework, and it came out in 2002. CherryPy is a popular framework that is free to use. Different web servers, like Apache and IIS, can be used with this framework. Also, when building web apps with this framework, the minimalistic approach is used. CherryPy is used to make Web applications that run on their own and have support for multiple web servers and operating systems. CherryPy frameworks include caching, encoding, coverage, Software Testing,  a customizable plugin system, and authentication.
Web2Py is a Full-Stack Framework for developers who want a full-stack framework that can grow with their needs. This open-source framework comes with a web-based IDE that lets you deploy, edit, and fix bugs with just one click. Web2Py frameworks let developers use the Python programme to make dynamic web content, but Web2Py won't work with Python 3. The best things about this framework are that it can use the MVC pattern, that it supports internalisation, that it can read multiple protocols, and that it can be backward compatible. Python Course in Madurai at FITA Academy helps students learn more by training them to use different Python frameworks in an efficient way and giving them a certificate.
TurboGears is an open-source, full-stack framework for Python web applications that is completely data-driven. This framework lets developers make a fast-moving web app with data that can be added to. The Turbo Gear, a powerful ORM, also supports horizontal data partitioning. This framework also has a widget system that makes it easier to make AJAX apps. Support for SQL Objects, Support for SQL Alchemy, Support for Multiple Databases, PasteScript templates, FormEncode with validation support, Uses Pylons as web servers, and MochiKit JavaScript library integration are the most important features of Turbo Gear frameworks.
Sanic: This framework is built on top of the UV loop and is asynchronous. Sanic is an open-source framework that was made to handle HTTP requests in an asynchronous way so that they can be answered faster. This framework works with the Python 3.5 await functions because it supports asynchronous request handlers. This eventually led to faster speeds and gave developers the ability to work without waiting. A benchmark test with one process and one hundred connections was done to see how well it worked. Sanic could handle 33,342 requests in a single second. Some of the most important things about the Sanic framework are that it has Class-based views, supports plugins, can read and write cookies, and allows logins like error log and access log.
Pycnic: It is an object-oriented framework, and its microframework is one of the fastest JSON API frameworks. This framework stands on its own because it can handle JSON-based APIs. It has a strong purpose compared to other APIs. The most important thing about this framework is that it handles routing, cookies, JSON-based requests, and error handling.
Tornado is an open-source framework that is also an asynchronous framework. Tornado is a networking library that can handle the C10K problem by using I/O that doesn't block. This framework is perfect for high performance and can handle thousands of users at the same time. This framework was first made for a company called FriendFeed. In 2009, Facebook bought the company. Some of the most important things about this framework are Web templates, high-quality performance, support for localization and translation, user authentication, real-time services, and never-blocked HTTP client servers.
Falcon is a microframework that is used to build APIs quickly. It is also one of the most popular frameworks among developers. This framework lets developers make cleaner designs and works with both REST and HTTP architectures. Similar to what was done with Sanic, a capacity test was done on the Falcon. This framework passed the test by being able to handle the most requests with different hardware and competitors. The most important thing about this framework is that it handles errors right away, speeds things up even more, lets you test units with WSGI mocks and helpers, and makes it easy to get to the bodies and headers through requests. Python Course in Madurai at FITA Academy gives students a complete understanding of Python frameworks and how they can be used in a professional setting.