Course Highlights and Why Python Course in Pondicherry at FITA Academy?

FITA Academy offers a comprehensive programme that meets the global criteria for Python developers.

Instructors will guide students with the use of Python lists, tuples, and dictionaries, enabling them to become skilled programmers.

This course will help students recognise Python object types and successfully use them.

After diligently training on indexing and slicing, students will be able to retrieve data in Python applications employing these techniques proficiently.

Through consistent evaluation and practise, students will learn the abilities required to build functions and pass arguments with ease in Python.

FITA Academy's Python Training in Pondicherry will provide students with fundamental programming abilities in Python.

The ability to develop graphical user interfaces in Python is an essential skill that is taught to students in this course.

Students will have the opportunity to investigate Python's object-oriented programming features in order to obtain a grasp of this programming language.

A series of case studies will be given to the trainees explaining how to properly handle errors and exceptions in order to make the code robust.

Regular expressions, including Match and Search, Search and Replace, and extended regular expressions, will be covered in detail.
Upcoming Batches
11-12-2023
Weekdays
Monday (Monday - Friday)
14-12-2023
Weekdays
Thursday (Monday - Friday)
16-12-2023
Weekend
Saturday (Saturday - Sunday)
23-12-2023
Weekend
Saturday (Saturday - Sunday)

Classroom Training
Get trained by Industry Experts via Classroom Training at any of the FITA Academy branches near you
Why Wait? Jump Start your Career by taking Python Training in Pondicherry!
Instructor-Led Live Online Training
Take-up Instructor-led Live Online Training. Get the Recorded Videos of each session.
Travelling is a Constraint? Jump Start your Career by taking the Python Course Online!
Trainer Profile
We firmly believe in the blended learning model as a way of our training..

In order to familiarise students with the most recent Python principles, FITA Academy teaches them Python concepts and frameworks together with case studies. This allows students to gain real experience with the Python Coding and Scripting language.

Our Python instructors at FITA Academy have a combined experience of over 12 years in Software Development and are industry specialists.

Python instruction is provided by active programmers from the programming community.

Continuously assessing the students' knowledge and enhancing it using industry-standard tools, expert instructors will upskill them.

The students at FITA Academy are instructed by their teachers on how to develop dependable software using Python.

Trainers support learners with creating a professional CV and provide interview suggestions so they can prepare for interviews with ease.
Learn at FITA Academy & Get Your
Dream IT Job in 60 Days
like these Successful Students!

Features of Python Course in Pondicherry at FITA Academy
Real-Time Experts as Trainers
At FITA Academy, You will Learn from the Experts from industry who are Passionate in sharing their Knowledge with Learners. Get Personally Mentored by the Experts.
LIVE Project
Get an Opportunity to work in Real-time Projects that will give you a Deep Experience. Showcase your Project Experience & Increase your chance of getting Hired!
Certification
Get Certified by FITA Academy. Also, get Equipped to Clear Global Certifications. 72% FITA Academy Students appear for Global Certifications and 100% of them Clear it.
Affordable Fees
At FITA Academy, Course Fee is not only Affordable, but you have the option to pay it in Installments. Quality Training at an Affordable Price is our Motto.
Flexibility
At FITA Academy, you get Ultimate Flexibility. Classroom or Online Training? Early morning or Late evenings? Weekdays or Weekends? Regular Pace or Fast Track? - Pick whatever suits you the Best.
Placement Support
Tie-up & MOU with more than 1500+ Small & Medium Companies to Support you with Opportunities to Kick-Start & Step-up your Career.
Why Learn Python Course in Pondicherry at FITA Academy?
Live Capstone Projects
Real time Industry Experts as Trainers
Placement Support till you get your Dream Job offer!
Free Interview Clearing Workshops
Free Resume Preparation & Aptitude Workshops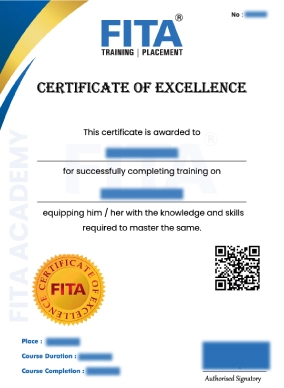 Python Certification Training in Pondicherry at FITA Academy
The Python course in Pondicherry equips candidates with the skills and knowledge required to perform coding tasks that are directly related to the fundamental concepts of Python programming, as well as the techniques and concepts used for Object-Oriented Programming, Web Design, and Games Design, along with other forms of programming. In addition, having a Python certification on your resume will boost your chances of being prioritised during an interview, resulting in a speedy hiring process.
Our Python training in Pondicherry at FITA Academy with Certification is appropriate for beginners and seasoned IT professionals alike. You will receive training in this course from instructors with more than a decade of expertise in this sector, who will help you enhance your programming skills with in-depth knowledge that will help you excel in your job. You can also seek jobs in any organisation with a need for Python programmers. As the everyday demand for qualified developers rises, so too does the quantity of available employment opportunities. This certification teaches you how to effectively and efficiently handle projects and makes you independent. This training will aid in the development of your analytical and problem-solving skills. You will also be able to strengthen your critical thinking skills and comprehend business logic better as a side benefit of this training. Lastly, it assists you in handling faults with grace.
Have Queries? Talk to our Career Counselor for more Guidance on picking the
right Career for you!
Placement Session & Job Opportunities after completing Python Course in Pondicherry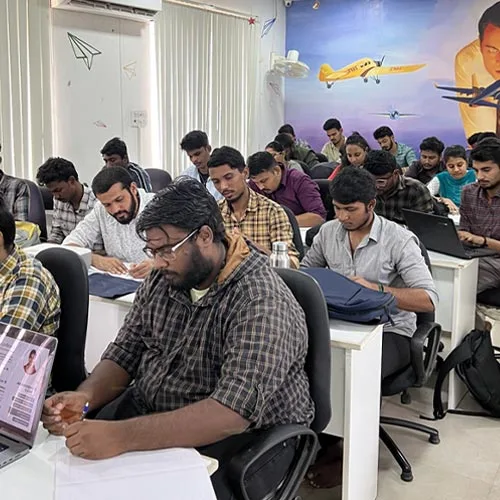 The primary benefit of Python training in Pondicherry is that it is an easy-to-learn and simple-to-use programming language. In addition to several employment options, numerous Python Developer Salary for Freshers with benefits are available. One of the most sought-after careers in this field is that of a Python developer, who is responsible for constructing websites, resolving issues linked to data scientists, producing flexible and efficient code, enhancing data algorithms, and establishing data security and protection.
There are numerous respected companies seeking employees who can manage enormous amounts of data. In addition, these companies are looking to hire Python specialists with expertise in pandas, scipy, and other Python libraries. The executive in charge of product development, who guides and assists their firm in analysing and comprehending the market and advocating why the design and development of a product will be more advantageous in comparison to other products, is another key position within the organisation.
They are responsible for doing market research and studying the product's features and attributes, as well as the product's market, resulting in significant profits for the corporation. Data is regarded as the most important component of their daily work. Data managers with Python experience are in high demand at these companies. In addition to the aforementioned occupations, machine learning engineer is one of the most sought-after jobs in the market and among the most respected companies. This individual is responsible for designing and teaching machine programmes and other computer-based systems in order to produce accurate predictions using their gained skills and expertise.
Also read Python interview Questions and Answers
Success Story of Python Course in Pondicherry
Without Having no tech background, I finished my Python course in Pondicherry at FITA Academy. My trainer was always there to answer my questions, and I was able to clear my doubts right away. After my course, I got a job offer from a reputed MNC. I'm thankful my trainer and FITA Academy helped me get this job.
With Fita Academy, I was able to learn Python in Pondicherry from the best Python Training Institute. Through the training, I was able to grasp each topic clearly in a short time. During my time at FITA Academy, I had the opportunity to work on real-time projects. The classes were interactive and engaging, and I had nothing but gratitude for the trainers and staff.
The best Python course in Pondicherry is at FITA Academy. Although I had tried other institutes, I wasn't satisfied with the classes. With FITA Academy, I got a clear understanding of the topic and realized it was easy to use the programming language. There was a warm and welcoming atmosphere, where all my questions could be answered instantly and I enjoyed learning the language.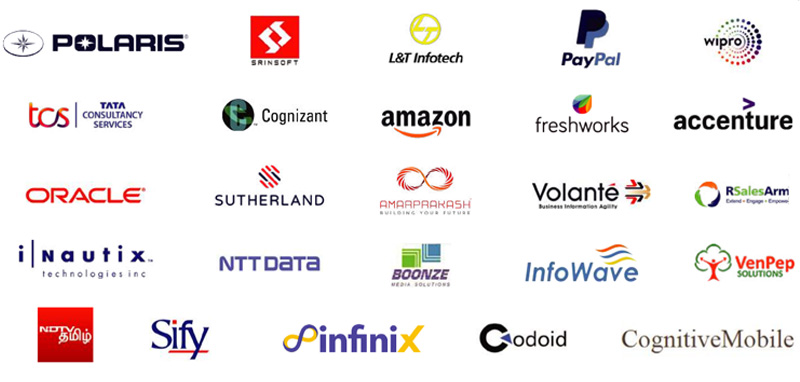 Frequently Asked Question (FAQ) about Python Course in Pondicherry
Additional Information of Python Course in Pondicherry
Python Training at FITA Academy in Pondicherry, India is a perfect location to pursue a Python course. You will obtain an understanding of Python code, scripts, and data libraries such as Pandas, NumPy, and Matplotlib. You will study how Python is utilised in a variety of domains, such as Machine Learning, Artificial Intelligence, Networking, and Data Science.
Python is actually widely used by programmers and graduate students as an interpreted general-purpose programming language. Python, an object-oriented programming language, supports the Linux, Windows, and Mac platforms. Due to its dynamic binding choices and typing capabilities, Python has risen to prominence in the field of Rapid Application Development. Python has a distinctive syntax that focuses primarily on readability and usability. Python is not only a popular programming language among Software Engineers, but also Data Scientists, Accountants, Network Engineers, and Mathematicians. Python is favoured over other programming languages due to its user-friendly architecture and reduced need for programme maintenance and development.
FITA Academy provides Python Training in Pondicherry. Learn the subject professionally under the guidance of seasoned experts. In the near future, you can also enhance your programming talents to become a Software Developer.
Why Take this FITA Academy Python Course in Pondicherry?
More than 50,000 students and professionals receive assistance in developing their careers in IT.

There are only 5 or 6 students in each class, guaranteeing that each trainee receives individualised attention.

We have partnerships with approximately 1500 companies. Our Placement team works diligently to help you acquire the IT position you've always desired!

FITA Academy is a global leader in software training due to its creative sessions and industry-specific expertise and methods.

Our trainers deliver high-quality corporate training, allowing you to improve your abilities and productivity.

Our highly qualified instructors provide real-time classroom training for a range of IT courses.

Gain a complete understanding of each idea by enrolling in the top-rated Python training in Pondicherry.

We provide real-world case studies for interview success.

We offer the most comprehensive learning experience, transforming ideas into new applications.

Instructors from the most prestigious IT companies provide intensive, comprehensive training using real-world projects.
Also Read: Python Tutorials
More information on Python Frameworks
Python is a well-known open-source programming language that offers a great deal of flexibility in terms of its use. When thinking about how to implement software, you should know which framework will work best. First, could you tell us what a Python framework is? Frameworks are groups of packages and modules that make it easier for developers to write Web apps. Developers don't have to worry about things like sockets, protocols, and thread management when they use Python Frameworks. When Python Frameworks are used, it makes the work of the Developer easier. 
Using Python Frameworks helps us with Web Security, URL Routing, Database Section, Request Interpretation, Session Storage, Session Retrieval, and Validating and Handling Input. Also, using frameworks makes it easier for developers to reuse the code for common HTTP operations. Also, they help the other developers structure the projects in the best way. The fact that changes and additions can be made to frameworks is among the most compelling arguments in favour of using them. Frameworks help developers set up their projects in a way that makes it easy for other developers who know the framework to maintain and build applications. By using Python frameworks in our projects, we get the tools we need to make the features even better.
The well-known Python frameworks
Following is a list of some of the most popular Python frameworks, along with a comprehensive description of what each does.
Django

Flask

Bottle

CherryPy

Web2Py

Turbo Gears

Sanic

Pycnic

Tornado

Falcon
Django: It is a Python framework utilised by many developers. Django is a high-level framework that promotes effective and clean design. This structure is based on the "DRY" principle, which stands for "Don't Repeat Yourselves." This framework was initially created for the Content-Management system, however it is today utilised in a variety of Web Application kinds. This is due to the fact that it includes features such as Template Engine, URL Routing, Authentication, ORM, and Database Schema Migration. In addition, MySQL, Oracle, Postgres, and SQLite are supported by Django's primary database. Django can also work with a number of different databases by utilising third-party libraries. Join the FITA Academy Python training institute in Pondicherry to learn from working experts how to effectively use the Django framework and related applications.
Flask: It is a microframework that functions as a tool. It is one of the most popular frameworks among developers and is BSD-licensed. When a piece of software has a BSD licence, it indicates that it is subject to certain sharing restrictions. Additionally, this framework includes support for constructing servers and unit testing. This framework is ideally suited for simple, tiny applications. The most important components of this framework are the Werkzeug WSGI toolkit and the Jinja2 template. The most crucial aspect of this tool is its ability to test, debug faster, deliver messages over REST, and secure cookies.
Bottle: It is an additional popular microframework that generates a single-source application for each file. This framework was developed so that API could be constructed. This framework is unique in that it allows developers to work closely with the hardware. Furthermore, this framework simply requires the Python Standard Library to function. Here are the most significant elements of the bottle frames: Routing, file uploads, cookies, form data access, headers, and an embedded HTTP server.
CherryPy: In 2002, CherryPy was released as the first Python framework. CherryPy is a popular framework that can be used without cost. This framework can be used with several web servers, such as Apache and IIS. In addition, a simple approach is employed when developing web applications with this framework. CherryPy is used to create Web applications with support for numerous web servers and operating systems that are capable of running independently. CherryPy frameworks consist of caching, encoding, coverage, Software Testing, a configurable plugin system, and authentication.
Web2Py: It is a Full-Stack Framework for developers that desire a framework that can grow with their requirements. This open-source framework features a web-based IDE that enables one-click deployment, editing, and problem fixes. Web2Py frameworks enable developers to create dynamic online content using the Python programming language, but Web2Py is incompatible with Python 3. This framework's best features include its ability to utilise the MVC design pattern, its support for internalisation, its ability to read different protocols, and its backward compatibility. FITA Academy's Python Course in Pondicherry teaches students how to use various Python frameworks effectively and awards them with a certificate, hence enhancing their learning.
TurboGears: It is an open-source, full-stack framework for Python web applications that is entirely data-driven. This framework enables programmers to create data-additional, rapidly-evolving web applications. The Turbo Gear, a potent ORM, offers horizontal data partitioning as well. This framework has a widget system that facilitates the development of AJAX applications. Support for SQL Objects, Support for SQL Alchemy, Support for Multiple Databases, PasteScript templates, FormEncode with validation support, Uses Pylons as web servers, and integration of the MochiKit JavaScript library are the most important characteristics of Turbo Gear frameworks.