Course Highlights and Why Python Training in Hyderabad at FITA Academy?

Learning the history, features, characteristics, and application of Python in the IT industry.

Able to differentiate between Python 2 and Python 3.

Understanding List, Ranges, Tuples, Iterators, Generators, Comprehensions, and Lambda Expressions in Python.

Comprehending Python Dictionaries, Sets, Python Sets Examples.

Knowledge of Reading, Writing, and Appending files in Python.

Know-how to define user functions, package functions, anonymous functions, loops and statements, modules, and packages.

Understanding Python as an object-oriented language, its classes, objects, and attributes.

Apprehending Python Exceptional Handling, its argument, standard exceptions, and user-defined functions.

Learning Regular expressions, Match Function, Search Function, Search and Replace, extended regular expressions, and more.

Knowledge of Python operators such as Arithmetic operators, Python Comparison operators, Logical operators, Assignment operators, Python Bitwise operator, Python reminder operator, and such.
Upcoming Batches
| | | | |
| --- | --- | --- | --- |
| 09-12-2023 | Weekend | Saturday (Saturday - Sunday) | |
| 11-12-2023 | Weekdays | Monday (Monday - Friday) | |
| 14-12-2023 | Weekdays | Thursday (Monday - Friday) | |
| 16-12-2023 | Weekend | Saturday (Saturday - Sunday) | |

Classroom Training
Get trained by Industry Experts via Classroom Training at any of the FITA Academy branches near you
Why Wait? Jump Start your Career by taking Python Training in Hyderabad!
Instructor-Led Live Online Training
Take-up Instructor-led Live Online Training. Get the Recorded Videos of each session.
Travelling is a Constraint? Jump Start your Career by taking the Python Online Course!
Trainer Profile
The Python trainers of FITA Academy are professional experts with a maximum experience of 10+ years in the industry.
The Python tutors of FITA Academy provide training according to industry standards.
Both career guidance and career support are provided by the teaching experts of FITA Academy.
Soft skills training and knowledge induction programs are conducted to equip students with the best industry skills.
Python educators regularly conduct interactive classes to enhance students' knowledge of industry practices.
Learn at FITA Academy & Get Your
Dream IT Job in 60 Days
like these Successful Students!

Features of Python Training in Hyderabad at FITA Academy
Real-Time Experts as Trainers
At FITA Academy, You will Learn from the Experts from industry who are Passionate in sharing their Knowledge with Learners. Get Personally Mentored by the Experts.
LIVE Project
Get an Opportunity to work in Real-time Projects that will give you a Deep Experience. Showcase your Project Experience & Increase your chance of getting Hired!
Certification
Get Certified by FITA Academy. Also, get Equipped to Clear Global Certifications. 72% FITA Academy Students appear for Global Certifications and 100% of them Clear it.
Affordable Fees
At FITA Academy, Course Fee is not only Affordable, but you have the option to pay it in Installments. Quality Training at an Affordable Price is our Motto.
Flexibility
At FITA Academy, you get Ultimate Flexibility. Classroom or Online Training? Early morning or Late evenings? Weekdays or Weekends? Regular Pace or Fast Track? - Pick whatever suits you the Best.
Placement Support
Tie-up & MOU with more than 1500+ Small & Medium Companies to Support you with Opportunities to Kick-Start & Step-up your Career.
Why Learn Python Training in Hyderabad at FITA Academy?
Live Capstone Projects
Real time Industry Experts as Trainers
Placement Support till you get your Dream Job offer!
Free Interview Clearing Workshops
Free Resume Preparation & Aptitude Workshops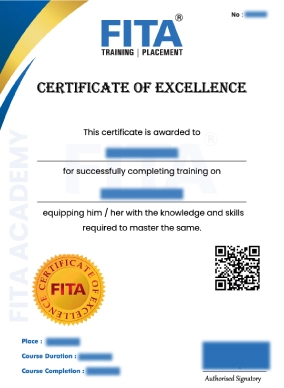 Python Certification Course in Hyderabad
The Python Certification is one of the important certifications in the IT industry as it serves as a Full Stack language for many developments in the world. From the development of powerful web applications, AI machines, machine learning components to operating systems, mobile applications, and video games, the Python programming language has come a long way and is conquering the IT world with its features, libraries, and frameworks. Earning the Python certification has huge benefits. First of all, it is an assurance for companies that you have gained expertise in working with the programming language. Second of all, it gives you a competitive edge during the hiring process and you have higher chances of getting selected by IT corporations. Being a Python certified candidate you will have the opportunity to move towards your desired career path and apply for jobs that you are passionate to work for. Moreover, the programming language is easy to learn and there is a huge demand for python programmers since 2018. The Python Course in Hyderabad is an effective training program helping students to excel in the language with complete assistance from the training experts.
Have Queries? Talk to our Career Counselor for more Guidance on picking the
right Career for you!
Placement Session & Job Opportunities after completing Python Training in Hyderabad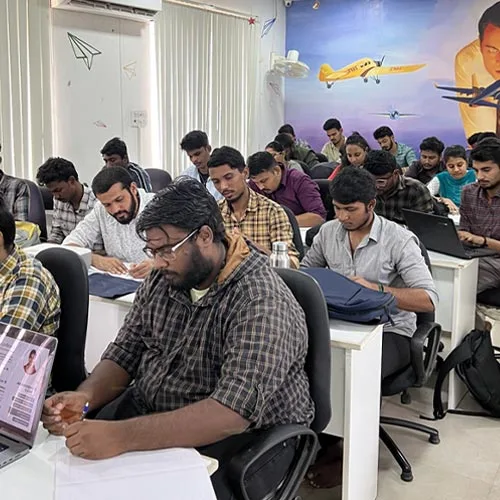 Python is famous for its usage in developing famous social media websites and applications like Instagram, Google, Spotify, Netflix, Uber, Dropbox, Pinterest, Instacart, etc. The reasons the language has been adopted by famous organizations in building their websites are because
The language is versatile
It is a Cross-platform language
Provides Productivity and Speed
Has User-friendly Data Structures
Extensive Library Support
Simplifies Complex Software development
Adopts Test-driven development
Python is simply the one-stop solution for all major IT and Science related development needs. Completing your Python Certification will allow you to work in diverse industries such as Data Science, Machine Learning, and AI. Python has that much capability and power to develop advanced science-based applications. Moreover, it is used in Medicine, Pharmacology Biology, Bioinformatics, NeuroScience, and Astronomy. Therefore a Python-certified candidate has numerous opportunities and also has the advantage to choose their field of work.
The common job titles Python certified or Python learned candidates are being offered are,
Software Developer
Python Developer
Full-Stack Developer
GIS Analyst (Geographic Informations Systems)
Data Scientist
Machine Learning Engineer
AI/ML Researcher
Product Manager
Data Analyst
Educators
Data Journalist
These professionals are hired by some of the top companies which are Google, Bank of America, Cisco Systems, Apple, Intel, Accenture, JP Morgan, Ericsson, Verizon, etc.
The average salary of Python developers in India is Rs. 6,27, 608 per annum. The entry-level salary of Python developers in India is Rs. 4,81,785 per annum. The mid-level professionals earn around Rs. 5,45, 238 per annum. The experienced Python professionals earn around Rs. 9,60, 428 per annum.
FITA Academy offers the Best Python Training in Hyderabad for students wanting to get trained in the language with industry skills.
Also Read: Python Interview Questions and Answers
Success Story of Python Training in Hyderabad
Joining the Python Course in Hyderabad at FITA Academy has been valuable in learning the Python language. The trainers skillfully taught the Python concepts in an understandable way and were efficient in handling the technical sessions. I would confidently recommend FITA Academy to all the freshers who want to learn the language at ease and proficiently.
Enrolling for the Python Training in Hyderabad at FITA Academy has immensely helped me in understanding the basics and important aspects of the language. Thanks to my trainers who have taught the concepts in a coherent manner and helped me in enhancing my technical knowledge of the programming language.
The Python Training in Hyderabad provided by FITA Academy has its own advantages. The Academy provides career guidance support, placement guidance support, conduct mock interviews, group discussions, etc. They mold candidates according to the industry practices and standards. Thank you to FITA Academy and my trainers who were really helpful in shaping me by learning the best industry practices.
Completing the Python Course in Hyderabad at FITA Academy has provided me with a work opportunity with a good salary package. Thanks to FITA Academy and my trainers for all the support, guidance, and effective training.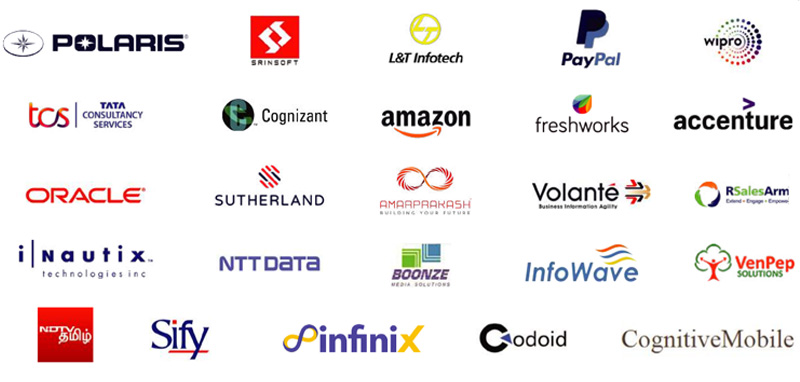 Frequently Asked Question (FAQ) about Python Training in Hyderabad
Additional Information of Python Training in Hyderabad
Python Course in Hyderabad at FITA Academy is the right place to learn the Python course where you will learn more about the Python scripts and codes, its data libraries like Pandas, NumPy, and Matplotlib. You will be taught about the application of Python in various branches such as Machine Learning, Artificial Intelligence, Networking, and Data Science.
Python is an interpreted, general-purpose programming language that is preferred by most program developers and graduates. Python is an object-oriented programming language that can be used in various cross-platforms like Linux, Windows, and Mac. Python has gained significance in the field of Rapid Application Development because of its dynamic binding and typing options. Python has the feature of unique syntax which predominantly focuses on readability and usability. Python is not only a rapidly growing programming language popular among Software Engineers but also among Data Scientists, Accountants, Network Engineers, and Mathematicians. Many prefer Python over other programming languages because of its user-friendly nature and cost reduction in program maintenance and development.
Join Python Training in Hyderabad at FITA Academy and learn the course professionally under the guidance of working professionals and upgrade your coding skills and become a Software Developer soon.
Python Course Objectives at FITA Academy in Hyderabad
Learning from Basics to Advanced level of programming in Python.
Understanding Python Scripts and codes in various platforms.
Able to use and create functions in Python.
Mastering Core Python and Web Frameworks.
Learning Python Django and advanced web development in Python.
Capable of creating your Python Programs.
Having an idea about consoles and strings output in Python.
Knowing about Data Structures lists and Dictionaries.
Using PyGame and Game development in Python.
Eligibility criteria and Prerequisites to learn Python Course at FITA Academy
Eligibility Criteria:
Freshers who aspire to begin their career in the Program developing field.
Python Course is also helpful for the following professionals:
Web Developers
Game Developers
Project Managers
Database Developers
Administrators
Network and System Engineers.
Prerequisites:
There are no such requirements to learn this course as Python can be learned as a first programming language. But one must have a basic knowledge of the fundamentals of the computer. Python Training in Hyderabad at FITA Academy provides a comprehensive understanding of the language and its application in an amicable environment.
Features of Python Programming Language
Mentioned below are the key features of the Python Programming Language.
Easy to code
Free and Open Source
Object-Oriented Language
GUI Programming Support
High-Level Language
Extensible language
Python is a Portable language
Python is an Interpreted language
Large Standard Library
Dynamically Typed Language
Easy to code
Python is a high-level programming language. It is easy to learn compared to other programming languages such as C, C+, and JavaScript. Also, Python has simple keywords, structure, and a defined syntax.
Free and Open Source
Python is an open-source language and it is available free of cost. Since it is an open-source language the source code is also available to the public. One can download and share it with others as well.
Object-Oriented Language
Python programming language is an object-oriented language that focuses on the objects and functions as well. Python supports both procedures and object-oriented programming to make task handling easy. When it comes to procedure-oriented language, the program is built using the procedures or functions that are nothing but reusable pieces of the program. While Object-oriented language the program is built around objects that combine the data and functionality. Python is the best Object- Oriented language compared to C++ and Java.
GUI Programming Support
Python supports GUI Applications. Those applications can be created and ported to various systems, libraries, Windows systems, and Macintosh. Graphical User Interfaces could also be made using Python modules like PyQt4, PyQt5, wxPython, and Tkinter.
High-Level Language
If we write a program in Python, it is not necessary to remember the system architecture nor manage the memory. Since Python stores the necessary details regarding the memory management of your program.
Extensible language
It is easy to extend the Python code to other languages. It is possible to write some of the Python code in C and C++ language and we can compile those codes in C or C++ language.
Python is a Portable language
Python is a portable language. For instance, If we have Python code for Linux and we want to run those codes on other platforms like Windows, Unix, and Mac we need not change the codes, we can just run these codes on other platforms just like that.
Python is an Interpreted language
In case you are familiar with languages such as Java or C++, you must initially compile it and then run it. While in Python you need not compile it. The source code is converted into a bytecode immediately. You can run the Python code without worrying about libraries.
Large Standard Library
Python provides a large standard library that provides a rich set of modules and functions and you need not have to write your code every single time. Python has numerous libraries for regular expression, unit-testing, threading, databases, and Web browser.
Dynamically Typed Language
Python is a dynamic language. It means that the types for the value are decided at runtime and not in advance. Also, it is one of the reasons why we need not specify the type of data when declaring it.
Python Course in Hyderabad at FITA Academy provides a wide academic curriculum to the students and the trainers at FITA Academy have a decade of experience in this field and they explain the concepts of Python and its application extensively to the students.
Career prospects of Python
Python Developers is one of the emerging careers at present globally. It is because based on the report submitted by Job Portals it is stated that there is a huge gap in skills between the demand and supply of Python Developers across countries like India, the USA, and the UK. Listed below are some of the job profiles that are offered in an organization with Python knowledge on resumes.
Software Engineer
Python Developer
Research Analyst
Data Analyst
Data Scientist
Software Developer
Companies that hire Python Developers are listed below
Thinkful.Inc
IBM
Infosys
Quora
Roche
Higher Moment Capital
Legalstart
Peloton Interactive
Cognizant
Wipro
Enroll yourself in a Python Course in Hyderabad at FITA Academy and learn the course professionally under the guidance of working professionals. Tutors at FITA Academy provide the necessary training to the students to code efficiently and equip themselves in a professional environment.
Knowing more about Python Tools and their uses
Pandas – It is used for Data Analysis
SciPy – Algorithms that are used with Numpy
HDF5 – It is used in storing and manipulating data
Jupyter – It is a research collaboration tool
HDFS – C/C++wrapper for Hadoop
SQLALchemy – Python SQL Toolkit
pyMySQL– My SQL connector
Theano – It supports deep learning with neural networks.
Lasagne – It is used for building and training neural networks in Theano
Seaborn – It is a Data Visualization tool.
Airflow – This is a Data Engineering tool
Elasticsearch – Data Search Engineering
PyBrain – It is used as an algorithm for Machine learning
NumPy – Multidimensional arrays
Matplotlib – Data Visualization Tool
PyTables – This is used for managing HDF5 databases
IPython – It is the most powerful shell
Pymongo – It is the MongoDB Driver
Redis – Redis' access libraries one of the standard library
Scikit- learn – This is used in Machine learning algorithms
Keras – It is a high-level neural network of API
Bokeh – This is the Data Visualization tool
Dask – It is one of the Data Engineering tools
Luigi – It also falls under the Data Engineering tool
SymPy – Symbolic math tool
Pattern – Natural Language processing tool.
Thus learning Python has many advantages and benefits. To completely avail of it, enroll for the Python Training in Hyderabad at FITA Academy and enjoy learning the course as well.
Additionally, to learn more about the Python Programming language, we compiled the Best Python Book for Experienced programmers & Advanced Programmers.