Course Highlights & Why RPA Training in Madurai at FITA Academy?
FITA Academy's RPA Training in Madurai is led by automation experts with 10+ years of expertise in the area.
Students' skills are assessed regularly. At the end of each session, students are given and periodically evaluated on their competency and development.
FITA Academy values hands-on experiences. In our classes, students engage with IT industry professionals on real-world projects.
We guarantee placement help for all of our students since FITA Academy has more than 1,500 agreements with small to major IT companies.
FITA Academy exclusively offers professional courses with fast-track batches. Weekday and weekend hours are accessible for professionals and students alike.
Our RPA Course in Madurai equips you with the skills necessary to understand more about various job paths in the sector and encourages you to pursue further international certifications.
In our certified RPA training in Madurai, FITA Academy covers both the fundamental and advanced concepts of RPA.
Students have the option of attending offline or online classes, allowing them to better fit their training into their busy schedules.
Upcoming Batches
| | | | |
| --- | --- | --- | --- |
| 05-10-2023 | Weekdays | Thursday (Monday - Friday) | |
| 07-10-2023 | Weekend | Saturday (Saturday - Sunday) | |
| 09-10-2023 | Weekdays | Monday (Monday - Friday) | |
| 14-10-2023 | Weekend | Saturday (Saturday - Sunday) | |

Classroom Training
Get trained by Industry Experts via Classroom Training at any of the FITA Academy branches near you
Why Wait? Jump Start your Career by taking RPA Training in Madurai!
Instructor-Led Live Online Training
Take-up Instructor-led Live Online Training. Get the Recorded Videos of each session.
Travelling is a Constraint? Jump Start your Career by taking the RPA Training Online!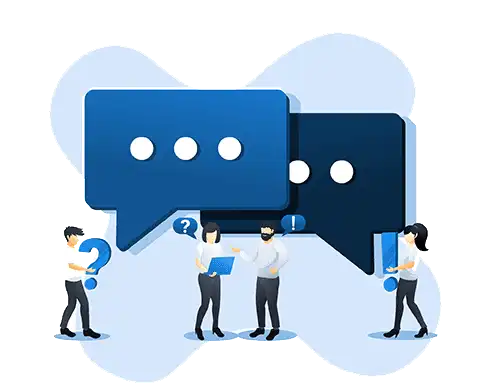 Have Queries? Talk to our Career Counselor
for more Guidance on picking the right Career for you! .
Trainer Profile
Our mentors have 8+ years of experience in RPA or equivalent jobs at renowned firms.

Our instructors incorporate the most recent advancements and updates to the RPA-related tools and methodologies into the course modules.

Our instructors have motivated students to pursue industry-relevant certifications with a 100% success record.

Mentors at FITA Academy use hands-on evaluations and student-centered instruction to enhance the learning process.

Classes are held in small batches to maximise student interactions and rapport.

FITA Academy delivers qualified professionals, comprehensive instructional methods, and pertinent practical activities.

At the RPA Training Institute in Madurai, you will have the opportunity to interact with expert educators and gain the finest resources.
Features
Real-Time Experts as Trainers
At FITA Academy, You will Learn from the Experts from industry who are Passionate in sharing their Knowledge with Learners. Get Personally Mentored by the Experts.
LIVE Project
Get an Opportunity to work in Real-time Projects that will give you a Deep Experience. Showcase your Project Experience & Increase your chance of getting Hired!
Certification
Get Certified by FITA Academy. Also, get Equipped to Clear Global Certifications. 72% FITA Academy Students appear for Global Certifications and 100% of them Clear it.
Affordable Fees
At FITA Academy, Course Fee is not only Affordable, but you have the option to pay it in Installments. Quality Training at an Affordable Price is our Motto.
Flexibility
At FITA Academy, you get Ultimate Flexibility. Classroom or Online Training? Early morning or Late evenings? Weekdays or Weekends? Regular Pace or Fast Track? - Pick whatever suits you the Best.
Placement Support
Tie-up & MOU with more than 1500+ Small & Medium Companies to Support you with Opportunities to Kick-Start & Step-up your Career.
RPA Certification Course in Madurai
About RPA Certification Course in Madurai
at FITA Academy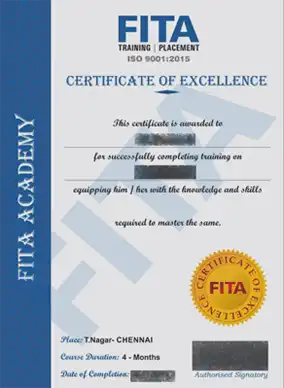 RPA Certification Course in Madurai at FITA Academy
RPA certification will mark the successful completion of the course that offers extensive knowledge and industry-specific abilities that can be applied in real-world situations. It is intended that the certification offered will provide a professional recognition to the trainee for their acquired skills and training, as well as an opportunity for recruiters to use their information as a reference. RPA course in Madurai at FITA Academy is quite valuable due to its extensive information and thorough procedures linked to industry standards.
The significance of obtaining RPA Certification
Obtaining an RPA Certification from one of the main RPA course providers will enable you to advance professionally. Obtaining RPA training in Madurai at FITA Academy and a Global RPA certification would be an asset that the majority of companies would value. The RPA certification you should pursue is based upon which RPA software you learn at FITA Academy. Blue Prism certification would be the best option if you're interested in learning Blue prism. Alternatively, if you like to learn UIPath, a Certification in UiPath would be the best option, along with an UiPath lesson.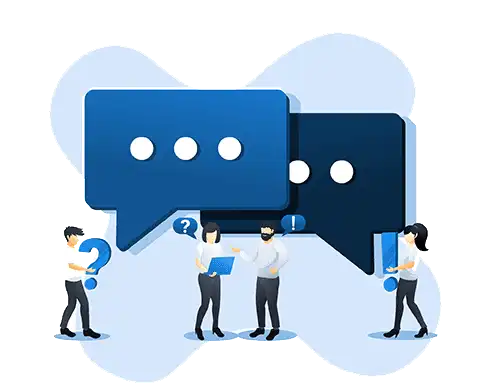 Have Queries? Talk to our Career Counselor
for more Guidance on picking the right Career for you! .
Job Opportunities After Completing RPA Training in Madurai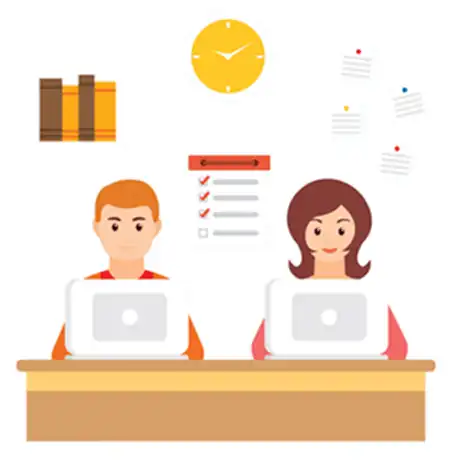 The applications and demands of RPA are endless and huge, making it the new standard for IT automation. RPA is a great opportunity in many fields, such as artificial intelligence, that incorporates the capacity for creativity in decision-making and has employment implications. Another important area that is a part of RPA involves banking and finance, where robots will be used to execute all mathematical calculations and also transactions. Additionally, RPA has expanded its use in other cutting-edge industries like automotive and the production of airplanes. A lot of RPA tools, such as Blue Prism and UIPath, are extensively employed in every organization and industry related to IT. 
The companies are aware of the possibilities and significance of RPA in the present day. With its huge requirement for RPA, those with the required RPA abilities have a selection of jobs to select from. Some of the jobs that our students can pursue are those of a project manager, who makes sure that every stage of production is carried out in a timely manner and efficiently, as well as managing exceptions.
Another prominent position is that of solution architect, who is responsible for creating an effective RPA project using the maximum utilisation of RPA tools. Associate, business analyst, and process consultant. A career in RPA is regarded as highly productive. Graduating students can anticipate the majority of employment opportunities in this area, along with the best RPA Developer Salary For Freshers. The technical responsibilities that one will hold in the role of RPA development are proficiency in using business process automation in accordance with the accepted RPA conventions and rules, designing to create and deliver products to international customers in conjunction with the international team, and being able to comprehend the full scope of the extent, design, and development of the business processes. This RPA Course at Madurai with FITA Academy will provide our students with the most efficient and technically demanding capabilities to make them skilled RPA developers and get them their desired post in a reputable IT sector.
Alongside technical expertise and technical skills, the certificate issued by FITA Academy can also be used as evidence of non-technical skills, such as presentation, communication, and interviewing skills, learned through this RPA training. The inclusion of this certification in your resume will enhance your professional profile, ensuring the development of your opportunities. Freshers who have 0 to 3 years of work experience can range from an income of Rs. 4 LPA up to around Rs. 5 LPA. As you gain expertise and the ability to master certain skills, the amount of remittances will increase up to Rs. 7,00,000 per year and eventually reach Rs. 9LPA. The RPA curriculum is planned to provide our students with an in-depth understanding of key RPA concepts, its usability, and applications within a variety of RPA tools, such as Blue Prism, automation, and UIPath. The market for automation is set to expand at an incredible rate, and it's going to be an important element in the creation of a massive job network. FITA Academy's conceptual and extensive training will make our students proficient and skilled enough to be an integral component of this job network.
Also Read: RPA Interview Questions and Answers
Student Testimonials
I have joined RPA training in Madurai at FITA Academy . The trainer taught me a lot about robotic process automation, which was extremely beneficial to me. Even though I'm a beginner, I had no trouble getting the ideas. The trainers here are experts in the field, and he showed me how to use different RPA tools. I'm thankful to FITA Academy for giving me their support.
My career has shifted in the right direction since I took the RPA Course in Madurai. I was looking for new and different skills to start my learning journey, and FITA Academy gave me what I was looking for. My Trainer explained things in a way that was clear and easy to understand. I'm thankful for the personalised help they gave me, and I'm looking forward to getting better job opportunities with my new skills.
FITA Academy has been very helpful for me as I move up in my career. Even though it's been a while since I finished my RPA classes in Madurai, I'm still getting a lot of support and guidance from them. I'm lucky to have learned from and worked with these experts, who have helped me grow in my field.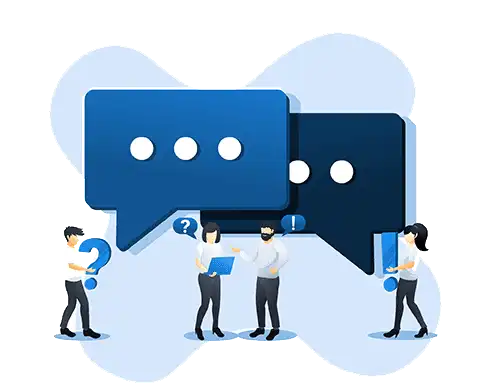 Have Queries? Talk to our Career Counselor
for more Guidance on picking the right Career for you! .
Additional Information
RPA – Robotic Process Automation Automation, also known as Software Robotics, uses Automation technology to mimic the back-office operations of the human labour, especially – Filling Out Forms, Moving Files, Verifying Processes, and Extracting Data. Generally, the RPA requires the User Interface and APIs for Workspace integration and interaction with monotonous chores. In today's fast-paced environment, enterprises of all types are adopting RPA for a variety of compelling reasons. Additionally, we can divide the reasons into two distinct categories: technical and business.
Let's start with the technological aspects. Automation technologies, such as RPA, are able to acquire information via old systems and quickly combine them with new applications via front-end integrations. It enables the Automation platform to operate similarly to humans, doing daily operations such as signing in, transferring files, and smoothly copying and pasting information between systems. Also, the Robotic Process does not require a separate developer for configuration; the User Interface's drag-and-drop functionality makes it easier for non-technical workers to do their duties (queue).
As the RPA bots are able to operate 24 hours a day, 7 days a week, firms who deploy them can achieve more accuracy and higher performance. In contrast to humans, who tend to weary and whose fatigue hinders work productivity, robots do not experience fatigue. In addition, integrating RPA procedures into your workflow will have minimal impact on the underlying system, as these bots largely operate on the display layer of the existing application. Therefore, it is simpler for you to deploy these bots in environments devoid of resources for constructing deep integrations and APIs.
On the business side, there is greater process productivity and increased customer satisfaction. As the bots are capable of operating around the clock, any questions posed by clients are swiftly handled. Moreover, with the assistance of RPA bots, enterprises will easily be able to adhere to time constraints and meet their objectives. The firms can significantly reduce expenses and increase earnings. These reasons have facilitated the widespread adoption of RPA technology by a variety of enterprises.
Robotic Process Automation is here to stay, and the sooner firms begin to implement it, the sooner they can survive the market's competitive edge. As the Robotic Process Automation technology is capable of boosting the direct profitability of businesses while maintaining factors such as accuracy and higher productivity across all companies, it can increase the direct profitability of businesses. In addition, it is simpler to train Software Robots and integrate them into the workforce in order to increase the profit potential of organisations.
The RPA Programming Course in Madurai offered by FITA Academy instructs students on the RPA development process and its workflow in real-world scenarios. With certification, the RPA Trainers in Madurai at FITA Academy equip students with in-demand automation skill sets that are in great demand in the business.
Why Is RPA Necessary?
Even if the majority of IT processes are mature, there are still numerous apps that do not communicate with one another. Customers spend millions of dollars on the manual execution of a large quantity of repetitive operations. RPA is capable of automating the majority of these monotonous processes that are currently performed manually. RPA's robust integration and automation capabilities allow it to simulate human interactions with web sites and other desktop apps, such as Microsoft Excel. Eliminating the need for Software Engineers to execute routine chores allows them to focus their time and energy on jobs that demand emotional intelligence, logical reasoning, and creative thinking.
Key Advantages Of RPA
It can accomplish the work of thousands of software engineers, resulting in increased productivity.

100% Accuracy, which is impossible for people to achieve when performing jobs manually.

Huge Cost Reductions.

Due to the following characteristics, new employment prospects in the fields of Artificial Intelligence and Robotic Process Automation are abundant.

Scalability: Additional Robots can be added and deployed in a shorter period of time, accommodating seasonal worker demands.

RPA bots can conduct a huge number of actions simultaneously, automating everything from desktop apps like Excel to cloud-based services.

Rapid ROI: The majority of customers who have embraced RPA have begun to realise positive ROI within one year.

RPA is used in numerous industries, including Banking & Finance, Telecom, Healthcare, Insurance, Life Sciences, Retail, Manufacturing, and many others.

Effective Insights: RPA offers effective insights into the business process. Through reporting tools, every RPA bot's action may be logged, evaluated, and measured. Enhanced governance and compliance can be easily attained due to the fact that the automation rule logic allows for the setting of requirements.
Objectives of RPA Training Course in Madurai
After completing FITA Academy's RPA Course in Madurai, you will be able to:
Create a Strategic RPA Bot in accordance with client specifications.

Learn about Robotic Process Automation and how to construct RPA bots.

Create an RPA bot through coding.

Identify and evaluate the most important factors to consider when building an RPA solution for your client.

Utilize competently one of the top RPA solutions, such as UiPath, Blue Prism, or Automation Anywhere.

Utilizing variables and arguments, do Data Manipulation.

Create RPA bots for a Virtual Environments-based application.

Utilize Web Automation.

Web data extracted from an eCommerce website.

Perform tasks linked to Workflow.

Debugging and handling workflow automation exceptions.
Prerequisites for RPA Courses at FITA Academy in Madurai
This RPA Training in Madurai provided by FITA Academy requires no prerequisites. However, if you have experience programming in languages such as.Net, Java, or Python, it would be advantageous to programme in RPA. Learn RPA at FITA Academy in Madurai and Begin a Career in the Robotics Industry!
Who Can Enroll in Madurai RPA Training?
FITA Academy provides RPA Training in Madurai for anyone interested in enhancing their profession with a new technology that has changed the business. Every IT professionals has tremendous options in the ever expanding area.
Business Process Employees

Programmers who are into other programming language development

Testers

Business Analysts

Project Managers

Architects

Administrators

Job Seekers
RPA Tools in High Demand
Blue Prism Tool is one of the most widely used RPA solutions in a variety of sectors (Manufacturing, Banking, Communication, Healthcare, Bourse, Education, etc.). Blue Prism provides digital solutions, flexible tools, and business-focused automation with an exceptional self-learning Digital Workforce that continuously evolves and improves, hence increasing the productivity and ROI of businesses.
Blue Prism's AI engine creates integrations with cutting-edge Artificial Intelligence tools like Google, IBM, Amazon, and others. Blue Prism's RPA software has been acquired by Coca-Cola, Prudential, Pfizer, and Sony to boost their business's efficiency and effectiveness. Blue Prism supports multiple languages, allowing non-native English users to use the application without difficulty.

UiPath tool is another market-leading RPA application. UiPath's easy and feature-rich RPA software allows business analysts and administrators to automate their organisations. The UiPath tool is loaded with user-friendly features such as point-and-click, drag-and-drop, and Microsoft Workflow Foundation technology, which enables rapid automation. UiPath distinguishes itself with its unique Citrix automation and integration capabilities. If you are interested in UIPath and wish to master it, FITA Academy offers UIPath Training in Madurai.
Automation Anywhere is RPA software that enables businesses to install software bots for end-to-end business process automation. Automation Anywhere's ability to mix classic RPA technologies with natural language processing and unstructured data processing is a key feature. Automation Anywhere allows users to create automated processes without the need for coding. Automation Anywhere offers novices who are eager to study RPA a full understanding of how bots function in enterprises and their impact on the profitability of businesses. Automation Anywhere Training in Madurai Looking to Transform Your Career? Call or visit any of the Madurai-based FITA Academy Madurai branch.
Open Span is an outstanding RPA tool that operates in the Microsoft Visual Studio Isolated Shell design environment. OpenSpan Studio offers a distinct and rapid visual development environment that enables users to construct runtime solutions for effective task fulfillment. Open Span automates tedious repetitive operations, offers the user with a single interface to connect with numerous apps, and assists users by giving workflow task assistance recommendations. Open Span utilizes novel methods to collect process insights and optimize automation solutions.