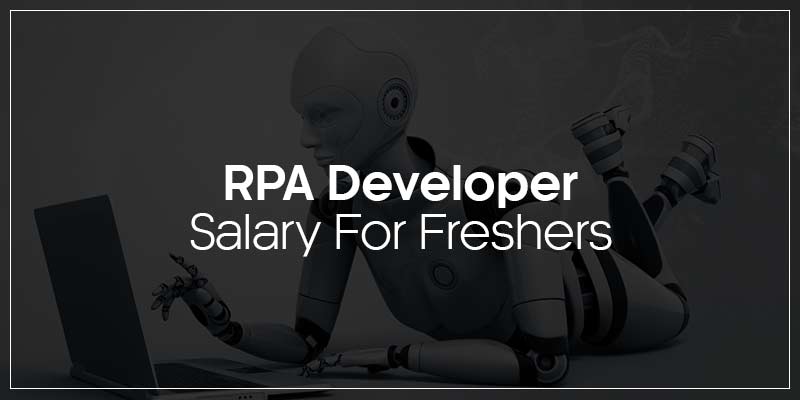 The demand for RPA Developer role and Robotic Process Automation is gonna grow exponentially in the upcoming decades. As a result of this expansion, additional associated jobs are being created in all IT sectors to hire younger talents with feasible RPA Developer Salary in India, where the nation remains a center for emerging techies and software developers. 
The profession of RPA developer, often known as an RPA or robotics engineer, is one of the most in demand of all RPA jobs. Let's speak about the qualification, application procedures, and their job demand before we get into the significant roles and responsibilities along with RPA developer salary.
RPA Developer Job Description
RPA Developers are skilled designers of automation jobs who have worked with the leading RPA solutions on the market. Enterprise RPA Developers are in charge of problem-solving and designing automation based on the requirements. An RPA Developer must ensure that the designed automation is delivering the desired goals after it has been built and put out into production. As a result, an RPA Developer might be anyone who understands robotic process automation and is interested in automating processes with various tools.
Business Benefits of RPA 
Organizations become more lucrative, flexible, and responsive as a result of robotic process automation. It also boosts employee satisfaction, engagement, and productivity by removing tedious chores from their daily routines. RPA is non-intrusive and may be applied quickly to speed up digital transformation. It's also great for automating operations with legacy systems that don't have APIs, virtual desktop infrastructures (VDIs), or database access.
Global Demand for RPA and their Developers
The automation and processing systems have been accelerating the world and going to transform the world with full of automation technologies. Therefore the demand for Robotic Process and Automation Engineer is growing exponentially. There are some factors behind the futuristic demand for RPA Developers, some of them are as follows 
Robotic Process and Automation aids all IT sectors in addressing the operational challenges in novel and powerful approaches. 

RPA enhances numerous processes, resulting in higher capacity, faster throughput, and fewer errors for essential activities, according to leaders in functional areas ranging from accounting to customer service to advertising to human resources and beyond.

In comparison to other enterprise technology, an investment in RPA technology provides rapid ROI and needs less upfront spending from a CFO's standpoint.

RPA, according to IT leaders, can be implemented with minimal downtime. RPA has become a significant enabler for digital transformation because software robots can readily access and work within outdated systems. Modern RPA technology also provides platforms that are scalable and enterprise-ready.

Employees find it straightforward to integrate robotic assistants into their daily routines, and RPA's low-code approach allows them to become citizen developers capable of creating basic automations.
Become a demanding RPA Developer through learning and completing RPA Training in Bangalore at FITA Academy. The leading institute best known for successful training and placement across Indian IT companies. 
Advantages of RPA Through  RPA Developers
Automation of Works

–  The ability to automate even the most difficult jobs is one of the most significant benefits of employing RPA solutions. This frees up manual labor from duties like data entry and manipulation that are repetitive. These employees now have a lot more time to devote to the more difficult duties that are directly tied to a company's success.

Cost-effective IT Infrastructure

– RPA may make use of existing IT infrastructure to perform what it's designed to do: automate business operations through tool training. Businesses with legacy systems will profit the most from this. RPA interfaces with the front-end IT infrastructure and completes tasks utilizing the same graphical user interface as a human worker. This is why implementing RPA does not necessitate a change in the IT landscape. There will be no increase in costs because there will be no changes to the infrastructure.

Error Free Works

– There are some flaws that you identify with human workers, particularly when they are performing long, repetitive activities. When you work using RPA tools, none of these flaws, such as boredom, monotony, and exhaustion, exist. Expect more consistent, accurate, and timely work in the future. Furthermore, you will not waste money or time repairing prior work.
RPA Developers Salary in India
The RPA Developer Salary in India ranges from 2.5 to 4.8 lakhs per year for new employees. Salary packages, on the other end, vary depending on the type of firm, location of work, years of experience, job titles, and skill sets. Let's have a look at fresher salaries in various IT companies.
Salary Per IT Companies

– The initial salary for RPA Developers vary from companies to companies across the country. Our approximated RPA Developer salary is represented in the below chart.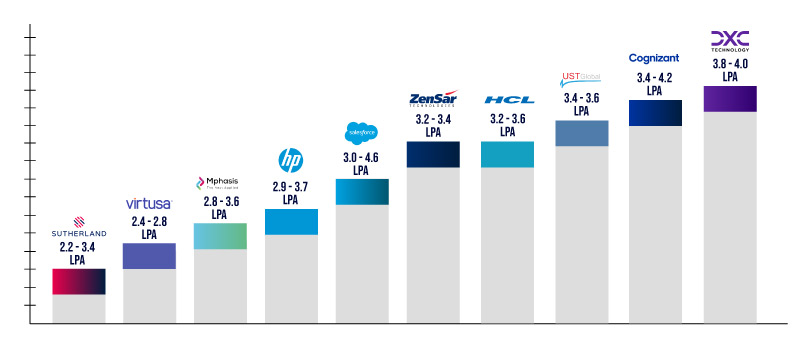 Salary Per Work Locations

– Like companies,  the RPA Developer Salary in India also varies in accordance to the work locations where the company is situated. This salary structure is determined based on the employees cost-of-living in the appropriate metropolitan area. However, we have estimated some average salary of RPA developers in the below represented chart.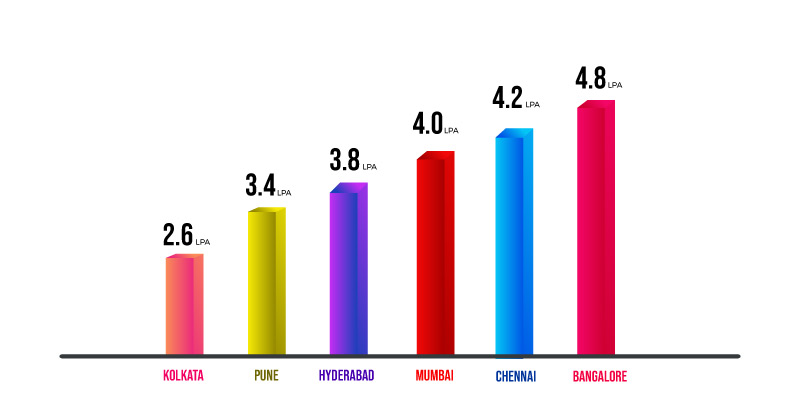 Salary Per Work Experience

– Though freshers are not experienced, candidates who have completed their academic or industrial internship with a feasible experience have higher probability of getting greater RPA jobs salary in India. We have estimated the approximated salary of freshers based on the years of experience in the below chart.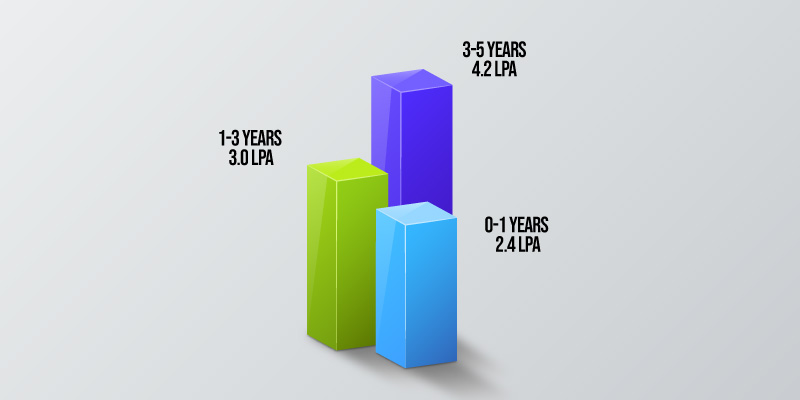 Salary Per Acquired Skills

– Similar to all the salary factors, the number of acquired skills of any applicant also influences the average salary of RPA Developer in India. However, our graphical chart below reflects the average compensation of RPA developers as per the skills they have acquired.

Salary Per Job Roles

– Besides various salary affecting factors, the type of RPA Job roles also defines the average RPA Developer Salary For Freshers in India. The below mentioned chart defines the approximate RPA Developer Salary.

Create a significant impact for getting a high and reasonable salary increment with RPA Online Course. Completion and Certification may increase the chances of highest pay with higher probability of getting your job application noticed.
Qualification Criteria for RPA Developer Roles
RPA Developer roles are superior and competent to PHP, Python, and Java Developers. Therefore, freshers before apply for various job roles, they must be ensured to possess the following qualification criteria 
Bachelor's (BCA) or Master degree (MCA) in computer science or any other relevant IT field are acceptable for RPA Job Roles. 

Must have a cumulative grade point average of at least 65 percent throughout their academic career.

In the current and preceding semesters, there should be no backlogs.

Capability to lead and manage project teams.

Good analytical and problem-solving abilities are required.
Technical Skills Required for RPA Developers
In addition to qualification criteria, the applicant must possess certain technical skills in order to get affordable RPA Developer Salary for Freshers.  The technical skills are as follows 
Experience in Knowledge in Blue Prism, UiPath, Automation Anywhere

Fundamental Programming Skills in HTML and JavaScripts.

Knowledge on the development of APIs, and other web-interfaces.

Database experience in SQL, NoSQL, and so on.

Basic understanding of troubleshooting methods, and ability to resolve.

Excellent, analytic, problem-solving, verbal and communication skills. 

Finally, capability to lead a team and collaborate interactively for better business solutions.
General Roles and Key Responsibilities
RPA Developers at various IT firms or their engaged works have certain responsible roles and tasks to accomplish which are as follows 
Assist in the design of the process.

Automated workflows should be designed, developed, and tested.

RPA components like bots, robots, development tools, code repositories, and logging tools can all be deployed.

Assist with the launch and deployment of RPA solutions.

Document the process and the end-users.

Ensure that the automation is of high quality (Quality Assurance processes).

To create and deliver business-impacting initiatives, collaborate with Business Analysts, Quality Assurance Analysts, Scrum Masters, Product Owners, and other cross-functional resources.

Collaborate directly with stakeholders to capture business requirements and transform them into implementable technological methods and designs.

Collaborate with members of the development team to ensure that the solutions are properly implemented and integrated.
Effective Paths to Become Exceptional RPA Developer
Concerning the demand for RPA Developers in India, which is growing at an exponential rate. We want to provide effective solutions for people to get started in an RPA career. The steps that follow are as follows:
Earn a bachelor's or master's degree in a suitable field. BCA, MCA, B.Tech, MTech in Computer Science or any specialization in automation and robotics engineering is required.

Learn everything about RPA and practise with sample tests and online RPA training.

Learn RPA, Blue Prism, UiPath, and

Automation Anywhere Course

.

Work on a variety of RPA projects to put your newly acquired skills to use.

Earn

RPA Certification

to be recognised globally by all IT companies.

Through adequate preparation, you will be able to clear and pass all of the RPA interview rounds.
In addition to all the above mentioned skills, earn an additional credit for RPA processing through learning Artificial Intelligence Course in Chennai. This might be useful for enhancing robotic automation through artificial intelligence. Then, additional skills have been hiking the RPA Developer Salary in India.
Best RPA Interview Preparation Tips
The Robotic Process and Automation (RPA) Course has a diverse group of topics and sub-topics ranging from fundamentals to the advanced concepts. In most cases, the interviewers and human-resource representatives tend to assess the knowledge rate of candidates in terms of problem-solving, quantitative assessment, reasoning, coding, and computing skills related to RPA. Further, during the technical interview phase, the candidates will get a wide variety of technical interview questions for technical assessment. Therefore, in order to afford reliable materials and course contents, we highly recommend to refer RPA Interview Questions and Answers in addition to Top Interview Tips for effective preparation for RPA Interview Sessions. The contents and preparatory tips provided here are the outcomes of long-term archival and end-to-end review of IT experts. Hence, this may increase the probability of successful placement.
Based on our research and analysis on RPA Developer Salary for Freshers in India.  IT aspirants or enthusiasts who are curious about advancing their careers can go for this demanding role. In order to get an advanced skill set in Robotic Automation Processing, you can enroll in RPA Training in Chennai. The expertised training and coaching will assure the candidate's successful placement or recruitment. Therefore, freshers are highly appreciated and encouraged to kickstart a PHP Career which seems to open expanded prospects and global opportunities in upcoming years. Finally, we hope that this post has given you all of the information you need to apply for RPA Developer positions in India.