Course Highlights & Why RPA Training in Pune at FITA Academy?
The professional faculty of FITA will endeavour to impart crucial insights of Robotics Process Automation (PRA) to enhance the industry based knowledge of our trainees.
The precisely structured and designed course by the experts of FITA aims to impart skills in constructing workflow in UIpath.
The mentors of FITA will make our trainees proficient in desktop, web and Critix Automation.
The RPA certification course in Pune at FITA will aim to make our students critically understand reusing automation by implementing templates.
The professional faculty of FITA will teach our students to use REFramework to build a structured business automation process.
The precisely structured course will focus on teaching the design, development, and deployment of RPA products to numerous clients.
To develop Industry based practices in the trainees in order to develop skills in debugging a framework.
The course puts emphasis on imparting the knowledge to organise a real world workflow of automation process.
To make our students critically understand the usage of several types of data inside a flow.
To render a competitive edge to the trainees in various important aspects, skills and techniques of robotic process automation to stand out in the cut throat competition of the market.
To equip the trainees with the methodological development of a new product to enhance their business operations.
To teach them the creation and customisation of automation solutions.
Upcoming Batches
| | | | |
| --- | --- | --- | --- |
| 01-06-2023 | Weekdays | Thursday (Monday - Friday) | |
| 03-06-2023 | Weekend | Saturday (Saturday - Sunday) | |
| 05-06-2023 | Weekdays | Monday (Monday - Friday) | |
| 10-06-2023 | Weekend | Saturday (Saturday - Sunday) | |

Classroom Training
Get trained by Industry Experts via Classroom Training at any of the FITA branches near you
Why Wait? Jump Start your Career by taking RPA Training in Pune!
Instructor-Led Live Online Training
Take-up Instructor-led Live Online Training. Get the Recorded Videos of each session.
Travelling is a Constraint? Jump Start your Career by taking the RPA Training Online!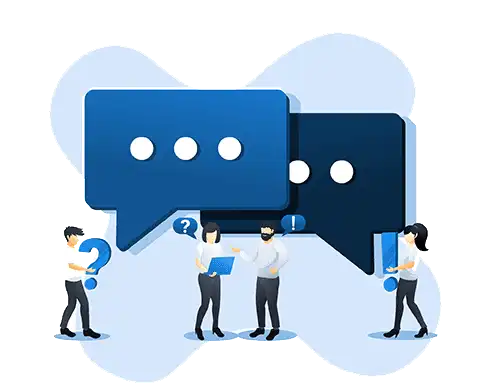 Have Queries? Talk to our Career Counselor
for more Guidance on picking the right Career for you!
Trainer Profile
Our trainers are leading RPA professionals with 10+ years of experience in the world's leading technology industries.
The mentors of FITA possess strong theoretical and practical knowledge in their specialised field of RPA.
Our trainers have an established link up with hiring HRs of numerous multinational companies.
The professional experts of RPA certification courses hold extensive experience of multiple real time cases and projects in their industries.
The subject knowledge of our trainers is completely updated on real world industry applications.
Our trainers provides equal attention to different individuals imparting them the knowledge to achieve their desired goals.
The professional experts of RPA certification course renders both theoretical knowledge and practical training in order to facilitate them with utmost exposure to RPA best practices.
Features
Real-Time Experts as Trainers
At FITA Academy, You will Learn from the Experts from industry who are Passionate in sharing their Knowledge with Learners. Get Personally Mentored by the Experts.
LIVE Project
Get an Opportunity to work in Real-time Projects that will give you a Deep Experience. Showcase your Project Experience & Increase your chance of getting Hired!
Certification
Get Certified by FITA Academy. Also, get Equipped to Clear Global Certifications. 72% FITA Academy Students appear for Global Certifications and 100% of them Clear it.
Affordable Fees
At FITA Academy, Course Fee is not only Affordable, but you have the option to pay it in Installments. Quality Training at an Affordable Price is our Motto.
Flexibility
At FITA Academy, you get Ultimate Flexibility. Classroom or Online Training? Early morning or Late evenings? Weekdays or Weekends? Regular Pace or Fast Track? - Pick whatever suits you the Best.
Placement Support
Tie-up & MOU with more than 1500+ Small & Medium Companies to Support you with Opportunities to Kick-Start & Step-up your Career.
RPA Certification Training in Pune
About RPA Certification Training in Pune
at FITA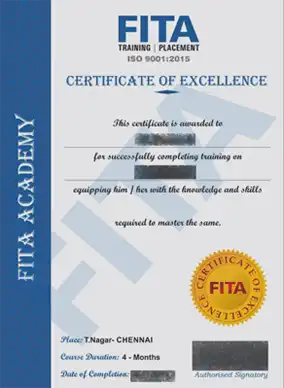 RPA Certification Training in Pune
The course of RPA certification training is structured in such a way that it makes the learner familiar with the concepts of Robotic Process Automation. It eradicates the need for human interference for performing recurrent and less complicated tasks. This course delineates the features and benefits of using Robotic process automation techniques in businesses. In today's world, IT is one of the labour intensive trade heading towards extensive scope of automation. The demand for automation is rapidly growing as marketing of RPA is booming in the IT industry. Robotic process automation is going to be the future and most crucial field in the coming years. On successfully completing the course of RPA training in Pune at FITA Academy, the trainee will be granted a certification from FITA which will be considered as an attestation of the in depth knowledge and practical training acquired during the course.
The testimony granted will render the trainee with professional acknowledgment for their in-depth knowledge and skills. Certification of RPA holds a lot of value in the IT industry. Moreover, the addition of this certification in your CV will intensely uplift the prospect of your career. The RPA certification course in Pune at FITA holds an exceptional value of its meticulous and holistic training with the proper utilisation of advanced technology, modified concepts and effective tools. The remuneration of a fresher in the field of RPA ranges from Rs. 1,10,000 to Rs. 3,00,000 per annum. Inclusion of this certification will enhance your expert profile assuring the growth of your professional career possibilities. RPA certification training in Pune at FITA has precisely designed the training sessions and certification with the prime objective of equipping the learners with in-depth knowledge and Industry oriented practical skills enabling our trainees to excel in the cut throat competition of IT industry.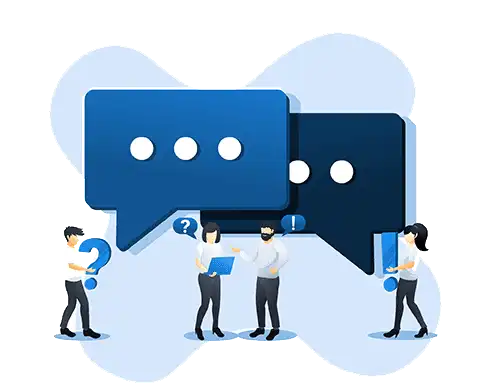 Have Queries? Talk to our Career Counselor
for more Guidance on picking the right Career for you!
Job Opportunities After Completing RPA Training in Pune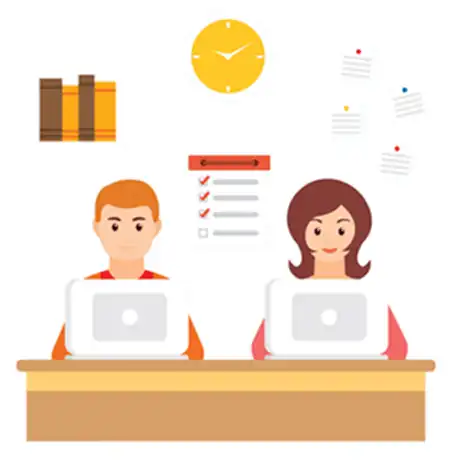 Many IT companies as well as organisations are currently demanding highly educated RPA certified professionals. Obtaining a certification in RPA will enable you to have a lucrative opening in numerous prominent companies. Moreover, the course incorporates rigorous practical training to make our trainees proficient in this field. Professionally trained and experienced mentors with immense experience in RPA will conduct the sessions very rigorously. This will assist our trainees to complete each and every aspect of the RPA tool, but it will also make you proficient in handling software. The thorough study of RPA certification course will transform our trainees into professionals holding complete in depth understanding of the domain on the certain application they will be handling. Skills and training procured from the course of RPA can provide our trainees a great opportunity to get hired as a RPA Architect in a prominent company.
Once you successfully complete the RPA Training in Pune at FITA, will fetch you numerous white collar jobs both domestically and internationally. you will be eligible for applying for various job positions like RPA technical lead, RPA architect, RPA project manager, Senior analyst, and RPA developer. With the prominent position, heavy technical responsibilities will be expected from the trainees. A person in a RPA position should primarily perform Business process automation in line with the standard RPA principles as well as conventions along with proper configuration of process flows, exception handling, controlling objects etc. With extensive experience and improvised skills, the job positions and responsibilities will further enhance creating a fruitful career path for the trainee.
Student Testimonials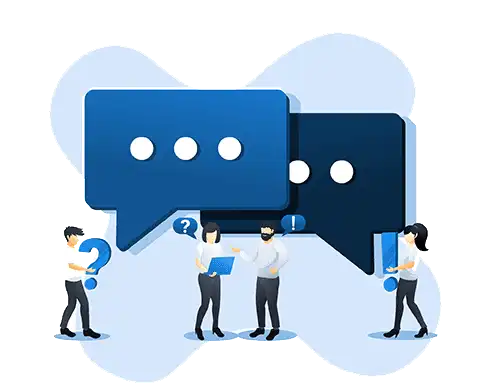 Have Queries? Talk to our Career Counselor
for more Guidance on picking the right Career for you!
Additional Information
The Robotic process automation training program enables the trainees to procure the most sophisticated and industry based education in RPA tools. The aim of RPA course in Pune at FITA is to prepare our trainees for a quick paced profession along with a high remuneration job. Along with freshers and graduates, this course is also highly useful for professional RPA Engineers to aim to create a strong impact as well as to enhance the potential of their earnings. The RPA Training in Pune at FITA targets to explore all topics linked with contemporary world advanced applications. The prime objective of this course is to make our trainees become proficient in RPA by imparting them ample of RPA useful insights. The implementation of RPA tools like Blue Prism, UIPath, Openspan is provided along with knowledge of process consistency by automating and organising flow of work in an organisation.
The trainees of RPA course will be functioning on real world industry based cases by implementing their learnt skills and comprehensive knowledge. The various RPA projects and cases meticulously designed and structured by the faculty of FITA will precisely evaluate the knowledge along with the acquired skills of trainees on numerous features and components. Extensive practical training and assessments will prepare them perfectly ready to work in big industries. The RPA course will provide extensive hands on experience of setup and configure UIPath studio.
The trainers will assist the learners to develop a sequence in order to obtain user inputs which can be displayed using a message box. The course of RPA will include incorporation of AI to facilitate advanced decision making and inference. Moreover, the learners will be trained to generate a flow chart to navigate to the required page based on a condition. Apart from that, the trainees will be imparted the training to create a state machine workflow to compare the user's input with a random number.