Course Highlights and Why RPA Training in Chennai at FITA Academy?

FITA Academy offers comprehensive RPA Training combining theoretical knowledge and practical hands-on experiences.

The RPA Course in Chennai is designed and delivered by trainers with a decade of experience in IT and actively possessing senior developer roles in Robotic Process Automation and Artificial Intelligence.

Our course is designed to align with global industry standards and the latest RPA technology and tools trends.

Participants can engage in real-time capstone projects, allowing them to gain valuable hands-on training in RPA.

As an Authorized Pearson Vue Exam certification center in Chennai, FITA Academy facilitates RPA Certification exams.

Whether you are new to automation or have a background in programming, we offer tailored RPA sessions to meet your specific learning objectives.

Regular recap sessions are incorporated to reinforce concepts after each session, enabling the students to master each concept they learn.

Upon completing the course, participants receive a certification, enhancing their professional profiles.

FITA Academy's active placement cell provides placement training to students post-course completion, increasing their chances of securing highly paid RPA positions.
Upcoming Batches
11-12-2023
Weekdays
Monday (Monday - Friday)
14-12-2023
Weekdays
Thursday (Monday - Friday)
16-12-2023
Weekend
Saturday (Saturday - Sunday)
23-12-2023
Weekend
Saturday (Saturday - Sunday)

Classroom Training
Get trained by Industry Experts via Classroom Training at any of the FITA Academy branches near you
Why Wait? Jump Start your Career by taking RPA Training in Chennai!
Instructor-Led Live Online Training
Take-up Instructor-led Live Online Training. Get the Recorded Videos of each session.
Travelling is a Constraint? Jump Start your Career by taking the RPA Training Online!
RPA Course Objectives
Understand the fundamentals of RPA and its significance in contemporary business processes.
Explore the various RPA tools including Blue Prism, UI Path, Automation Anywhere, and more available in the market and their key features.
Explore the tools, gain insights about integration services, workflow modules, and high reusability levels.
Understand the architecture of tools and their evolutionary features, and learn how to deploy projects.
Understand the process of adding clients and operations room functionalities.
Master the recording and creation of task bots and explore the features of the Task Editor.
Understand the different sections within the tools and learn about keystrokes, mouse actions, and their implementations.
Understand the execution of commands related to programs, files, and windows.
Grasp the concepts of conditional statements & loops and Understand pause, delays, & wait commands.
Explore web recording, launching websites, and internet-related commands.
Understand how to interact with applications such as reading from CSV/text, Excel, databases, and XML.
Explore miscellaneous commands related to interactive prompts, message boxes, clipboards, etc.
Learn to run and stop tasks, manage system-related tasks, printers, and services.
Gain expertise in error handling, image recognition, screen capture, integration, and various application-related tasks.
Explore advanced features such as OCR, email automation, terminal emulator, PDF integration.
Apply the acquired knowledge in a real-time project setting through the capstone projects.
RPA Course Trainer Profile
The Instructors at FITA Academy boast a decade of experience in IT, actively engaging in Robotic Process Automation (RPA).
The instructors possess hands-on experience with diverse RPA tools, facilitating comprehensive learning RPA tools such as Automation Anywhere, Blue Prism, and UI path for students enrolled in our RPA Course in Chennai.
At FITA Academy, the trainers go beyond enhancing students' understanding of RPA concepts and applications.
Committed to imparting industry-relevant skills, the trainers significantly contribute to expanding the knowledge base of students at FITA Academy.
The trainers offer individualized attention to each student and conduct interactive review sessions.
After every session, the trainers keep teaching students progress by conducting regular assessments.
Additionally, these trainers are pivotal in guiding students through resume building and boosting their confidence through mock interviews.
Learn at FITA Academy & Get Your
Dream IT Job in 60 Days
like these Successful Students!

Student Success Story of RPA Training in Chennai
Ilampirai, a Computer Science graduate with an MSC degree from Cuddalore, had a passion for robotics since early school. However, a lack of guidance initially diverted her career path. Despite obtaining a master's degree in Computer Science, she was in a non-IT role in Chennai for three years. But her interest in robotics was persistent.
While in Chennai, Ilampirai actively searched for robotics-related courses, leading her to discover the Robotics Process Automation Course. FITA Academy, recommended by her friend, stood out as a provider of high-quality Robotic Process Automation Training in Chennai. After contacting the branch and enquiring about the course details, she found this a perfect fit. Ilampirai enrolled in the course, diligently participating in each session and completing capstone projects with guidance from mentors.
Following the course, she underwent placement training at FITA Academy, focusing on refining her interpersonal and communication skills and thoroughly preparing for RPA interviews. She attended interviews with prominent companies like Cognizant and TCS. Ultimately, she accepted an offer from Cognizant, securing a Junior RPA Developer role with a salary package of 2.8 LPA. We take immense pride in contributing to Ilampirai's journey towards realizing her career aspirations.
Features of RPA Training in Chennai at FITA Academy
Real-Time Experts as Trainers
At FITA Academy, You will Learn from the Experts from industry who are Passionate in sharing their Knowledge with Learners. Get Personally Mentored by the Experts.
LIVE Project
Get an Opportunity to work in Real-time Projects that will give you a Deep Experience. Showcase your Project Experience & Increase your chance of getting Hired!
Certification
Get Certified by FITA Academy. Also, get Equipped to Clear Global Certifications. 72% FITA Academy Students appear for Global Certifications and 100% of them Clear it.
Affordable Fees
At FITA Academy, Course Fee is not only Affordable, but you have the option to pay it in Installments. Quality Training at an Affordable Price is our Motto.
Flexibility
At FITA Academy, you get Ultimate Flexibility. Classroom or Online Training? Early morning or Late evenings? Weekdays or Weekends? Regular Pace or Fast Track? - Pick whatever suits you the Best.
Placement Support
Tie-up & MOU with more than 1500+ Small & Medium Companies to Support you with Opportunities to Kick-Start & Step-up your Career.
Why Learn RPA Training in Chennai at FITA Academy?
Live Capstone Projects
Real time Industry Experts as Trainers
Placement Support till you get your Dream Job offer!
Free Interview Clearing Workshops
Free Resume Preparation & Aptitude Workshops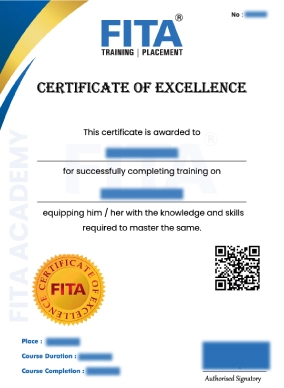 RPA Certification Training in Chennai at FITA Academy
Having an RPA Certification from leading RPA vendors will certainly empower you to grow in your professional career. Taking up RPA Training in Chennai at FITA Academy and having a Global RPA certification would be an added asset which most of the employers prefer. If you are wondering which RPA certification you should take up, it depends on which RPA software you learn at FITA Academy. If you learn Blue prism, then taking up Blue Prism certification would be an ideal choice. On the other hand, if you learn UI Path then a Certification in UiPath would be the ideal choice. Below are the various certification options available from each of the leading RPA companies:
Blue Prism Associate Developer Certification
The Blue Prism Associate Developer exam assesses your proficiency in utilizing a process automation solution provided by the Blue Prism university. FITA Academy, an authorized Pearson Vue Testing Center, provides Blue prism Certification course.
Skills Evaluated: The exam measures your understanding of fundamental functions, applications, data types, process templates, data casting, debugging, and process flow within Blue Prism.
Requirements: This certification exam has no prerequisites. However, it is recommended to go through the Blue Prism Foundation Training specifications and associated consolidation exercises before attempting the certification exam.
Duration: The exam has a duration of 50 minutes and comprises 50 questions selected from a diverse set of options. The question formats include multiple-choice, single-choice, and drag-and-drop.
Cost: The cost of Blue Prism Associate Developer certification exam is priced at $65.
UI Path Certifications
Administered by the UiPath Academy, the UiPath Certified RPA Associate (UiRPA) certification is tailored for individuals seeking positions as RPA architects, RPA developers, business analysts, and solutions architects. This exam is designed to assess developers with a range of RPA skills, encompassing both foundational and advanced levels. The RPA developer track course serves as a foundational RPA program, addressing essential automation processes and framework design. However, the general track certification series specifically caters to seasoned RPA developers.
Skills Evaluated: Skills validated in the exam include RPA fundamentals, proficiency in UiPath Studio software, data manipulation, selectors, control flow, and related topics.
Requirements: Eligibility for the exam requires completion of the UiPath RPA Developer foundational training program or acquiring three to six months of hands-on RPA training.
Duration: The UiPath Certified RPA Associate exam is approximately 90 minutes in duration and comprises 60 multiple-choice questions.
Cost: The cost of obtaining the UiRPA certification is approximately $150.
Moreover, our institute provides training for alternative RPA tools, including Automation Anywhere, WorkFusion, and Openspan. Enrolling in any of these training programs under the guidance of industry experts can further enhance your skills and credentials in the field.
Have Queries? Talk to our Career Counselor for more Guidance on picking the
right Career for you!
Placement Session & Job Opportunities after completing RPA Training in Chennai

The substantial demand for RPA in the market stems from its ability to automate and integrate processes. Additionally, it replicates interactions with the user interface of software applications and can be swiftly developed without significant financial investment. Given these factors, the field of robotic process automation is poised to create numerous career opportunities in the foreseeable future, catering to both entry-level individuals and seasoned professionals. The reach and potential of RPA extend beyond just technologists. Business analysts, possessing the skill to critically analyze business processes, can also transition into RPA development, independently creating bots.
FITA Academy offers comprehensive Training in RPA and placement training which trains the students to prepare for job interviews with mock interviews and group discussions where students can be aware of RPA Interview Questions and Answers.
"Students will receive 100% placement training after course completion, which helps land them in RPA jobs"
Engaging in RPA work necessitates a focus on designing, implementing, and maintaining effective RPA solutions. The expansive field of RPA has not only generated job opportunities in technical writing and business analysis but has also opened avenues for less technical professions. Job titles in this field encompass developers, who are responsible for creating and executing RPA programs tailored to their industry, facilitating the automation of business processes. Another key role in high demand is that of a project manager, serving as a crucial link between business, technology, and other domains involved in RPA projects.
Job opportunities 
Companies partnering with leading RPA company Blue Prism include Auro, Ascension, AVO Consulting, Capgemini, Cognizant, DigiBlu, Genpact, HCL Technologies, Hewlett Packard Enterprise, KPMG, NTT DATA, Prodapt, PwC, Tata Consultancy Services, and Virtusa. Blue Prism-trained and certified candidates have substantial opportunities to engage in RPA projects within these esteemed companies.
For details on the RPA course fee in Chennai, contact us or submit the contact form to consult with our career counselor. Enroll in RPA training at FITA Academy, the top-rated RPA Training Institute in Chennai, and embark on your rewarding career in RPA today.
RPA Developer 
The appeal of RPA lies in its reduced dependence on extensive coding, testing, and debugging compared to conventional software development. This implies that RPA developers aren't strictly required to be proficient programmers. However, they should possess the ability to engage in basic scripting, at the very least, to extend the capabilities of visual tools. A power user, familiar with starting with Excel macros and progressing to learning Visual Basic for enhancing spreadsheet automation, could seamlessly transition into becoming an RPA developer.
RPA Architect
Comprehending effective software design patterns is crucial, just as it is essential to recognize the appropriate instances for developing two streamlined bots rather than a single cumbersome bot. A proficient architect should also possess the capability to make sound judgments regarding when an application is pushing the boundaries of RPA excessively — situations where opting for a traditional software development project might be more appropriate.
RPA Analyst
The role of the RPA Business Analyst involves designing and delivering solutions to automate business processes using Robotic Process Automation (RPA) technology.
Success Story of RPA Training in Chennai
I took my RPA Course at FITA Academy. My tutor supported me all the time and he provided real-time case studies. I understand the role of RPA Developer now. Thanks to the whole team for helping me in achieving my goal. I surely recommend this institute to my friends.
Thanks FITA Academy for the wonderful experience.I had RPA UI Path training and could learn all sharp details about the course within the minimal period. My trainer was very helpful and cooperative. He taught all lessons in his best way. The demos and videos were so helpful and it is a knowledge store to be used in future.
I am Rajaram and took RPA training at FITA Academy. The trainer gave many real-time case studies that helped a consultant like me to get a complete grip on the RPA technology. He also compared UIPath features and Blue Prism that gave me a holistic picture. My thanks to the Counselor for helping to complete the Course within my travel date. Highly recommend if you are planning to do your RPA Course.
What I liked at the RPA course at FITA Academy was it's completely industry oriented. The course coverage by the trainer was very good. Though RPA is new, appreciate the knowledge trainer has. I had to miss the few classes due to my project schedule but trainer and FITA Academy team followed up with me to come and attend the sessions. Trainer in fact quickly covered the missed sessions which helped me to have the continuity. Confidently come and learn RPA at FITA Academy. Value for your time and money.
Took RPA training here and Trainer was so good in explaining the concepts and gave a lot of practical scenarios where RPA can be implemented. I asked for a One to One session and the staff at FITA Academy co-ordinated it very well until the completion of the training.
Completed my RPA course in Chennai at FITA Academy. A good explanation of RPA tools such as UiPath, Automation Anywhere, and Blue Prism were given. The tutors are friendly and helpful, they clarified all my doubts. Thanks to my trainer.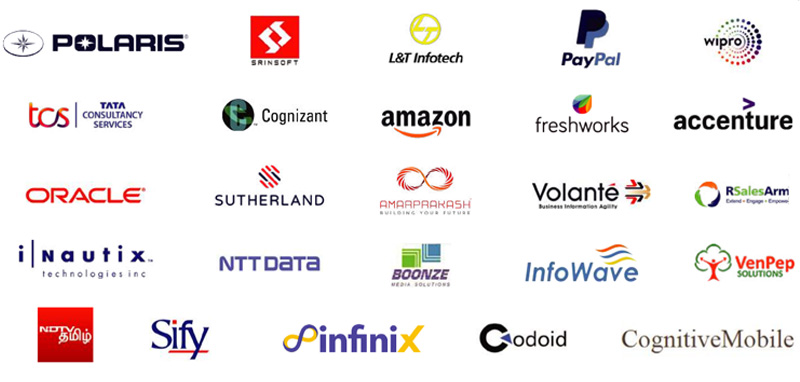 Frequently Asked Question (FAQ) about RPA Training in Chennai
General Q & A about RPA Training in Chennai
How many months does it take to learn RPA?
The minimum time frame needed to learn RPA is 6 months. This can vary based on every individual's dedication towards learning and how much they spend each day.
What is the cost of RPA Training in Chennai?
The Course fee in Chennai for taking an RPA course will range from Rs.15,000 to Rs. 50,000. The Course fee may vary based on the institute and the type of course you choose.
Is RPA in high demand?
Professionals in RPA development rank among the top earners in the information technology industry. With the widespread automation of business processes across various sectors, there is a substantial demand for these skilled individuals.
Is RPA tough or easy?
The implementation and utilization of an RPA system are straightforward and user-friendly. This is not challenging if you are a keen learner and dedicated towards learning Robotic Process Automation.
What is the minimum salary of RPA?
In India, RPA DevSalary for Freshers with less than 1 year to 5 years of experience ranges from ₹2.8 Lakhs to ₹9.6 Lakhs, averaging ₹5.9 Lakhs annually, as per the latest data from 12,000 salaries.
Is RPA good for freshers?
In the forthcoming years, various industries will seek the expertise of skilled RPA professionals. The salary packages for RPA experts in the industry are highly attractive, commencing with an average annual salary of INR 4 lakhs for beginners and expected to rise with accumulated experience.
Can I learn RPA without coding?
One can attain expertise in RPA without being a programmer. While some understanding of programming languages is beneficial, user-friendly tools are accessible for anyone to learn and utilize.
Does RPA have a future?
The future of RPA revolves around more intelligent automation. While conventional RPA focuses on automating processes rooted in structured databases, intelligent automation can handle unstructured data sources such as scanned documents, emails, letters, and voice recordings.
What is the salary of RPA developer in Chennai?
In Chennai, RPA Developer Salary For Freshers varies from ₹2.5 Lakhs to ₹9.0 Lakhs, with an average annual salary of ₹6.0 Lakhs.
Which is better, RPA or AI?
AI is generally more appropriate for intricate and data-intensive tasks, whereas RPA excels in handling routine and manual tasks. Integrating these technologies can offer a more holistic solution for automating business processes and enhancing overall efficiency.
Can a non-technical person learn RPA?
A person without a technical background has the potential to become a proficient developer, as almost everything can be learned nowadays. However, the learning curve might be more challenging in such cases. When I began, the concepts of Object-Oriented vs. Scripting Languages were unfamiliar.
Is RPA a technical job?
Understanding and implementing RPA is a straightforward concept. In the realm of RPA, diverse job roles are available, catering to both technical and non-technical individuals. These roles include Process Designer, Automation Architect, Project Manager, Business Analyst, and more.
What is the salary of an RPA developer in Wipro?
The average annual salary for a Wipro Robotic Process Automation (RPA) Developer is ₹5,33,664. Salaries for RPA Developers at Wipro can vary, ranging from ₹1,95,697 to ₹10,12,959 per year.
What is the salary of an RPA developer in Infosys?
The salary for an Infosys RPA Developer in India varies from ₹2.3 Lakhs to ₹9.0 Lakhs. These salary estimates are derived from 293 recent salary submissions provided by employees at Infosys.
Do I need Python for RPA?
RPA employs software equipped with Artificial Intelligence (AI) and Machine Learning (ML) capabilities to manage repetitive tasks at a large scale. Python stands out as the most frequently utilized language for AI and ML.