Course Highlights and Why Dot Net Training in Coimbatore at FITA Academy?

Learning the overview of .Net framework, CLR(Common Language Runtime), libraries, namespaces, JIT Compilers, and .Net Memory Management.

Learning to install and set up Microsoft visual studio, Visual Studio IDE, its features.

Understanding the OOPs concept, classes & objects, encapsulation, inheritance, polymorphism, abstract, interfaces, and delegates.

Acquiring skills in C# and understanding its features, advantages, data types, enum, constants, decision-making structures, and control structures.

Knowing how to implement OOPS with C# for creating class, methods, functions, constructors, destructors, etc.

Working with Access modifiers C# for understanding Access modifiers.

Comprehending Exception Handling in C# for handling exceptions, the need for custom exceptions, and creating custom exception classes.

Learning advanced features of C# which includes arrays, collections, generics, IO Streams, multi-threading, dependency caching, and types of caching.

Getting proficient in MySQL server through learning SQL queries, DDL, DML, Indexes, Views, and Triggers.

Coverage of ASP.NET for understanding web forms, list view control, Data Binding, and various navigation controls.

FITA Academy has successfully trained 50,000+ students to achieve their career goals.

FITA Academy has tie-ups with more than 1500+ companies to provide students a vast number of diverse career opportunities.

FITA Academy possesses 1000+ qualified industry professionals as training experts for the career prosperity of students.
Upcoming Batches
09-12-2023
Weekend
Saturday (Saturday - Sunday)
11-12-2023
Weekdays
Monday (Monday - Friday)
14-12-2023
Weekdays
Thursday (Monday - Friday)
16-12-2023
Weekend
Saturday (Saturday - Sunday)

Classroom Training
Get trained by Industry Experts via Classroom Training at any of the FITA Academy branches near you
Why Wait? Jump Start your Career by taking Dot Net Training in Coimbatore!
Instructor-Led Live Online Training
Take-up Instructor-led Live Online Training. Get the Recorded Videos of each session.
Travelling is a Constraint? Jump Start your Career by taking the Dot Net Online Course!
Trainer Profile
The .Net training experts of FITA Academy are working personnel who hold a maximum of 12+ years of experience in their field.
The .Net experts provide corporate training according to industry standards and degrees.
The .Net tutors majorly concentrate on Job-oriented training to help students get placed in top companies.
Knowledge induction and skill development programs will also be conducted for students to enhance their competency.
The tutors will also provide career guidance, placement guidance, etc to support students in their career development.
The .Net trainers have individually completed training for more than 25 batches of students.
Soft skills like Leadership skills, Communication skills, Interpersonal skills, Teamwork skills, and problem-solving skills are also developed under the training of our professional training experts.
Learn at FITA Academy & Get Your
Dream IT Job in 60 Days
like these Successful Students!

Features of Dot Net Training in Coimbatore at FITA Academy
Real-Time Experts as Trainers
At FITA Academy, You will Learn from the Experts from industry who are Passionate in sharing their Knowledge with Learners. Get Personally Mentored by the Experts.
LIVE Project
Get an Opportunity to work in Real-time Projects that will give you a Deep Experience. Showcase your Project Experience & Increase your chance of getting Hired!
Certification
Get Certified by FITA Academy. Also, get Equipped to Clear Global Certifications. 72% FITA Academy Students appear for Global Certifications and 100% of them Clear it.
Affordable Fees
At FITA Academy, Course Fee is not only Affordable, but you have the option to pay it in Installments. Quality Training at an Affordable Price is our Motto.
Flexibility
At FITA Academy, you get Ultimate Flexibility. Classroom or Online Training? Early morning or Late evenings? Weekdays or Weekends? Regular Pace or Fast Track? - Pick whatever suits you the Best.
Placement Support
Tie-up & MOU with more than 1500+ Small & Medium Companies to Support you with Opportunities to Kick-Start & Step-up your Career.
Why Learn Dot Net Training in Coimbatore at FITA Academy?
Live Capstone Projects
Real time Industry Experts as Trainers
Placement Support till you get your Dream Job offer!
Free Interview Clearing Workshops
Free Resume Preparation & Aptitude Workshops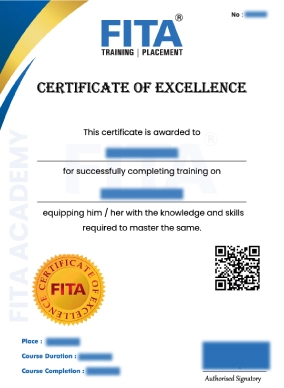 Dot Net Certification Course in Coimbatore
The .Net Certification provided to the aspirants after the successful completion of the course. It validates that the students have earned the necessary skills to meet the requirements of the companies. The certification is also a professional credential that can be demonstrated during the interviews which clearly states that the particular candidate has rightly undergone the training and is industry-equipped to meet their needs. The Dot Net Course in Coimbatore will also be helpful for preparing other certifications as the training is taken by professional industry experts having more than 10+ years of experience. Completing the training will open up to a lot of eminent opportunities in the IT industry thus paving the way for a desired career path.
Have Queries? Talk to our Career Counselor for more Guidance on picking the
right Career for you!
Placement Session & Job Opportunities after completing Dot Net Training in Coimbatore

.Net is an open-source, platform-independent, software platform for developing different kinds of applications such as web, mobile, desktop, games, and IoT. The .Net software platform supports various languages like C#, F#, and Visual Basic to develop various applications. In .Net we can use multiple languages, editors, and libraries. Some of the famous applications that have been built with the .Net framework are StackOverflow, Codeplex, Microsoft, GoDaddy, Dell, and Visual Studio. The .Net framework has many attractive features like Interoperability, Common Language Runtime Engine (CLR), Language Independence, Base Class Library, Simplified Deployment, Security, and Portability. There are also many benefits the language delivers for its aspirants are improved performance, being cross-platform, needing less code, and enhanced maintenance. Some of the top companies which hire .Net developers are Capgemini, CSS Services, Infosys, Wipro, HCL Technologies, Accenture, TCS, and Cognizant.
The roles for which the candidates hired are,
.Net Developer
.Net Software Engineer
.Net Programmer
C# developer
Full Stack developer
Software Architect
The salary of these professionals varies depending upon many factors. Some of the factors that impact their salaries are their work location, job profiles, and most importantly the company they work for.
The average salary for a .Net developer in India is Rs. 4,31,859 per annum. The salary of an entry-level developer is Rs. 2,38,799 per annum. The salary of a mid-level professional is Rs. 3,57,783 per annum. The salary of an experienced professional is around Rs. 7,67,401 per annum.
The Dot Net Training in Coimbatore provided by FITA Academy will enhance your technical skills, interpersonal skills, teamwork skills, creative skills, and leadership skills to help you meet the requirements of the companies.
Success Story of Dot Net Training in Coimbatore
The Dot Net Course in Coimbatore at FITA Academy was impressive to start with. The Academy had amazing staff members who were very professional in handling the course. The course has a detailed syllabus and every topic was covered without skipping any of them. Thanks to the trainers for precisely teaching the concepts as now I am fully aware of the frameworks and their importance.
The Dot Net Training in Coimbatore was worthy certification to do. The hands-on training on all the important concepts was really useful. I would recommend FITA Academy to all the freshers who want to study the .Net framework.
Completing the Dot Net Course in Coimbatore was very refreshing. They taught all the basic to advanced concepts in a neat manner. It was a good experience to join FITA Academy to learn the .Net framework and it was worth the money and time.
Enrolling in the Dot Net Training in Coimbatore at FITA Academy was very useful to me. I now possess a good knowledge of the framework and all thanks to my trainers for such valuable training.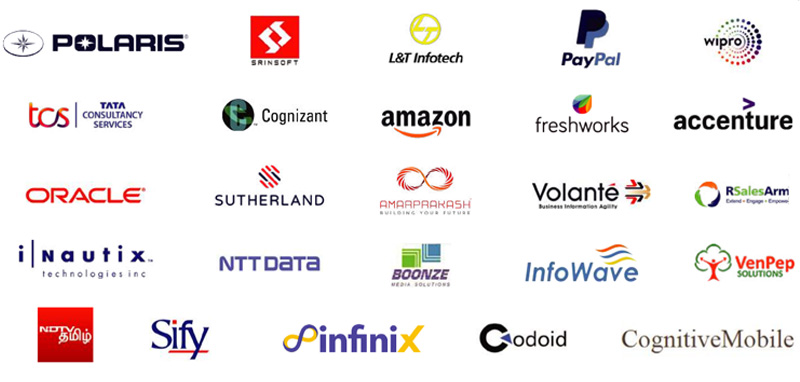 Frequently Asked Question (FAQ) about Dot Net Training in Coimbatore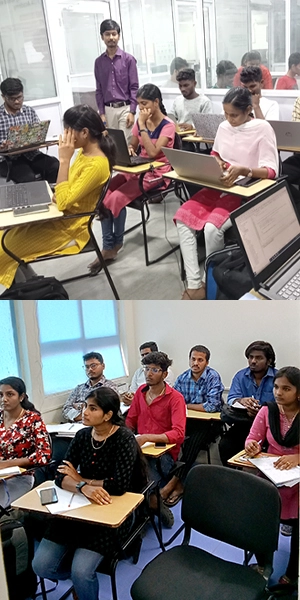 Dot Net is a free, open-source, and cross-platform for creating various types of applications. With the help of Dot Net, you can access different libraries, languages, and editors for creating web services. Dot Net Course in Coimbatore at FITA Academy provides the best coaching for the .NET frameworks. You can also enroll in our Dot Net Online Training at FITA Academy to comprehend the complete Dot Net stack.
Languages
Languages like C#, Visual Basic, or F# are applied for writing Dot Net apps.
F# is a functional, cross-platform, and open-source programming language of Dot Net. It also involves imperative and object-oriented programming.
C# is a type-safe, modern, and simple programming language.
Visual Basic is an accessible language that has a simple syntax for creating object-oriented applications.
Cross-Platform
Dot Net facilitates running your code on any of the operating systems. It doesn't matter whether you are writing code in F#, C#, or others.
Mono/Xamarin is a Dot Net implementation for processing apps on all of the mobile OS.
The Dot Net framework supports various desktop apps, websites, services, and many windows.
It can be used to test different platform applications like Linux, macOS, and Windows.
One Consistent API
Dot Net has one consistent API that is common for every Dot Net implementation.
The .NET implementation also exposes extra APIs which are required to the operating systems for operating the windows registry.
Libraries
Microsoft and others support a healthy package ecosystem created on Dot Net standard.
For example, NuGet, a package manager specially created for Dot Net that has over 90k packages.
Open Source and large community
Dot Net is open-source and the Dot Net foundation has a large community of developers of about 60,000 and they have many numbers of companies that are already contributing to the .Net services.
Join Dot Net Course in Coimbatore at FITA Academy to learn the important topics in the .Net framework and get trained under experienced professionals to become an expert in Dot Net programming language.
Application Models of .Net
.Net offers multiples of application models and some of them are provided below,
Mobile- Uses a single code to build various mobile apps for Android, Windows, and iOS.
Web- Create many web-based apps for Docker, macOS, Linux, etc.
Gaming- Develop 3D and 2D gaming for mobile phones, desktops, etc.
Microservices- Create deployable services that operate on Docker containers.
Machine Learning- It adds speech processing, vision algorithms, predictive models, and more to your apps.
Introduction to .Net Framework
Dot Net framework is a software platform designed by Microsoft. It builds web applications, which would operate on the Windows platform.
In the .Net framework, Version 1.0 was the first version. In simple words, it is a virtual machine for executing the programs that are written in several languages like VB.Net, C#, etc.
.Net framework is widely used to develop web-based services and applications. It maintains industry standards and provides various web functionalities.
Microsoft has designed and developed about 11 programming languages, they are as follows,
C++.NET
Jscript.NET
J#.NET
C#.NET
Iron Ruby
ASML
Windows Powershell
VB.NET
C Omega
Iron Python
Components of .NET Framework
.Net Framework is a platform to build form-based applications and it provides technologies and tools to develop web applications. The Dot Net framework consists of two main components, they are,
Common Language Runtime
.Net Framework Class Library
Common Language Runtime(CLR)
It is the virtual machine component of the .NET framework. It runs the code and it helps to make the process much easier by providing several services like thread management, memory management, type-safety, remote control, robustness, etc. Primarily, its role is to manage the .NET program's execution. Dot Net helps in the code management, the Managed code is the code that focuses on the runtime, whereas, the Unmanaged code is the code that does not focusses on runtime.
Framework Class Library(FCL)
It is also known as the Base Class Library and this is common for different kinds of applications. It has various interfaces, data types, class libraries, etc. to build several types of applications like mobile applications, web applications, and desktop applications. All these are integrated with CLR and are used by all .Net languages.
The below-mentioned are the various kinds of applications that can make use of .Net libraries.
Console Application
XML Web Services
Windows Services
Windows Application
Web Application
In common, Developers need to insert the FCL in their code and use its properties to execute complex and common functions like database interaction, graphic rendering, writing and reading a file, document manipulation, etc.
.Net framework also involves a few more concepts,
Common Type System(CTS)- It defines a different set of data types that can be applied in various .Net languages. In general, there are two types of CTS, they are,
Value Types
Reference Types
Common Language Specification (CLS)
The common Language Specification is the subdivision of CTS and it describes the set of instructions that need to be satisfied by all the other language compilers. It supports cross-language debugging and cross-language inheritance.
CLS Instructions:
Sample rules of CLS are provided below,
Representation of text strings
Representation of enumerations
Static members representation and this is a subset of the CTS which all .NET languages are expected to support.
It follows the language guidelines so that they can interact with other .Net languages.
Dot Net Training in Coimbatore at FITA Academy offers you excellent training in .NET concepts and supports you to grow your technical skills.