Course Highlights and Why DevOps Course in Coimbatore at FITA Academy?

The Curriculum was created with expertise to satisfy the international requirements of the DevOps sector.

You will receive hands-on training covering every DevOps concept, which will enhance your practical knowledge.

Carefully crafted course materials facilitate the transfer of essential ideas and procedures to learners.

Flexible batch timings including weekend, weekday & fast track sessions are provided.

The course fee for the DevOps Course in Coimbatore is structured to be affordable for all candidates.

100% placement support is provided at the end of the course, enables the students job ready.

A valuable certification is provided as a testament to the skills you obtained.
Upcoming Batches
09-12-2023
Weekend
Saturday (Saturday - Sunday)
11-12-2023
Weekdays
Monday (Monday - Friday)
14-12-2023
Weekdays
Thursday (Monday - Friday)
16-12-2023
Weekend
Saturday (Saturday - Sunday)

Classroom Training
Get trained by Industry Experts via Classroom Training at any of the FITA Academy branches near you
Why Wait? Jump Start your Career by taking DevOps Training in Coimbatore!
Instructor-Led Live Online Training
Take-up Instructor-led Live Online Training. Get the Recorded Videos of each session.
Travelling is a Constraint? Jump Start your Career by taking the DevOps Online Training!
DevOps Course Objectives
Gain a comprehensive understanding of DevOps principles and concepts, and how they impact the development and deployment of software.
Explore the DevOps ecosystem and discover how it incorporates various tools and practices to deliver software efficiently.
Learn about the range of opportunities available for DevOps engineers and the highly sought-after skills in the industry.
Develop a strong foundation in the DevOps environment by acquiring knowledge of Linux administration, covering essential concepts, commands, and network management.
Familiarize yourself with version control with Git, including repository management, merging, branching, and integration with platforms like GitHub.
Learn about continuous integration using Jenkins, from its configuration and installation and to creating build jobs, scheduling, and ensuring its security.
Gain an understanding of YAML and Ansible for configuration management and automation, working with playbooks, roles, and plugins.
Learn to use docker for containerization, networking, covering image creation, and deployment.
Learn about Puppet for managing the infrastructure, its architecture, components, and integration.
Learn continuous monitoring using Nagios, including installation, configuration, and setting up effective system notifications.
Familiarize yourself with Kubernetes for container orchestration, creating services, and deploying applications using rolling updates.
Gain an understanding of cloud computing, AWS services and the its application.
Apply your tools and techniques in Capstone projects.
DevOps Course Trainer Profile
At FITA Academy, our trainers equip students with practical skills and hands-on experience through industry-based projects, ensuring that they are equipped with market-relevant capabilities.
Our trainers are seasoned professionals with over a decade of experience in DevOps engineering.
They stay up to date with the latest technologies and constantly refine their skills and knowledge to provide the best training to our students.
Our mentors offer real-world scenarios, job-based case studies, and projects to help students apply their learning in practical situations.
Students can also benefit from our regular recap and doubt-clearing sessions.
Our tutors provide comprehensive training on continuous deployment and development principles, as well as the application of DevOps tools.
Our trainers pay close attention to students' individual needs and provide the necessary support to clear their doubts.
Additionally, our DevOps Training in Coimbatore support students with resume building and mock interview training.
Learn at FITA Academy & Get Your
Dream IT Job in 60 Days
like these Successful Students!

Student Success Story of DevOps Course in Coimbatore
Irfan is a hardworking individual, completed BSC Computer Science 5 years ago. He had a lot of responsibilities as the eldest son of his family. He started his career in hardware and networking and worked for a few years in different companies. However, he noticed that he was being paid less despite his considerable experience, and he realized that he needed to upgrade his skills.
He found that DevOps was a trending course that was relevant to his field, and he searched for the best institute to get DevOps Training in Coimbatore. After doing his research, he enrolled in the DevOps course provided by FITA Academy.
Since he was already working, he attended weekend batches and was very dedicated to each session. He made excellent progress in all the assessments and completed capstone projects under the guidance of FITA Academy's DevOps experts. At the end of the course, he underwent placement training to develop interpersonal skills, mock interviews, and group discussions.
After preparation, he attended interviews for the role of DevOps engineer in two companies, ITSS Global and LTE Mindtree. His hard work paid off when he was shortlisted in both companies and was offered a job as a DevOps engineer with a package of 4.5 LPA. This was a dream come true for Irfan, and he was finally able to manage his family responsibilities.
Features of DevOps Course in Coimbatore at FITA Academy
Real-Time Experts as Trainers
At FITA Academy, You will Learn from the Experts from industry who are Passionate in sharing their Knowledge with Learners. Get Personally Mentored by the Experts.
LIVE Project
Get an Opportunity to work in Real-time Projects that will give you a Deep Experience. Showcase your Project Experience & Increase your chance of getting Hired!
Certification
Get Certified by FITA Academy. Also, get Equipped to Clear Global Certifications. 72% FITA Academy Students appear for Global Certifications and 100% of them Clear it.
Affordable Fees
At FITA Academy, Course Fee is not only Affordable, but you have the option to pay it in Installments. Quality Training at an Affordable Price is our Motto.
Flexibility
At FITA Academy, you get Ultimate Flexibility. Classroom or Online Training? Early morning or Late evenings? Weekdays or Weekends? Regular Pace or Fast Track? - Pick whatever suits you the Best.
Placement Support
Tie-up & MOU with more than 1500+ Small & Medium Companies to Support you with Opportunities to Kick-Start & Step-up your Career.
Why Learn DevOps Course in Coimbatore at FITA Academy?
Live Capstone Projects
Real time Industry Experts as Trainers
Placement Support till you get your Dream Job offer!
Free Interview Clearing Workshops
Free Resume Preparation & Aptitude Workshops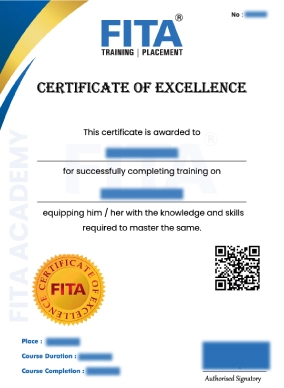 DevOps Certification Course in Coimbatore
Upon completing the DevOps Course at FITA Academy in Coimbatore, students can receive a certificate of completion. This certificate serves as a testament to an individual's capability in executing tasks related to DevOps practices and showcases their proficient knowledge of DevOps tools. Including this certification on one's curriculum vitae can leave a positive impression during job interviews and increase the likelihood of being prioritized.
Benefits of Taking a DevOps Certification in Coimbatore at FITA Academy
Job Opportunities – DevOps engineers with formal training and certifications are expected to be in higher demand than those without. Certification gives companies confidence that the individual has undergone proper DevOps Training in Coimbatore and possesses all necessary skills, making the hiring process easier. It also helps employers trust the credentials of new hires, leading to increased employee loyalty and retention rates.
Better Salary Package – Individuals who have obtained a DevOps certification after undergoing a rigorous process are more likely to receive higher salaries compared to their non-certified counterparts. As a result, they may find it easier to secure employment in challenging job markets where certification is highly valued.
Enhanced Career Growth – Achieving DevOps certification can greatly enhance one's career prospects, leading to ample job opportunities for those who are certified.
Easier Transitioning to New Technologies – Keeping up with the constant emergence of new technologies and their changing requirements can be challenging. Without a DevOps certification, transitioning from one tech stack to another may also prove difficult. This certification helps bridge the gap between experienced and inexperienced developers, making transitions among different platforms and technologies smoother.
Better Communication Skills – Having certification in DevOps implies having exceptional communication skills, which are crucial for effective teamwork. When team members have a comprehensive understanding of the development life cycle (SDLC), they can identify technical obstacles before they become major issues. As a result, project execution becomes smoother.
Higher Job Satisfaction Rates – According to research by the International Institute for Management Development, companies that prioritize staff training tend to experience improvements in their organizational culture and overall performance. This is due to the positive attitudes exhibited by employees who feel fulfilled in their work and take pride in their output. As a result, those who undergo our DevOps training program show increased levels of satisfaction without sacrificing productivity.
Increased Productivity Levels – Individuals with DevOps certifications exhibit superior performance in test scores and problem-solving abilities when compared to uncertified counterparts. Moreover, they demonstrate quicker reactions when presented with challenges, ultimately leading to heightened levels of productivity. As a result, businesses can benefit from cost-effective solutions to problems and less time spent on repetitive tasks.
Improved Quality Assurance Processes – Professionals certified in DevOps prioritize quality control throughout the software development lifecycle to guarantee that the final products meet established standards and remain user-friendly, providing customers with the best possible service.
More Innovative Products – To generate innovative ideas, it's crucial to invest in training and continuously improve. Consistent evaluation is necessary to ensure the proper implementation of changes.
Greater Business Value Creation – Improved collaboration, product deployment, and infrastructure provisioning are all essential components of DevOps Certification. These factors work together to create greater value for organizations and lead to higher levels of customer satisfaction.
Other Certifications
In addition to the certification offered by FITA Academy, there are various globally recognized certificates that students can prepare for with the help of FITA Academy's DevOps Course in Coimbatore. Here are a few examples.
Microsoft DevOps Engineer Expert
AWS Certified DevOps Engineer
Certified Kubernetes Administrator
Docker Certified Associate
AWS Certified DevOps Engineer
AWS Certified DevOps Engineer is a Globally recogized certification in Amazon for AWS professionals to specialize in the DevOps domain . You should have an AWS Cloud Practitioner Certification to get qualified for this exam.
Microsoft DevOps Engineer Expert
If you want to specialize in DevOps within Microsoft Azure, you may be interested in the specialized certification called Microsoft DevOps Engineer Expert. To be eligible to take this certification exam, you must already hold a Microsoft Azure Administrator Associate or Developer Associate certification.
Docker Certified Associate
Candidates associated with Docker can demonstrate their skills by taking the Docker Certified Associate (DCA) certification exam which includes 55 questions and must be completed within 90 minutes. The exam fee costs $195.
Certified Kubernetes Administrator
Candidates who have demonstrated sufficient knowledge and expertise in operating Kubernetes can obtain certification as a Certified Kubernetes Administrator. The Cloud Native Computing Foundation (CNCF) has partnered with the Linux Foundation to provide this certification.
Have Queries? Talk to our Career Counselor for more Guidance on picking the
right Career for you!
Placement Session & Job Opportunities after completing DevOps Course in Coimbatore

With the increasing popularity of DevOps in the IT industry, it is definitely a wise career choice for those looking to enter the field. After all, a majority of Fortune 500 companies have already embraced DevOps practices within their organizations. FITA Academy is a renowned DevOps Training Institute in Coimbatore, providing students with the necessary skills and knowledge to excel in this field and make the most of the available opportunities.
"Students are given 100% placement training and support upon course completion"
As a DevOps Engineer, you'll find a variety of job openings at renowned companies such as Oracle Crop, Infosys, Amazon.com Inc, HCL Technologies, Wipro Technologies, Accenture Technology Solutions, Tata Consultancy Service Limited, and International Business Machines.
If you have a good understanding of DevOps practices, you may be interested in some of the job designations that are commonly offered in organizations that implement these practices. Here are a few examples of such job titles:
DevOps Engineer
During the entire process of software development, from coding to development to update and maintenance, balancing demands requires effective strategies, which is where the expertise of a DevOps Engineer is essential.In addition, DevOps Engineers monitor the health of all system components and track everything throughout the software lifecycle. It's impressive to learn that FITA Academy has a large number of alumni who completed the DevOps Training in Coimbatore and are now working as DevOps Engineers in reputed companies.
DevOps Architect
A DevOps architect plays a vital role in managing the development, testing, and deployment of enterprise applications. They are responsible for developing platforms and frameworks that enable verifiable, consistent, infrastructure, and automated administration of applications across both non-production and production environments. This ensures that the applications are deployed quickly, efficiently, and with minimal errors, which is crucial for the success of any organization.
DevOps Lead
As a DevOps tech lead, you'll be responsible for implementing best practices in software engineering and providing a management perspective on infrastructure, security, and IT. In this role, you'll work closely with clients to create customized solutions for complex technological challenges. You'll actively contribute to the company's projects, including solution architecture, consulting, and participating in the pre-sales phase. This position will require you to manage and lead people for 50% of the time. If you're interested in becoming a DevOps Lead, FITA Academy's DevOps Training in Coimbatore can equip you with the necessary knowledge and skills.
Integration Specialist
The role of an integration specialist is crucial in ensuring that the DevOps team can integrate and build code efficiently and on a regular basis. They are responsible for seamlessly moving software code from workstations to integration servers to QA, staging, and finally, live environments. Additionally, they ensure that rolling back production to the previous version can be done with ease, without causing any hassle or negative impact on customers.
DevOps Engineer Salary for Freshers with no experience is typically around Rs 3,50,000 per annum, while those with mid-level experience (3-5 years) can earn around Rs 5,00,000 per annum.
It is worth noting that candidates with senior-level experience, ranging from 5 to 9 years, have the potential to earn up to Rs 10,00,000 per annum. However, it is important to remember that the average packages and perks mentioned. The compensation package may differ depending on how many years of experience have been accumulated and the policies of the organization.For those who are new to the field or working professionals looking to upskill their knowledge on DevOps practices can join FITA Academy. It is one of the top DevOps Training in Coimbatore.
Success Story of DevOps Course in Coimbatore
The DevOps Training in Coimbatore at FITA Academy had helped me to learn the DevOps concept in an easy and understandable manner. The training has upskilled my knowledge on the DevOps concept and I have gained the confidence to implement my knowledge in my professional career. Thanks to FITA Academy for the satisfying training and the good career guidance support from the trainers.
I enrolled for the DevOps Certification Course at FITA Academy. They have the best trainers in the field and provide first-hand training to the students. It was a good experience to learn at FITA Academy and can acquire the best skills related to our course.
The DevOps Certification at FITA Academy helped me a lot to have a better understanding of the subject. As a fresher and also passionate about starting my career as a DevOps Engineer I feel that FITA Academy offers the best training to the aspirants and it is worth the time and effort.
Joining the DevOps Training at FITA Academy has improved my technical skills and also enhanced my learning practices. The training and the prompt career guidance support from the team have helped me to get placed in a good MNC with a fair package. Appreciate the efforts of the Academy and the trainers for the support and coaching for our better career prospects.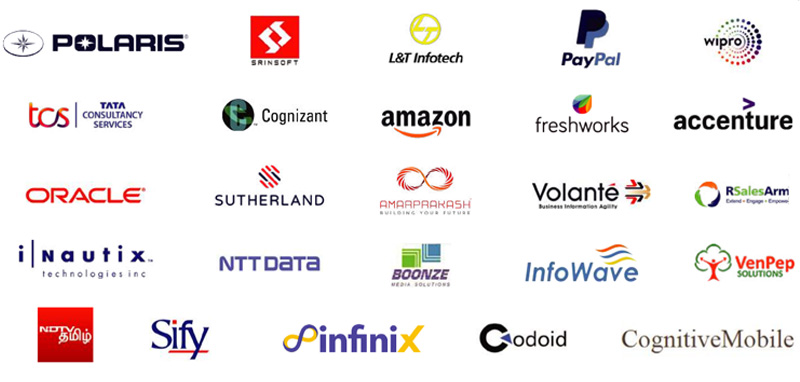 Frequently Asked Question (FAQ) about DevOps Course in Coimbatore
General Q & A about DevOps Course in Coimbatore
How much does it cost to learn DevOps in Coimbatore?
The Cost of a DevOps course may vary based on the institute and type of course we choose. DevOps course fees in India can cost anywhere from INR 50,000 to INR 1,00,000.
Can I learn DevOps in 3 months?
Becoming a DevOps engineer requires around six months, provided you possess fundamental Linux administration and networking skills and adhere to the DevOps engineer learning path suggested below. Nevertheless, it's essential to remember that this profession won't appear instantaneously.
Who is eligible for the DevOps course?
DevOps courses are open to IT professionals, software engineers, operations personnel, project managers, QA professionals, and IT managers seeking to adopt DevOps practices. While there are no strict eligibility requirements, a IT or software development background can be beneficial.
Does DevOps need coding?
No matter what DevOps tasks you want to automate, coding and scripting are essential skills. With these skills, you'll increase your productivity and efficiency and make your work easier.
Is DevOps still in demand 2023?
DevOps will remain in high demand in 2023 as businesses recognise its importance in maintaining a competitive edge through efficient software development and deployment.
Can a fresher get job in DevOps?
Any fresher, person from Operations or Development can become a DevOps Engineer through the required training process to become a DevOps Engineer.
Which language is best for DevOps?
Python is often considered better for DevOps due to its simplicity, versatility, and extensive library support, making it ideal for automation and scripting tasks. It's widely used for configuration management and orchestration.
Which language is best for DevOps?
Python is often considered better for DevOps due to its simplicity, versatility, and extensive library support, making it ideal for automation and scripting tasks. It's widely used for configuration management and orchestration.
Does DevOps have future?
The IT industry holds a bright future for those pursuing DevOps careers. Many consider it to be among the top fields in the industry. Let's explore the factors that make DevOps an exciting and rewarding career path. A DevOps Engineer with less than three years of experience can earn an average salary of 3,35,100 LPA.
Will AI replace DevOps?
DevOps involves a combination of technical skills, process improvements, and effective communication between development and operations teams. AI is a tool that can augment these efforts, but human intervention and decision-making will still be crucial. In summary, DevOps is unlikely to disappear because of AI.
Is DevOps high paying?
A thorough understanding of the value of collaboration between development and operations teams throughout the software development lifecycle is crucial. It's worth noting that due to the high demand for DevOps professionals, salaries in India are among the highest.
Who earns more DevOps or developer?
Developers who know DevOps might earn the most -> then comes the DevOps resource who learnt coding -> then comes development alone and DevOps alone. Now this could easily vary in cases based on your technical knowledge, company, your previous ctc etc . A good DevOps could earn better than a full stack developer.
What is the salary of DevOps engineer in TCS?
The typical TCS DevOps Engineer salary is ₹6,76,531 per year. DevOps Engineer salaries at TCS can range from ₹2,64,834 - ₹20,98,446 per year. This estimate is based upon 54 TCS DevOps Engineer salary report(s) provided by employees or estimated based upon statistical methods.
What is the salary of Apple DevOps engineer?
The typical Apple DevOps Engineer salary is ₹32,21,317 per year. DevOps Engineer salaries at Apple can range from ₹26,54,336 - ₹36,45,308 per year.
What is the salary of Amazon fresher DevOps engineer?
The typical Amazon DevOps Engineer salary is ₹11,02,737 per year. DevOps Engineer salaries at Amazon can range from ₹1,33,565 - ₹26,54,336 per year.
Is DevOps frontend or backend?
DevOps is on both the Frontend and backend software development. We all know that it's common on the backend. And in fact, it's always part of the job description for backend engineers. However, there's DevOps on the front-end too.
What are the two types of DevOps?


DevOps for Machine Learning & Data Science (MLOps): Improved systems and processes to cater to the distinct challenges of machine learning modeling and data science.


DevOps for Platform: Automated management and deployment of software that enables cloud-native development at scale on cloud platforms.


Is AWS required for DevOps?
DevOps is an approach that helps bridge the gap between developers and the operation team. You can use DevOps with any cloud provider like AWS (Amazon Web services), Azure and GCP(Google cloud platform) etc. You can use DevOps without any Cloud provider.