Course Highlights & Why Cloud Computing Courses in Coimbatore at FITA Academy?
Proficient training by Industry experts to assist in your career path.
Precise Placement guidance provided even after the completion of the course.
Knowledge of both basic and advanced concepts to have a precise understanding of the technology.
The syllabus is meticulously crafted with the latest advancements and developments in the field.
Fundamental topics like an overview of cloud computing, cloud systems, parallel processing in the cloud, virtualization, security in the cloud are taken for a comprehensive understanding.
The three components of cloud systems like Software as a Service, Infrastructure as a Service, and Platform as a Service are also inclusively taken.
Beginners concepts like Operating systems, Virtualization, and Networking are taken for equipping students with the best industry knowledge.
Important subjects like Cloud fundamentals, Private Cloud Environment, Public Cloud Environment, Auto-provisioning, Ethics, and standards of cloud are explained to have a clear view of the technology.
Real-time projects and assignments are given to enhance the students' knowledge of the technology.
Upcoming Batches
| | | | |
| --- | --- | --- | --- |
| 10-06-2023 | Weekend | Saturday (Saturday - Sunday) | |
| 12-06-2023 | Weekdays | Monday (Monday - Friday) | |
| 15-06-2023 | Weekdays | Thursday (Monday - Friday) | |
| 17-06-2023 | Weekend | Saturday (Saturday - Sunday) | |

Classroom Training
Get trained by Industry Experts via Classroom Training at any of the FITA Academy branches near you
Why Wait? Jump Start your Career by taking Cloud Computing Courses in Coimbatore!
Instructor-Led Live Online Training
Take-up Instructor-led Live Online Training. Get the Recorded Videos of each session.
Travelling is a Constraint? Jump Start your Career by taking the Cloud Computing Online Training!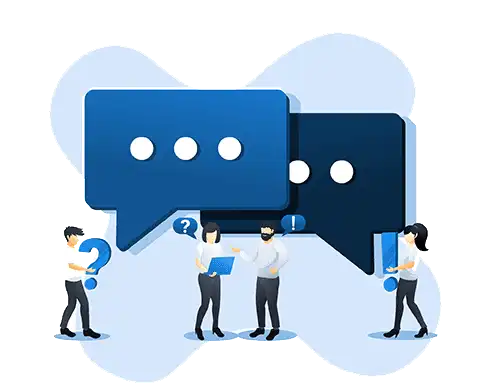 Have Queries? Talk to our Career Counselor
for more Guidance on picking the right Career for you!
Trainer Profile
The Cloud Computing training experts of FITA Academy are working personnel who hold a maximum of 12+ years of experience in their field.
The Cloud tutors majorly concentrate on Job-oriented training to help students get placed in top companies.
Knowledge induction and skill development programs will also be conducted for students to enhance their competency.
The tutors will also provide career guidance, placement guidance, etc to support students in their career development.
Soft skills like Leadership skills, Communication skills, Interpersonal skills, Teamwork skills, and problem-solving skills are also developed under the training of our professional training experts.
Features
Real-Time Experts as Trainers
At FITA Academy, You will Learn from the Experts from industry who are Passionate in sharing their Knowledge with Learners. Get Personally Mentored by the Experts.
LIVE Project
Get an Opportunity to work in Real-time Projects that will give you a Deep Experience. Showcase your Project Experience & Increase your chance of getting Hired!
Certification
Get Certified by FITA Academy. Also, get Equipped to Clear Global Certifications. 72% FITA Academy Students appear for Global Certifications and 100% of them Clear it.
Affordable Fees
At FITA Academy, Course Fee is not only Affordable, but you have the option to pay it in Installments. Quality Training at an Affordable Price is our Motto.
Flexibility
At FITA Academy, you get Ultimate Flexibility. Classroom or Online Training? Early morning or Late evenings? Weekdays or Weekends? Regular Pace or Fast Track? - Pick whatever suits you the Best.
Placement Support
Tie-up & MOU with more than 1500+ Small & Medium Companies to Support you with Opportunities to Kick-Start & Step-up your Career.
Cloud Computing Certification Training in Coimbatore
About Cloud Computing Certification Training in Coimbatore at FITA Academy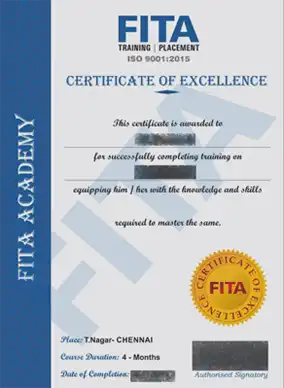 Cloud Computing Certification Training in Coimbatore
At FITA Academy, we offer different certifications for students to get accustomed to cloud concepts. Our trainers teach the different cloud products like AWS, Microsoft Azure, Google Cloud, Salesforce, and VMWare for students to get precisely acquainted with the concepts from scratch. These certifications facilitate you with the complete skills to gain expertise in Cloud Computing. As Cloud Computing is the future, earning Cloud Computing Certification has many benefits and can be a potential credential that will earn you the recognition that you strive for. Some of the notable benefits are profitable salaries, job security, acknowledgment, being future-ready, having a high-profile job, and frequent promotions for your skills. The Cloud Certification is one of the beneficial certifications that can be done by any candidate and FITA Academy completely facilitates for students to efficiently learn and be proficient in the technology.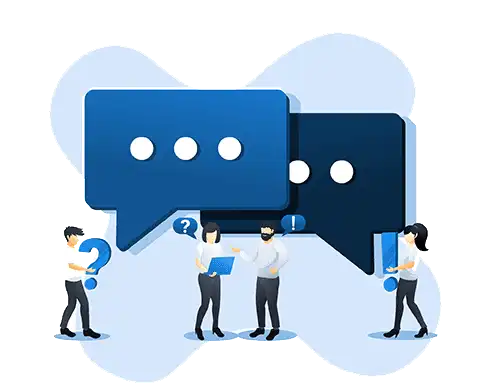 Have Queries? Talk to our Career Counselor
for more Guidance on picking the right Career for you!
Job Opportunities After Completing Cloud Computing Courses in Coimbatore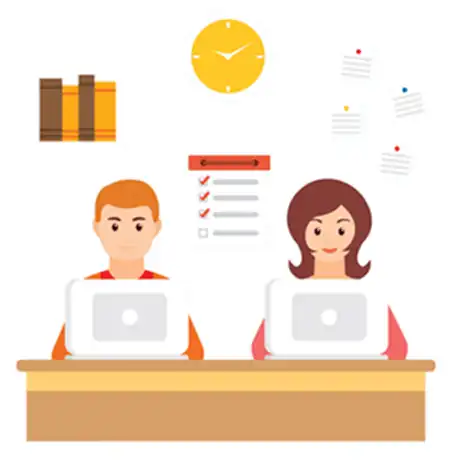 Cloud Computing is the delivery of IT services such as computing, storage, networking, and analytics over the Internet for faster innovation in an economical way. It is a fact that more than 4 billion people were cloud users in 2020 and the numbers are only growing in the year 2021. A report says that AWS is leading the cloud market with 32.4% of the share and Microsoft Azure with 17.6%, Google Cloud at 6%, and Alibaba Cloud at 5.4%. The revenue generated by the Cloud market in the year 2021 alone amounts to $163 billion. Also, it is predicted that the Cloud market will generate $331.2 billion in revenue by the year 2022. Moreover, enterprises are using 1427 cloud services on an average per year. These facts are proof that Cloud computing technology is ruling the present and will also the future. There is no denying that Cloud services have shaped the way the IT world works in a more efficient and economical way. Due to these reasons, cloud developers are in high demand and it promises to pay a whopping amount of salaries to these professionals.
Let us see some of the high-paying cloud jobs for certified cloud developers.
Cloud Consultant
Cloud Reliability Engineer
Cloud Infrastructure Engineer
Cloud Security Engineer
Cloud Security Architect
Cloud Architect
DevOps Cloud Engineer
Data Science Engineer
Also, some of the other Cloud Computing Jobs available in our country are
Cloud Solutions Architect
Cloud Engineer
Full Stack Cloud Developer
Cloud Service Developer
Cloud System Administrator
Cloud Data Engineer
Information Technology Architect
Cloud Network Engineer
The average salary of Cloud developers in India is Rs. 9,49,987 per annum. The salary of an entry-level Cloud developer in India is around Rs. 2,60,000 per annum. The salary of a mid-level professional is around Rs. 4,50,000 per annum and the salary of an experienced professional is around Rs. 9, 30,000 per annum.
The Cloud Computing Training in Coimbatore will be extremely helpful for candidates who want to make a shift in their career to the Cloud domain.
Student Testimonials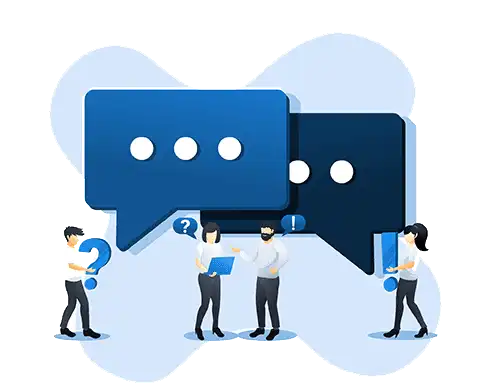 Have Queries? Talk to our Career Counselor
for more Guidance on picking the right Career for you!
Additional Information
Cloud Computing
In cloud computing, the word cloud is used as a metaphor for "the Internet", so the phrase cloud computing means services such as servers devised through the internet or cloud computing is a model for enabling on-demand network access to a shared pool of unstructured computing resources that can be rapidly released.
Features
On-demand self-service: Consumers can provision computing capabilities as needed without requiring human interaction with each service provided.
Broad-network access
Resource pooling
Rapid- elasticity
Measures service
Multi- tenacity
Cloud Computing Courses
Salesforce
VMware
Azure
AWS
Cloud Delivery Models
Software as a service (SaaS)
Cloud providers lease applications or software which is owned by them to their clients.
Platform as a Service (PaaS):
No control over the underlying architecture including OS, storage, servers, etc.
Infrastructure as a Service (IaaS):
Provides virtualized computing resources over the internet. Abstract the user from the physical machine.
How FITA Academy Works On Cloud Computing Training In Coimbatore
FITA Academy is one of the top Academies, which offers the best Cloud Computing Courses in Coimbatore. The faculties at FITA Academy training institute are well experienced in cloud computing technologies at the corporate level. The training provided by our trainers will be highly beneficial to the students. Nowadays, Cloud computing plays a major role in the IT sector so it will be useful if students get certified in Cloud Computing having a dream of getting placed in corporate companies. Practical knowledge is a must to clear the technical round and to get acknowledged for your skills. At FITA Academy we have well facilitated labs to help students enhance their technical skills to be efficient at it. FITA Academy also offers placement assistance for the students to have an established career and to support that we have tie-ups with more than 550+ corporate companies. Moreover, students from our Academy are placed in eminent corporate companies.
Deployment Models Of Cloud Computing
PUBLIC CLOUD:
The public cloud allows systems and services to be easily accessible to the general public.
The public cloud is highly scalable and reliable.
PRIVATE CLOUD:
A private cloud hosting solution, also known as an internal or enterprise cloud, resides on the company's intranet or hosted data center where all of your data is protected behind a firewall.
HYBRID CLOUD:
A hybrid cloud is a mixture of public and private clouds. Non-critical activities are performed using the public cloud while the critical activities are performed using the private cloud.
Cloud Providers
Google Cloud Platform
Digital Ocean
Amazon web services
IBM Cloud
Terremark
Microsoft Azure
Benefits Of Doing Cloud Training at FITA Academy
Best Cloud Computing Courses in Coimbatore by FITA Academy
Well experienced and highly skilled trainers
Well maintained lab for practical use
Good Placement assistance
Best way to connect with corporate companies.
What Is The Eligibility For Learning Cloud Technology?
The eligibility to learn cloud technologies is to have an idea about Windows administration, Linux administration, database skills like SQL or My SQL, and programming languages. Cloud is about the hardware infrastructure, data center, and software infrastructure. So, experience in database management, networking skills, or programming languages will help to understand the infrastructure and services of cloud technologies. Talk to our coordinators and join the Cloud Computing Courses in Coimbatore for a career shift.
Basic Terminologies Of Cloud Technologies
Cloud is a vast technology and there are so many specifications in the courses offered under cloud computing. Let us provide some terminologies in the cloud environment. These terms aid the learners with some basic knowledge about the process operations in the cloud environment. These terminologies are used in different types of clouds like public cloud, private cloud, and hybrid cloud for different purposes. Join the Cloud Computing Training in Coimbatore at FITA Academy to learn from basics to advanced Cloud Computing concepts.
API- API means interface of the application programming which acts as an endpoint with user behavior. Cloud Computing Courses hone the skills required to manage mundane tasks in organizations.
Auto-scaling – Autoscaling is the concept of checking the load and the Amazon EC2 instances.
Centralized log – Centralized logging means the different servers are connected to the cloud and centralized logging provides the solution to view and correlate the different logs. FITA Academy provides the best Cloud Computing Courses in Coimbatore for learners from Coimbatore.
CDN– CDN is the network for the content delivery which reduces the delivery time, reduces the load on the network, and simplifies the task of the machines for resource management.
Lambda– Lambda is the architecture that has no server and helps for building the apps in a faster way with agile methodology.
DNS– DNS is the managed service provider which runs the DNS servers to answer the queries regarding domain names in the cloud environment.
Microservices– Microservices is the architecture that is suitable for the cloud environment, emphasizes the services, and deploys the systems independently.
Responsibilities Of A Cloud Engineer
Cloud Engineers hold honorable positions in reputed companies as Cloud Security Engineer, Cloud Developer, Cloud Network Engineer, Cloud Architect, and Systems Engineer. The job description for these roles creates an interest in these jobs. After completing the Cloud Computing Courses at FITA Academy the learners can join bigger corporations as developers, architects,s and operations executives.
Developer
Developers should have detailed knowledge of any one programming language.
Cloud developers are responsible for the development of the application, deployment of the application in the cloud environment, also debugging the application. Join the Cloud Computing Courses in Coimbatore to acquire expert knowledge in the development of cloud applications.
When writing the program they handle the API, SDK, and Command-Line Interface.
They should have knowledge about the life cycle of cloud applications.
Knowledge about the different service providers in the cloud environment is also essential to maintain the applications.
Knowledge about continuous integration is essential for a cloud engineer.
Implementing the security measure is an important task of a cloud developer.
The developers write code for server fewer cloud applications.
Developers should possess deep knowledge about the containers of the cloud.
Architect
Architects should design applications with dynamic, fault-tolerant, easy accessibility, scalability, and reliability.
They should understand the requirements of the application and select the cloud services which are suitable for the deployment of the application.
They should take care of the migration of the applications from the physical environment to the cloud environment.
Design the wide operations of the applications with scalability in the cloud environment.
Implement the budgeting ideas and minimize the cost. Join the Cloud Computing Training in Coimbatore to understand the role of the cloud architect.
Cloud Operations Engineer
The architects design the applications, the developers develop the applications and the operations engineer maintains the applications. Below are the responsibilities of an Operations Engineer.
They understand the virtualization technology and monitor the systems.
They should know the concepts of networking like TCP, DNS, and firewalls to monitor the systems. Join the Cloud Computing Courses to transform from a networking engineer to a Cloud Operations Engineer.
They should manage the flow of data and implement ideas to control the data from the service provider.
The operations engineer deploys the systems and operates the systems with scalability.
What Are The Different Types Of Certifications In Cloud Computing?
There are varieties of courses offered under the cloud technology domain. There are five types of certifications offered by Microsoft under the cloud platform and they are Microsoft Azure developer, Microsoft Azure infrastructure architect, Microsoft Azure implementation specialist, designer of cloud data, and designer of big data for analytics. Also, there are three types of certifications in the Amazon and they are the foundational level, associate level, and professional level. Candidates with six months of experience can go for the foundational level, candidates with one year experience can go for associate level and candidates with two years of experience can go for the professional certification. Join the Cloud Computing Courses in Coimbatore at FITA Academy to clear the Azure and Amazon certification. FITA Academy offers extensive cloud training on cloud services like AWS, Microsoft Azure, Google Cloud, Salesforce and VMware to help students be efficient in the cloud concepts.