Course Highlights & Why Spoken English Class in Coimbatore at FITA Academy?
Learning the Beginner level that includes Vocabulary and its importance, idioms and phrases, confusing words, grammar basics, noun forms, verbs, etc.
Learning the Intermediate level that includes Tenses, Adverbs, Adverb Types, Prepositions, Conjunctions, Active & Passive voice, Phrasal verbs, etc.
Learning the Advanced level that includes Communication in English in Business Environment, Telephone etiquette, Email Etiquette, etc.
Training on Peer to peer Conversation in English.
Getting acquainted with using English in real-life situations.
Getting familiarized with basic and Advanced Grammar.
Training on Intonations: Rising tone and Falling tone.
Enhancing your writing skills through Experts' guidance and counsel.
Understanding the oral expression of the language through phonology, vocabulary, grammar, etc.
FITA Academy has 1000+ expert trainers who are proficient in their field.
Our Academy has tie-ups with more than 1500+ companies to expose students to a wide range of opportunities.
FITA Academy has successfully trained 50,000+ students under the guidance of professional experts.
Upcoming Batches
| | | | |
| --- | --- | --- | --- |
| 05-10-2023 | Weekdays | Thursday (Monday - Friday) | |
| 07-10-2023 | Weekend | Saturday (Saturday - Sunday) | |
| 09-10-2023 | Weekdays | Monday (Monday - Friday) | |
| 14-10-2023 | Weekend | Saturday (Saturday - Sunday) | |

Classroom Training
Get trained by Industry Experts via Classroom Training at any of the FITA Academy branches near you
Why Wait? Jump Start your Career by taking Spoken English Class in Coimbatore!
Instructor-Led Live Online Training
Take-up Instructor-led Live Online Training. Get the Recorded Videos of each session.
Travelling is a Constraint? Jump Start your Career by taking the Spoken English Online Classes!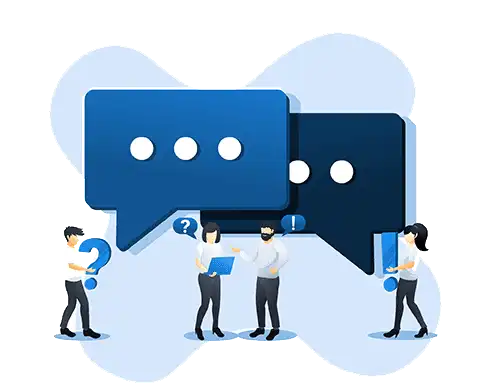 Have Queries? Talk to our Career Counselor
for more Guidance on picking the right Career for you!
Trainer Profile
FITA Academy's trainers are industry professionals who hold a maximum of 10+ years of experience in their field.
The trainers have individually completed 25+ batches of training pertaining to the professional growth of students.
The trainers are from highly established educational institutes and universities to provide students first-hand training.
The professional experts of FITA Academy exposes students to career-oriented training to help them successfully get placed in top companies.
The expertise of the trainers will also assist students in developing soft skills such as communication skills, leadership skills, teamwork skills, interpersonal skills, learning skills, etc.
Career-guidance support is also ensured for students by preparing them for interviews through mock interviews, mock discussions, building live projects, assignments, etc.
Features
Real-Time Experts as Trainers
At FITA Academy, You will Learn from the Experts from industry who are Passionate in sharing their Knowledge with Learners. Get Personally Mentored by the Experts.
LIVE Project
Get an Opportunity to work in Real-time Projects that will give you a Deep Experience. Showcase your Project Experience & Increase your chance of getting Hired!
Certification
Get Certified by FITA Academy. Also, get Equipped to Clear Global Certifications. 72% FITA Academy Students appear for Global Certifications and 100% of them Clear it.
Affordable Fees
At FITA Academy, Course Fee is not only Affordable, but you have the option to pay it in Installments. Quality Training at an Affordable Price is our Motto.
Flexibility
At FITA Academy, you get Ultimate Flexibility. Classroom or Online Training? Early morning or Late evenings? Weekdays or Weekends? Regular Pace or Fast Track? - Pick whatever suits you the Best.
Placement Support
Tie-up & MOU with more than 1500+ Small & Medium Companies to Support you with Opportunities to Kick-Start & Step-up your Career.
Best Spoken English Certification Institute in Coimbatore
About Best Spoken English Certification Institute in Coimbatore at FITA Academy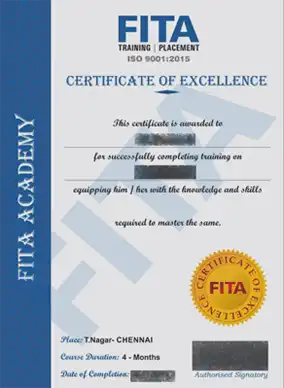 Best Spoken English Certification Institute in Coimbatore
Enrolling for English Speaking Course Certification opens to numerous job opportunities around the world. The Spoken English Classes conducted by FITA Academy assist students in achieving their endeavors from educational opportunities to job opportunities to enrich their careers. Educational opportunities such as enrolling in international universities, access to unlimited information through the net and libraries, knowledge gaining through books and literature, etc. To talk about job opportunities, an English-speaking candidate has thousands of job openings waiting for him. From being a translator, interpreter, college lecturer to a journalist, linguistic tour guide, and in NGOs. The English Speaking Course has been meticulously designed by FITA Academy so that students can reap maximum benefits after the completion of the course. The course also helps students to prepare for the globally accredited English Exams such as TOEFL, IELTS, CAE, and CPE. The Certification is done in Spoken English Institute in Coimbatore will be an added feather to your proficiency demonstrating you as a valuable candidate to take up the critical job roles.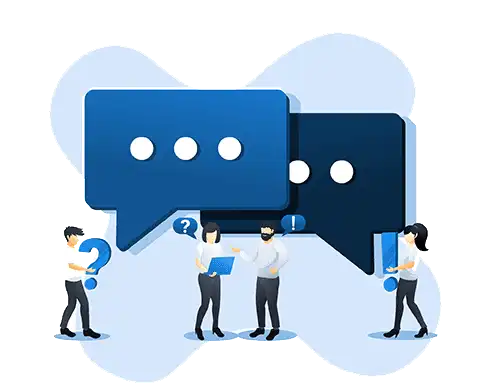 Have Queries? Talk to our Career Counselor
for more Guidance on picking the right Career for you!
Job Opportunities After Completing Spoken English Class in Coimbatore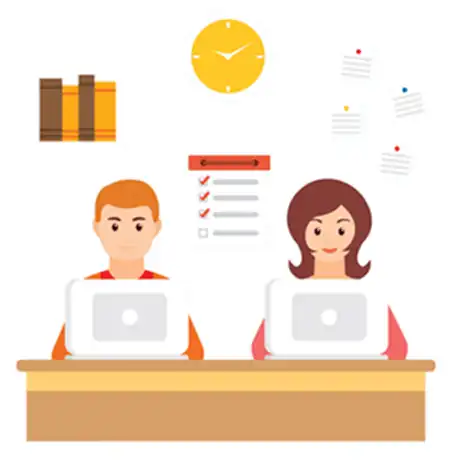 The English Language has attained the Global status of most spoken language in the world with having 375 billion native English speakers. Apart from its native countries like the United Kingdom, United States of America, Australia, Newzealand, and Canada, the language is also crowned as one of the official languages, in India, Singapore, South Africa, Mauritius, Philippines, and Caribbean Countries. The reason it was given the status as one of the official languages besides its native countries is due to the fact that it has invaded the majority of the sectors from Business, Education, IT, Science to Banking, Tourism, etc. So if you have achieved fluency in English in both verbal as well as written, then chances are that you have awarded yourself a great career in your life. Our Best Spoken English Classes in Coimbatore will reward you highly in accomplishing your career goals. Coming to the scope for English learned people, there is a myriad of opportunities candidates are presented with globally.
Some of the interesting job roles are
English as a foreign language teacher
Web Content Manager
Content Writer
Content Editor
Jobs in NGO
Jobs in Embassies
Language Corporate Trainer
Brand Specialists
English Translator or Interpreter
Linguistic Tour Guide
College Lecturer
Digital Copywriter
Magazine/ Newspaper Journalist
Primary and Secondary school teacher
ESL Teacher
PPC Specialist and much more.
Looking at the salaries of these professionals, it highly depends on which country they work in and what are their job requirements. Starting with English as a foreign language teacher, UAE is the first country paying the highest for EFL teachers. They offer around $3,500 – $5,500 per month. Next comes Japan, offering around $2,200 – $5,000 per month. Next comes Saudi Arabia providing around $3000 – $4000 per month. Then, Kuwait provides around $2600 – $4000 per month, and the list goes on.
The national average salary for content writers across India is Rs. 1,97,520 per annum.
Mumbai is the highest paying city for content writers offering around 2,42,628 for a person.
Similar professionals like Copywriter earn around Rs. 2,65,728 per annum. Copy Editor Earns around Rs. 2,28,612 per annum.
Holding a certification in English Speaking Course adds more value to their degree and provides them with higher chances of acknowledgement during the selection process.
Student Testimonials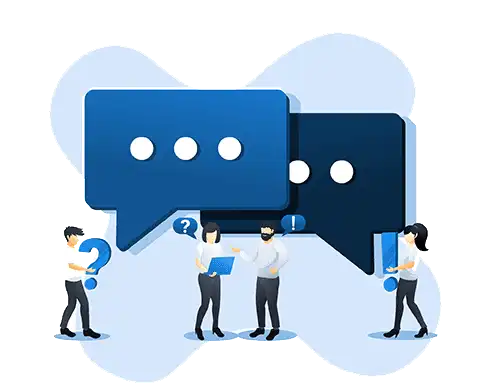 Have Queries? Talk to our Career Counselor
for more Guidance on picking the right Career for you!
Additional Information
English is one of the classiest languages in the world spoken widely across the globe. Next to Mandarin Chinese and Spanish, English has the most number of native speakers globally. It is a native language for more than 60 countries including the United States of America, United Kingdom, Canada, Australia, Ireland, Newzealand, etc. German people also adopted the English language as their second language owing to the fact that English was originated from the Germanic vocabulary as in Germany alone 70% of the speakers use native English. In Asia, the majority of the countries including India, Singapore, Srilanka, Pakistan, the Philippines, and Malaysia use English as one of their official languages for business and trades. Caribbean countries namely Bahamas, Trinidad and Tobago, Jamaica, Barbados, and Guyana have also adopted English as one of their official languages.
The reason English has attracted almost billions of people around the world is that it provides ease of communication with anyone from the world. Apart from that the language also carries a style as most of the businesses named their brands in English. For example, Apple, Amazon, Microsoft, Google, Mercedes-Benz, Toyota, CHANEL, Dior, Gucci Jackie, Nike, Adidas, Puma, etc. Many International Organizations like the United Nations, European Union, UNICEF, etc have also adopted English as the official language to communicate their objectives and ideas.
Why Learning English is Important?
After being enthroned as the International Link language, learning English has become a necessity to widen our scope for the future. Moreover, the language also paved the way for global trade across many countries and continents. It has also opened up employment opportunities in BPOs, Call Centres, IT centers, Education sectors, Banking, MNCs, and much more. Thus learning the language will not only build our communication skills but also greatly help in our future ventures as well as giving the ease of communication with other states or other country people.
Benefits of Learning English 
The major benefit of learning English is it paves way for many job opportunities across the world. One such example is EFL (English as a Foreign language teacher), as many countries are welcoming English tutors to teach English to their young and adult citizens. The second major benefit is you can work in any sector from IT to Manufacturing to Fashion to Tourism as all businesses have English as the standard language to function in and outside their country. Apart from work opportunities, learning English also helps us to enjoy the world through Entertainment, art, literature as all these activities are majorly developed in English. Travelling is also one of the chief benefits as it gives the ease to travel the world without any language constraint. Some other benefits in learning the English Language are pursuing higher education abroad, employment opportunities in many sectors, etc.
It is also stated that one out of five people can converse well in English, so learning English will build your socializing skills too.
Tips for Perfection in the English Language
Following are some of the great tips to achieve perfection in the Language.
Read more – Read anything from books to newspapers to magazines to short stories that will help to build your vocabulary. Having a strong vocabulary sense will help you to form sentences easily.
Listen to more English videos – Obviously, we have YouTube now which can provide us with some great English lessons from basic to advanced. Also watch more English movies, documentaries to grasp the nuances in the language.
Buy the grammar book: Grammar is very essential in forming sentences and expressing the correct form of information. Learn grammar lessons each day and brush up your lessons regularly and apply your grammar skills in everyday sentences.
Practice Thinking and Speaking in English: It is one of the important traits that will help build your communication skill greatly. Practice thinking and speaking in English to explore new words and also to attain efficiency in the language.
Learn new words regularly: The best way to practice this is through buying a dictionary and keep exploring new words on a regular basis. This way you won't get bored of the language by using repetitive words. Instead, you will get fresh ideas to apply the words in your sentences.
Find your English Speaking partner: Having a partner to practice the language is a great idea. The more you converse and communicate in English, the more you can identify your mistakes and rectify them. Also, you gain confidence through this method when you adopt the practice of speaking in English with other people.
The Spoken English Class in Coimbatore at FITA Academy will help freshers to gain in-depth knowledge and attain proficiency in the language.
Pronunciation in English
Pronunciation is very important in the English Language as with any other language. Any mispronunciation will lead to meaningless words and sentences. To help with the pronunciation students can learn "Syllables" which is a form of separating a word according to the sounds. For example the "mischievous" word has three syllables mis-Chie-Vous and separating the word helps us to pronounce the word correctly.
FITA Academy provides the Best Spoken English Classes in Coimbatore through expert trainers who will help you in learning all the variations in the language.
English Writing
Apart from learning the language, we should also practice more through writing to understand the nuances in the Language. For Instance "It's" and "Its" are the same words but delivering different meanings. "It's" is more often used to indicate the place where it is happening and "Its" often indicates possession. To gain more insights into the language, practice writing more and apply them in your day-to-day sentences. FITA Academy is the Spoken English in Coimbatore that will enhance your English speaking and writing skills greatly.
Usage of Articles
Placement of Articles is much important as it indicates the "degree of knowingness" to the speaker. For example, "a" is used before the noun when the identity is not known, and "the" is used when identity is known to the speaker. Some Example sentences for better understanding. "I saw a car yesterday parked next to my building" indicates that the speaker doesn't know or have much information about the car, therefore "a" is used. "I saw the car parked next to my building which belongs to my neighbor" indicates that the speaker has some information about the noun. Thus, the Spoken English Class in Coimbatore at FITA Academy trains students on the usage of different articles and how to use them in sentences proficiently.
Double Meaning Phrases in English
There are some phrases in English that have two opposite meanings, literally. Yes, the word "literally" has two meanings according to the context it is used. The First meaning is exact and the other meaning is exaggerated. Let us see it in examples.
There are literally more than a thousand stars in the sky. The first example states that there are exactly more than a thousand stars in the sky.
Math is literally the toughest subject during school and college days. In the second example, the sentence is a little bit exaggerated to imply that the speaker feels Math is the toughest subject according to him/her. Spoken English in Coimbatore at FITA Academy is the best institute to explore different elements in the English Language and helps you to have a clear understanding of it.
To conclude, the English Language has many native speakers around the globe and its importance is also undeniable in this modern century. So to learn this alluring language join FITA Academy which provides the best Spoken English Classes to direct students in their desired career path.