Course Highlights and Why Selenium Training in Coimbatore at FITA Academy?

The Selenium Course covers the essential topics of Selenium, an automatic testing web application from basics to its recent advancements.

The Selenium Training program is designed and delivered by software testing experts with a decade of experience in the IT industry.

Students can acquire in-depth knowledge through theoretical and hands-on experience in Selenium Web Driver, Selenium IDE, and Selenium Grid.

Regular recap sessions to reinforce each concept, enabling the students to master what they learn.

To gain practical experience, students will undergo real time capstone projects with the assistance of expert instructors.

Students will obtain a valuable certification upon course completion which will make their profile professional when included.

Placement training after completing the Selenium Training in Coimbatore to support the students in job search by providing interpersonal skills, group discussion and mock interviews sessions.
Upcoming Batches
09-12-2023
Weekend
Saturday (Saturday - Sunday)
11-12-2023
Weekdays
Monday (Monday - Friday)
14-12-2023
Weekdays
Thursday (Monday - Friday)
16-12-2023
Weekend
Saturday (Saturday - Sunday)

Classroom Training
Get trained by Industry Experts via Classroom Training at any of the FITA Academy branches near you
Why Wait? Jump Start your Career by taking Selenium Training in Coimbatore!
Instructor-Led Live Online Training
Take-up Instructor-led Live Online Training. Get the Recorded Videos of each session.
Travelling is a Constraint? Jump Start your Career by taking the Selenium Online Training!
Selenium Course Objectives
Discover the fundamentals of automation, such as the reasons behind and situations in which software testing requires automation.
Learn the fundamentals of Selenium, its elements, and how it works with web automation.
Acquiring an understanding of Selenium WebDriver, encompassing configuration, testing across multiple browsers, and managing diverse web elements, mouse movements, and pop-ups.
Understand about headless browser testing and its benefits and drawbacks.
Discover the differences between data-driven, hybrid, and keyword-driven testing frameworks.
Learn about TestNG for data-driven testing and parallel execution, which can help you manage test cases in an organized and effective manner.
To automate tests in an organized and maintainable manner, familiarize yourself with the Page Object Model (POM) and Page Factory design patterns.
Understanding Behavior-Driven Development (BDD) with Cucumber, configuring Selenium Grid for concurrent testing, integrating with Maven-based tools, and utilizing Jenkins for continuous integration.
Learn how to use GitHub and Git for source code management.
Getting guidance and interview preparation via role-playing.
working on real-time projects like automated patient data transmission and ticket booking.
Selenium Course Trainer Profile
Trainers at FITA Academy provide extensive training in both theoretical and practical sessions.
The instructors at FITA Academy actively engage in Selenium testing and have ten years of IT experience.
With their practical knowledge of a variety of Selenium tools, the instructors enable students to gain a thorough understanding of the Selenium framework.
At FITA Academy, the trainers go beyond enhancing students' understanding of the concepts and applications.
Committed to imparting industry-relevant skills, the trainers significantly contribute to expanding the knowledge base of students at FITA Academy.
The trainers of Selenium Classes in Coimbatore offer individualized attention to each student and conduct interactive review sessions.
After every session, the trainers keep teaching students progress by conducting regular assessments.
Additionally, these trainers are pivotal in guiding students through resume building and boosting their confidence through mock interviews.
Learn at FITA Academy & Get Your
Dream IT Job in 60 Days
like these Successful Students!

Student Success Story of Selenium Training in Coimbatore
Asha, an ambitious B.Tech final year student from Coimbatore, had always wanted to start a successful career in the IT sector. Inspired by a family member's success in the field, Asha recognized the importance of upskilling to enhance her job prospects.
As she was about to complete her academic journey, she knew she needed to take proactive steps to stand out during the job hunt. Considering her preference for a career that minimized extensive coding, she set her sights on a Software Testing Course and found a trending testing course which was the Selenium Course. Her search for the Best Selenium Training in Coimbatore ends with FITA Academy.
Upon contacting FITA Academy and getting details about the Software Testing Training course, Asha was satisfied with the comprehensive curriculum that aligned with her career goals. Eager to embark on this transformative journey, she enrolled in the Selenium Training in Coimbatore with a clear vision of leveraging her newfound skills in the job market.
Throughout the training, Asha gave her exceptional dedication and perseverance. Attending each session with enthusiasm, she immersed herself in hands-on projects under the expert guidance of FITA Academy's experienced instructors. The comprehensive curriculum covered theoretical aspects and practical applications in real-world scenarios, preparing her for the challenges she might encounter in her future role.
Upon completing the Selenium Course, She earned a prestigious certification from FITA Academy. After all was set to go, she actively participated in placement training sessions provided by the institute. With her newfound skills and confidence, he was ready for the job interviews.
Asha's hard work and preparation paid off when she secured interviews with renowned companies. Drawing from her training and experiences, she confidently faced the selection process. Eventually, Asha received a job offer from Cognizant, a leading multinational IT company. The role offered to her was that of a Software Tester, a position perfectly suited to her skills and preferences.
Asha accepted the offer with excitement and gratitude. Her success story at FITA Academy and subsequent placement in Cognizant, with a competitive salary package of 3.2 LPA, serves as an inspiring testament to the transformative power of strategic upskilling and perseverance.
Features of Selenium Training in Coimbatore at FITA Academy
Real-Time Experts as Trainers
At FITA Academy, You will Learn from the Experts from industry who are Passionate in sharing their Knowledge with Learners. Get Personally Mentored by the Experts.
LIVE Project
Get an Opportunity to work in Real-time Projects that will give you a Deep Experience. Showcase your Project Experience & Increase your chance of getting Hired!
Certification
Get Certified by FITA Academy. Also, get Equipped to Clear Global Certifications. 72% FITA Academy Students appear for Global Certifications and 100% of them Clear it.
Affordable Fees
At FITA Academy, Course Fee is not only Affordable, but you have the option to pay it in Installments. Quality Training at an Affordable Price is our Motto.
Flexibility
At FITA Academy, you get Ultimate Flexibility. Classroom or Online Training? Early morning or Late evenings? Weekdays or Weekends? Regular Pace or Fast Track? - Pick whatever suits you the Best.
Placement Support
Tie-up & MOU with more than 1500+ Small & Medium Companies to Support you with Opportunities to Kick-Start & Step-up your Career.
Why Learn Selenium Training in Coimbatore at FITA Academy?
Live Capstone Projects
Real time Industry Experts as Trainers
Placement Support till you get your Dream Job offer!
Free Interview Clearing Workshops
Free Resume Preparation & Aptitude Workshops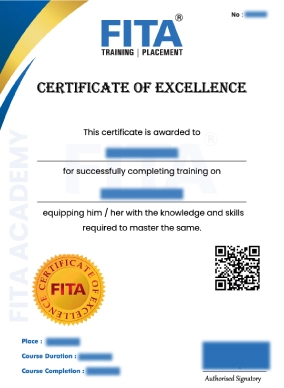 Selenium Certification Course in Coimbatore
Upon finishing the Selenium Course in Coimbatore at FITA Academy, students will receive a certificate of completion. This certificate affirms one's capacity to carry out functional and regression testing tasks and confirms their proficiency in Selenium Grid, Selenium IDE, and Selenium WebDriver. Additionally, including a certificate from a Selenium Course in Coimbatore on your resume can have a positive impact during job interviews and improve your chances of being considered for the position. Consider getting certified at FITA Academy's Selenium Certification in Coimbatore. FITA Academy is a reputable training institute that offers certification for both beginners and software professionals. Their certificates are highly sought-after by top MNCs, medium, and small-scale companies. You can learn from industrial experts and be confident in your skills after completing the certification.
There are globally recognized certifications for Selenium Testing, in addition to the one offered by FITA Academy. Several such certifications exist
A4Q Certified Selenium Tester Foundation
Certified Professional Selenium Tester (CPST) by GAQM
CP-SAT Certified Professional – Selenium Automation Testing
A4Q Certified Selenium Tester Foundation
By completing the course, you can gain a certification that is widely recognized worldwide and indicates your adeptness in Selenium WebDriver test automation. This certification enables you to build and execute your own Selenium WebDriver tests. The exam comprises 40 questions that you must answer within 60 minutes. If you require more time, you can request additional time under specific circumstances. In order to successfully complete the exam, a minimum score of 26 points is required. The cost of the examination is $130.
Certified Professional Selenium Tester (CPST) 
Certifications are offered by the Global Association for Quality Management in different domains, one of which is the Certified Professional Selenium Tester (CPST). The Selenium Tester certification is designed for test professionals who wish to acquire skills in building, deploying, and managing automated solutions using Selenium WebDriver through a hands-on training course. The exam for this certification comprises 50 questions and has a duration of 60 minutes. To pass the exam, candidates must earn a score of 35 or higher.
CP-SAT Certified Professional – Selenium Automation Testing
The Agile Testing Alliance offers the CP-SAT certification on three levels: foundation, advanced, and expert. Candidates can choose to take the certification exam in one of three languages: Python, Java, or C#.
The foundation exam consists of 50 questions and must be completed within 75 minutes. In order to pass, candidates are required to obtain a minimum score of 70%. The exam fee is Rs 1,500 or $20, and there is a fee of Rs 1,000 or $15 for reappearing in case of failure.
To take the advanced-level exam, it is necessary for candidates to have passed the CP-SAT foundation exam. The exam lasts for 150 minutes and consists of 6-7 practical scenario-based questions that must be completed by participants and submitted for evaluation. The exam fee is Rs 6,000 or $80, with a reduced fee of Rs 3,000 or $40 for those who need to retake it.
In order to take the expert level certification exam, candidates must have successfully passed the advanced level exam. This exam is three hours long and is followed by a 30-minute presentation to a panel. The cost for this exam is either Rs 20,000 or $250. FITA Academy offers Selenium Training in Coimbatore which is a great way for candidates to prepare for and pass these certifications.
Have Queries? Talk to our Career Counselor for more Guidance on picking the
right Career for you!
Placement Session & Job Opportunities after completing Selenium Training in Coimbatore

In the upcoming year, the Automation Testing Market is predicted to experience a growth rate of 18.0%. Selenium is the top choice for Automated Testing among Testers and Engineers. As per a survey conducted on Indian job portal sites, there will be over 27,453 job vacancies available for Selenium Testers in the near future.
Selenium Certification is highly sought after by many notable companies like HP, Oracle, Infosys, HCL, Capgemini, Cognizant, TCS, Microsoft, Facebook, and Accenture. There is a need for experts to occupy different positions in this field, including Selenium Tester, Quality Engineer, Selenium Automation Analyst, Selenium Automation Test Engineer, Selenium Test Analyst, Automation Test Lead, Senior Quality Engineer, Software Development Test Engineer, and Senior Test Engineer. In Coimbatore, FITA Academy is the premier training institute for Selenium that equips students with the essential skills to succeed in these positions.
"Students receive 100% placement training and assistance for job placement at the conclusion of the course."
For those starting out as a Selenium Tester in India, Selenium Tester Salary For Freshers ranges from Rs. 4,50,000 to Rs. 5,20,000. With 3-5 years of experience, testers can earn as much as Rs. 5,50,000 to Rs. 8,00,000. Those with 5-8 years of experience can expect a median salary of Rs. 8,20,000 to Rs. 10,00,000 in this field. On a global scale, a Selenium Tester brings in an annual salary of $94,000.
Test Manager : Ensuring that the testing team remains motivated, engaged, and working collaboratively towards the project's objectives is a critical responsibility of a software test manager. They oversee every aspect of the testing process, from initial planning to final execution. Staying up-to-date with the most recent testing tools, technologies, and best practices is crucial for a competent test manager to guarantee the reliability and efficiency of the testing process.This requires attending industry conferences and meetings and receiving ongoing training to stay updated on emerging trends and new technology.
Quality Engineer : Before releasing software or a product, testers typically perform a process known as quality assurance. This process involves ensuring that all requirements and quality attributes have been met, before users perform acceptance testing.
Quality Assurance Specialist : A quality assurance specialist bears the responsibility of making sure that a product or service adheres to the specific standards set by the company. They are typically employed in the manufacturing industry, where a higher level of quality is required. To improve product reliability, accuracy, and efficiency, these individuals implement new methods and procedures, often with a solid foundation in the fields of engineering, technology, or mathematics.
Selenium Test Automation Engineer : To achieve optimal results and ensure top-notch software, the expertise of a Selenium test automation engineer is invaluable. The main responsibility is to create and execute automated tests on the latest software, using their programming skills to create effective scripts and design programs based on test automation principles. By working closely with both management and software engineers, they can help drive improvements in the overall quality of the final product.
FITA Academy is known for delivering top-notch Selenium Training in Coimbatore, which has led to its graduates securing positions in various organizations across the country.
Success Story of Selenium Training in Coimbatore
I attended the Selenium Training in Coimbatore at FITA Academy. The staff was supportive and cordial when it comes to assistance. The subject was also handled well and all the questions or doubts were answered well by the trainer. My trainer had good knowledge about the concepts and all the sessions went smoothly. Thanks, FITA Academy for providing such good trainers who put real efforts into the welfare of the students.
The Selenium Testing Training at FITA Academy is one of the best courses to study Selenium testing in Coimbatore. They have enough facilities and good trainers to impart both theoretical as well as practical skills to students. The syllabus is very much suitable for freshers and any freshers can join the Selenium Training in Coimbatore and can benefit from it.
Completing my Selenium Course in Coimbatore has opened up a couple of opportunities for me. After the completion of my course, I had attended a handful of interviews through FITA's placement assistance and fortunately, I got selected by a couple of companies. Thanks to FITA Academy and the trainers for the support and guidance they gave me to benefit in my career.
The Selenium Course at FITA Academy is an enriching course for beginners as the syllabus has many detailed topics and concepts about the tool. It is a good course for beginners and I would recommend freshers to join the course as you can very well get knowledgeable about the tool after the completion of the course. The training was valuable and thanks to FITA Academy for providing such training.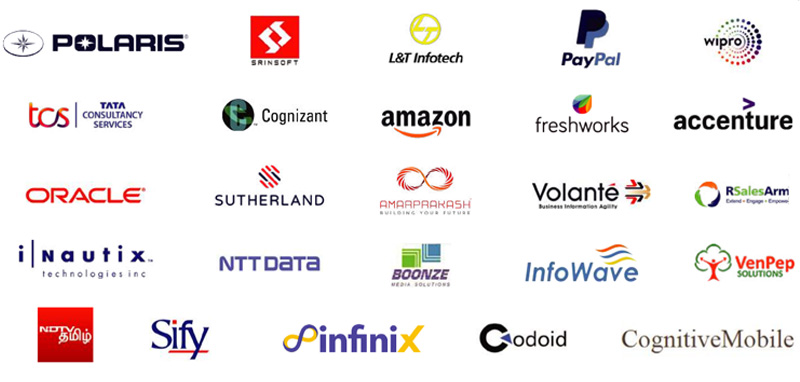 Frequently Asked Question (FAQ) about Selenium Training in Coimbatore
General Q & A about Selenium Training in Coimbatore
Can I learn Selenium in 2 months?
Learning Selenium can be a straightforward process if you are committed and focused. Within one to two months, you can acquire the necessary skills, provided you already have a good grasp of basic programming concepts in languages such as Java, Python,
PHP
, and more.
Is Selenium still in demand?
Selenium is undeniably among the top web testing tools that developers rely on for automation testing. As a result, the need for Selenium Web Testers is growing and expected to continue increasing significantly in the future.
Is Selenium enough to get a job?
A Selenium testing job is considered to be an entry-level position, typically requiring zero to less than five years of experience. Once hired, most companies provide their employees with a couple of months of training on the relevant technologies, before assigning them with small and simple tasks to work on within a team.
Is Selenium easy or tough?
You'll have to learn some basics to use Selenium. Learning Selenium without coding knowledge is possible, but it can be challenging. That said, Selenium is one of the easier automation tools to learn, and it is possible to get up and running without any coding knowledge.
Does Selenium require coding?
Carrying out comprehensive testing processes can be quite challenging as it involves coding skills, time-consuming setups and maintenance, third-party integrations, and the inability to conduct end-to-end testing via Selenium.
What is the cost of Selenium training?
The fee for Selenium Courses varies depending on the type of course, the provider, and the delivery method (online, in-person, etc.). On average, an online Selenium course can range from INR 16,550 to INR 40,000, while in-person training can cost anywhere around INR 80,000 or more.
Who uses Selenium?
The three top industries that use Selenium for Testing And QA are Software Development (1,870), Machine Learning (1,336),
Artificial Intelligence
(1,226).
What type of software is Selenium?
One could use Selenium, a free, automated testing software, to test web applications across multiple browsers. It is important to note that Selenium cannot test desktop or mobile applications, though there are other options such as Appium and HP's QTP for testing software and mobile applications.
Which language is used in automation?
Many developers and automation testing companies favor Python,
Java
, and C# as the top three programming languages for automation testing due to their user-friendly nature and the vast selection of testing frameworks and libraries that they offer.
Who should take up Selenium Training in Coimbatore?
If you're interested in automation testing, this
Selenium Tutorial
would be a great fit for professionals in roles such as Test Managers, Test Engineers, Test Leads, Test Analysts, QA Engineers, and Software Developers.
Can a fresher learn Selenium?
While having a bachelor's degree in computer science or a related field is desirable, it is not a requirement. Therefore, individuals new to the field who are interested in learning about selenium automation testing can pursue this career path and discover opportunities within the IT industry.
What is the starting salary for Selenium?
Based on the latest 296 salaries, those with less than 1 to 7 years of experience as a Selenium Automation Tester in India can expect an average annual salary of ₹ 6.5 Lakhs, with salary ranges from ₹ 3.2 Lakhs to ₹ 15.0 Lakhs.
Is Selenium paid?
Selenium is free technology to download. However, learning how to use it and paying for the many server resources, infrastructure maintenance and premium proxies adds to the expense. The real Selenium cost isn't in the tool but in the environment that you must build around it.
What is the salary for Selenium tester in TCS?
Average TCS Selenium Automation Tester salary in India is ₹4.6 Lakhs for experience between 1 years to 6 years. Selenium Automation Tester salary at TCS India ranges between ₹2.9 Lakhs to ₹6.6 Lakhs.
What is the salary for Wipro selenium tester?
Average Wipro Selenium Automation Tester salary in India is ₹8.3 Lakhs for experience between 2 years to 6 years. Selenium Automation Tester salary at Wipro India ranges between ₹3.6 Lakhs to ₹13.0 Lakhs.
What is the salary for selenium tester in Infosys?
Infosys Selenium Automation Tester salary in India ranges between ₹ 2.6 Lakhs to ₹ 14.0 Lakhs with an average annual salary of ₹ 7.3 Lakhs.
Is Selenium good for career?
Selenium testing is an excellent career choice for those interested in
software testing
and automation.
Is Python required for Selenium?
Controlling web browsers through programs and automating browser tasks is made easy with the powerful tool known as Selenium. The software is capable of working on all popular web browsers and operating systems. Moreover, it supports a wide range of programming languages including
Python
, Java, and C#. However, for our specific needs, we will be employing Python.
What is the future of Selenium with Python?
The future of Selenium with Python is bright, marked by increased adoption, integration with AI and ML, support for modern web technologies, enhanced performance testing, and an expanding role in mobile testing. To excel in this evolving domain, structured training is crucial.
Will AI replace selenium testers?
It is unlikely that testing experts will be replaced by this technology, even if it becomes more advanced. This is because
machine learning
has limitations and can only solve problems it has already been trained on.