Course Highlights and Why Web Designing Course in Coimbatore at FITA Academy?

Good perception of the basic concepts of Web design and development.

Interpreting the major differences between Web designing and Web development.

Assimilating front-end, back-end, and full-stack development under professional industry experts.

Learning HTML, Creating a simple HTML document, Introduction of different web browsers like IE, Chrome, Mozilla, Safari, and UC Browser.

Learning of HTML through HTML texts, HTML Styles, HTML Tables and HTML forms.

Introduction to HTML5 for the learning of Form elements, handling Audio and Video, HTML5 APIs, and web workers.

Understanding CSS and CSS 3 and advanced CSS for responsive layouts and media queries.

Introduction to BootStrap framework, Responsiveness with BootStrap, BootStrap Grids, and BootStrap UI Components such as Buttons, tables, menus, carousels, drop downs, and alerts.

Coverage of JavaScript that includes learning of JavaScript structure and elements, operators and functions, control structures, the document object model, handling DOM using JavaScript, Javascript events, and Animating UI elements.

Understanding Jquery Framework, advantages of Jquery, Jquery selectors, Jquery events, and implementing Ajax.

Mastering MySQL, MySQL data types, Advanced Data Manipulation, and Handling Transactions in MySQL.

FITA Academy has an excellent team of 1000+ industry trainers to train students well in their professional careers.

FITA Academy has successfully trained 50,000+ students and helped them to get placed in top companies.

We have tie-ups with more than 1500+ companies to expose students to many significant opportunities.
Upcoming Batches
04-12-2023
Weekdays
Monday (Monday - Friday)
07-12-2023
Weekdays
Thursday (Monday - Friday)
09-12-2023
Weekend
Saturday (Saturday - Sunday)
16-12-2023
Weekend
Saturday (Saturday - Sunday)

Classroom Training
Get trained by Industry Experts via Classroom Training at any of the FITA Academy branches near you
Why Wait? Jump Start your Career by taking Web Designing Course in Coimbatore!
Instructor-Led Live Online Training
Take-up Instructor-led Live Online Training. Get the Recorded Videos of each session.
Travelling is a Constraint? Jump Start your Career by taking the Web Designing Online Training!
Trainer Profile
FITA Academy has well-qualified trainers who possess extensive knowledge of advanced concepts in the web designing field.
The skilled trainers have more than 10+ years of experience with the capability of assisting students in their career path.
FITA Academy's educators train students according to the requirements of corporate companies and also elevate their capabilities to attain professional dynamism.
The industry experts/trainers at FITA Academy provide precise hands-on training to students to broaden their technical skills.
Our team of experts concentrates on imparting the necessary soft skills, analytical skills, and problem-solving skills to work efficiently in their field.
Our dedicated trainers will also conduct one-on-one sessions, group discussions, and other educational activities to actively engage everyone in the class.
The training experts of FITA Academy have individually handled more than 25 batches of students sharing their professional expertise.
Learn at FITA Academy & Get Your
Dream IT Job in 60 Days
like these Successful Students!

Features of Web Designing Course in Coimbatore at FITA Academy
Real-Time Experts as Trainers
At FITA Academy, You will Learn from the Experts from industry who are Passionate in sharing their Knowledge with Learners. Get Personally Mentored by the Experts.
LIVE Project
Get an Opportunity to work in Real-time Projects that will give you a Deep Experience. Showcase your Project Experience & Increase your chance of getting Hired!
Certification
Get Certified by FITA Academy. Also, get Equipped to Clear Global Certifications. 72% FITA Academy Students appear for Global Certifications and 100% of them Clear it.
Affordable Fees
At FITA Academy, Course Fee is not only Affordable, but you have the option to pay it in Installments. Quality Training at an Affordable Price is our Motto.
Flexibility
At FITA Academy, you get Ultimate Flexibility. Classroom or Online Training? Early morning or Late evenings? Weekdays or Weekends? Regular Pace or Fast Track? - Pick whatever suits you the Best.
Placement Support
Tie-up & MOU with more than 1500+ Small & Medium Companies to Support you with Opportunities to Kick-Start & Step-up your Career.
Why Learn Web Designing Course in Coimbatore at FITA Academy?
Live Capstone Projects
Real time Industry Experts as Trainers
Placement Support till you get your Dream Job offer!
Free Interview Clearing Workshops
Free Resume Preparation & Aptitude Workshops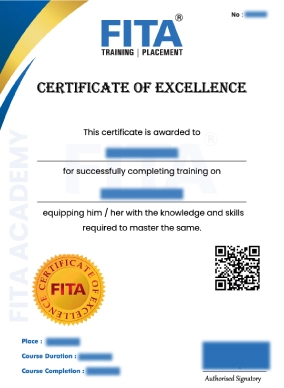 Web Designing Certification Training in Coimbatore
The Web Designing Training in Coimbatore is a vast curriculum that covers both web designing and web development realms. Under the training, students will be engaged in learning the best industry practices that are undertaken in designing and developing impressive websites. Both the theory and technical portion of the syllabus follow a standard and quality methodology of teaching, to enhance studies abilities to attain a professional assiduity in their career. The teaching of the experts is also streamlined to develop student's capacity in being a valuable employer to their companies.
The training program is also designed to inculcate proficiency in students to efficiently face the challenges and requirements in their fields. Interpersonal skills like team collaboration, team effort, synergy, problem-solving, decision making, assertiveness, and communication skills are also developed through the persuasive training of our experts, which are much demanded in today's job market. Beyond any doubt, the Web Designing Course Certification by FITA Academy stands for the accreditation of potential skills gained by students to successfully commence their career in the web design and development field.
Completing Web Designing Training in Coimbatore will be an added feather in their cap to acquire the best opportunities and land in the best job rules in today's competitive job market.
Have Queries? Talk to our Career Counselor for more Guidance on picking the
right Career for you!
Placement Session & Job Opportunities after completing Web Designing Course in Coimbatore

Web Design and Development has now become a significant as well as a powerful software field that shares a huge hand in shaping the digital web presence of many businesses. The reason Web design and development has become critical in accelerating businesses' performance is due to the fact the most of the revenue comes through digital selling of the products. As digital web presence has become mandatory, businesses are in need of providing well-designed and easy access "Websites" that act as a gateway to their online presence. Even though some of the online platforms are really performing well in increasing the sales of a company like Instagram, Facebook, and YouTube, a user will be always redirected to the official website which is where their real influence lies. Websites influence customers from making quick purchases to viewing our countless favorable products from the comfort of our homes. Since websites provide everything from the comfort of our homes, the demand for web designing/development professionals is also high.
"Students are offered free placement training upon completion of the course so that they land in the jobs of their choice."
Some of the best job roles that are offered for web designing/development professionals in the software field are,
Web Designer
Front-end Developer
Back-end Developer
UI Designer or Visual Designer
UX Designer
Interaction Designer
Art or Design Director
Content Strategist or Information Architect
Web Developer or Web Application Developer
Full-Stack Developer
WordPress Developer
Web Analyst
Web Marketing Analyst
SEO Specialist
Some of the future scopes in the web designing field are
Full-Stack Designer
Scientific Designer
Intelligent Content Author
Instructional Designer
AR/VR Designer
Some of the popular companies that are actively hiring web developers are HCL, Infosys, Mindteck, Cognizant. Oracle, Virtusa, Wipro, Value Media, IDC Technologies Solutions India Pvt Ltd, and Indo Asian Buildcon Pvt Ltd.
In India, the salary of an entry-level web designer is Rs. 1,95, 857 per annum. For mid-level professionals, it is around Rs. 4,10, 065 per annum. For experienced people, it is around Rs. 5,78,000 per annum.
Similar professions like UX Designer earns around Rs. 5,17,878 per annum. User Interface Designer earns around Rs. 2,43,180 per annum. WordPress developer earns around Rs. 2,40,252 per annum. Front-end developer earns around Rs. 5,68,584 per annum. Web developer earns around Rs. 2,40,252 per annum. The reports are taken from the Indeed job portal.
Web Designing Course in Coimbatore will help you to enjoy the certification benefits by helping you to land in top companies.
Success Story of Web Designing Course in Coimbatore
The Web Designing Course in Coimbatore at FITA Academy is a well-designed course for freshers who want to learn web designing from the basics. Both the web designing as well as the development of front-end and back-end were taught in a meticulous way. The efforts of the trainers should be mentioned as they deliver a stupendous way of teaching. The sessions were enlightening and educational. Focus on practical training developed my technical skills on a large scale. Thanks to FITA Academy for endeavoring students' professional growth in a much broader way.
Web Design is my passion and I am happy I chose the right institute to learn the course. The Web Designing Training in Coimbatore was very well conducted and it is well suitable for freshers as they covered the topics in-depth from the basics. The faculties were good at teaching the concepts in a neat and clear way. Most of the sessions were spent in labs and the staff really assisted well by responding to each and every query. If you are a fresher, who wants to learn the web design and development course through first-hand trainers then FITA Academy is the best option you can go with.
I attended Web Designing Training in Coimbatore at FITA Academy. The teaching was concise and to the point. The training was up to the industry standards and the labs were well equipped with functioning systems. The teaching of both theory, as well as the practical part of the syllabus, was commendable. My Knowledge of the web designing field has been greatly enhanced. Altogether, it's a great effort by FITA Academy and the team in providing quality training to the students.
My experience in learning Web Designing Course at FITA Academy was good. After a broad search of finding the best institutes to study the course, I chose FITA Academy as it had good reviews and ratings. The training was worthwhile and freshers can consider joining FITA Academy as they have a good team of trainers who are handling the subjects very well. My goal in joining the course was to be able to successfully implement my technical skills in building a website and I achieved it. Overall, The trainers have great knowledge of the subject and are very encouraging during each practice session.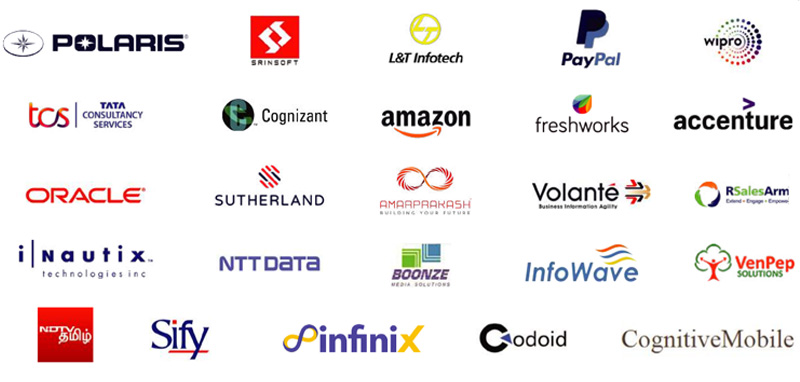 Frequently Asked Question (FAQ) about Web Designing Course in Coimbatore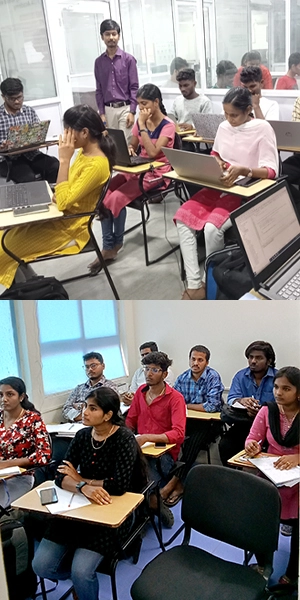 What is a Website?
Generally, a "Website" is a collection of many web pages developed under a single domain name hosted on an internet server. The number of web pages may vary according to the requirements of a business. Sometimes websites consist of only a single to a couple of static web pages to complex dynamic web pages containing audio, video files, pdf, forms, animations, illustrations, etc.
What is Website Design and Development?
Basically Web development is divided into two categories. One is Website designing and the other is Website development.
Website designing is the process of designing the front-end of the website where users majorly interact with. The website designing process usually demands the skills of designing a neat and accessible design, integrating the best user experience (UX), providing the user interface (UI), choosing the best design software and tools according to requirements, and also knowing some of the front-end languages.
On the other hand, Website development is implementing the design that the designer provides. Website development is subdivided into two parts – one is Front-end development and the other is Back-end development.
Front-end development
Front-end development is making the designs come to life using the front-end languages like HTML, CSS and JavaScript. Front-end is developing the client-side or user-side of the website to make users avail our products or services.
HTML – for structure
CSS – Styling
JavaScript – for functionality and to make pages interactive
Back-end development
Back-end development is building the server-side of the website especially for dynamic websites to store and retrieve data. Back-end languages like Java, Ruby, PHP, .Net, and Python are extensively used in back-end development. Also, JavaScript is used in back-end development for creating seamless infrastructure and for easier migration of code as JS is used in both the front and back-end.
Also, some of the best frameworks that can be utilized for back-end development are Django (Python), Laravel (PHP), Ruby on Rails (Ruby), ExpressJs (NodeJs), etc.
Skills required for Web Designing
To start with, the skill most companies look for in a web designing professional is a passion for creation and natural inclination towards graphics, design, and through them providing a better user experience for the users. Also, they expect the professional to successfully build easily accessible and easily navigable websites so users can benefit more from their service. Majorly a designer deals with integrating the best user experience, developing a user interface, applying CSS styles to make it stand out from the rest of the sites. Enrolling in the Web Designing in Coimbatore will highly hone the skills that will help you in landing your desired job.
Moreover being technically strong by understanding the nuances in the field such as learning to apply the color theory, composition, layouts, principles will give you an edge over other candidates and that is what is expected by major companies while selecting the candidates. Also learning to use the latest tools and software is a major advantage. Web Designing Training in Coimbatore at FITA Academy will surely upgrade your skills to efficiently perform in your work environment.
Attributes To Thrive High in the Web Designing Field
Essential computer knowledge to apply the tools and software during designing and development.
Thirst for learning the new technologies
Understanding the client's requirements and having an eye for detail to attract potential customers.
Interest in learning the programming languages, both front-end and back-end to assist you in developing a complete website on your own. Being a Full Stack developer is a
Developing Interpersonal skills to work in a team to deliver a high-end product. Web Design Training in Coimbatore is the best course in Coimbatore to get placed in the top companies.
Different Job Roles for Designers and Developers
Web Designer, UI Designer or Visual Designer, UX Designer, Interaction Designer, Web Analyst, Web Marketing Analyst and SEO Specialist and for developers – Front-end Developer, Back-end Developer, Web Developer or Web Application Developer, Full Stack Developer, WordPress Developer are some of the popular job roles offered for web professionals. Join FITA Academy for the Web Designing Training in Coimbatore and learn the advanced concepts in the field to gain the edge over other candidates.
What is New in Web Designing?
The current popular web designs are Illustrative web design, Minimalist web design, Typography web design, Single Page web design, and Flat web design.
Vertical and Horizontal
As more mobile users are growing every year, it is necessary to build websites that will get adapted to mobile devices. To achieve the purpose, Responsive design is introduced to save time by building a single website that will look good both online and on mobile devices. Vertical and Horizontal navigation in web designing is nothing but providing a proper view for your users or customers when they are viewing from their desktop or mobiles. If your website contains more graphical content it is best to choose vertical navigation and if your website contains more content and functionality it is best to go with horizontal navigation. FITA Academy is the Best Web Designing Institute in Coimbatore that trains students through real-time projects and trainers.
Time
Time is the essential factor in deciding the success of the website apart from the design and functionality. The more we make our users or customers engage with our website, the more we make a profit. The hard work put in building a website is to make users engage with our website and make them avail themselves more of our services than our competitors. So in the end it is all about making and establishing a connection with our customers through our online presence. Eventually, the design and functionality of the website should make a user stay and engage with our services. Apart from this, the loading time of the website is also paramount. Giving a good speed to our website enhances our chances of being used more.
Connectivity
A good web design should be able to make an instant connection with our users which is one of the most important factors that decides the success of a website.
Typographic Design
Typography is very important in presenting our service through a platform like online sites. Most of the websites contain huge content describing their products and services. So major importance should be given to the design that we use to display our content. Typography is nothing but a style tested and implemented in websites to create more engagement with the users. So if a website has an attractive typography style, then it has better chances of attracting and retaining customers.
Gradient Colors Design
Gradient Colors Design is nothing but the testing and adaptation of different colors and styles that enhances the usability of websites.
Simple Designs
Keeping a design simple and neat will allow users to navigate effortlessly and take better actions that will help in achieving sales.
Videos
Video Insertion in websites is one of the best tactics to promote our services as a neat 1 minute video will completely explain our work in a simple language. It will also help to reach our customers effectively.
Animation Usage
CSS is one of the front-end languages or more like a styling framework that makes HTML elements expressive. Apart from CSS, there are more design software and graphic designing tools available to place more animation and graphic designs to provide a creative feel to our websites.
Join FITA Academy for the Web Designing Course in Coimbatore to be a dynamic expert in the web designing field.