Course Highlights and Why Cyber Security Course in Madurai at FITA Academy?

The curriculum for the Cyber security training in Madurai is designed and structured uniquely by cyber security experts with abundant practical experience.

The structure of cyber security courses is designed to provide both comprehensive information as well as practical instruction essential to improving your skills in cyber security.

Through intensive training of the best practices, students will be able to create procedures and policies to deal with security issues in the field.

Through this rigorous study in the training program, students will be able examine and resolve the most pressing issues of security within computers and networks.

Students will be able to discern and look into security incidents.

The expert faculty of the Cyber security training in Madurai will provide a thorough understanding of the process of assessing risks in order to enhance security policies with the protocols.

The carefully designed course will allow our students to recognize the consequences of cyber security risks in an ethical, professional and social way.

This Cyber Security course in Madurai provides topics from scratch. It is appropriate for people who are naive or have a basic understanding of the subject.

Students will learn diverse methods to gather cybersecurity threat intelligence as well as for managing risk.
Upcoming Batches
| | | | |
| --- | --- | --- | --- |
| 09-12-2023 | Weekend | Saturday (Saturday - Sunday) | |
| 11-12-2023 | Weekdays | Monday (Monday - Friday) | |
| 14-12-2023 | Weekdays | Thursday (Monday - Friday) | |
| 16-12-2023 | Weekend | Saturday (Saturday - Sunday) | |

Classroom Training
Get trained by Industry Experts via Classroom Training at any of the FITA Academy branches near you
Why Wait? Jump Start your Career by taking the Cyber Security Training in Madurai!
Instructor-Led Live Online Training
Take-up Instructor-led Live Online Training. Get the Recorded Videos of each session.
Travelling is a Constraint? Jump Start your Career by taking the Cyber Security Course Online!
Trainer Profile
The Cyber security course in Madurai offered by FITA Academy is planned and taught by experienced instructors with over 10+ years of working experience in an established firm.

Our experts of Cyber security training impart extensive knowledge and a holistic approach to instruction to give the best possible exposure to trainees.

FITA Academy mentors take practical courses and live projects to take advantage of and gain knowledge simultaneously.

Our instructors employ the most current techniques, tools, topics and methods in the course curriculum to keep current with the ever-changing trends.

Our trainers are accountable for the technical and conceptual formation of the learners to best Cyber Security techniques.

The trainers at FITA Academy help and guide students to build their resumes professionally

Cyber Security trainers at FITA Academy also offer an important insight to students about the Interview questions and how to approach the interview through many different mock interviewing sessions.

Cyber Security Training instructors at FITA Academy are experts within the Cyber Security and Networking domain.
Learn at FITA Academy & Get Your
Dream IT Job in 60 Days
like these Successful Students!

Features of Cyber Security Course in Madurai at FITA Academy
Real-Time Experts as Trainers
At FITA Academy, You will Learn from the Experts from industry who are Passionate in sharing their Knowledge with Learners. Get Personally Mentored by the Experts.
LIVE Project
Get an Opportunity to work in Real-time Projects that will give you a Deep Experience. Showcase your Project Experience & Increase your chance of getting Hired!
Certification
Get Certified by FITA Academy. Also, get Equipped to Clear Global Certifications. 72% FITA Academy Students appear for Global Certifications and 100% of them Clear it.
Affordable Fees
At FITA Academy, Course Fee is not only Affordable, but you have the option to pay it in Installments. Quality Training at an Affordable Price is our Motto.
Flexibility
At FITA Academy, you get Ultimate Flexibility. Classroom or Online Training? Early morning or Late evenings? Weekdays or Weekends? Regular Pace or Fast Track? - Pick whatever suits you the Best.
Placement Support
Tie-up & MOU with more than 1500+ Small & Medium Companies to Support you with Opportunities to Kick-Start & Step-up your Career.
Why Learn Cyber Security Course in Madurai at FITA Academy?
Live Capstone Projects
Real time Industry Experts as Trainers
Placement Support till you get your Dream Job offer!
Free Interview Clearing Workshops
Free Resume Preparation & Aptitude Workshops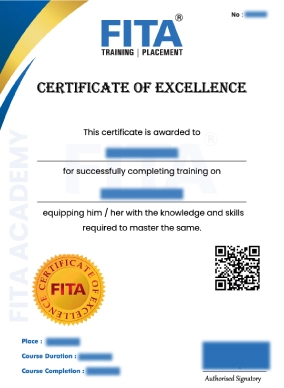 Cyber Security Certification Training in Madurai
Cyber security has evolved into an area that is constantly expanding and growing by leaps. Technology is making our life more convenient. It also makes us more vulnerable to the dangers of criminal acts and viruses. The increasing threat has led to a greater need for cyber security experts to ensure the security of confidential information. This is making the cyber security industry an attractive field for those who want to make a name for themselves in their career. When they complete the cyber security training in Madurai at the FITA Academy, the student is awarded a certificate that is considered an endorsement of the vast experience and knowledge gained through the cyber security training. The Cyber security certification course in Madurai has immense significance in the market and will give participants official recognition from many prominent companies and organizations. Additionally, including the certificate to your resume can greatly enhance your job chances.
The Cyber Security training institute in Madurai is of great benefit due to its meticulous and holistic instruction, incorporating the proper use of modern technologies, updated concepts and effective methods. The rigorous study that this training provides will improve the abilities and innate abilities of our students. This certificate will change your professional profile, thereby increasing your career options. The salaries of a student in the Cyber Security sector start from Rs. 6,00,000 per year to 7,20,000 per year. With experience and more credibility, advancements in the job position where pay can be as high as Rs. 8,00,000 per year. This Cyber security training institute in Madurai is carefully planned and developed by experts with the aim of providing our instructors with the latest industry-specific knowledge and practical instruction to enable them to compete with the ruthless market.
Have Queries? Talk to our Career Counselor for more Guidance on picking the
right Career for you!
Placement Session & Job Opportunities after completing Cyber Security Course in Madurai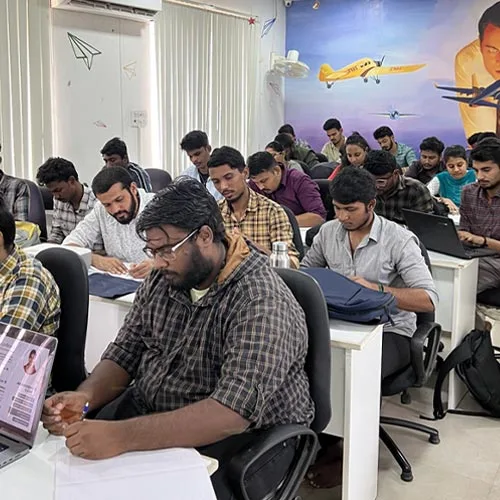 The demand for cyber security specialists has increased with the emergence of industrialisation. The career of cyber security has always been rewarding where the responsibilities may vary however, the role is to secure a company's confidential data from being compromised by an attack. With the pandemic, an increased risk of data breaches, leaks and cyber crime which can be harmful for the data, the urgent need of cyber security has emerged. As per various pioneers of this field, the solution of cyber threats lie in education of cyber security, which aims in developing a series of hands-on practical demonstrations to restrain from cyber attacks and threats by locating the vulnerabilities.
There are a variety of opportunities to begin and lead an upward trajectory in the field of cybersecurity. Some career options our trainees can pursue after the completion of this course are – IT security consultant, security system administrator, where you will hold the responsibilities of looking after the security infrastructure of the company including installation, maintenance, and troubleshooting numerous security systems incorporating data and network.
In addition, students could also pursue professions that require a professional background, like IT security engineer as well as penetration testers as well as compliance and auditing. 
Many are looking for analyst jobs. There is a demand for aspirers to become cyber security analyst professionals in the market. The Cyber Security Analyst Salary For Freshers also depends on the knowledge and level skills the candidate has to possess. This kind of job requires a lot of consistency and commitment. If you are looking to work as an analyst then this is the right career for you because analysts can thrive in any organization or company.
The top industries that employ cyber security experts include the design of computer systems, the management of companies as well as credit intermediation and consulting services. Cyber security is flourishing in the present IT business and acquiring extensive knowledge in this area can allow you to explore various domains and areas in cyber-security. With a wide range of organizations from various industries such as banks, government and retail industries actively seeking cyber security specialists, the demand for jobs in this area will continue to rise. With years of experience and advanced capabilities, job opportunities and responsibilities will continue increasing, leading to a lucrative career for the student.
Success Story of Cyber Security Course in Madurai
I am searching for a new career opportunity. The Cyber Security Training in Madurai helped me do the same. My mentors in this course helped with all the doubts. By the end of the course, I am comfortable with the concepts and confident about trying them. My thanks to the Academy and my trainer.
In my cyber security course, I learned the basics and then advanced techniques. I found my instructors to be very patient and professional as they gave me training and lessons, which helped me grasp the concepts better.
As I am a fresher in cyber security, I attended FITA Academy's cyber security training in Madurai and I learned the different kinds of tools, practices and strategies used in cyber security along with rigorous training. After taking this course, I'm now a successful cybersecurity professional.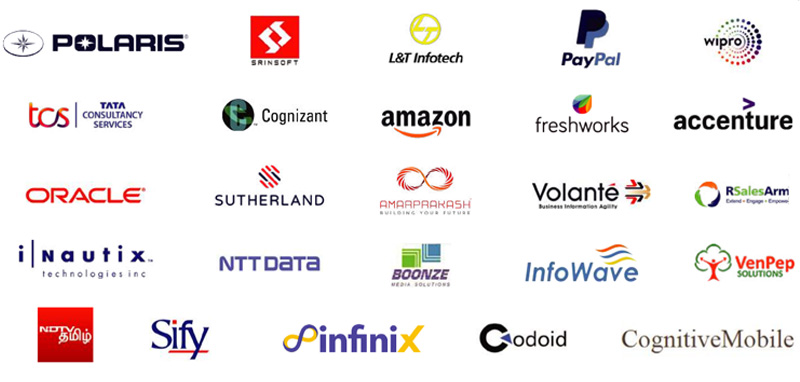 Frequently Asked Question (FAQ) about Cyber Security Course in Madurai
Additional Information of Cyber Security Course in Madurai
Cyber Security is the ultimate security against digital crime in the present. By utilizing Cyber Security, you are able to safeguard vital information and shield ourselves from the irreparable consequences. Cyber Security can be described as a subject that can be interoperable and is compatible with Ethical Hacking. You can upskill with additional Ethical Hacking Course in Madurai which will enhance your professional life by providing you with the understanding on Cyber Security. This will help you to compose a perfect plan for implementing the cyber security framework. The analyst also collaborates to identify weaknesses and offer solutions to prevent future attacks. If implemented correctly, Cyber Security solutions can help you create a more secure environment for both your personal and professional pursuits.
FITA Academy provides the best Cyber Security Training in Madurai as it aids in the implementation of the appropriate methods to protect your personal and professional data. This course covers the best techniques to help you achieve your full-time development. These include the CIA triad of cryptography, virtualization assessments of vulnerability, networks and structure of the system accessibility privileges, response to incidents digital forensics, anonymity, security intelligence and ethical hacking intrusion detection, and more.
Cyber Security Tutorial
In this best Cyber Security Course in Madurai we'll cover some basic concepts about computer networks and how they are used to protect information. We'll start out by looking at what makes up a network and why it needs protection. Next, we'll look at how computers communicate over networks. Finally, we'll discuss how hackers exploit vulnerabilities in systems and take control of data. Throughout this course you'll learn how to identify threats and prevent attacks. You'll also learn how to secure devices against malware and viruses. This course will provide you with the tools that you need to use to monitor the traffic on networks and to build an effective firewall for your network at the end of it.
An Overview of Cyber Security
Cyber attacks are becoming increasingly common. Hackers use different methods to break into computers and networks. They may use viruses, worms, Trojans, spyware, phishing emails, denial of service attacks, brute force password cracking, social engineering, etc.
The most important thing about cybersecurity is that it needs to be taken seriously and implemented properly. As we live in a digital age, there are many ways to hack into our systems. So, having proper security measures in place is essential.
Hackers usually exploit weaknesses in software or hardware to gain access to computer systems. Once inside, hackers can steal data, delete files, change settings, or even shut down the system.
In addition to physical threats, there are also risks associated with online scams, identity theft, and financial fraud. These include credit card skimming, account hijackings, malware infections, ransomware attacks, and others.
There are several types of cyberattacks including network intrusion, information disclosure, credential compromise, malicious code injection, and Denial of Service Attacks.
Network Intrusion

– A hacker breaks into a network by trying to guess passwords or gaining unauthorized access to a server.

Information Disclosure

– When a hacker gains access to sensitive information such as customer records, employee information, intellectual property, etc., he/she can sell it to third parties or leak it publicly.

Credential Compromise

– This occurs when someone steals credentials like usernames, passwords, and other authentication tokens from an organization's database. The attacker then uses those stolen credentials to log into accounts without permission.

Malicious Code Injection

– Malicious codes are programs designed to harm a computer or network. For example, a virus could infect your computer if you open an email attachment or click on a link.

Denial of Service Attack (DoS)

– A DoS attack prevents legitimate users from accessing resources on a network. It can be done intentionally or unintentionally. An unintentional DoS attack happens when a user opens too many connections to a website.
Learning Networking with CCNA Course in Madurai can provide you the best professional training in this domain. You will get the unique opportunity to make your career easier and the fastest way to become an IT expert. 
Why learn Cyber security?
If you work for any company, chances are that your business relies heavily on technology. If you're not careful, your company could become vulnerable to cybercrime.
Companies need to have strong cybersecurity policies in place to ensure their employees don't misuse confidential information or cause damage to their own companies.
Difference between Hacking and Ethical Hacking
Ethical hacking is a process where you identify security holes in a computer system without breaking the law. A white hat hacker performs it legally while black hats do it illegally. A hacker is someone who attempts to hack computers or networks in order to gain access to sensitive information. They use software tools like viruses, worms, Trojan horses, etc., to gain access to systems. An ethical hacker uses different methods to test the security of a system. He does not break the law.
The syllabus of the course is updated to meet the demands of the modern enterprise. The assessments, assignments as well as hands-on classes and projects are updated to cover all subjects relevant to Cyber Security proficiency or related advantages in the industry. This course will help you will be able to gain career benefits for a range of IT areas.
The instructors in this course are experts certified in the field. They will ensure that they are proficient in the interview process and also soft skill training that is applicable to any profession. Students with postgraduate or undergraduate studies in the field of computer science will be the most qualified to enroll in this program. You can take the Cyber Security course in Madurai or online. This course will help you increase your current capabilities if you put your trust in FITA Academy.