Course Highlights and Why Cyber Security Course in Bangalore at FITA Academy?

The Cyber Security Course in Bangalore is a certification-specific program that shares its syllabus with in-demand industrial certifications.

FITA Academy training programs provide flexible learning options for the learners. They can choose to attend offline classes, live online, or recorded classes.

The Cyber Security Institute in Bangalore offers regular pace and fast track options for the students.

This course adopts hands-on classes and live-projects for a faster understanding of security implications.

The Cyber Security Training in Bangalore covers relevant sections from scratch. It is appropriate for all types of individuals who are new or experienced in the subject.

Regular exercises and mock tests are present for self-evaluation after the conclusion of every topic.

The best Cyber Security Training Institute in Bangalore has a placement support system with a distinct network of 1000+ small and large-scale companies.

Lifetime support to the training resources or references is accessible post-completion.

Describe the role of Cyber Security in the CIA triad.

Explore the terminologies in Cyber Security to carry out operations.

Understand threat detection, intelligence, and mitigation.

Navigate through incident management and response.

Learn to access and analyze infrastructure or system vulnerabilities.

Apply security policies and defense techniques.

Implement cryptographic algorithms and hashing for endpoint protection.

Build scripts in languages like Bash, Python, Visual Basic, etc.

Learn to verify access controls and prevent social engineering attacks.

Explore digital forensics and disaster recovery.

Understand the similarities and differences between Ethical Hacking and Cyber Security.

Discuss the career opportunities for professionals with Cyber Security skills.
Upcoming Batches
11-12-2023
Weekdays
Monday (Monday - Friday)
14-12-2023
Weekdays
Thursday (Monday - Friday)
16-12-2023
Weekend
Saturday (Saturday - Sunday)
23-12-2023
Weekend
Saturday (Saturday - Sunday)

Classroom Training
Get trained by Industry Experts via Classroom Training at any of the FITA Academy branches near you
Why Wait? Jump Start your Career by taking the Cyber Security Course in Bangalore!
Instructor-Led Live Online Training
Take-up Instructor-led Live Online Training. Get the Recorded Videos of each session.
Travelling is a Constraint? Jump Start your Career by taking the Cyber Security Course Online!
Trainer Profile
Our Cyber Security mentors are certified experts in the topic.
The trainers at the Cyber Security Course in Bangalore share employment experience of 14+ years.
Mentors in this program have delivered security solutions and student success stories with their cyber awareness and expertise.
Our trainers are responsible for the theoretical and practical development of learners in the top Cyber Security practices.
Mentors in the Cyber Security Training in Bangalore have taught almost 6,500 students every year.
Our trainers deploy up-to-date practices, platforms, and tools in the course syllabus to keep up with the changing times.
FITA Academy mentors adopt hands-on classes and live projects to enhance your practical proficiency.
Interested learners can seek out advice for career prospects and placement assistance.
Mentors in the best Cyber Security Training Institute in Bangalore have encouraged more than 72% of learners to attempt global credentials. The success rate in passing or earning desired scores is 100%.
Learn at FITA Academy & Get Your
Dream IT Job in 60 Days
like these Successful Students!

Features of Cyber Security Course in Bangalore at FITA Academy
Real-Time Experts as Trainers
At FITA Academy, You will Learn from the Experts from industry who are Passionate in sharing their Knowledge with Learners. Get Personally Mentored by the Experts.
LIVE Project
Get an Opportunity to work in Real-time Projects that will give you a Deep Experience. Showcase your Project Experience & Increase your chance of getting Hired!
Certification
Get Certified by FITA Academy. Also, get Equipped to Clear Global Certifications. 72% FITA Academy Students appear for Global Certifications and 100% of them Clear it.
Affordable Fees
At FITA Academy, Course Fee is not only Affordable, but you have the option to pay it in Installments. Quality Training at an Affordable Price is our Motto.
Flexibility
At FITA Academy, you get Ultimate Flexibility. Classroom or Online Training? Early morning or Late evenings? Weekdays or Weekends? Regular Pace or Fast Track? - Pick whatever suits you the Best.
Placement Support
Tie-up & MOU with more than 1500+ Small & Medium Companies to Support you with Opportunities to Kick-Start & Step-up your Career.
Why Learn Cyber Security Course in Bangalore at FITA Academy?
Live Capstone Projects
Real time Industry Experts as Trainers
Placement Support till you get your Dream Job offer!
Free Interview Clearing Workshops
Free Resume Preparation & Aptitude Workshops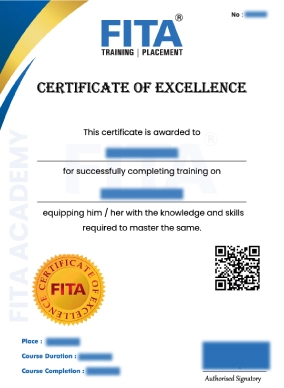 Cyber Security Certification Training in Bangalore
At the successful finishing of the Cyber Security Training in Bangalore, FITA Academy awards the candidate with a course completion certificate. Most organizations recognize this certificate as validation for the effort invested in this subject. This certificate provides credibility to the skills and concepts you acquired in the duration of enrollment. It acts as verification for passing all the assignments, assessments, and projects to become a successful Cyber Security expert.
The Cyber Security course certificate at FITA Academy is fit to confirm your proficiency in this field. However, mentors at FITA Academy motivate learners to test this expertise beyond the course, with relevant credentials.
The most well-known credentials to add to your achievements are known as:
CompTIA Security+
EC-Council Certified Security Analyst (ECSA)
GSEC: GIAC Security Essentials
Certified Information Systems Security Professional (CISSP)
Certified Information Security Auditor (CISA)
Systems Security Certified Practitioner (SSCP)
Certified in Risk and Information Systems Control (CRISC)
Some popular queries concerning these certifications are below:
1.How to enroll in these certification exams?
You can take up these exams at a testing center or online at your preferred location.
2.Who can qualify for these certifications?
There are no specific eligibility criteria for these certification exams. However, a minimum experience of two years is best before attempting any of them.
3.What are the relevant exam details?
The exam details cover multiple-choice questions or practical assessments, depending on the certification you choose.
4.How long does it take to earn these certifications?
The exam time can vary from 1.5-4 hours, keeping the number of questions in mind.
5.What is the minimum score to earn these credentials?
The minimum passing score for these credentials is mostly around 60%.
6.After how many years do these certifications expire?
These certifications expire in three years. Therefore, a professional should consider renewing them to stay credible to the industry.
7.What is the total cost for earning these certifications?
The total price for each certification differs globally and with time.
For more information, feel free to consult with the trainer or support team from the official page
10 Benefits of Taking a Cyber Security Certification Training in Bangalore at FITA Academy
Enhances career potentials– FITA Academy's cyber security course in Bangalore are designed to enhance and create opportunities for Aspirers and professionals who wish to advance their careers by gaining expertise in this area.
Good earning opportunity- The cyber security jobs market is rapidly growing, and companies are constantly looking for skilled individuals who can impact business operations. As the industry grows, so does the demand for qualified professionals with specific skills in cyber security.
High salary increments- As the technology landscape continues to evolve, there is no doubt that it will require more people with advanced education and training to manage these complex systems and networks. These salaries have become competitive enough to attract many young graduates into the field of cyber security.
Job growth outlook- Cybersecurity as a profession is expected to grow further in the coming years. Companies such as Microsoft, Google, and Apple have already begun hiring cyber security specialists, and this trend is expected to continue over the next few years. With increasing competition and advancements in technologies, cyber security professionals will play a major role in our daily lives.
Career Advancement Opportunities- FITA Academy's cyber security course in Bangalore provides students with comprehensive knowledge in various areas related to Information & Communication Technology (ICT). Students can choose from different certifications covering both software and hardware domains. This helps them to gain hands-on experience and develop expertise in multiple aspects of network security management.
Self-development- As a student, you must be aware of your strengths and weaknesses as well as how they impact your performance when faced with challenges. To make improvements in your abilities, we recommend regular practice and testing to identify and address any gaps or deficiencies in your skillset. By participating in our professional courses like our cyber security training in Bangalore programs, you will acquire new skills, knowledge, and insights that will help you become a better team member, leader, and contributor.
Networking- It is recommended that students focus on studying and socializing with other students and alumni. You may find new friends who share your passion for learning and working towards success.
Flexible timings- We understand that every student has conflicting timing requirements due to hectic work schedules. In order to accommodate all types of students, we offer flexible timings for your cyber security training in Bangalore.
Career Placement- with 100% placement support, we guarantee good jobs to everyone after successfully completing their program. Get our cyber security course in bangalore with placement training, as you can get a job quickly and easily.
Industry-oriented certification courses- With a focus on industry standards, the curriculum focuses on real-world scenarios that prepare you for roles in cyber security. The content is very relevant to today's business environment, and it includes case studies, troubleshooting tips, and best practices. Our cyber security institute in Bangalore provides content that is often used as the foundation for certification courses.
Supportive instructors -We conduct extensive interviews before selecting the instructors. We believe that a teacher should bring out the potential in their students so that they achieve greater heights in life. Therefore, our faculty members are carefully selected based on academic qualifications and experience. They receive continuous training and are given opportunities to interact with industry experts every year.
Have Queries? Talk to our Career Counselor for more Guidance on picking the
right Career for you!
Placement Session & Job Opportunities after completing Cyber Security Course in Bangalore

Cyber Security is a growing need for employees and employers alike. It is for individuals interested or working in job roles revolving around Engineering, Scripting, Analytics, Networking, Incident Analysis, Ethical Hacking, Forensics Investigation, Research, IT Operations, Threat Intelligence, Technical Support, Testing, etc. This subject is best for professionals motivated to explore a career in Cyber Security or related tools. As of now, naukri.com delivers around 5052 full-time and part-time job openings for Cyber Security and related careers in India. Some examples are Cyber Security Analytics Application Developer, Senior Cyber Security Architect, Information Security Leader, Cyber Security Analyst, Cyber Security Consultant, Cyber Security Researcher, Cyber Security SW Tester, Cyber Security Manager, Embedded Systems Tester, Software Developer, Data Scientist, Threat Intelligence Analyst, Senior Cyber Security Engineer, Risk Analyst, Associate, Cloud Platform-Security Governance Analyst, Lead Analyst, etc. Some enterprises hiring Cyber Security experts are Accenture, IBM India, UnitedHealth Group, Capgemini, etc. After 2021, the average annual earnings for a Cyber Security expert are approximately $76K globally. In India, it amounts to around Rs 7.1 lakhs.
Nonetheless, these figures vary exponentially with time, experience, location, proficiency level, enterprise, and position in the industry you hold. With the Cyber Security Institute in Bangalore, you can be at peace about your career goals or ambitions.
You can do a few things after you have completed the Cyber Security course in Bangalore that will help you in the long run. One of them is to work on your network security, data integrity, and availability. These are important goals that any organization needs to achieve in order to secure their data and avoid any issues in the future. After you have completed the course, you will find yourself working on these goals as a regular person. There are also a large number of Cyber Security roles that are yet to be filled in the Bangalore area. Here, you can find a brief list of job roles in a cyber security career.
Cyber Security Analytics Application Developer – Design and develop applications for the purpose of managing IT systems such as intrusion detection systems (IDS) and firewalls, web application firewalls, application gateways, and virtual private networks (VPNs). The analyst is responsible for designing and testing complex software components.
Senior Cyber Security Architect – Analyze real-world threats, determine threat mitigation strategies and implement appropriate solutions. Work closely with analysts and other business representatives to define, plan, analyze, design, and test strategies against attacks to mitigate risk. Conduct penetration testing to identify vulnerabilities or exploit critical points within an environment.
Information Security Leader – Content: Information Security Leader – Actively manages global information security programs, including risk assessment, compliance, and governance. With our Cyber Security in Bangalore will provide you with the knowledge, skills, and confidence to do your research, stay on top of your situation, and take advantage of cyber security awareness campaigns. Develop a robust incident response process to support critical areas while improving operational practices and strengthening service level agreements. Maintain continuity management functions by ensuring effective communications and timely sharing of security-related information. Establish policies and procedures to ensure adherence to regulatory requirements and best security practices.
Cyber Security Analyst – Review and audit existing system designs, protocols, operating systems, networking infrastructure, firewall configuration, anti-malware/anti-virus software, and hardware devices for effectiveness and efficiency. Identify potential changes or enhancements to improve performance. Provide technical assistance to users and technicians when needed.
Cyber Security Consultant – Plan, conduct tests, investigate incidents, recommend corrective actions, evaluate results and provide recommendations for remediation. Perform penetration tests, vulnerability scans, code reviews, network audits, forensic analysis, forensic investigations, post-breach analysis, vulnerability assessments, security audits, digital forensics, cryptography, malware reverse engineering, and security tool evaluation. Get the best cyber security training institute in bangalore and our training will help you in your fight against cyber threats. You can get the best training by taking coursework with a view towards certification or by taking courses that focus on security topics.
Cyber Security SW Tester – Test software functionality and reliability of various products and services used by organizations. Evaluate new features implemented in existing products as well as development projects. Identify possible issues with product performance, usability, documentation, etc.
Embedded Systems Tester – Under general supervision, perform functional, integration, and compatibility testing on electronic equipment. May be responsible for maintenance of electronics and equipment throughout the life cycle.
Software Developer – Write computer programs in accordance with specifications provided by customers or clients using any suitable programming language or languages. Participate in team lead roles that require coordinating efforts between different disciplines and stakeholders.
Data Scientist – Develop algorithms to predict customer behavior, business outcomes, market trends, and competitive advantage through data mining and machine learning techniques. Use predictive analytics tools to mine available data to develop insights about the organization's operations to answer key business questions efficiently. Lead large-scale implementations of predictive models or use your skills to help build predictive models such as classification or regression trees. Apply statistical methods (including descriptive statistics) to analyze data sets from multiple sources and generate reports, dashboards, visualizations, or other forms of presentations.
Database Administrator – Design database schemas and maintain databases using SQL scripts. Support queries and applications to produce reports or extract data from tables. Create stored procedures, triggers, and indexes. Ensure data integrity is maintained and backups are performed regularly.
Threat Intelligence Analyst – Understand how attacks are carried out, identify the attacker's motivation and methodology, understand attack vectors and apply knowledge to prevent cyberattacks against an organization. Analyze information collected during incident response. Expert guidance and knowlege will be shared through our best cyber security course in bangalore by keeping in mind that cyberattacks are a business asset, an organization should actively monitor for signs of attack and take precautions to protect its data and systems.
Web Application Penetration Testing Engineer – Using a variety of automated and manual testing methodologies, verify application design and architecture as part of a web application security solution. Validate the quality of secure coding practices, including static analysis, dynamic analysis, source code review, testing, and so forth. Recommend improvements to web application security solutions and report findings during incident response.
Senior Cyber Security Engineer – Perform technical assessment and implementation/migration of network-based controls required to mitigate risk. Work with CISO, CIO, and Security Architect to ensure appropriate policies, standards, frameworks, and processes are followed. Conduct audits of systems to assess compliance with applicable regulations. Provide direction towards remediation or mitigation where necessary. Review incidents and provide recommendations regarding the security posture of an IT infrastructure.
Risk Analyst – Identify threats using various methods to understand risks associated with assets within the environment and create strategies to mitigate those risks. Evaluate and determine the impact of different scenarios on the organization's critical infrastructure. Maintain awareness of new technologies related to security risks.
Information Assurance Officer – Manage the security of sensitive electronic information and communications within an enterprise, which may include government entities. Act as liaison with internal and external audiences and influence decision-makers regarding information security matters. Implement administrative controls designed to protect sensitive documents and information, ensure regulatory compliance, and safeguard network resources.
Enterprise Networking Infrastructure Architect – Plan, integrate, and deploy core networking services for an organization across multiple locations or offices. Collaborate with software developers, system administrators, hardware engineers, and others involved in building highly scalable and reliable networks that meet emerging needs. May assist in defining network requirements and architecture.
The above are some of the Job Opportunities After Completing our Cyber Security Course in Bangalore are some of the most lucrative and highly lucrative Cyber Security roles that are yet to be filled. All of them are very competitive and require a great deal of skill and experience. You must have a solid understanding of the Cyber Security concepts and techniques as well as the skills required to be hired as a Cyber Security Advisor in Bangalore.
Success Story of Cyber Security Course in Bangalore
The Cyber Security Training in Bangalore has improved our company culture post this program. This course was in the recommendation to keep up with the current security risks. Thanks to FITA Academy, our understanding and awareness of digital threats have increased. I hope to bring a difference to my workspace with my newly developed knowledge.
I was interested in diving into this topic for a long time. A perfect opportunity came in the form of the Cyber Security Institute in Bangalore. The course fees are also cheap in comparison to the abundant knowledge here. My skills have improved drastically from a novice. Thus, this course is proving to be suitable for beginners too.
FITA Academy is the best Cyber Security Training Institute in Bangalore. It helps learners cope with their inadequacies and explore their potential anew. I was overwhelmed with the knowledge and skills I attained here. The theory and practical sessions also keep the best interests of students in mind. I highly recommend this course to all cyber geeks.
After finishing their Ethical Hacking program, I chose to proceed with the Cyber Security Course in Bangalore. Fortunately, there was no repetition of concepts. FITA Academy mentors always manage to stay true to the topic and provide exclusive content in each program. My experience with this institute is always a pleasant one.
I am a working professional in Bangalore. I was intrigued by FITA Academy's technical courses and what they have to offer. Hence, I gave this training a try. It has been my favorite offline training so far. The myths and rumors surrounding Cyber Security have started to become clear too. I am confident enough to add Cyber Security as a part of my skill set now.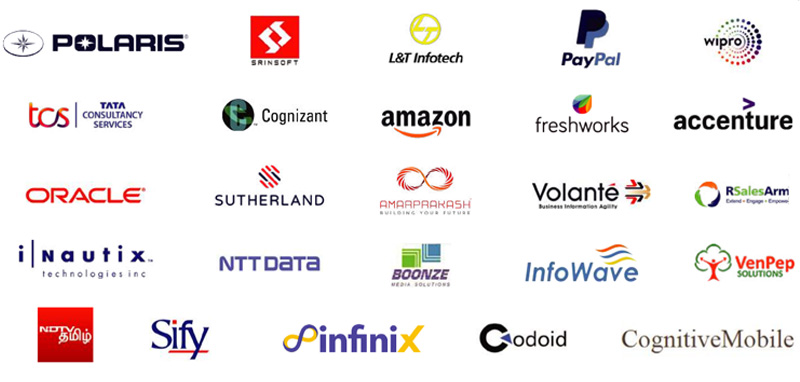 Frequently Asked Question (FAQ) about Cyber Security Course in Bangalore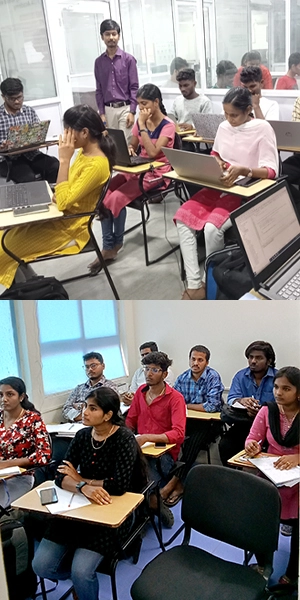 Cyber Security is an essential part of enterprise cultures today. As a field, it protects the potential victims from suffering irreversible consequences. It is also known for incident response and speedy recovery. This skill can cover network, administration, information, infrastructure, etc., risks and promote safe practice against hacking. With cyber awareness, professionals can rest easy about their formal and informal activities.
FITA Academy houses the best Cyber Security Course in Bangalore. It explores the necessary precautions and practices for cybersecurity awareness. This course also deals with some of the top concepts to ensure your absolute proficiency. They include the CIA triad, cryptography, operating systems, vulnerability assessment, intrusion detection, network security, authentication, anonymity, incident response, digital forensics, threat intelligence, ethical hacking, endpoint protection, etc.
The course syllabus is up-to-date with the overall enterprise expectations. The exercises, mock tests, hands-on sessions, and projects revise all the topics relevant for Cyber Security expertise or related industry benefits. With this course, you can attain career perks for Cyber Security and various other fields.  The Cyber Security Course in Marathahalli provides knowledge through working on real-life industrial projects and case studies with trainers and experts
Trainers in this course are certified experts in the topic. They ensure technical and soft skill proficiency for interviews relevant to most professions. Students from computer science and engineering backgrounds are most eligible for enrolling in this course. You can choose to study at the Cyber Security Training in Bangalore or through online methods. At FITA Academy, our programs ensure that your existing potential gets recognized in the industry.