Course Highlights & Why Spoken English Classes in Madurai at FITA Academy?
Introduction to the History of the English Language, its globalization, the importance of the English Language in the present time, Career Scope, and benefits of being a smart English learner.
Learning a list of important vocabularies, idioms, and phrases, advanced idioms, and phrases, types of sentences, business communication, peer communication, customer communication, etc.
Learning Grammar Basics, Core and Advanced topics such as Nouns, Verbs, Tenses, Parts of Speech, Phrases and Clauses, Articles and Determiners, Subject-Verb Agreement, etc.
Understanding Noun Phrase, Verb Phrase, Tenses, and Aspects, Regular and Irregular Verbs, Active voice, Passive Voice, Relative Clauses, Punctuation, Capitalization, etc.
Apprehending Conditional Clauses, Proverbial Clauses, Types of Agreements (Affirmative and Negative), Conjunction Pairs, Comparison Degrees, etc.
Acquiring Communication Skills by learning to introduce yourself, initiating a conversation, greeting, sharing things and ideas, and exchanging ideas.
Getting familiarised with asking questions by learning to frame questions, doubts, and queries.
Getting acquainted with conversing about past events, describing experiences, stating intentions, discussing probability, giving opinions and reasons.
Understanding the similarities, differences, and preferences of stating opinions.
Learning how to skim, scan, effectively write passages, extract information from passages, etc.
Upcoming Batches
| | | | |
| --- | --- | --- | --- |
| 05-10-2023 | Weekdays | Thursday (Monday - Friday) | |
| 07-10-2023 | Weekend | Saturday (Saturday - Sunday) | |
| 09-10-2023 | Weekdays | Monday (Monday - Friday) | |
| 14-10-2023 | Weekend | Saturday (Saturday - Sunday) | |

Classroom Training
Get trained by Industry Experts via Classroom Training at any of the FITA Academy branches near you
Why Wait? Jump Start your Career by taking the Spoken English Classroom Training in Madurai!
Instructor-Led Live Online Training
Take-up Instructor-led Live Online Training. Get the Recorded Videos of each session.
Travelling is a Constraint? Jump Start your Career by taking the Spoken English Online Course!
Syllabus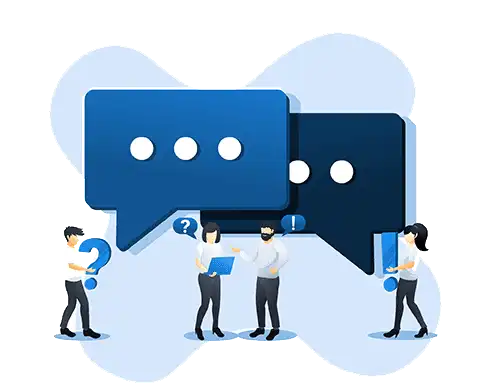 Have Queries? Talk to our Career Counselor
for more Guidance on picking the right Career for you! .
Trainer Profile
The Spoken English trainers of FITA Academy are professional experts who work in leading schools, colleges, and other corporate organizations as English Language Educators, Editor and Content Managers, Human Resources Specialists, Public Relations Specialists, and more.
The professional experts have an employment record of more than 10 years and so they boast proficiency and expertise in teaching the English Language in a commanding way.
They are multitasking experts who can perform many tasks to achieve end results and at the same time finish within the given timeline.
They hold precise and sharp teaching skills through which can impart substantial knowledge of the English Language.
They excel at training students according to the needs and requirements of the companies.
Features
Real-Time Experts as Trainers
At FITA Academy, You will Learn from the Experts from industry who are Passionate in sharing their Knowledge with Learners. Get Personally Mentored by the Experts.
LIVE Project
Get an Opportunity to work in Real-time Projects that will give you a Deep Experience. Showcase your Project Experience & Increase your chance of getting Hired!
Certification
Get Certified by FITA Academy. Also, get Equipped to Clear Global Certifications. 72% FITA Academy Students appear for Global Certifications and 100% of them Clear it.
Affordable Fees
At FITA Academy, Course Fee is not only Affordable, but you have the option to pay it in Installments. Quality Training at an Affordable Price is our Motto.
Flexibility
At FITA Academy, you get Ultimate Flexibility. Classroom or Online Training? Early morning or Late evenings? Weekdays or Weekends? Regular Pace or Fast Track? - Pick whatever suits you the Best.
Placement Support
Tie-up & MOU with more than 1500+ Small & Medium Companies to Support you with Opportunities to Kick-Start & Step-up your Career.
Spoken English Certification Institute in Madurai
About Spoken English Certification Institute in Madurai
at FITA Academy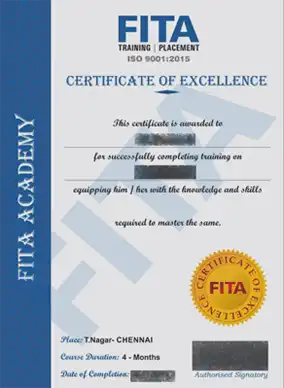 Spoken English Certification Institute in Madurai
FITA Academy's Spoken English Certification Course is an incorporation of the simple best and most ingenious methods to help students learn the English Language in a creative way. The Spoken English syllabus is largely curated by the English Language experts to make students aware of the essential concepts that constitute the English Language. But to inculcate the Spoken English skills predominantly, which is the major aim of conducting the certification course, practice tests are conducted to develop and enhance their communication as well as conversation skills. But nonetheless, other important skills such as Listening Skills, Reading Skills, Writing Skills will also be inculcated in students through the extensive practice tests. Today, Spoken English Certified candidates or generally professional English Language learners are demanded in excess numbers. Because their proficiency and expertise are much needed to produce great content to market their business, advertise their business through quality content, come up with compelling original ideas to promote business, etc. Since the English Language acts as the medium of the major form of Business Communication, all these skills are expected to be purely implemented in English. Thus the certified candidates are always provided with much variety of roles such as Spoken English trainer, Social Media Manager, Technical Writer, Grant Writer, Magazine or Newspaper editor, etc. So a professional Language Certification like the one offered by FITA Academy through its Spoken English Classes in Madurai will embody the best practices that are undertaken by the professional trainers which imparts students the best understanding and knowledge of the English Language.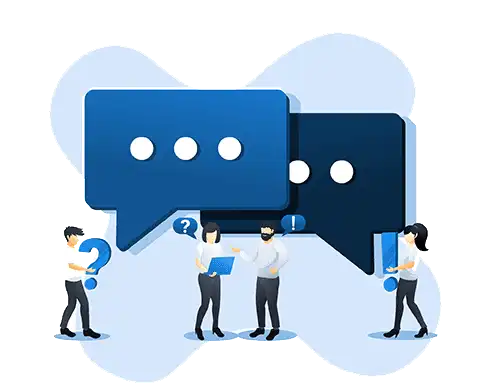 Have Queries? Talk to our Career Counselor
for more Guidance on picking the right Career for you! .
Job Opportunities After Completing Spoken English Classes in Madurai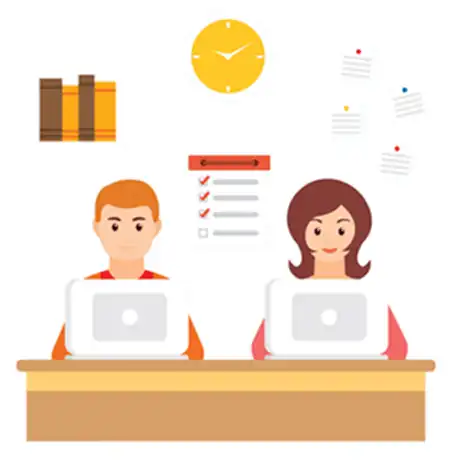 Spoken English, also known as Conversational English has become an inevitable skill that is expected from the majority of the employees in the current technological age. The reason Spoken English is given much more important than other skills like Reading, Writing, and Listening skills, is because the conversational skill is the one that expresses the eloquence of a particular candidate in the English Language. This skill is set as a primary and deciding factor by many businesses to recruit potential candidates for their company. Because a candidate who can skillfully and confidently brief about themselves and their personal and professional achievements get a good first impression and also has high chances of sailing smoothly in the interview process. Thus it is important for candidates to equip themselves with professional English Language skills mainly Communication skills that can put them in a safe spot. Thus mastering the communication skill will open up doors to vast career opportunities and also will be your one-way ticket to the higher job positions in your field. From renowned MNCs to SMBs and Startups hire candidates who are confident about their communication skills.
This doesn't stop with just corporates alone but extends to other industries such as retail, E-Commerce, Media, Journalism, Travel, Tourism, and much more. So to equip yourself with fine Conversational or Communication Skills of the English Language enroll in our Spoken English Classes in Madurai. Some of the industries that particularly hire proficient English Language learners are the Digital Marketing industry, Media and Entertainment, Hospitality industry, Content Marketing industry, Human Resource industry, Aviation industry, and such. The positions that are available for these professional English language learners or Spoken English Certified candidates are English Language Trainer, Interpreter/Translator, Blogger, Advertiser, Tour Guide, and more. Let us now discuss the salaries of these professionals in India. A beginner translator earns around Rs. 2,16,000 per annum while experienced professionals earn around Rs. 1,100,00 per annum. A beginner English langue trainer earns around rs. 4,00,000 per annum while experienced professionals make around Rs. 7 to 9 lakhs per annum and so on. Joining FITA Academy which is the best Spoken English Institute in Madurai will broaden your understanding and knowledge of the English Language and help you achieve the expertise of possessing an impressive communication skills.
Student Testimonials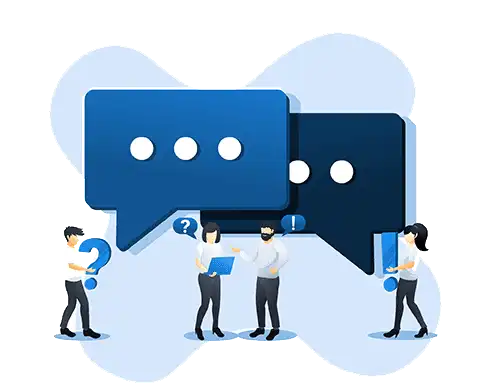 Have Queries? Talk to our Career Counselor
for more Guidance on picking the right Career for you! .
Additional Information
What is Spoken English?
The term "spoken English" refers to English that is used to converse and communicate. It entails using words, phrases, and sentences to communicate or convey ideas or sentiments to those around us vocally.
"Spoken English is the more natural and common means of transmission," according to linguist David Crystal, "yet oddly, most people feel it far less familiar- possibly because it is so much more difficult to see what is happening in conversation than it is in writing." This explains why spoken English is a more natural and widespread means of communication or, to put it another way, the transmission of messages. The only problem is that most people are unfamiliar with it, probably because it lacks sight,' as opposed to 'writing.
The most fundamental distinction between spoken and written English, or any language for that matter, is that spoken English should be grammatically simpler, with shorter and simpler words and sentences. It's more concrete, clear, and simple to understand and use. Grammar is a necessary aspect of the English language in order to construct correct sentences. It will also aid in the development of spoken and written English communication abilities.
Why Choose FITA Academy to learn the Spoken English Classes in Madurai?
Learning to speak in English may be one of the best things that you can do to move up from wherever you are in life now. With IT and everything digital, you may be able to reach out but to connect with the whole world. You would have to learn to speak in English. If you are looking for a Spoken English Class in Madurai, we at FITA Academy can offer help.
When you join to learn English at FITA Academy, you are linked to the Best Spoken English Class in Madurai. With a completely different training methodology, we lead you through the correct path and keep you motivated enough through the length of the course to master the nuances of the spoken English language.
Practical sessions in the Spoken English Class in Madurai FITA Academy are geared to improve fluency and also teach the American/British accent for those who need it. Expert English Language professionals have developed the course with international certifications to their credit.
Spoken English Courses in Madurai FITA Academy have flexible timings and methodologies. Both classroom and online training are provided. Class timings are made flexible for working professionals and students: the English class students can opt to attend either weekday or weekend classes according to their convenience.
FITA Academy offers three levels for students who join Spoken English Institute in Madurai: Beginner Level Course, Intermediate level Course, and Advanced Level Course. At the end of the Spoken English Center in Madurai at FITA Academy, you will be able to handle yourself well and correctly speak, read and write in English. FITA Academy, the Best Spoken English Institute in Madurai is committed to providing you with a great experience and ensured results.