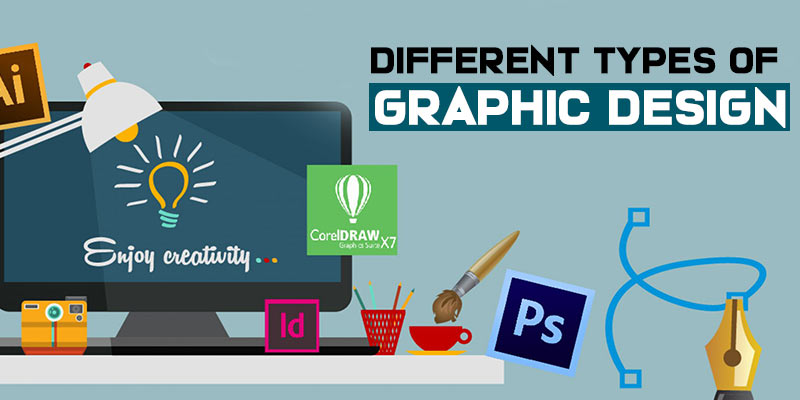 Graphical Design is a visual presentation, which can solve the problems and deliver the ideas via color, imagery, typography, and form. There are many types of graphical designs, each has their own specialization.
Every type of Graphic Designer needs a special kind of creative skills and design techniques. Some designers are specialized in a single type and some on a set of types. Technology keeps changing and nothing is permanent, every industry is changing constantly according to the growing trends, so every designer must be flexible and they should be updated and also need to be a good learner.
 Want to be a Professional Graphic Designer? Learn the Graphic Design Course in Chennai and gain more creative knowledge which will help you to achieve the perfect designing skill for the job.
Visual identity graphic design
A brand is a bond between the business and its audience. An identity of a brand is, how the company reports its tone, personality, emotions, essence, and experience.
Visual identity Graphic Design is the visual element of the brand and that represents the brand to reach the customers through pictorial representations.
To create visual assets, Visual Identity Graphics specialists interact with the stakeholders. The assets such as Typography, logos, Image libraries, color palettes, and image libraries, which can express the personality of a brand.
User interface graphic design
UI- The term user interface, explains how the user interacts with the device and applications. The layout of User Interface is the process of creating the interface to give a user-friendly experience and make them easy to use.
A User Interface includes all things and the user communicates with the mouse, keyboard, and screen. The UI design is concentrated on the visual experience of the user. The user interface designer who works on the basic on-screen graphic elements like micro-interaction, buttons, menus and more. It is one of the UI Designer' jobs, to support artistic interest with special functionality.
Some Examples of User Interface design.
Game Interface
App design
Theme Design (Shopify, WordPress, etc.)
Web page design
Publication graphic design
Publications are a long-term process that interacts with viewers through public distributions like newspapers, magazines, catalogs and Think Books. However, there has been significant growth in digital publishing.
The Graphic Designers are the creative designers, who are specialized in publication works with an editor, director, and publisher to design plans with selected typography and artwork, which can include graphics, illustrations, and photography.
Example of Publication Graphic Design
Newspapers
Newsletters
Books
Catalogs
Directories
Packaging graphic design
Many of the brand products need some types of packaging to prepare and protect them for sale, distribution, and storage. The packaging designs can play a main role and also it can communicate with its customers directly. Graphic Design Training in Chennai at FITA provides you the necessary training to enrich your skill sets in Designing under working professionals.