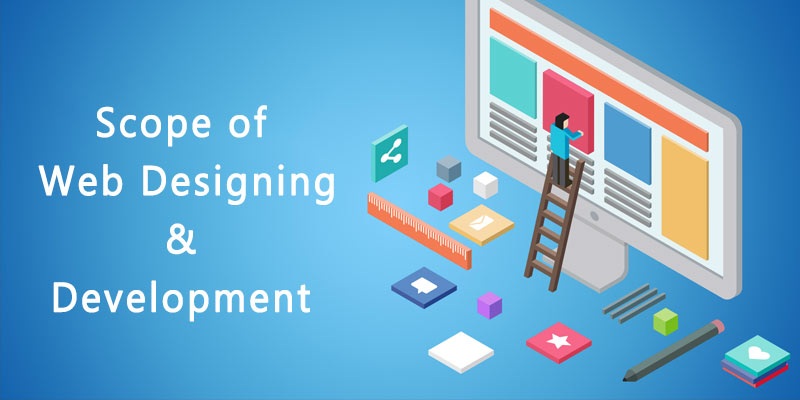 What is Web Designing?
Web designing is an essential part of today's IT industry. The process of creating and designing a website is called Web designing. Web designing uses images, color, fonts, text, HTML5, and other interactive elements to produce a webpage. Designers use CSS for presentation and HTML as a markup language for creating the structure. There are various techniques involved in Web Designing.
Want to be a Web Designer?
You may have questions or doubts in your mind whether you can be a Web Designer?
The Answer to this question is Yes. Anyone who aspires to be a Web Designer could join, various short duration courses for Web Designing Training. Learn the course professionally and become a professional Web Designer. The course duration is from 6 months to one year. In this course, you will learn about HTML, PHP, CSS, Dreamweaver, Magneto, Word press, and Photoshop. Once you have completed a master's in this field. You can begin your career in reputed organizations.
Eligibility Criteria for a Web Designer:
 Candidates with B.Tech in Information Technology, Computer Science, BCA, B.Sc degree can become a Web developer.
Candidates who completed high school education can also pursue their careers in Web Designing.
Skills Required
Web designers are expected to have new and creative ideas for digital data representation.
Communication skills are important as it is required to interact with the client and understand their requirements and also it is important for communicating with the rest of the team.
Computer knowledge and a good knowledge of programming languages is a must for people who want to become Web Designers.
One should know how to use the latest Web Designing tools for creating web pages.
Job and Career in Web Designing
After finishing the course, you can work as a freelancer and in a web designing company. Many companies are demanding Web developers for their front end and back end process. You can work as a Web Designer individually and also set up your own company
The main career areas in this field include:
Front end developer
Back end developer
Primary roles of a Frontend and Backend Developer
Front end developer
The client-side dealing is usually operated by the front end developer with the graphics, web page design which is accessible to the user.
Back end developer
The back end development which interacts with the server is operated by the back end developer. PHP, ASP.Net, Java, Cold Fusion, and Perl are the types of languages that are specialized by the Back End Web developer.
Salary for Web Designer
The salary of a Web Designer varies from organization to organization. In general, a Fresher may get a starting salary of 10k to 25k per month. After years of experience may get 25k to 40k per month.
Currently, Web Designers are the most demanded job profile in many organizations. Learn Web Designing Course in Bangalore at FITA. Choosing the career path of Web Designing is going to be beneficial for job seekers.