If you are looking to become a Java developer, it is important to understand what your salary potential may be. In this blog, we'll take a look at the average Java developer salary for freshers.
Java developers are in high demand these days and companies are willing to pay top package for the right talent. However, if you are just starting out in your career as a Java developer, your salary may not be as high as you would like. But don't worry, with a little bit of hard work and experience, your salary will gradually increase. However, the demand for Java developers is so high that many companies are willing to pay more than the average salary.
About Java & It's Importance
Java is a programming language and a computing platform to empower the large share of the modern digital world through its services and applications. According to statistics-times, Java remains the most popular language used worldwide and a leading competitor to all other programming languages. If you are interested in learning and have expertise in Java, enroll for Java Training in Chennai at FITA Academy. Usually, IT aspirants and graduates at their initial stage, spend their maximum time practicing and learning the Java language. It helps them to prepare for job interviews and later allows them to create applications as per the client's needs. The importance of Javascript can be understood from the fact that MNCs like LinkedIn, Twitter, eBay, and Amazon use Java to create an interacting interface between web applications and backend systems.
Special Features of Java
Java developers prefer this language for three important factors or special features. The features are
Ensures high stability for coding
Comes with high-code compliance features
Remains portable across all Operating Systems (OS)
As discussed earlier, the demand for Java and Java developers is increasing day-to-day, so it always sustains the job opportunity balance for freshers who are looking for a good java developer salary for freshers. Let's discuss the introduction to Java developer, their demand, and salary structure.
About Java Developer 
A Java Developer is the one who is responsible for writing powerful codes for the development of applications (either android or software). In addition, a Java developer is also responsible for the integration of front-end and back-end systems. The tools such as Microsoft Products, Adobe PDF Readers, and Mobile Android applications are all written in Java scripts. Even the API tools from Google are also made of Java language, therefore the demand for Java developers never ends as well as the java salary for freshers never goes down.
Demand for Java Developers 
Though Java developed 20 years, the language still remains a popular programming language among all IT aspirants. Furthermore, Java holds the third rank among the comprehensive list of popular technologies in the world. The demand for freshers with a Java developer background is high as the language has its own independent platform. So, it enables programmers to transit easily from one computer to the other, and all other languages don't afford the same versatility as Java. Henceforth, most popular and leading IT firms across the world prefer Java as their prime programming language. Therefore, the demand for Java and Java developers will grow exponentially in global IT markets in the future.
Increase your demand for job opportunities through learning Java Training in Bangalore at FITA Academy.
Java Developer Salary For Freshers in India
The initial Java Developer Salary in India for Freshers is excellent. It is attracting freshers from all the computer science fields to learn Java and get placed into an IT Firm. Everyday applications in computers, laptops, and Android phones are the results and outcomes of Java. That is why the demand for Java and Java developers is continuously increasing, and they are paid extremely well in any IT sector.
Java Developers Salaries in India
The Salary of a Java Developer in India for freshers varies for different professionals depending on the company, experience, location where the applicant is working, the seniority roles, and the skill set. Developers salary at various IT firms are shown below the chart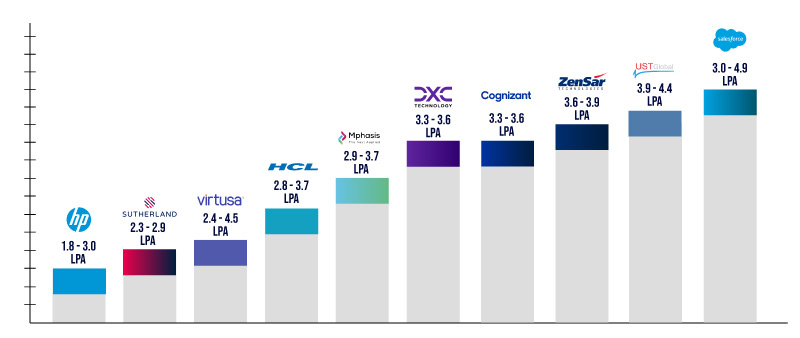 Key Reasons Behind the High-Demand for Java Developers
There are four key factors responsible for the high demand for Java developers in India and other countries. The four key factors are
Leading Platform for Android Applications – Everyone knows that Java remains the principal bone of Android OS and Android Applications, which means that Java holds a supreme position in all mobiles phones.
Amazing Platform for Enterprise Computing – Corporate enterprises such as Finance & Banking companies and Communication Media utilizes Java-based applications. Since Java comes up with a variety of system libraries, it aids in the restoration and resolution of Java concerns.
Compatibility and Compliance – Since, the modern digital world is introduced with numerous programming languages, no IT firm wants to invest and renew any earlier applications. In this case, Java offers backward compatibility which defines that all the Java applications will run without any changes or modifications to the earlier applications.
Speed and Reliability – Java programs work with high reliability, speed, and performance. As discussed earlier, the platforms like LinkedIn and Twitter manage millions of posts every day which defines the performance and reliability of Java programs. That way, the salary of java developers in India for freshers is always high compared to other programmers.
Become a supreme Java Developer through pursuing Java Online Course and completing it with excellent faculties and experts at FITA Academy.
Fundamental Skills Required to Become a Java Developer
Freshers seeking Java Developer roles must possess the following skills.
Critical problem solving and analytical thinking
Relevant experience with Git and Version control system
The practice of algorithms and Data Structures
Knowledge of Database Structure
Restful Web Services and Applications
Ability to work with teammates for collaborations
Roles and Responsibilities of a Java Developers
Fresh candidates and entrants looking for a good Java Developer Salary in India for Freshers are required to accomplish or complete the following key responsibilities as a Java developer, which are
Potentiality to write codes, modify existing applications, and debugging softwares for clients.
Testing and Documenting softwares for client applications
Writing codes for the creation of user-interface or single threaded-applications for external clients.
Writing stand-alone codes to access servers
Expertised work with Database systems like MYSQL and SQL Programs.
Knowledge of OOPS, Algorithms and Data Structures
Expertise in Java and Java 8
To become a competent Java Developers, let discuss some tips to expertise and unlock your Java skills. Meanwhile, take a look at JAVA Course in Chennai at FITA Academy.
Tips to Become an Competent Java Developer
Freshers who are passionate to become a competent Java developer must practise the following tips:
Become a Master Core Java

Once any aspirant decides to begin their journey with Java, they must practice and have a clear understanding about Java, Javascripts, loops, arrays and operators. Then, the applicant must also possess knowledge on APIs like Java.math and Java.io.

Sustained Practise

Practice all the codes and scripts repeatedly until the right algorithm generates. Frequent practice may help candidates to write syntaxes without errors.

Transition from Java to Java EE

After successful learning and expertising in Core Java, the applicant must go for Java EE. This is an advanced java program which has wider applications in website development. Some of the expertised core skills in Java EE are WebSocket, Java Server Faces, and Servlet.

Implement Acquired Skills

The applicants seeking a good salary of java developer in india for freshers are advised to apply their acquired knowledge on Java to multiple projects. So that, the applicant can refine their skill set for expertised Java Developer.

Acquire Knowledge on Spring and Hibernate
After core expertise in Java and Java EE, the next phase is to learn Java Frameworks which is nothing but the Hibernate and Spring Frameworks. Here, the frameworks are the codes that are written in advance and can be added to the customized solutions. Freshers who have spring and hibernate skill background are likely to get hired.
Learn Java through enrolling for Java Course in Bangalore at FITA Academy. The leading institute in Chennai and Bangalore for successful placement.
Special Features that Makes Java More Demanding
Platform Independent – Javascripts run on WORA protocol, which can run anywhere after single-sourced coding. Also, Java Runtime Environment (JRE) is compatible and accessible through operating systems like Windows, Mac OS, and Linux.
Multithread Modes – Java has integrated multithreading capability to deliver responsive and interactive apps with multiple activity threads.
Multiple Object Oriented Features – Java is inspired through programming languages such as C and C++. So, Java is entirely object-oriented with multiple features such as encapsulation, inheritance, polymorphism, abstraction, and core OOP features.
Safe and Security – Java provides runtime safety features that include static type-checking and runtime checking during the compliance of codes. So, it remains a challenging task to hack Java applications from any external application source.
Reliable and Robust – Java codes are robust as they do not require external references. But they support the memory management model and automatic garbage collection model. Therefore, Java is more secure with reliable features.
Java and other programming languages have transformed the intelligence and the ease of access services to multiple software and applications in the IT Industry. People across the world are interconnected through Javascripts and their coded applications. Therefore, the increasing demand and more comprehensive applications have numerous job benefits and global opportunities for freshers looking for very good java developer salary for freshers. Hence, IT aspirants are encouraged to apply for Java developer roles at their desired companies. Nevertheless, the salary hike for Java developers usually depends on proficiency, work experience, and the ability to heighten the company.