Course Highlights and Why German Language Course in Chennai at FITA Academy?

Goethe-certified and CEFR certified Trainers with over a decade of experience provide a deep understanding of the German language.

The German Course covers six levels of German language training such as A1, A2, B1, B2, C1 and C2 defined by the Common European Framework Reference for Languages (CEFR).

The German Classes in Chennai help you prepare for Goethe Institute exams, a globally recognised certification for German proficiency.

Creating and Conducting regular language evaluations based on the CEFR/GER.

We provide more personalised attention and better interaction with a low student-to-teacher ratio.

FITA Academy helps you prepare for job opportunities in German-speaking countries and increase your employability.

The German Classes are available in various schedules, including weekday, weekend, and intensive courses, to accommodate your availability and learning pace.
Upcoming Batches
04-12-2023
Weekdays
Monday (Monday - Friday)
07-12-2023
Weekdays
Thursday (Monday - Friday)
09-12-2023
Weekend
Saturday (Saturday - Sunday)
16-12-2023
Weekend
Saturday (Saturday - Sunday)

Classroom Training
Get trained by Industry Experts via Classroom Training at any of the FITA Academy branches near you
Why Wait? Jump Start your Career by taking the German Classes in Chennai!
Instructor-Led Live Online Training
Take-up Instructor-led Live Online Training. Get the Recorded Videos of each session.
Travelling is a Constraint? Jump Start your Career by taking the German Online Course!
German Language Course Objectives
Level 1: German A1 Certification

To learn the German alphabet and basic numbers.
You can Acquire essential phrases and vocabulary for greetings and basic communication.
To understand the concept of gender in the German language.
You can form simple sentences, introducing yourself and asking basic questions about your surroundings.
To gain a foundational understanding of German grammar, including nouns, pronouns, verbs, prepositions, and tenses.

Level 2: German A2 Certification

To develop the ability to comprehend common expressions and sentences related to daily situations such as work, shopping, and immediate surroundings.
Learn to describe your educational background in German.
Learning essential grammar concepts, including modal verbs, clauses, degrees of comparison, and sentence connectors.

Level 3: German B1 Certification

To enhance your proficiency in subjects related to school, profession, and leisure time.
To build confidence in speaking German for day-to-day situations and engage in coherent conversations on areas of interest and routine topics.
To deepen your knowledge of German grammar, including direct and indirect speeches, tenses, and clauses.

Level 4: German B2 Certification

Comprehending the central themes of complex sentences on abstract topics.
To communicate fluently in daily conversations, achieving a native-like fluency.
To know how to Express yourself in detail on current issues and diverse topics.
To expand your vocabulary and become acquainted with new words.

Level 5: German C1 Certification

To gain the ability to understand various topics and texts, deciphering implicit meanings.
Expressing yourself fluently and spontaneously without searching for words.
To Apply German proficiently in both social and professional settings.
Developing the skill to create structured, detailed, and precise statements on complex topics using various textual forms.

Level 6: German C2 Certification

To Achieve seamless comprehension of daily situations in German.
Condensing information from diverse spoken and written sources.
To Express yourself with precision and accurate pronunciation.
Mastering the finer nuances and meanings of complex words and topics.
Syllabus
Level 1: German A1 Certification
German Alphabet, Numbers, Basic Phrases, Colors, Objects, Genders, Greetings, Formation of simple sentences - like introducing yourselves, questioning about the locality, and basics of communication. Grammar - Nouns, Pronouns, Verbs, Prepositions, and Tenses.
Level 2: German A2 Certification
Able to comprehend the commonly used expressions and sentences that are related to daily circumstances like - Work, Shopping, and Immediate surroundings. Ability to describe your education and background in German. Grammar - Modal Verbs, Clauses, Degrees of Comparision, and Sentence Connectors.
Level 3: German B1 Certification
Clairvoyance on the subjects that are related to school, profession, and leisure time. Ability to confront the day-to-day situation and speak confidently in German. Have the caliber to respond coherently to areas of interest and routine topics. Grammar - Direct and Indirect Speeches, In-depth understanding of the tenses and clauses.
Level 4: German B2 Certification
Capable of understanding the central theme of the complex sentences on abstract topics. Capable of communicating fluently in daily conversations and sound like a native speaker. Express oneself detailedly in topics that are related to current issues and about different topics. Enhanced vocabulary and becoming familiar with new words.
Level 5: German C1 Certification
Ability to understand a range of topics, texts, and understand the implicit meaning behind them. Capable of expressing oneself fluently and spontaneously and need not search for the words. Able to use the language profoundly in a social and workspace environment. Able to make structured, detailed, and clear statements on complex topics and apply different means of text that are related to the process.
Level 6: German C2 Certification
Seamlessly understand the daily situation. Ability to condense the details of different spoken and written sources. Express oneself proficiently with precision and accurate pronunciation. Understanding the finer nuances and the meaning of complex words and topics.
German Language Course Trainer Profile
Our German trainers are Goethe Certified Experts with more than 10 years of dedicated teaching experience in the German language.
Highly qualified trainers possess the expertise to instruct across all six levels of the German language, such as A1, A2, B1, B2, C1 and C2, aligning with the Common European Framework Reference Standards (CEFR).
Their primary goal is to nurture well-rounded language skills in students, encompassing reading, writing, listening, speaking, and effective communication in German.
The German language classes at FITA Academy are designed to accelerate your journey to fluency under the expert guidance of our trainers.
In addition to focusing on communication skills, our trainers provide in-depth training in German grammar and language structure.
Our German language trainers prepare students for global certifications like Goethe-Zertifikat, enabling them to become internationally recognised German speakers.
Individualised attention is a top priority for our German trainers at FITA Academy, ensuring that students gain the confidence and proficiency to converse fluently.
They specialise in making complex language elements clear and accessible, empowering students to speak eloquently and precisely.
Learn at FITA Academy & Get Your
Dream IT Job in 60 Days
like these Successful Students!

Student Success Story of German Language Course in Chennai
Ram, a native of Chennai, boarded a remarkable journey towards achieving his dream of working and pursuing an MS in Germany. After completing his Bachelor of Engineering (B.E) in Chennai, he began his professional journey in the IT industry and had gained valuable experience and skills. However, his ambition extended beyond the borders of India, and he aspired to build a successful career in Germany.
He knew that a strong command of the German language was essential to realising his dream, so he started researching the best institutes to learn German. Fortunately, he had a relative already living and working in Germany, who shared their success story. They emphasised that mastering the German language had opened doors of opportunity and paved the way for their career in Germany.
Eager to follow in their footsteps, he sought out the best institution for learning the German language. His quest led him to FITA Academy, a renowned language learning center. He contacted us to learn more about their courses and how we could help him achieve his goals. After a thorough conversation and learning about the numerous advantages of the German language course, he decided that FITA Academy was the right choice for him.
He enrolled in the German language course at FITA Academy. One of the factors that attracted him to FITA was the flexibility we offered, which allowed him to balance his job and coursework effectively. Over time, with determination and dedication, he completed all six levels of the German language course and earned a certification from the Goethe Institute, which is widely recognized and respected.
With his newly acquired language proficiency and the Goethe certification added to his resume, he was well-prepared to take the next step towards his dream. He began applying for jobs in Germany, leveraging his language skills and the credibility of his certification. He received a job offer in Germany, a significant milestone in pursuing a career abroad.
Ram's success story is a testament to the power of determination, the importance of learning a new language, and the impact of a prestigious certification like Goethe. He not only achieved his goal of working in Germany but also set the stage for further academic pursuits, as he now had the opportunity to simultaneously work and pursue an MS in the country of his dreams. His journey inspires those who dare to dream big and work hard to turn those dreams into reality.
Features of German Language Course in Chennai at FITA Academy
Real-Time Experts as Trainers
At FITA Academy, You will Learn from the Experts from industry who are Passionate in sharing their Knowledge with Learners. Get Personally Mentored by the Experts.
LIVE Project
Get an Opportunity to work in Real-time Projects that will give you a Deep Experience. Showcase your Project Experience & Increase your chance of getting Hired!
Certification
Get Certified by FITA Academy. Also, get Equipped to Clear Global Certifications. 72% FITA Academy Students appear for Global Certifications and 100% of them Clear it.
Affordable Fees
At FITA Academy, Course Fee is not only Affordable, but you have the option to pay it in Installments. Quality Training at an Affordable Price is our Motto.
Flexibility
At FITA Academy, you get Ultimate Flexibility. Classroom or Online Training? Early morning or Late evenings? Weekdays or Weekends? Regular Pace or Fast Track? - Pick whatever suits you the Best.
Placement Support
Tie-up & MOU with more than 1500+ Small & Medium Companies to Support you with Opportunities to Kick-Start & Step-up your Career.
Why Learn German Language Course in Chennai at FITA Academy?
Live Capstone Projects
Real time Industry Experts as Trainers
Placement Support till you get your Dream Job offer!
Free Interview Clearing Workshops
Free Resume Preparation & Aptitude Workshops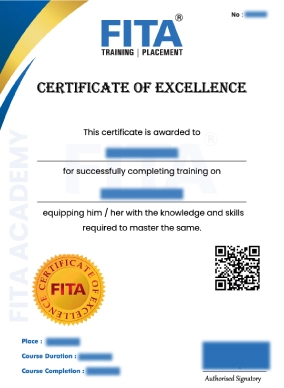 German Certification Training in Chennai
The German Language Course in Chennai adheres to the precise syllabus outlined by the Common European Framework of Reference for Languages (CEFR). The German classes are designed to equip students with proficiency in reading, writing, speaking, and listening skills. These competencies are crucial for individuals aiming to secure their desired job roles across various sectors.
Levels of German Language Certification
The certification program consists of different levels, each signifying a specific level of proficiency.
Levels A1 and A2: Completing Level A demonstrates fundamental language skills attainment and enables individuals to pursue a visa or residence permit in Germany.
Levels B1 and B2: Upon achievement of Level B, one is recognised as a fluent, independent speaker, opening the possibility to apply for German citizenship or permanent residence in the country.
Levels C1 and C2: Level C represents the highest and most advanced certification stage, recognising excellence and facilitating higher education pursuits.
It's worth noting that certain universities accept students with B2 or C1 certificates. FITA Academy's German Language Classes in Chennai, led by industry professionals, are designed to help you achieve your desired job roles and aspirations.
Benefits of German Language Course in Chennai at FITA Academy
Structured Learning: German Courses in Chennai offer a structured and organised curriculum, making it easier for students to progress step by step.
Professional Instructors: We have experienced and qualified instructors who can provide guidance, support, and feedback to help you learn effectively.
Interactive Learning Environment: FITA Academy's German Language Training in Chennai has Smart Classrooms, which provide an interactive learning environment, allowing students to practise speaking, listening, and reading German with fellow learners.
Progress Monitoring: Institutes typically have a system for assessing your progress through regular tests and assignments, ensuring you stay on track.
Certification: Completing German Classes in Chennai at FITA Academy results in a certification that can benefit job opportunities and academic pursuits.
Cultural Insights: German Language Training in Chennai also provides cultural insights, helping you understand the context in which the language is used.
Networking Opportunities: FITA Academy offers opportunities to meet other language learners, fostering community and potentially creating connections for future endeavours.
Job Opportunities: Proficiency in the German language can open up job opportunities in various industries, and we offer guidance on career prospects for language learners.
Travel and Study Abroad: Learning German can facilitate travel and study opportunities in German-speaking countries, and FITA Academy provides information on such options.
Personalised Support: We offer personalised support or one-on-one tutoring for learners needing additional assistance.
Earning this certification is a testament to your linguistic proficiency and a confidence booster, signifying a significant step towards enhancing your career prospects. Many businesses and organisations now prefer candidates who have completed certified German Courses in Chennai, as these certificates are in high demand. This is particularly true because Indian graduates are often perceived as lacking in comprehensive content knowledge compared to their international counterparts. Consequently, international candidates are frequently favoured to fill job vacancies.
However, by successfully passing the German certification examination, you instantly qualify for employment opportunities in Germany.
Have Queries? Talk to our Career Counselor for more Guidance on picking the
right Career for you!
Placement Session & Job Opportunities after completing German Language Course in Chennai

FITA Academy is dedicated to helping students realise their dreams of securing placements in leading multinational corporations (MNCs). Our experienced trainers impart knowledge through real-time scenarios, facilitating faster learning. Students receive guidance throughout the course and post-completion.
Enrolling in the German Language Course in Chennai opens up diverse job opportunities across various sectors, including mass media, tourism, education, information technology, and outsourcing. India hosts numerous outsourcing centres of prominent MNCs, making you a favourable interview choice due to the abundant pool of skilled resources. Translation opportunities are also abundant. Several renowned outsourcing firms, such as Oracle, HP, ThyssenKrupp, Samsung, Hyundai, LG, Mercedes, Volkswagen, Siemens, and Schaeffler, value proficiency in the German language.
German serves as a mode of communication in multiple countries, including Belgium, Switzerland, Austria, and Luxembourg. Its roots trace back to Sanskrit. Thus, enrolling in German Language Classes in Chennai positions you favourably in top organisations.
Career paths for individuals after completing German Classes in Chennai
Tourism and Hospitality: Individuals proficient in German are highly demanded as hospitality staff and tour guides.
Research: Germany is a significant contributor to global scientific research. So there is a demand for German translators in research field.
Business Growth: German Langauge Speakers connect with German companies and clients for enhanced business relations.
Study Abroad: Prepare for overseas studies through our German Courses in Chennai.
Communication: Learning a new language offers numerous advantages in various life situations.
Translator: Government organisations, MNCs, and NGOs require proficient translators.
Advertising Manager: Lead advertising efforts for global companies with German solid skills, including Siemens, Bosch, Lufthansa, BMW, Volkswagen, Adidas, SAP, and Allianz.
Consider enrolling in German Classes in Chennai through FITA Academy for a rewarding career. Our courses enhance language skills, opening doors to all fields. German proficiency can give you a competitive edge, as some employers specifically seek German-speaking employees. To learn more, reach out to our admissions counsellor today.
Success Story of German Language Course in Chennai
German Classes in Chennai at FITA Academy was really good. I enrolled for the A2 level. I am so happy with their training practices. Now, I have further planned to do my B1 level at FITA Academy itself. Hopefully, with their guidance and assistance, I am sure that I will clear this certification level as well. Thank you FITA Academy!
I enrolled for German Training in Chennai at FITA Academy on my friend's suggestion. I am glad that I chose this platform to learn the German language. Neatly designed course structure with regular assessment sessions helped me to learn the language at a faster pace. Also, my Trainer was so proficient in the German language. He made sure that we maximum converse only in German during the class hours. A sincere thanks to him. Good Work FITA Academy!

My overall experience at German Classes in Chennai at FITA Academy was too good. I just enjoyed my learning session. We really had a lively and interactive learning session. Also, my trainer was so polite enough to clear all my doubts. I had a very good understanding of the basics. I am further planning to do my A2 level certification at FITA Academy! And I will definitely recommend FITA Academy Training Institute to my friends.
FITA Academy's German Training course session was very well designed and I had a pretty good experience over there. Right from the training faculty to the course structure everything was just above the best. I enrolled for the B2 level here. This was the best training institute in my life for the German I have ever come across. Also, they were so flexible in scheduling the classes. I have decided to do my C1 level certification over here due to their way of approach and training. Excellent job FITA Academy!.
I have completed my German course at FITA Academy for A1 and A2 levels. The trainers were very supportive and they gave individual attention to each student. I am sure that I will clear this certification level. I will surely recommend this institute to my friends and Thanks to FITA Academy.
A very good place to learn German Language and I am glad that I have chosen this institute. The tutor was really helpful and they cleared all my doubts. This is the best training institute to learn language courses. Nice infrastructure and fees are affordable. I have decided to do my B1 certification here.
I completed my A1 and A2 level certifications of German Courses in Chennai @ FITA Academy. Trainers are very friendly. I learned a lot here, in every session. Satisfied with their training and I surely suggest FITA Academy to my friends and this is the best platform to have a clear understanding of German basics. Special thanks to my trainer.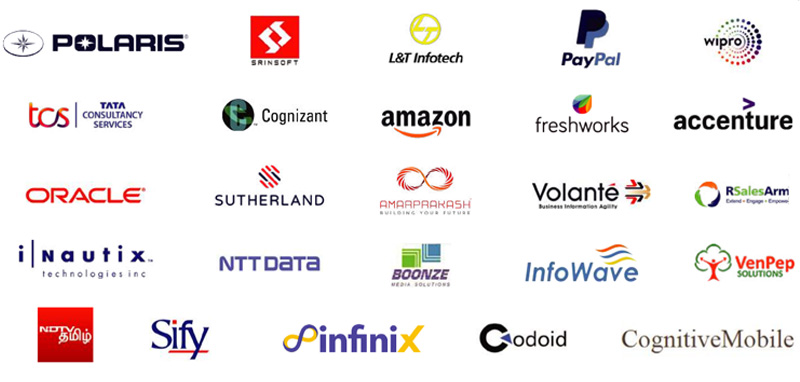 Frequently Asked Question (FAQ) about German Language Course in Chennai
General Q & A about German Language Course in Chennai
How much will it cost to learn German?
There are various career opportunities available to German learners not only in Germany but also in India. The fees for a German Language Course in Chennai, up to the B1 level, typically range from Rs 50,000 to Rs 60,000.
Can I learn German in 3 months?
If you join extensive classes (around 20 hours per week), you can go upto B1 level. To attain Fluency will take more than 3 months, but you may still learn in less time if you adjust your strategy.
Can I learn German at 40?
You can do it! German is a complex but highly systematic language. Learning German in one year is possible, but it will take a nearly full-time commitment and immersion learning. I arrived in Germany needing to learn how to speak German.
What are A1 A2 B1 B2 C1 C2 in German?
These levels are grouped into three major categories: A1 and A2 ("Basic User"), B1 and B2 ("Independent User"), and C1 and C2 ("Proficient User"). Let's delve into the communication expectations of each level defined by CEFR.
What is the A1 level in German?
At the A1 level, you should be able to comprehend uncomplicated German sentences and identify fundamental words related to yourself and your surroundings. You can employ standard greetings and introduce yourself.
What is a B1 level German?
Successfully passing the B1 level exam signifies your transition to an intermediate stage in the German language. It also grants you the privilege of referring to yourself as an intermediate speaker. This examination certifies that students have achieved a level of independence in their use of the German language and are under the standards established by the CEFR.
Which course is famous in Germany?
Engineering is widely regarded as one of the top courses in Germany. In addition to engineering, Germany has been enticing many international students keen on pursuing disciplines such as management, computer science, mathematics, and various other subjects.
Is there a demand for the German language?
This salary figure is derived from the analysis of 833 salaries of German Language Experts. German has secured its position as one of the top 5 Highest Paid Foreign Languages in India in 2023. The demand for the German language in India continues to experience steady growth.
What is B2 language level German?
B2 represents the fourth out of six levels of language proficiency established by the Common European Framework of Reference for Languages (CEFR). It signifies an 'advanced intermediate' language competence typically attained by individuals studying German as a foreign language.
Is B2 German enough to work?
Certainly. Even though certain visa types, such as the Blue Card, may exempt individuals from specific language requirements, having a strong command of the German language improves your job prospects. Attaining a B2 level is a significant achievement.
Is the German A1 exam easy?
The A1 German test is typically categorised as having a moderate difficulty level, as it evaluates elementary communication skills like self-introduction, asking and responding to straightforward questions, and furnishing basic information about oneself and the immediate surroundings.
What is the passing score for the A1 German Exam?
In the beginning, the A1 German exam is graded on a scale of 60 points, with a passing score set at 36. In other words, you only need to achieve 60% to pass the examination.
Can I skip the A1 German exam?
We strongly advise that you consider taking the exam at the highest level you've reached. For instance, if you aim for B1 proficiency, you can bypass the international certification exams for A1 and A2 and proceed directly to the B1 examination.
What happens if you fail the German A1 exam?
If you do not pass the exam, you must retake it, which also involves paying the fee again. You can retake the exam as many times as needed, but each attempt requires a new examination fee. It is recommended to consider advancing to the next level, such as A2, before attempting the A1 exam again.
Does German A1 expire?
Goethe-Zertifikats A1 through C2 do not expire.
What documents are required for the German A1 exam?
On the exam day, candidates must bring their original passport and payment receipt. Those with these documents will be allowed entry to the examination centre or hall.
Is it easy to settle in Germany?
Germany is an inclusive destination for individuals from across the globe. The German government provides a range of visa alternatives for those interested in residing and working within the nation. The job seeker visa is among the choices accessible for individuals aspiring to move to Germany.
Which level of German is required for the job?
Depending on the specific federal state in which you intend to work, you must meet the language requirement of either Level B1 or B2 defined by the CEFR.
Who is eligible for the Goethe exam?
The Goethe-Institut exams are open to all interested individuals, regardless of age or nationality. For the Goethe-Zertifikat B1 exam for young people, a minimum age of 12 years is recommended.