Course Highlights and Why Advanced Excel Training In Chennai at FITA Academy?

Skillfully tailored Advanced Excel Course curriculum to cater to the global industry requirements.

Courseware that is curated by Industry Experts to have a set up of the excel sheets understand different functions and formulas, pivot tables, and data visualization.

Certified Excel Trainers with a decade of experience in training the students to use the Excel Spreadsheets efficiently.

Exhaustive Excel Training in Chennai to make you equipped from the Basics to the Advanced Excel skills.

Lively Instructor-led Advanced Excel Course in Chennai at FITA

Regular Wrap-up of the previous Excel classes is given to strengthen your memory.

Technically Enhanced Classrooms with Applied Method of learning of the Advanced Excel concepts.

Professional Advanced Excel Training in Chennai at a nominal cost with certification on the successful completion of the Excel course.

Flexible Excel Course batch timings - Weekday, Weekend, & Fast track Excel Training in Chennai at FITA.

FITA provides 100% Placement assistance to all the eligible students after the successful completion of the training.

FITA Institute has Placement tie-ups with more than 600+ companies ranging from small to large scale companies.

FITA Training Academy has an Active Placement Cell that helps the students to land in their dream careers.
Upcoming Batches
11-12-2023
Weekdays
Monday (Monday - Friday)
14-12-2023
Weekdays
Thursday (Monday - Friday)
16-12-2023
Weekend
Saturday (Saturday - Sunday)
23-12-2023
Weekend
Saturday (Saturday - Sunday)

Classroom Training
Get trained by Industry Experts via Classroom Training at any of the FITA branches near you
Why Wait? Jump Start your Career by taking the Advanced Excel Training in Chennai
Instructor-Led Live Online Training
Take-up Instructor-led Live Online Training. Get the Recorded Videos of each session.
Travelling is a Constraint? Jump Start your Career by taking the Advanced Excel Course Online!
Syllabus
Microsoft Excel - Introduction to Microsoft Excel
About Microsoft Excel
Various versions of Microsoft Excel
Excel Fundamentals
Understanding the Excel Worksheet
Key terms used in Excel
Creating an Excel File
Entering Data and creating a Table
Navigation in Excel
Formatting Cells
Changing Fonts and Font Size
Changing Text Color
Applying Font Styles
Rotating Texts
Applying Borders
Filling Series
Formulas in Excel
Creating Simple formulas – Add, Subtract, Multiply and Divide
Absolute Cell Reference and Relative Cell Reference
Impact of Absolute and Relative Cell References in Formulas
Working with Rows and Columns – Inserting, Deleting, Hiding, Unhiding Rows and Columns
Formatting Rows and Columns
Freezing Rows and Columns
Splitting Windows
Copy, Paste and Paste Special
Understanding Transpose
Define Names and Labels
Working with Basic Functions
Understanding Functions in Excel
Working with Functions
Mathematical Functions
SUM Function
ROUND Function
SUBTOTAL Function
Working with Basic Statistical Functions
COUNT, COUNTA, AVERAGE, MAX, MIN, MEDIAN, MODE Functions
Working with Logical Functions
IF and Nesting IF Functions
Using Logical Operators such as AND, OR, NOT in Functions
SUMIF and COUNTIF Functions
Working with Text Functions
MID, SEARCH, LEFT, RIGHT, TRIM, CLEAN, UPPER, LOWER, PROPER Functions
Working with Date and Time Functions
TODAY, NOW and DATE, DATEDIF, NETWORKDAYS, EOMONTH Functions
Sorting and Filtering Data
Understanding Sorting
Sorting by Single Column
Sorting by Multiple Columns
Sorting for Specific Words
Sorting based on Dates
Applying Filters
Understanding how to Use Filters
Applying Multiple Filters
Clearing Filters
Grouping Data
Understanding and working with Subtotals
Working with Nested Subtotals
Grouping Rows with Outline
Grouping Columns with Outline
Auto Outline
Ungrouping data
Data Visualization - Basics
Understanding Charts
Common Chart types in Excel
Adding data to Chart
Adding Titles, Labels, and Legends
Working with Data Series
Adding, Renaming and Deleting Data Series
Creating and Managing Column Charts
Creating and Managing Bar Charts
Creating and Managing Pie Charts
Creating and Managing Line Charts
Data Validations - Basics
What is Data Validation
Why Validate Date
Handling Data Validation in Excel ∙ Providing Input Messages
Creating Error Alerts
Using Operators to Control Input Data
Creating and managing Dropdown Lists
Applying Conditional Formatting
Page Setup and Security
Understanding Page Layouts
Page Setup Options
Handling Headers and Footers
Fitting Data to a Page
Sharing Workbooks
Advanced Excel - Working with Advanced Formulas
Using Named Ranges in Formulas
Naming a Single Cell and Range of Cells
Naming Multiple Single Cells Quickly
Using Formulas Spanning Multiple Worksheets
Using the IF Function
Using AND/OR Functions
Using the SUMIF, AVERAGEIF, and COUNTIF Functions ∙ Using the PMT Function
Working with the LOOKUP, VLOOKUP and HLOOKUP Functions ∙ Understanding and Creating Scenarios
Working with the Watch Window
Consolidating Data in Excel
Understanding and using Iterative Calculations
Exploring What-IF Analysis
Using the Scenario Manager
Understand various Financial Functions
Understanding and Using the new Quick Analysis Tool
Working with Lists
Converting a List to Table
Removing Duplicates from a List
Sorting Data in a List
Filtering Data in a List
Adding Subtotals
Grouping and Ungrouping Data in List
Working with Illustrations
Advantages of using Illustrations
Working with Clip Art
Using Shapes
Working with SmartArt
Data Visualization - Advanced
Overview of Data Visualization
Advantages of Data Visualization
Understanding and working with Charts
Creating a Custom Chart Template
Inserting Charts
Adding and Formatting Objects
Inserting Text in Charts
Working with Advanced Features
New Chart Formats -Treemaps, Sunburst, Histogram, Waterfall, Box, and Whisker, Pareto
Introduction to Sparklines
Advantages of Sparklines
Inserting and Managing Sparklines
Working with Tables
Formatting data as a Table
Move between Tables and Ranges
Modify Tables
Define Titles
Advanced Formatting in Excel
Understanding and Applying Conditional Formatting
Using and Working with Styles
Creating and Modifying Templates
Working with Pivot Tables
Understanding Pivot Tables
Creating a Pivot Table
Working with Column and Row Labels
Formatting a Pivot Table
Inserting Slicers
Working with Pivot Tables
Inserting Pivot Charts
More Advanced Functionality
PivotTable Updates
Using Slicers to Filter data
Multi-Select Option in Slicers
PivotTable Timeline
Creating a Standalone PivotChart
Workspaces in Excel 2013
Using External Data Source
Auditing Worksheets
Uses of Auditing Worksheets
Tracing Precedents
Tracing Dependents
Showing Formulas
Tracking Changes
Protecting Worksheets and Workbooks
Working with Data Tools
Converting Text to Columns
Linking to External Data
Controlling Calculation Options
Data Validation
Consolidating Data
Goal Seek
Advanced-Data Tools
Introduction to Power Pivot
What is Power Pivot Tool
Enabling Power Pivot Add-on
Adding Data
Creating and Managing Relationships
Working with Calculated Columns
Introduction to Power Query
What is Power Query
Enabling Power Query Add-on
Working with Power Query to Import Data from various sources ▪ Managing Data using Power Query
Introduction to Power Maps
What is Power Maps
Creating and Managing Power Maps
Macros in Excel
Overview of Macros
Advantages of using Macros
The necessity for simple task automation
Introduction to VBA
Recording Macros
Running Macros
Editing Macros
Adding Macros to the Quick Access Toolbar
Introduction to VBA
What is Visual Basic for Applications (VBA)
Understanding VBA
The Visual Basic Editor
Working with VB Editor
Major Modules in VBA Editor
Understanding the code behind recorded Macros
VBA Programming
Variables
Data types in VBA
Understanding Operators
Understanding Arrays
Creating a Simple VBA Program
Running VBA Program
Tools to effectively run Macros
Control Flow and Loops
Using IF, If Else, Else If, Else and Endif ∙ Understanding Select Case
Understanding Loops – Do While, Do Until Loop ∙ Understanding For and Next Loop
Using Exit Statements
Procedures and Functions
Understanding Procedures and Sub Procedures
Creating and Managing Functions
Pass parameters by Value to Functions
Pass parameters by Reference to Functions
Working with Custom Functions
Creating User Interaction in VBA
Creating Message Boxes
Creating Dialog Boxes
User form Basics and Designing user Forms ∙ Getting Familiar with user Form Controls
Accessing the Macro through user Form ∙ Linking one Forms
Handling External Connectivity
Trainer Profile
FITA Training Academy ardently practices the Experiential method of learning. Excel Trainers at FITA equips the knowledge of the students with the correct blend of the practical and theoretical concepts of the Excel Spreadsheets.
Excel Tutors at FITA trains the students with the Industry-oriented skill sets.
Advanced Excel Mentors at FITA are the Expertise from the Software Development and IT field.
Excel Instructors at FITA are Real-time IT professionals and provide hands-on training of the Microsoft Excel Spreadsheets.
Excel Mentors at FITA enriches the knowledge and skillsets of the students by training them immersively on the industry practices that are currently used.
Excel Trainers at FITA Institute gives equal individual attention to all the students in the Excel Course with hands-on learning and practice.
Advanced Excel Trainers at FITA Institute support and guide the students in the professional Resume Building process and they boost the confidence in the students by giving them useful insights on how to handle the interview.
Learn at FITA Academy & Get Your
Dream IT Job in 60 Days
like these Successful Students!

Features of Advanced Excel Training In Chennai at FITA Academy
Real-Time Experts as Trainers
At FITA Academy, You will Learn from the Experts from industry who are Passionate in sharing their Knowledge with Learners. Get Personally Mentored by the Experts.
LIVE Project
Get an Opportunity to work in Real-time Projects that will give you a Deep Experience. Showcase your Project Experience & Increase your chance of getting Hired!
Certification
Get Certified by FITA Academy. Also, get Equipped to Clear Global Certifications. 72% FITA Academy Students appear for Global Certifications and 100% of them Clear it.
Affordable Fees
At FITA Academy, Course Fee is not only Affordable, but you have the option to pay it in Installments. Quality Training at an Affordable Price is our Motto.
Flexibility
At FITA Academy, you get Ultimate Flexibility. Classroom or Online Training? Early morning or Late evenings? Weekdays or Weekends? Regular Pace or Fast Track? - Pick whatever suits you the Best.
Placement Support
Tie-up & MOU with more than 1500+ Small & Medium Companies to Support you with Opportunities to Kick-Start & Step-up your Career.
Why Learn Advanced Excel Training In Chennai at FITA Academy?
Live Capstone Projects
Real time Industry Experts as Trainers
Placement Support till you get your Dream Job offer!
Free Interview Clearing Workshops
Free Resume Preparation & Aptitude Workshops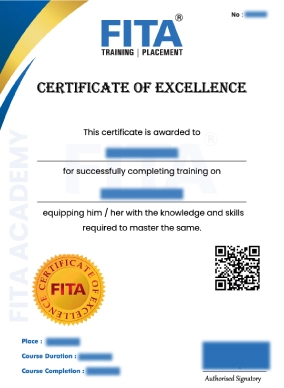 Advanced Excel Certification Training in Chennai
Excel Course Certification is the authentic credentials which illustrate that the candidate has gained in-depth knowledge of the Microsoft Excel Spreadsheets. With a real-time and practical experience provided at the end of the Excel course, this certification states that the candidate has acquired the necessary skill sets to work with Microsoft Excel sheets. Affixing this Excel Course completion certificate along with your resume aids in prioritizing the profile during your interview. Besides, this Advanced Excel Course Certificate helps in accessing wider career opportunities. 
The Advanced Excel Certification Course in Chennai at FITA Academy incorporates the Excel skill sets that should be obtained by an individual to apply in the workplace. Advanced Excel Training in Chennai at FITA is given by professionals who possess more than 8+ years of experience in the IT field. 
Also Read: Advanced Excel Interview Questions & Answers
Have Queries? Talk to our Career Counselor for more Guidance on picking the
right Career for you!
Success Story of Advanced Excel Training In Chennai
I joined FITA Academy for the Excel Training. I had a very good learning time at FITA's Excel Training. My Trainer taught us everything patiently. Most of the classes held here were practical which was what I liked the most. Earlier I had very little knowledge about Excel. But, now I gained a lot of knowledge thanks to FITA and my Excel Trainer.
I did my Advanced Excel Course in Chennai at FITA. I am truly satisfied with taking the Advanced Excel Course @ FITA! Because prior to FITA I had no idea or knowledge related to how to use Excel. But now with the extensive training and regular practice session provided at FITA, I have a solid understanding of the Microsoft Excel office suite. Thanks to my Excel Trainer who was kind enough to explain to me how much every time I asked him. I will refer the FITA Institute for Advanced Excel Training to my friends.
My training experience @ FITA's Excel Training was excellent. My Excel Trainers at FITA were proficient and well-equipped with the Microsoft Excel Office suite. They thought in-depth on how to pivot tables and charts and how to apply the formula to derive the results. I am so happy that I chose the right training Academy for Excel Training.

Overall a very good experience at FITA's Advanced Excel Training. The Excel course curriculum complied with the manner to match the current market needs. Also, the entire course syllabus was completed within the given period. Lastly, the support team, oh my god they were the best support team. I mean, that team was so friendly in approach also they scheduled all my missed sessions to my convenience. Thank you FITA! You are doing great work. I strongly recommend FITA Academy to novices who aren't familiar with Excel.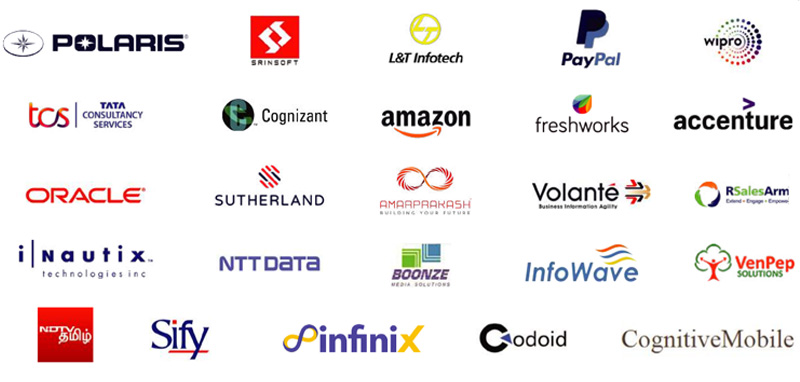 Frequently Asked Question (FAQ) about Advanced Excel Training In Chennai
Additional Information of Advanced Excel Training In Chennai
Microsoft Excel is one of the most powerful tools to manage your data and make your work easier. Everyone from managers to business owners to scientists use Excel to manage and analyze data. Though most of us use Excel in a day to day work, mastering Excel would enable you to get so much more done faster. Excel lets you get away from walls of numbers and draw more persuasive pictures of your data. Better data visualization and understanding of data helps to make better business decisions. Whether you are new to Excel or an intermediate Excel user, Advanced Excel Training in Chennai offered at FITA will transform you into an Excel power user.
Talk To Our Expertise Counselor For Advanced Excel Training
What makes the Excel Course offered at FITA unique? Excel Training in Chennai at FITA is filled with lots of data and tons of real-time examples that will master you into a Pro.
Excel Training Course Fee varies based on the level. Please contact us for details.
Course Objectives Of Learning Excel
After completing the Excel Training in Chennai the students will understand the usage of the components of the Excel
 Effectively use the Office assistant
 Derive the knowledge of using the formulas in the excel sheet.
 Use the date format with alpha and numeric options in Excel.
 Differentiate the usage of functions and formulas in the Excel sheet.
 Use macros for simple and complex tasks.
Future Of Excel
Data processing and data analysis are paramount importance in the projected future growth with respect to the software industry. Excel is basic and still the most powerful tool to maintain the data of the business. When handling the day to day administration work and to make use of the equations, practical tools, and diagrams the excel spreadsheet has been used over the years by the top corporate companies. Certification of Advanced Excel Training in Chennai is recognized globally and the need for it is essential in a highly competitive environment.
When combined excel with this Power BI Training in Chennai you can easily use it for the purpose of decision making and analysis. With the help of this Training in Chennai, you will be able to use various functions used for formatting and filtering.
The time management and data management is needed for the management positions which were well apprehended with the Excel Training in Chennai at FITA. In the Excel course, the mundane operations are explained with editing, formatting, entering the data, modifying the rows and columns, using the formulas, change the views, using the option of auto-fill, custom lists, options to add or summarize a pivot table, add rows or columns, use the scenario manager, removing duplicate data, use the watch window, using conditional logic, the different types of charts, text formulas used in Excel, protecting data, saving a workbook. From the administrative and analysis perspective, Excel will grow as a legendary platform for the other creations.
Opportunities After Completing Excel Course
Data analysts, MIS executives, financial analysts, Market research analysts, big data analyst architecture, and big data engineer job profiles need to possess Excel skills for their career advancement. Learning Excel courses at FITA will interrogate the basic knowledge and highlight the potential skills required for the different job profiles. Data entry job, collection of data, verification of data, administration job, accounting job, and data analysis job are the different types of job roles that are occupied by the excel professionals.
Usage Of Excel In The Business
More than 500 formulas are used in the Excel for the day to day transaction. These formulas are designed to head the operations like sum or total, find the average for the values, find the counts, find the min and max, look up for the matches, arrive at the missing values, find the match close to one another, grouping the keywords, do the conditional formatting, Rank the values, round the values, search by date and time, financial formulas for calculating payment or interest, calculate the percentage, calculate workbook, calculations for the internet related things, formulas for fixing the errors and formulas for using different types of tables.
Apart from the high profile job roles like accounts executive, administrative officer, business analyst, and project manager the low profile job roles like journalism, teaching, freelance writing, photography, designers and when carrying over the responsible jobs like the small functions at home the supplicate for the usage of excel is huge. The Advanced Excel Training in Chennai at FITA provides the students with the best platform to understand the challenging task and complete the operations with perfection on different job roles.