Course Highlights and Why Tally Training in Chennai at FITA Academy?

FITA Academy provides a blend of theoretical and practical understanding of Tally ERP 9 software to manage Accounting, Inventory, Purchase and Sales, Payroll and GST.

Expertly designed Tally course by account Management professionals to meet the demands of the accounting industry.

We offer review sessions for previous Tally classes to reinforce the concepts.

At FITA Academy, we provide flexible batch schedules, including weekends, weekdays, and fast-track session options.

FITA Academy offers placement support after completing Tally Training in Chennai.

We have established partnerships with over 1,500 companies, from small businesses to large-scale enterprises, and accounting jobs are the most common and in-demand jobs in these companies. Getting your Dream accountant job is no longer a dream!

FITA Academy operates a proactive placement cell committed to helping students land their dream accounting jobs with high packages.
Upcoming Batches
11-12-2023
Weekdays
Monday (Monday - Friday)
14-12-2023
Weekdays
Thursday (Monday - Friday)
16-12-2023
Weekend
Saturday (Saturday - Sunday)
23-12-2023
Weekend
Saturday (Saturday - Sunday)

Classroom Training
Get trained by Industry Experts via Classroom Training at any of the FITA Academy branches near you
Why Wait? Jump Start your Career by taking Tally Training in Chennai!
Instructor-Led Live Online Training
Take-up Instructor-led Live Online Training. Get the Recorded Videos of each session.
Travelling is a Constraint? Jump Start your Career by taking the Online Tally Course!
Tally Training in Chennai Course Objectives
Understanding the Configuration of Tally ERP 9 includes Single Entry Mode VS Double Entry Mode, Configuring Data path, Global Configurations Currency, and Regional configurations.
Learn about Company management and understand Ledgers and Groups.
Work with Vouchers in Tally, Tally ERP reports inventory management and handling Point of Sales.
Learn about GST, Reports and Returns, Bank Reconciliation, and Payroll Processing.
Tally Course Syllabus
Tally - Advanced Accounting Professional - Basics of Financial Accounting
The Need for Accounting
Accounting Principles
Different Types of Accounting
Understanding Accounting Rules
Single Entry and Double Entry Methods of Accounting
Advantages of Double Entry
Journalizing Transactions
Bookkeeping
Disadvantages of Managing Accounts Manually
Introduction to Tally
What is Tally?
Why Tally?
Introduction to Tally ERP 9
Tally Versions
Installation and Activation
Gateway of Tally and Tally User Interface
Configuring Tally ERP 9
Single Entry Mode VS Double Entry Mode
Configuring Data path
Global Configurations
Currency and Regional configurations
Company Management
Creating a Company
Altering, Deleting Company
Company level Configurations
Masters – Ledgers & Groups
Understanding Ledgers and Groups
Creating, Altering, Deleting Ledgers and Groups
Bill wise Ledgers
Understanding Vouchers in Tally
Default Vouchers
Payment Vouchers
Receipt Vouchers
Contra Vouchers
Journal Vouchers
Sales Vouchers
Purchase Vouchers
Creating, Altering, Deleting Vouchers
Tally ERP 9 Reports
Tally Report Model – Drill down reports
Day Book and Bank Books
Ledgers
Debtors and Creditors
Profit & Loss Account
Balance Sheet
Cash Flow and Funds Flow
Bank Reports
Inventory Configuration in Tally ERP 9
Understanding Inventory in Tally
Units of Measure
Stock Items and Category
Stock Groups
Integrating Accounts and Inventory
Creating and Managing Price Lists with Price Masters
Stock Transfers
Stock Reports
Managing Inventory using Tally ERP 9
Creating and Managing Price Lists
Sales Vouchers
Purchase Vouchers
Purchase and Sales Orders
Managing Credit Sales and Credit Purchases
Managing Bill wise Details
Order and Re-order processing
Handling Stock Rejections and Returns
Debit Notes and Credit Notes
Managing Ageing Invoices
Goods and Services TAX (GST
What is GST
Understanding SGST, CGST & IGST
Activating GST in Tally
Setting up GST in Company Level, Ledger Level, and Inventory Level
GST Taxes and Invoices
Creating, Altering, Deleting GST Masters
Purchase and Sales Vouchers with GST
GST Purchase Entry
GST Sales Entry
Handling Unregistered Dealers
Reverse Charging Entry for GST
Printing GST Invoices
Purchase and Sales Reports
Purchase and Sales Registers
Payables and Receivables
Over dues
Ageing Invoices
Stock Registers
GST Reports and Returns
GSTR 1
GSTR 1 Return Filing
Handling Point of Sales (POS) in Tally
TALLY – EXPERT ACCOUNTING PROFESSIONAL
Payroll Accounting
Understanding Payroll
Pay Heads and Categories
Employee Details and Salary Details
Attendance Entries
Managing Leave Categories
Paid Leaves and Unpaid Leaves
Overtime
Handling and accounting Loss of Pay
EPF Accounting
ESI Accounting
Professional Tax Accounting
Managing Income Tax on Salary - Tax Deducted at Source (TDS)
Managing TDS on other Expenses
Pay Sheets and Pay Slips
Payroll Reports
More Advanced Topics
Scenarios and Optional Vouchers
Budgets and Controls
Cost Centers and Cost Categories
Multi-Language, Multi-Currency
Export, Import, Backup and Restore of Tally data
Tally Vault
Tally Audit
Split and Merge Company Data
Tally Remote
Customizing Reports/Invoices with Company Logos and other details
Tally Course Trainer Profile
Trainers delivering the Tally Course in Chennai at FITA Academy have over a decade of experience in Account Management and Auditing processes.
At FITA Academy, the Trainers provide insights into using the Tally ERP 9 software efficiently for Accounting, Handling POS, Purchase and Sales Vouchers, GST, and more.
The Trainers conduct regular recap sessions to reinforce each concept, which enables the students to understand the concepts comprehensively.
The Tally Course Trainers guide the students in working on real-time projects, imparting practical experience to the students.
The Trainers support the students during the job interviews through resume-building and mock interview sessions.
Learn at FITA Academy & Get Your
Dream IT Job in 60 Days
like these Successful Students!

Student Success Story of Tally Training in Chennai
Divya, a B.Com graduate from Somangalam, had quite a hard time landing a well paying job. Because of her lack of experience and specialised skills, she was paid insufficiently. Her family was struggling financially, facing challenges to make ends meet. Without knowing what to do, she came to FITA Academy searching for answers.
She enquired about Tally courses offered at FITA Academy. We guided her through the process, the curriculum, the methods employed in teaching, the placement opportunities we offer. Our walk through convinced her well enough. Without hesitation, she joined in.
Considering she was a working professional, she opted for an evening batch. She attended all the courses without missing any of them. Within months, she has mastered herself with Tally.
She started her job search while she was in the final phase of the Tally Course. She attended the placement training provided by FITA Academy. She attended mock interviews, and discussed with the trainers regarding the interview questions and answers that were asked during interviews with our trainers.
It greatly helped as results started to come in her favour slowly. She received a certification after the course ended and it boosted her resume, thereby opening her profile to more offers. She managed to land job offers in Phoenix Electric and Sankara Nethralaya. She chose Phoenix Electric and is now working there as an Accounts Executive. She is earning 3.2 LPA currently and is expected to increase exponentially as she grows in experience. She was able to finally support her family, lifting it from the financial struggles.
Features of Tally Training in Chennai at FITA Academy
Real-Time Experts as Trainers
At FITA Academy, You will Learn from the Experts from industry who are Passionate in sharing their Knowledge with Learners. Get Personally Mentored by the Experts.
LIVE Project
Get an Opportunity to work in Real-time Projects that will give you a Deep Experience. Showcase your Project Experience & Increase your chance of getting Hired!
Certification
Get Certified by FITA Academy. Also, get Equipped to Clear Global Certifications. 72% FITA Academy Students appear for Global Certifications and 100% of them Clear it.
Affordable Fees
At FITA Academy, Course Fee is not only Affordable, but you have the option to pay it in Installments. Quality Training at an Affordable Price is our Motto.
Flexibility
At FITA Academy, you get Ultimate Flexibility. Classroom or Online Training? Early morning or Late evenings? Weekdays or Weekends? Regular Pace or Fast Track? - Pick whatever suits you the Best.
Placement Support
Tie-up & MOU with more than 1500+ Small & Medium Companies to Support you with Opportunities to Kick-Start & Step-up your Career.
Why Learn Tally Training in Chennai at FITA Academy?
Live Capstone Projects
Real time Industry Experts as Trainers
Placement Support till you get your Dream Job offer!
Free Interview Clearing Workshops
Free Resume Preparation & Aptitude Workshops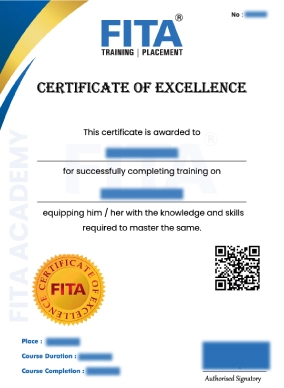 Tally Certification Training in Chennai
Tally Course Certification is a professional credential showing the students have gained in-depth knowledge of Tally software and its applications. The real-time projects incorporated with the course curriculum help the students acquire essential skills to become a Tally Accountant. Adding this certification to your resume will boost your profile during job interviews and open the door to a wide range of career opportunities.
Learning Tally will be valid for maintaining the accounts, billing, and inventory without doing the work manually. The Tally Course in Chennai at FITA Academy covers the basics of Tally software such as Accounting, Tally company creation, Tally security options, Tally ledger creations, Tally Group creation, Tally voucher entries, Tally stock entries, Tally stock transfer, Tally inventory management, etc. In the advanced level learning Tally ERP 9, Configuring Tally ERP 9, Company Management, Masters – Ledgers and Groups, Vouchers, Reports, GST, Purchase and Sales Reports, GST Reports and Returns.
Choosing the best Tally Training Institute in Chennai is important. The Tally Certification Course in Chennai at FITA Academy provides the necessary skill sets to become a Tally Accountant under the guidance of real-time professionals who have 8+ years of experience in the accounting domain. Join FITA Academy's Tally Course in Chennai to land in your dream accounting job.
Have Queries? Talk to our Career Counselor for more Guidance on picking the
right Career for you!
Placement Session & Job Opportunities after completing Tally Training in Chennai

Tally course is one of the premier choices for Accounting Professionals to promote their everyday task. There is a significant demand for Tally Accountants in many organisations. Many multilevel corporations have integrated Tally ERP 9 software for Accounting and Payroll processing.
Upon completing the Tally Training in Chennai, students can explore many career opportunities for roles including Tally Operator, Tally Accountant, Accountant Trainee, Junior Accountant, Financial Analyst, Accounts Executive, Admin Executive, Senior Accounts Manager and more. Auditing Firms also often prioritise candidates with Tally Expertise.
"Students are offered 100% placement assistance and training upon completion of the course which will enable them to land jobs in no time."
Salary Packages for Tally professionals may vary depending on their experience. Entry-level Tally accountants can expect an average annual salary ranging from Rs. 1.50,000 to Rs. 3,00,000. Candidates with 3-5 years of experience can earn between Rs.3,70,000 to Rs. 4,50,000 Annually. For Professionals with 5-7 years of experience, the average annual income ranges between Rs. 4,70,000 to Rs. 6,00,000. The Tally Training in Chennai offered by FITA Academy equips students with essential skills to start their careers as Tally Accountants.
Junior Accountant
A Junior Accountant is an entry-level position in a firm or department. Their responsibilities include entering journal entries, updating financial statements, managing accounts receivable and accounts payable, processing monthly payroll, and compiling financial reports. FITA Academy is a reputed Tally Institute in Chennai that offers placement training for various job roles, including Junior Accountant.
Tally Operator
The Tally Operator role is responsible for recording and categorising the expenses, Analysing the financial information and Risks of the organisation, and managing the tax returns. Several FITA Academy Alumni are working in the Account Management platform after completing the Tally Course in Chennai, including the Tally Operator role.
Financial Analyst
Examine financial statements for the assessment of investment prospects. Develop financial models for investors to identify lucrative investment options. Provide suggestions for individual investments and portfolios. Evaluate the performance of stocks, investment types, and bonds. FITA Academy equips the students by imparting the essential knowledge to start their careers as Financial Analysts.
Account Manager
An accounting manager handles the overall management and supervision of the accounting department. This includes overseeing the work of accountants, reviewing financial statements, and preparing reports for upper management. They may also develop and implement accounting policies and procedures. Upon Completing the Tally Course in Chennai at FITA Academy, meanwhile working in entry-level positions for 5-6 years in Accounting, individuals can be promoted to Account Manager.
Success Story of Tally Training in Chennai
Tally Training in Chennai at FITA Academy was interactive and lively. Excellent course modules with lots of practical training helped me to understand the Tally software effortlessly. Also, my Tally Trainer was so efficient that I understood everything in the first instance itself. Thanks to him. Good work FITA Academy, I will surely recommend the FITA Academy Training institute for the Tally Course.
Hi, I am Ganesh Alok. I enrolled for Tally Classes in Chennai at FITA Academy. Very good experience and I gained a thorough understanding of the Tally Software. I was given lots of practice sessions to master this tool. Also, my trainer was constantly guiding us in understanding and using the tool. Now, I am so clear about everything right from the Creation of Company Accounts to Payroll. Thanks to my Trainer.
I joined the FITA Academy institute for Tally Training. My overall experience was good. Everything about the Tally software and its application was thought clearly. Also, the course modules were updated to Tally ERP 9 the recent version. Also, my trainer explained the differences and features of all the versions of Tally in detail. It helped me to understand even better. Excellent work FITA Academy. Highly recommended for aspirants who are keen to learn the Tall software.
Tally Course in Chennai at FITA Academy was good. I enjoyed the training session. The syllabus was covered within the given period. And a very good training session was provided. Thanks, FITA Academy!
I joined a Tally Course at FITA Academy. The Trainers were experts, and they explained each concept very clearly. They helped me work on real-time projects. After completing the course, I received a certification. Moreover, the placement team supported me while attending job interviews. They helped me build a strong profile and conducted mock interview sessions before the interviews.
It was an excellent learning experience with the Tally course offered by Fita Academy. My Trainer was quite awesome. He conducted recap sessions in which he explained the topic which was already taught. This makes me understand the concepts very deeply. After completing the course, I got a job in the finance sector. Taking this course really helped me. Thank you, FITA team.
After finishing my higher secondary, due to my interest in accountancy, I chose to take a tally course at a reputed institute. Then, I found that FITA Academy secured a top position in the Tally course in chennai. I joined FITA Academy's online course. They provide flexible classes to students and working professionals. I could attend the classes meanwhile pursuing a degree. I suggest this Academy to my friends for their excellence.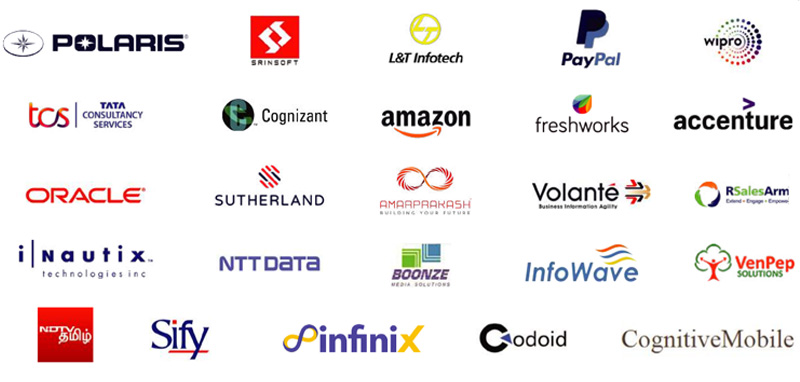 Frequently Asked Question (FAQ) about Tally Training in Chennai
General Q & A about Tally Training in Chennai
What is the primary purpose of Tally?
Tally is a highly preferred accounting software program for business operations to manage financial transactions. It is commonly used for invoicing, tracking expenses, and generating financial reports.
Can I learn Tally in 3 months?
Tally course generally takes 1-3 months to learn. So It is possible to learn Tally in 3 months. But this can vary depending on every individual's learning ability.
What is the Tally Course Fees in Chennai?
The Course fees for Tally may vary for every institute. On average, the Tally Course costs around Rs. 15,000.
Is Tally useful for banking?
Tally is commonly used in the banking sector, used for transaction management, taxation management, managing customer accounts, etc.
What is the full form of Tally?
The full form of Tally is Transactions Allowed in a Linear Line Yard.
What are the advantages of Tally?


Tally simplifies accounting through the optimisation of tedious accounting procedures.


Tally automatically enters data, eliminating the need for manual data entry.


By optimising tax calculations and generating tax documents, Tally simplifies the administration of taxes and compliance.


With Tally's comprehensive inventory management features, businesses can track and manage product amounts.


Creating and managing sales orders is made easier with Tally's order management simplification.


What is the difference between Tally and SAP?
Tally is an essential ERP software, while SAP is more advanced. Tally software is tailored for small businesses, start-ups, and medium-sized firms with minimal data requirements and no instant data processing needs. At the same time, SAP facilitates the simultaneous processing of vast amounts of data.
What is the latest version of Tally?
The latest version of Tally is 3.0.1, released in 2023.
What is ERP?
ERP stands for Enterprise Resource Planning. Organisations use ERP software to manage daily business operations such as accounting, procurement, risk management, project management and supply chain operations.
What are the main features of Tally?


Financial Management.


Tax and Compliance.


Budgeting.


Inventory Management.


Sales and Purchase Management.


Point of Sale (POS)


Payroll Management.


Reports and Analysis.


What are the Advantages of Tally ERP 9?


Multi-Lingual Support: This feature is helpful for businesses operating across several countries or regions with multi-lingual employees. It helps eliminate barriers in language and improves communication.


Remote Access and Collaboration: Tally ERP 9 provides internet collaboration and access features that allow businesses to use the program when needed.


Scalability and Flexibility: Tally ERP 9 accounting software is adaptable and versatile, making it suitable for all kinds of companies. The software can manage data in large quantities and be altered to meet each company's requirements.


Security and Data Backup: The advanced security and data storing features in Tally ERP 9 enable businesses can protect sensitive data and prevent data loss.


What is a balance sheet in Tally?


A balance sheet is a financial statement reporting a company's financial position. The report shows the balance between the assets and liabilities of an organisation.


There is a fundamental equation followed in the balance sheet. i.e Assets = Liabilities + Owner's Equity. You can view this report in the browser.


Which type of bank account is used in Tally?
There are three types of Bank Accounts supported in Tally.


ERP 9 - Saving Account (Bank Account)


Over Draft account ( Bank OD)


Cash Credit account (Bank OCC)


What is called a ledger in Tally?
A ledger is a record of financial transactions in a business, also called a general ledger. It compiles the revenue and expenses in a business. Additionally, the debts owed and assets owned. The transactions in a general ledger can be organised into five primary types: assets, liabilities, equity, revenue, and expenses.
What is voucher entry in Tally?
A voucher entry is a document in Accounting that includes details about a financial transaction and is used to process payments.
What is a GST voucher?
Vouchers are redeemable instruments based on their face value against the supply of goods or services. For example, multi-brand retailers supply gift cards to their customers, which can be redeemed against purchasing merchandise of their brand of value equal to the face value printed on such gift cards.
Is Tally helpful in starting a career as an accountant?
Many businesses and organisations are searching for an excellent financial leader who can solve their financial issues. Tally accounting software provides a solution for several companies in financial controlling and invoices. Tally Jobs in India are in great demand.
What is the future of Tally ERP 9?
Tally ERP 9 accounting software has reached endless potential and has achieved the flexibility the other accounting software probably failed to do. Tally accounting software comes with advantages in the new version whenever there's a change in tax or accounting methods.
What is the monthly salary of Tally ERP 9 in India?
Salary Packages for Tally professionals may vary depending on their experience. Entry-level Tally accountants can expect an average annual salary ranging from Rs. 1,50,000 to Rs. 3,00,000. Candidates with 3-5 years of experience can earn between Rs.3,70,000 to Rs. 4,50,000 Annually. For Professionals with 5-7 years of experience, the average annual income ranges between Rs. 4,70,000 to Rs. 6,00,000.