Course Highlights and Why Data Analytics Course in Chennai at FITA Academy?

FITA Academy provides an all-encompassing Data Analytics Course in Chennai that integrates theoretical principles with real-world applications.

Learn from expert Data Analytics professionals having a decade of professional experience, actively possessing roles like Analytics manager and Senior-level Analyst.

Students will acquire expertise in Statistical Predictive models, interpreting results, and solving business problems.

Gain proficiency in popular data analytics tools and programming languages like Tableau, R, SAS, Data Visualization, Python, Power BI, and Excel.

Students will stay updated with the latest industry tools and technologies in the Data Analytics domain.

Students will obtain a valuable certification in Data Analytics upon course completion, enabling their profile to be shortlisted for high-paying Data Analytics careers.

Our Data Analytics Training in Chennai offers flexible class schedules, accommodating students with weekend, weekday, and fast-track session options.

FITA Academy has tie-ups with over 1,500 organisations that strongly demand professionals in roles like Data Analyst and more jobs related to data analytics.
Upcoming Batches
09-12-2023
Weekend
Saturday (Saturday - Sunday)
11-12-2023
Weekdays
Monday (Monday - Friday)
14-12-2023
Weekdays
Thursday (Monday - Friday)
16-12-2023
Weekend
Saturday (Saturday - Sunday)

Classroom Training
Get trained by Industry Experts via Classroom Training at any of the FITA branches near you
Why Wait? Jump Start your Career by taking the Data Analytics Courses in Chennai!
Instructor-Led Live Online Training
Take-up Instructor-led Live Online Training. Get the Recorded Videos of each session.
Travelling is a Constraint? Jump Start your Career by taking the Data Analytics Online Courses!
Data Analytics Course Objectives
To comprehend the concept of Big Data and its relevance in the contemporary technological landscape and recognise the impact of Big Data analytics on various industries.
Gaining insights into the role of a data scientist and understanding the diverse responsibilities associated with the position.
To familiarise yourself with the data analytics lifecycle and comprehend the sequential stages involved in data analytics, from data discovery to final deliverables.
To learn how to construct data models for practical analysis and understand the importance of planning data models in the context of Big Data analytics.
Developing skills in preparing data for analysis and exploring various methods and techniques for deriving meaningful insights from data.
To gain proficiency in using the R programming language for data analysis and understand the fundamental concepts and tools within the R environment.
To explore the theory and methods of machine learning in Big Data analytics and understand how machine learning algorithms contribute to data analysis.
To learn how to apply Hadoop and MapReduce for analytics on unstructured data and understand the significance of these tools in handling large volumes of diverse data.
Data Analytics Trainer Profile
Trainers of Data Analytics Course in Chennai are Data Science and Business Analytics experts, with a decade of experience designing and developing Data Analytics Solutions.
Our Trainers teach the students to make data-driven business decisions by providing insights and using data analytics techniques.
The Trainers have delivered numerous Data Science and Big Data projects to Multinational clients across the globe as Data Scientists and Chief Data Officer (CDO).
Our trainers offer immersive, hands-on training and involve students in real-time projects throughout the course.
Regular review sessions are conducted to ensure that students maintain a firm grasp of the materials they're learning.
FITA Academy's trainers provide valuable guidance on interview preparation and resume building, supporting students' journey to a successful career.
Learn at FITA Academy & Get Your
Dream IT Job in 60 Days
like these Successful Students!

Student Success Story of Data Analytics Course in Chennai
Charan, currently in the final year of his B.Com studies, made a decisive choice during his second year to determine the field he would pursue post-graduation, seeking guidance from his professors. From that point onward, he embarked on a quest to find the right course for mastering Data Interpretation and Operations.
Recognizing FITA Academy's excellence in providing training and placement support, he inquired at a nearby branch about the available courses.
After careful consideration, Charan opted for the Data Analytics Course in Chennai. The Coordinator at FITA Academy provided detailed information about the course features, fees structure, and placement training. Satisfied with the insights, Charan made the decision to enroll in the course.
Being in his final year, Charan chose weekend classes to accommodate his academic commitments. He diligently attended classes, excelled in assessments conducted by trainers, and successfully completed capstone projects under their guidance. Upon completion of the course, he received a certification.
Charan actively participated in placement training sessions at FITA Academy, where he received assistance in crafting a professionally appealing resume, showcasing the skills he had acquired. Engaging in mock interviews and group discussions further prepared him for real-world job interviews.
Charan attended job interviews at NTT Data, Polaris, and ITSS Global. Ultimately, he accepted the offer from NTT Data, securing the position of Data Analyst with a salary package of 3.2 LPA.
Features of Data Analytics Course in Chennai at FITA Academy
Real-Time Experts as Trainers
At FITA Academy, You will Learn from the Experts from industry who are Passionate in sharing their Knowledge with Learners. Get Personally Mentored by the Experts.
LIVE Project
Get an Opportunity to work in Real-time Projects that will give you a Deep Experience. Showcase your Project Experience & Increase your chance of getting Hired!
Certification
Get Certified by FITA Academy. Also, get Equipped to Clear Global Certifications. 72% FITA Academy Students appear for Global Certifications and 100% of them Clear it.
Affordable Fees
At FITA Academy, Course Fee is not only Affordable, but you have the option to pay it in Installments. Quality Training at an Affordable Price is our Motto.
Flexibility
At FITA Academy, you get Ultimate Flexibility. Classroom or Online Training? Early morning or Late evenings? Weekdays or Weekends? Regular Pace or Fast Track? - Pick whatever suits you the Best.
Placement Support
Tie-up & MOU with more than 1500+ Small & Medium Companies to Support you with Opportunities to Kick-Start & Step-up your Career.
Why Learn Data Analytics Course in Chennai at FITA Academy?
Live Capstone Projects
Real time Industry Experts as Trainers
Placement Support till you get your Dream Job offer!
Free Interview Clearing Workshops
Free Resume Preparation & Aptitude Workshops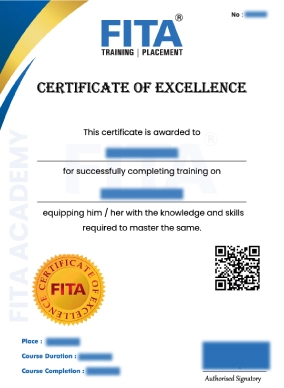 Data Analytics Certification Training in Chennai
Upon successfully completing the Data Analytics Training in chennai at FITA Academy, candidates will receive a certificate. This certificate signifies that the candidate has acquired in-depth knowledge of crucial concepts such as Data Visualization, Data Mining, Statistical and Predictive analysis, essential for a professional career in Data Analytics. Including or referencing this certificate in your resume enhances the credibility of the skills you have acquired significantly.
FITA Academy aims to offer the Best Data Analytics Courses in Chennai. The Course is designed and conducted by seasoned Data Analytics professionals with over a decade of expertise and knowledge in the Big Data platform. The instructors, certified in Big Data Analytics, in Chennai at FITA Academy actively support and guide students in preparing for global certification exams and acquiring the necessary professional skills required for a successful career in Data Analytics.
FITA Academy also prepares students to clear the certification exams in Data Analytics, some of which are mentioned below:
AWS Certified Data Analytics
The AWS Data Analytics certification signifies the holder's capability to conceive, construct, and sustain analytical solutions utilizing Amazon Web Services (AWS). Tailored for industry professionals with a recommended five years of work experience, this certification is particularly well-suited for emerging professionals who are adept at implementing cloud initiatives and leveraging AWS data lakes to extract valuable insights from data.
To attain this credential, candidates must successfully pass Amazon's DAS-01 certification exam, comprising 65 questions distributed across two sections encompassing multiple-choice and multiple-response formats. Amazon advises that individuals undertaking the exam possess five years of experience with conventional data analytics technologies and a minimum of two years of hands-on experience with Amazon Web Services.
CompTIA Data Analytics Plus certification
The CompTIA Data+ certification underscores the understanding of data mining, manipulation, visualization, and reporting by early-career professionals. Designed for individuals with one-and-a-half to two years of work experience, this certification provides an opportunity for newcomers in the industry to distinguish themselves. Attaining this certification requires passing a 90-question exam with a minimum score of 675 on a 100-900 scale. Candidates are recommended by CompTIA to possess 18 to 24 months of previous experience in an analyst or reporting position, exposing them to databases, analytical tools, statistics, and the fundamentals of data visualization.
Have Queries? Talk to our Career Counselor for more Guidance on picking the
right Career for you!
Placement Session & Job Opportunities after completing Data Analytics Course in Chennai

The constant evolution of technology and the ongoing challenges faced by companies everyday have compelled organizations to seek strategies that not only secure business returns but also significantly reduce operational costs. In the contemporary business landscape, Data Analytics has emerged as a crucial component of the commercial industry. Present-day companies are actively collecting data across various domains, including research, sales, and customer service.
FITA Academy aims to provide the Best Data Analyst Course in Chennai assists learners in acquiring proficiency in Data Analytics skill sets and knowledge, guided by real-time Data Analytics professionals and offered with placement support.
"Students will receive 100% placement support after completing the Data Analytics Course in Chennai"
Leading companies that actively recruit Data Analysts include Data Analytics enables organizations to make informed business decisions through scientific data and research analysis reports. As per NASSCOM reports, the Big Data industry is anticipated to contribute to a 32% overall growth in the global market, projected to reach $16 billion by the end of 2025, up from the current level of $2 billion. This increasing demand has created a substantial requirement for proficient data analyst professionals.
Google, Deloitte, RBS, Barclays, HSBC, Microsoft, LinkedIn, Axis Bank, Flipkart, eBay, Twitter, Deutsche Bank, Amazon, Tumblr, Bank of America, JP Morgan Chase, Accenture and IBM.
Common job profiles these companies offer include Data Scientist, Data Analyst, Data Engineer, Data Architect, Business Intelligence Analyst, Database Administrator, IT System Analyst, and Analytics Manager. The median package for entry-level Data Analysts in India ranges from Rs. 3,70,000 to Rs. 4,80,000 per annum. With accumulated experience and expertise, professionals can earn between Rs. 5,00,000 to Rs. 7,60,000 annually.
Given below are some of the job roles you can choose after completing the Data Analytics Course in Chennai.
Data Engineer
The role of a Data Engineer involves designing and constructing the infrastructure and systems that facilitate data collection, storage, and analysis. It involves managing and maintaining large data sets and databases and also ensuring data is accurate, accessible, and secure. FITA Academy's Data Analysis Course in Chennai enables you to become a Data Analytics professional like Data Engineer.
Data Analyst
Data analysts gather, organize, and interpret statistical information to assist colleagues and clients in making informed decisions. Utilizing specialized tools, data analysts collect and scrutinize data to generate information that aids others in decision-making. Data Analyst is one of the roles you can opt for after completing the Data Analyst Course in Chennai.
Data Scientists
Data scientists are in high demand as businesses enlist their expertise to discern patterns within data. Their role extends to constructing models capable of predicting future trends or outcomes. This involves collecting and thoroughly evaluating data, employing statistical methods to develop predictive models for forthcoming trends or events. The primary responsibility of data scientists lies in creating models that forecast customer behavior, facilitating organizations in making informed decisions. Enroll in the Data Analytics Course in Chennai at FITA Academy to understand how the data will be utilized and which issues it will address.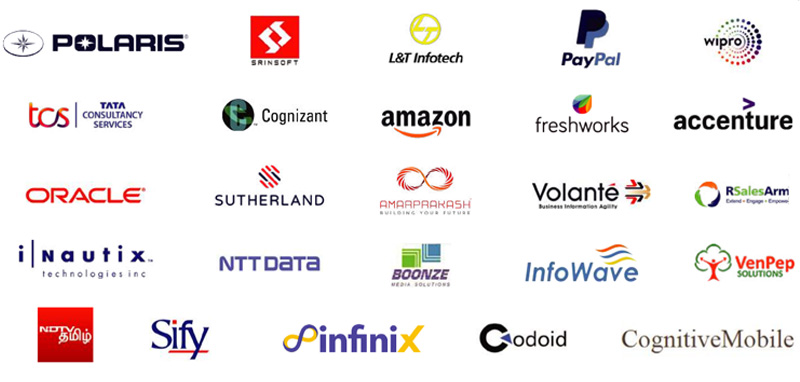 Frequently Asked Question (FAQ) about Data Analytics Course in Chennai
General Q & A about Data Analytics Course in Chennai
What is the cost of Data Analytics Course in Chennai?
The fee for a Data Analytics Course falls within the range of Rs. 10,000 to Rs. 50,000. The specific course and institute you opt for may lead to variations in the course fee.
What is the salary of data analyst after placement in Chennai?
An entry-level professional salary ranges from Rs. 4 to 5 LPA. The salary for a data scientist with one to four years of experience ranges from Rs. 6 to 8 LPA in Chennai.
Is coding required for data analytics?
While some Data Analysts may need to engage in coding as part of their daily tasks, jobs in data analysis generally do not necessitate coding skills.
What is the salary after data analytics course?
The average salary for a data analyst in India with two years of experience is Rs. 3.8 Lakhs, but someone with four years of experience earns 5.2 Lakhs. The data analyst salary for freshers is around ₹ 1.9 Lakhs per year.
Is Python compulsory for data analyst?
A comprehensive understanding of Python programming is highly beneficial for data analysts. Employers likely expect data analysts to know how Python libraries work to simplify data-related tasks. Therefore, learning Python is a wise career choice.
What are the programming languages used for Data Analytics?


Python


R


SQL



Julia


Scala


C/C++



Swift


Go


MATLAB


SAS


Can I learn data analytics in 3 months?
While you can become a Junior Data Analyst in just three months, it's important to remember that this field requires ongoing education. As you gain experience at your first volunteer position, internship, or entry-level role, you'll continue to build your skill set, learn new tools, and refine your craft.
What is the salary of junior data analyst in Google?
Average Google Junior Data Analyst salary in India is ₹8.9 Lakhs for experience between 1 years to 3 years. Junior Data Analyst salary at Google India ranges between ₹3.6 Lakhs to ₹12.0 Lakhs. According to our estimates it is 105% more than the average Junior Data Analyst Salary in Internet Companies.
Is data analytics a high-paying job?
Certainly, data analysts usually receive competitive compensation. Over the last decade, salaries for data analyst roles have seen an upward trend and continue to be competitive in the job market.
Is it easy to get a job in data analytics?
Securing an entry-level Data Analyst position may not be challenging with the appropriate
data science
qualifications. Many companies are receptive to hiring individuals who have successfully completed data analysis bootcamps, eliminating the necessity of investing in a traditional college degree.
Is data analyst job stressful?
Generally, data scientists endure extended hours within a demanding work environment. They may collaborate as a team or operate independently. Their work hours typically extend beyond the conventional 9-5 job routine, particularly when engaged in projects or addressing challenges to bring their assignments to fruition.
Can I do data analytics if I'm bad at math?
Possessing exceptional mathematical skills isn't an absolute requirement for becoming a data scientist. While it can be beneficial, being a data scientist encompasses more than just proficiency in math and statistics. It involves the ability to solve problems and communicate solutions effectively and succinctly.
What kind of math is used in data analytics?
The essential mathematical foundations for daily use as a data analyst include linear algebra, probability, and statistics. Probability and statistics serve as the backbone of data analysis, enabling you to fulfill over 70% of the daily requirements associated with a data analyst role (depending on the specific position and industry).
What is the difference between a data scientist and a data analyst?
A data analyst derives meaning from available data through regular analysis and report writing. In contrast, a data scientist explores innovative methods for capturing, storing, manipulating, and analyzing data. The focus of a data analyst is on addressing business-related questions.