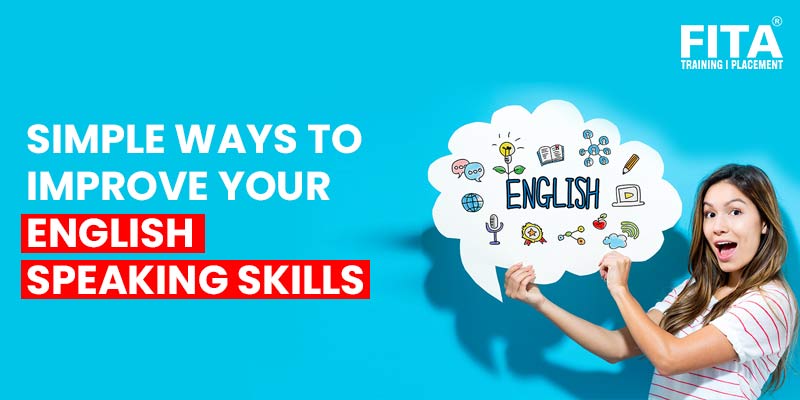 Congratulations on taking the first step towards mastering a new language if you are a beginner learning spoken English. Speaking English can open up opportunities in your personal and professional life, but it can also feel overwhelming at first. To improve your speaking skills, Join Spoken English classes in Chennai.
Here are vital tips and strategies to help you start and build confidence in speaking English.
Start with the Basics
When learning spoken English, it's critical to start with the fundamentals. Concentrate on picking up common words and expressions that you can use in everyday speech. Here are some examples of essential phrases that you can start with,
Greetings

: "Hello, how are you?", Good morning/afternoon/evening."

Introductions

: "My name is…"," Nice to meet you"," Where are you from?"

Talking about Yourself

: "I am a student/teacher/worker", "I like to…"," I'm interested in.. " 

Asking for Information

: "Can you help me?"," What does that mean?"," Could you repeat that, please?"

Making Small Talk

: "How was your weekend?", "What do you do for fun?", "Do you have any plans for the weekend?"
You can increase your confidence in English communication skills and feel more at ease in conversations with native English speakers by concentrating on these fundamental phrases. You can gradually advance to more sophisticated themes as you become more accustomed to the fundamentals while broadening your vocabulary.
Practise
The key in improving your spoken English is practice. Speak as much as possible, even if you make mistakes. Don't be afraid to speak with native English speakers or other language learners. You can practise your speaking skills by joining conversation groups, attending language exchange events, or even speaking with yourself in a mirror. You can also watch English-language movies with subtitles to see and hear the words simultaneously. You can also repeat what the actors say to practise pronunciation and intonation. Many language learning apps let you practise your spoken English with interaction and conversation with native English speakers. The more you practise speaking, the more confident and fluent you will become.
Learn and Repeat
A great way to enhance your English speaking skills is to listen to native English speakers. To get used to the rhythm and intonation of the language, watch English-language films, TV shows, and podcasts. To improve your accent and pronunciation, repeat what you hear. Learn new words and phrases; you can use a dictionary, language learning apps, or a textbook to find new words and phrases. Write them with the meanings and learn how to use them in a sentence. Repeat the words out loud; do this in front of a mirror to build your confidence too. Use the newly learned words and phrases in real-life situations. Once you've mastered this technique, move on to more complex language structures and expressions. Repeat the process of learning and using them in context. Need more tips on English communication skills, join Spoken English classes Chennai.
Do not be Afraid to make Mistakes
Making mistakes is expected when learning a new skill, such as spoken English. Don't be afraid to make errors since you could learn something from them. When learning a new language, Remember that everyone makes mistakes, even native speakers, so you can not expect yourself to be perfect immediately. If you are too afraid to speak English because you are worried about making mistakes, you miss out on the opportunities to practise and improve your skills. Understand that making mistakes is a sign of learning and development.
Learn English in Context
Learning English in context is crucial to comprehend how it's used in everyday life. Rather than just learning vocabulary lists by heart, try to learn new words and phrases in context. Reading English-language books, watching English-language TV shows and films, and listening to English-language music are all effective ways to achieve good communication skills in English.
Focus on Pronunciation
English pronunciation is a crucial component of spoken English. Try to pay attention to how native speakers pronounce things and practise taking on their accents. English has many unique sounds that may be difficult to pronounce if you're not used to them. Use a pronunciation guide or dictionary to learn how to say words correctly. Practise these words out loud until you can say them clearly and confidently. You can listen to a voice recording and identify areas where your pronunciation needs improvement. Join Spoken English Classes In Bangalore to get more pronunciation and tips and excel in German language.
Use English in your Daily Life
Incorporate English into your daily life as much as possible. Think and communicate with yourself in English. Reading many English-language books and articles can help you expand your vocabulary and improve your reading comprehension skills. Try to read various materials, from news articles to fiction to academic papers. Listening to English podcasts may also help you in a great way. Label household things in English. This will help you to get used to thinking and speaking in the language and give you better english communication skills.
Set Goals
Set realistic goals for yourself and strive to achieve them. As you advance in your language learning, this helps keep you motivated and gives you a sense of accomplishment in your language learning journey. Setting a reasonable deadline will keep you motivated and accountable. Breaking your goals into smaller, manageable steps is critical, as everything cannot be done in a day. For example, you could set a goal to have a fluent conversation with a native English speaker or to watch a movie in English without subtitles. Tracking your learning progress and celebrating your successes is also essential.
Get Feedback
How to develop communication skills? Finding out where you need to enhance your spoken English can be done with the support of native speakers or other language learners. Find a language tutor who can give feedback on your speaking abilities or enrol in a language exchange programme  . Friends and family members who are fluent and well-versed in English can also provide you with feedback. Ask them for constructive criticism. Online communities or forums too can provide you with a network of people who are also learning English; group learning always helps better. 
Have Fun
Although learning spoken English can be difficult, it should also be enjoyable. Find ways to incorporate English into activities you enjoy, such as playing games, listening to music, or watching TV shows. Try to listen to and sing English songs, which can help improve your pronunciation and intonation. Reading books and magazines in English can help improve vocabulary. Playing board, word, and video games can help you practise English while having fun and creates an excellent social experience. This will increase your enjoyment of learning the language and keep you motivated.
End Summary
How to improve your communication skills? Learning spoken English takes time and effort, but it's a rewarding process that can open up a world of opportunities. Learn the fundamentals first, then practise as often as possible, repeat what you heard, learn in context and don't be scared to make mistakes. You may attain your language objectives and increase your confidence in speaking English with hard work and commitment. Learn more Spoken English tips in an Online Spoken English course  to learn to speak fluent English.