Course Highlights and Why Spoken English Classes In Bangalore at FITA Academy?

Comprehensive Course Curriculum that meets the Global Requirements of the market standard.

Spoken English Course Curriculum in Bangalore at FITA Academy is designed by the subject-matter experts.

An Inter-disciplinary approach with more emphasis on reading, writing, listening and speaking in English.

Professional Training from the basics to the difficult grammar portion in the English.

Qualified Trainers with a decade of experience in training the students in Business communication skills.

Flexible batch timings with Recap sessions.

Interactive training session to clear the doubts of the students.

Weekday, WeekEnd, and Fasttrack Spoken English Classes in FITA Academy at Bangalore for your convenience.
Upcoming Batches
09-12-2023
Weekend
Saturday (Saturday - Sunday)
11-12-2023
Weekdays
Monday (Monday - Friday)
14-12-2023
Weekdays
Thursday (Monday - Friday)
16-12-2023
Weekend
Saturday (Saturday - Sunday)

Classroom Training
Get trained by Industry Experts via Classroom Training at any of the FITA Academy branches near you
Why Wait? Jump Start your Career by taking the Spoken English Training in Bangalore!
Instructor-Led Live Online Training
Take-up Instructor-led Live Online Training. Get the Recorded Videos of each session.
Travelling is a Constraint? Jump Start your Career by taking the Spoken English Online Course!
Syllabus
Beginner level
In the level, we teach the students with the fundamental concepts of English like Noun, Noun forms, Verb, Adverbs, Adjectives, Basics of Tenses, Conjunctions and Interjections, Prepositions, Vocabulary and its importance, Confusing Words, Commonly Mispronounced words, Reading Comprehension, Speaking practices and Pronunciation of difficult words.
Intermediate level
Here we focus on the complex grammar portion of the English language that includes Different parts of Speech, Direct and Indirect Sentences, Relative Pronouns, Subject-Verb Agreement, Gerunds, Active and Passive voice, Infinite Gerunds, Adverb types, Phrasal verbs, Idiom and Phrases, Homonyms. Homophones and Proverbs and General Abbreviations.
Advanced level
In this stage, we provide a brush-up session of the first two-level. Learning more Business vocabulary and its usage. Advanced Grammar practices. Business Communication includes Communication with peers, Communication with customers and clients. Email Etiquette, Telephonic Communication Etiquette. One can enroll for any of these levels in Spoken English Classes in FITA Academy at Bangalore as per their needs. Students are provided with a recap session of the previous level if you are opting for Intermediate and Advanced levels to cope up with the syllabus.
Trainer Profile
Spoken English Faculties in FITA Academy at Bangalore are Certified professionals.
Spoken English Trainers are subject-matter experts who have 12+ years of experience in training the students to learn and use the language efficiently.
Experienced trainers who are capable of training from the Basic to the Advanced level in Spoken English.
Trainers at FITA Academy train the students to pronounce the words properly and increases the grammar accuracy of the students.
Trainers also provide the necessary training for Business Communication and enhance the Business Communication Skills of the students.
Spoken English Tutors, train the students to read, write, speak, and listen in English.
Trainers encourage and support the students to speak fluently in English.
Learn at FITA Academy & Get Your
Dream IT Job in 60 Days
like these Successful Students!

Features of Spoken English Classes In Bangalore at FITA Academy
Real-Time Experts as Trainers
At FITA Academy, You will Learn from the Experts from industry who are Passionate in sharing their Knowledge with Learners. Get Personally Mentored by the Experts.
LIVE Project
Get an Opportunity to work in Real-time Projects that will give you a Deep Experience. Showcase your Project Experience & Increase your chance of getting Hired!
Certification
Get Certified by FITA Academy. Also, get Equipped to Clear Global Certifications. 72% FITA Academy Students appear for Global Certifications and 100% of them Clear it.
Affordable Fees
At FITA Academy, Course Fee is not only Affordable, but you have the option to pay it in Installments. Quality Training at an Affordable Price is our Motto.
Flexibility
At FITA Academy, you get Ultimate Flexibility. Classroom or Online Training? Early morning or Late evenings? Weekdays or Weekends? Regular Pace or Fast Track? - Pick whatever suits you the Best.
Placement Support
Tie-up & MOU with more than 1500+ Small & Medium Companies to Support you with Opportunities to Kick-Start & Step-up your Career.
Why Learn Spoken English Classes In Bangalore at FITA Academy?
Live Capstone Projects
Real time Industry Experts as Trainers
Placement Support till you get your Dream Job offer!
Free Interview Clearing Workshops
Free Resume Preparation & Aptitude Workshops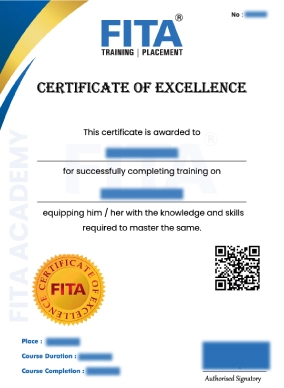 Spoken English Certification Course in Bangalore
Spoken English Course in Bangalore is the professional credential which mentions the ability of a person's knowledge in Spoken English. It clearly states that the person who has taken the Spoken English Classes has cleared the exam which was conducted to test the fluency and efficiency. Besides, this is an authentic proof that mentions the ability of a person to read, write, listen, and speak in English
Spoken English Course in Bangalore at FITA Academy provides training with certification for the students and professionals and develop their multilingual skills. Training is provided by professional experts who have a decade of experience in this field.
Benefits of Spoken English Certification Course in Bangalore at FITA Academy
1) The certificate attests your proficiency in spoken English. You can use it as an evidence, or you may consider using it as a qualification while applying for any other job.
2) It makes you ready for interviews. When people are asked questions related to business communication or interviewing skills, they will always be asked about the level of your spoken English. An interview without these skills would definitely not make you comfortable. Getting certified means, you are better prepared to handle such situations.
3) It shows that you have done something to improve your English speaking skills. This further improves your confidence and self-esteem.
4) If you want to work internationally, then a global organization like FITA Academy offers English Speaking Course in Bangalore where you will get practical training and gain important certification.
5) You would never face embarrassment when speaking in front of others because the course will help you become more confident in public places and around different types of audiences.
6) A perfect conversation requires both listening and speaking skills. These two skills are enhanced through proper training and practice. So if you are well trained, you will easily connect with people and know how to interact with them. You learn all aspects of speaking and improve your conversational skills. It enhances your social skills.
7) Spoken English Certificates are globally accepted, so there won't be any language barrier between you and your employer.
8) Spoken English classes in Bangalore helps you prepare for those days when you have to present yourself before an audience.
9) The certification proves that you have studied a particular topic from the Best Spoken English Classes in Bangalore.
10) It is useful for those who wish to build up their resume through Spoken English in Bangalore.
The Spoken English Classes in Bangalore gives students an opportunity to study from home online or by classroom program. All the resources, including books, are available online to facilitate learning. As per the learners' convenience, they can take the lessons anytime.
Have Queries? Talk to our Career Counselor for more Guidance on picking the
right Career for you!
Placement Session & Job Opportunities after completing Spoken English Classes In Bangalore

English is the link-language for various countries across the globe. English plays a vital role in everybody's life today. This language is used as the language of communication in Business. No business around the world can function effectively without this language. Not only businesses but Government, Television and Media, and most importantly the Internet rely on the language English. There is also a common saying that English is the language of the Internet. Learning this language not only grooms your confidence, but it also adds a feather to your cap and makes you a significant person where ever you are present. English Speaking Course in Bangalore at FITA Academy trains the students to speak eloquently in English. Trainers at FITA Academy hone the necessary business communication skills that are required for a professional environment.
The key areas where English plays a major role in career aspects are as follows,
Anchor, Librarian, Translator, Travel Guide, BPO/Call Center Jobs, AeroFlight Sector, Public Relation Officer, News/ Press and Media, Sales and Marketing jobs,
Knowing a language is knowledge. In the present situation learning and knowing to speak English is mandatory. Without knowledge of the English language in this competitive world, it is difficult to survive. Especially in the IT sector where spoken English skills are given more emphasis compared to other skills. Enroll yourself in the Spoken English Classes in BTM at FITA Academy and widen career opportunities by communicating fluently in English in this competitive world.
Success Story of Spoken English Classes In Bangalore
I am glad I enrolled in the Spoken english course at FITA Academy. I strongly recommend learning the English classes at FITA Academy. FITA Academy gives wonderful support to resolve my queries at any time. Now I got placed in a Top MNC Company. Thanks to FITA Academy because I am very satisfied attending the classes.
Great training by experienced tutors. I am very satisfied attending the spoken English training at FITA academy and the training is worth the price. The assignment and tests provide hands-on learning. I learned the language professionally and can now speak fluently in English.
I had a wonderful experience learning Spoken English classes at FITA Academy. It's simple to grasp and is very practical. I would suggest non-English speakers take up this course to improve their English language skills.
Frequently Asked Question (FAQ) about Spoken English Classes In Bangalore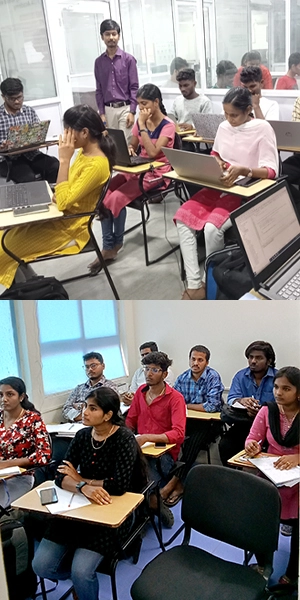 There may be n number of languages in the world still English is something which is widely in use and expected from the organizations. At FITA Academy, we train our students with the complete knowledge in English Speaking Course in Bangalore as it is the foundation for their profession.
Our trainers are here to improvise your vocabulary, pronunciation, grammar and make you express yourself confidently in the language amidst other people. Hence, it will be very useful for you to attend interviews, meetings and family functions.
Our world is very vast and it will not be comfortable to go around the globe with just the knowledge of your regional language. Being a multi-lingual person widens your knowledge and helps in increasing the scope of your career as well.
The literature of English is so profuse that it is mentioned that every day new words are added to this language. Half of the world population relies on English for their day-to-day communication. The language has rich vocabulary and grammar which is easy to learn when you have the correct guidance to learn it. English Speaking Course in Bangalore at FITA Academy helps to improve your knowledge in the English language by efficiently teaching new words and grammar application. Thus, helping you to speak fluently in English.
What you will learn in Spoken English Classes in Bangalore at FITA Academy?
Knowing your basics right.
Using Idioms and Phrases regularly.
Coining of words with grammar accuracy.
Enriching your vocabulary with new words.
Able to think and respond spontaneously in English.
Improving your listening and reading skills in English.
Knowledge in Business Communication skills and use them effectively.
Speaking confidently and naturally on a wide range of topics.
Reasons to learn English
The significance of English is wide-spread. It is the mode of communication in most of the Schools, College, Professional Institutes, Government Companies, and Multi-National Companies.
On a recent survey, it is stated that the number of people who present scientific research and writing has begun to write their thesis in English instead of their native language.
English is the official language of 53 countries around the world.
Travelling is made easier if you have a good knowledge of the English language. Most people have basic knowledge in English since most of the country's English is used in the medium of education.
English is called the language of Business. It is because major leading companies of Businesses belong to the English speaking countries like the United Kingdom, the United States of America, Australia, and Canada.
With sufficient knowledge in English, one can have access to numerous cultures, traditions, history, literature, music, and books.
Most of the books across the globe are translated into English for better understanding. Besides, English readers and book publishers stand first in the place of the number of readers and publishers around the world.
Also, learning English helps you to secure a job easily and also provides a plethora of job opportunities. Spoken English Classes in Marathahalli at FITA Academy enhances the Spoken English skills of the students. Trainers at FITA Academy are subject matter experts and they train the students to speak eloquently in English.
Which is the Best way to learn Spoken English?
Predominantly people give suggestions like to read more books in English. Watch movies and listen to songs in English. Cultivate the habit of watching documentaries and news in English regularly. Trying the above -mentioned methods may not provide a comprehensive understanding of the English language and its usage. Since this language has numerous components like phonetics, consonants, vowels, and grammar. These components are the basis of Spoken English Skills and these things cannot be learned by oneself. It is better to step into a professional institute and learn the language from their basics. Spoken English Classes in Bangalore at FITA Academy provides training from the basics to the advanced topics in English to the students in a professional manner.
some of the 10 best ways to learn Spoken English are:
The first thing which you need to do is enroll yourself with Spoken English Classes in Bangalore, and it can be done through our reputed Institute. After that, you will get many opportunities to attend and interact with fellow participants. Through these activities, you can develop your speaking skills. If possible, try joining an institution with a good reputation. You could also find an institution near your place. This would be useful for you if you cannot travel long distances for learning or traveling purposes.
Once enrolled, you have to start reading a lot about the aspects of the language, such as phonetics, pronunciation, spelling, vocabulary, and grammar, all together called "Language Aspects" (LA). Try to join English Speaking Classes in Bangalore where the teachers are experts in this field and know how to teach each topic comprehensively. In addition to acquiring LA, other aspects should be included while studying Spoken English. Some of them are listening and writing exercises. All these subjects should be taught systematically so as to create a holistic approach towards the subject.
Before starting with formal study, it is important to familiarize yourself with various terms in LA. Read books and magazines written in English and watch tv shows related with the language. Also listen to music, radio, lectures, etc. A teacher's guidance can help you to understand the concepts easily.
Start practicing using the resources provided by your Institute. In order to practice effectively, you must set goals and benchmarks for improvement. Practice daily in small groups and take notes of all the mistakes committed.
Whenever you meet any native speaker, ask them questions related with the language. By doing so, you will gain confidence instantly, and the listener will recognize your accent.
To improve your vocabulary, use online dictionaries like Oxford Dictionary, Cambridge Dictionary, Merriam-Webster, etc. They are very good to look up unknown words, and it will increase your proficiency.
Do lots of homework before attending lessons. Writing assignments given by the teachers are easy to understand and follow. So make sure you complete them properly in time. You will see significant improvement in your grades and academic performance. Moreover, you will become confident when meeting with real natives.
Take part in group discussions. Participating in such activities will enhance your confidence in front of an audience. Try to participate in debates and presentations as well.
Attend conferences. Conferences offer a good opportunity to interact and network with the speakers who share their life experiences, business, etc.
Finally, reading a lot about the language itself is essential. Keep a journal to record your ideas and thoughts.
Some Useful Tips While Studying Spoken English:-
Firstly, focus on proper pronunciation – the most important aspect of Speaking English – and then you can move on to other aspects.
Always remember to smile and laugh and never frown or pout. Be friendly!
At first, try to avoid speaking too much and keep your sentences short. Soon your voice will catch up with your thinking, and you will soon find more comfortable talking.
If you want to learn Spoken English quickly, try to speak less frequently but more clearly. Say little and often.
Don't just focus on the spoken word. Listen carefully to what people say around you because even if you can't hear them, you may pick up certain hints from their body language and vocal patterns.
Avoid slang words that aren't in common usage in your country; if it isn't used at home, chances are it won't be heard in public either.
Use the new words you learn, especially those made famous by celebrities and politicians, in conversation, preferably with native speakers. This helps students connect the two languages.
Learn to write naturally using standard grammar rules and conventions. When you feel comfortable writing emails, letters, memos, reports, essays, etc., you will have taken another step toward being able to hold a conversation in spoken English.
Stay away from slang unless you're having fun.
Choose subjects which interest you and involve as many people as possible. It's always better to teach something you enjoy rather than something you hate.
If you're passionate about learning English Speaking Course in Bangalore, we invite you to join our study program. We provide the best practical classes from beginner level to advanced. Our experienced faculty members guide students to develop a positive attitude towards speaking skills, and they deliver quality teaching content.
Related Blog
How to improve your pronunciation in English?, Steps to increase fluency in English, Five Quick Steps to Handle "Stress Interview", 10 COMMON GRAMMAR MISTAKES TO AVOID