Course Highlights and Why AngularJS Training in Pondicherry at FITA Academy?

Extensive AngularJS Training will equip you with in-depth knowledge of AngularJS Architecture and Single-Page Applications.

Industry experts meticulously curate course materials to provide a thorough understanding of AngularJS, Angular6, and its components.

Engaging instructor-led AngularJS training sessions are conducted.

Regular review sessions of previous classes are included to enhance your skills.

Highly proficient AngularJS trainers with over a decade of experience in web application development.

Professional Angular Training in Pondicherry is offered at an affordable price, including certification upon successful course completion.

Flexible batch schedules, including weekends and weekdays for AngularJS training in Pondicherry.

Provides 100% placement assistance to eligible students upon training completion.

Established partnerships with over 600 small to large-scale companies.

An active placement cell is dedicated to helping students secure their dream careers.
Upcoming Batches
09-12-2023
Weekend
Saturday (Saturday - Sunday)
11-12-2023
Weekdays
Monday (Monday - Friday)
14-12-2023
Weekdays
Thursday (Monday - Friday)
16-12-2023
Weekend
Saturday (Saturday - Sunday)

Classroom Training
Get trained by Industry Experts via Classroom Training at any of the FITA Academy branches near you
Why Wait? Jump Start your Career by taking the AngularJS Course in Pondicherry!
Instructor-Led Live Online Training
Take-up Instructor-led Live Online Training. Get the Recorded Videos of each session.
Travelling is a Constraint? Jump Start your Career by taking the Angular JS Online training!
Trainer Profile
The Trainers of AngularJS Course at FITA Academy offers our students a well-balanced combination of theory and practical application of AngularJS concepts.
The AngularJS instructors impart industry-relevant skills to our students.
The Trainers are experts in web application development.
AngularJS Trainers deliver hands-on training to create dynamic single-page web applications.
Instructors enhance students' knowledge by providing in-depth training in the latest industry practices.
The AngularJS trainers give individualised attention to each student.
The Trainers assist students in crafting professional resumes.
The Instructors provide valuable insights into interview questions and conduct mock interview sessions.
Learn at FITA Academy & Get Your
Dream IT Job in 60 Days
like these Successful Students!

Features of AngularJS Training in Pondicherry at FITA Academy
Real-Time Experts as Trainers
At FITA Academy, You will Learn from the Experts from industry who are Passionate in sharing their Knowledge with Learners. Get Personally Mentored by the Experts.
LIVE Project
Get an Opportunity to work in Real-time Projects that will give you a Deep Experience. Showcase your Project Experience & Increase your chance of getting Hired!
Certification
Get Certified by FITA Academy. Also, get Equipped to Clear Global Certifications. 72% FITA Academy Students appear for Global Certifications and 100% of them Clear it.
Affordable Fees
At FITA Academy, Course Fee is not only Affordable, but you have the option to pay it in Installments. Quality Training at an Affordable Price is our Motto.
Flexibility
At FITA Academy, you get Ultimate Flexibility. Classroom or Online Training? Early morning or Late evenings? Weekdays or Weekends? Regular Pace or Fast Track? - Pick whatever suits you the Best.
Placement Support
Tie-up & MOU with more than 1500+ Small & Medium Companies to Support you with Opportunities to Kick-Start & Step-up your Career.
Why Learn AngularJS Training in Pondicherry at FITA Academy?
Live Capstone Projects
Real time Industry Experts as Trainers
Placement Support till you get your Dream Job offer!
Free Interview Clearing Workshops
Free Resume Preparation & Aptitude Workshops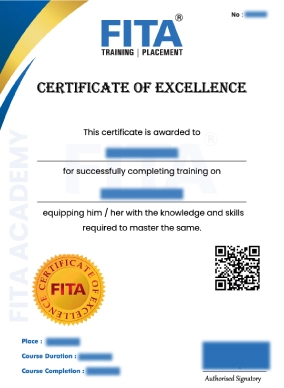 AngularJS Certification Training in Pondicherry
AngularJS has become popular among developers because it facilitates innovative and robust web application development techniques. Consequently, many students aspire to learn the AngularJS Course in Pondicherry through FITA Academy. Students are awarded a certification from the institute after completing the course. This certification is a testament to their industry-oriented skills and knowledge acquired during their AngularJS training.
This certification provides professional recognition to the trainees and reflects their performance in practical training and scores in the course's evaluative examinations. Adding this certification to your existing educational qualifications can substantially enhance your resume's value. Graduates of this program become highly eligible candidates for a wide range of IT roles, where their certification attests to their proficiency in skills and knowledge.
This extensive AngularJS training program aims to strengthen students' capabilities and enhance their innate skills. This certification further enhances the trainees' professional profiles and opens many career opportunities. FITA Academy's AngularJS Training in Pondicherry is well-regarded for its professional instructors, holistic teaching approach, industry-relevant practices, ongoing assessments, and utilisation of advanced technology. Through rigorous practice and a deep understanding of theoretical concepts, students are empowered to create custom directives and develop interactive web applications.
Have Queries? Talk to our Career Counselor for more Guidance on picking the
right Career for you!
Placement Session & Job Opportunities after completing AngularJS Training in Pondicherry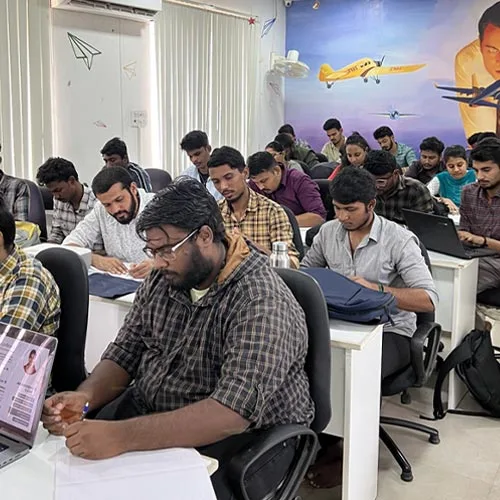 In today's rapidly evolving web development landscape, AngularJS has emerged as a cornerstone for developers, offering a powerful platform to craft distinctive and robust web applications. As a result, more students are setting their sights on AngularJS certification, choosing FITA Academy as their preferred AngularJS Training Institute In Pondicherry.
AngularJS has distinguished itself through its unique features among the other JavaScript frameworks. It offers users valuable capabilities such as two-way binding and seamless handling of dependency injections. Aspiring professionals aiming for a stable career in Single Page Application (SPA) development can significantly benefit from mastering AngularJS.
For those beginning their journey with AngularJS, having a foundational understanding of JavaScript is essential. Additionally, individuals aspiring to pursue a web design career should have a solid grasp of HTML. These skill requirements are manageable and serve as a solid foundation for securing job opportunities within the IT sector.
Students can start their careers as Web Developers / Web App Developers, UI/UX Developers, Front end web Developers / Front end Developers, and JavaScript Developers. The workplace, job role, and responsibilities influence the potential salary range. A certified AngularJS professional with one to two years of experience can anticipate an annual salary ranging from Rs. 5,40,000 to Rs. 6,40,000. Meanwhile, a certified AngularJS specialist boasting four to six years of experience may command an annual salary between Rs. 7,45,000 and Rs. 8,50,000. With an extensive work history, professionals can see that their job roles and compensation packages extend to Rs. 10,00,000 annually.
FITA Academy's AngularJS Course in Pondicherry is renowned for its distinguished instructors, holistic teaching approach, integration of cutting-edge industry practices, continuous assessments, and utilisation of advanced technology. Through rigorous training and a deep understanding of theoretical concepts, our students emerge with the ability to create custom directives and develop engaging, interactive web applications.
Success Story of AngularJS Training in Pondicherry
I joined the AngularJS Course at FITA Academy. I gained skills in building web applications. The trainers guided me to work with real-time projects during the course. They also assisted me in building a resume and provided placement assurance through their placement cell, which was very helpful during the interviews. Finally, I got placed in a company as a developer.
I found FITA Academy's AngularJS Training very useful for students aspiring to become IT industry developers. The Trainers were experts in IT and provided us with technical skills during the project. I got trained in such a way to work on a real-time project without assistance. It was a worthy decision to enrol in this course here.
FITA Academy's AngularJS Course was fascinating. The Concepts were explained in detail. The course curriculum includes all the essential concepts, from basic to advanced. After completing the course, they provided me with a course completion certificate.
I enrolled in the AngularJS Training in Pondicherry at FITA Academy. The Trainers were patient and cleared our doubts whenever we asked. They also assisted us in creating resumes. Overall, it was a beneficial experience.
I was looking for the best institute that offers the AngularJS Course, which is flexible. Finally, I found that FITA Academy offers AngularJS Training and has flexible course timing. I joined for weekend classes. The Instructors were very interactive during the sessions so the students could clear their doubts.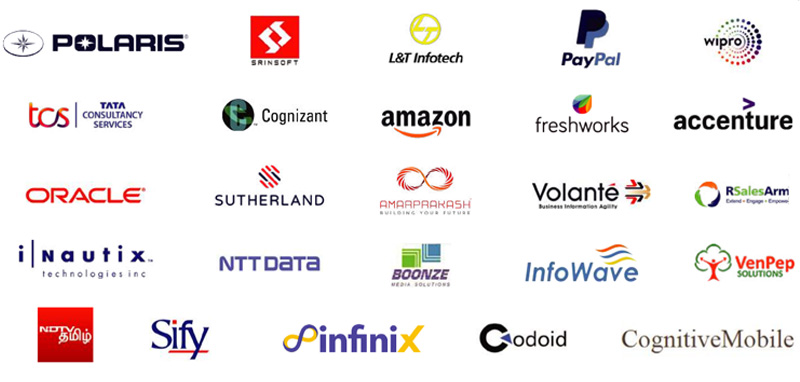 Frequently Asked Question (FAQ) about AngularJS Training in Pondicherry
Additional Information of AngularJS Training in Pondicherry
AngularJS, an open-source JavaScript front-end framework, is vital for building single-page web applications (SPAs). It remains an ever-evolving framework, continually enhancing web application development. AngularJS transforms static HTML into dynamic HTML, simplifying the development process by introducing dynamic binding and dependency injection, thereby reducing the need for extensive code. With various versions available, AngularJS provides flexibility and adaptability. It's crucial to differentiate AngularJS from Angular, as the former is open-source and modifiable by anyone. AngularJS enriches HTML through Directives, facilitating seamless data binding with HTML elements. Join FITA Academy's AngularJS Training in Pondicherry to learn this versatile AngularJS Framework to enhance yourself in shaping the future of web development.
Why FITA Academy For AngularJS Training?
Learn from Industry Professionals
Our training program is curated by seasoned web application developers, ensuring you receive high-quality instruction. Their expertise dramatically enhances the effectiveness of the course, offering you valuable insights into web app development.
Practical Training with Real-world Projects
Our Angular Training program immerses you in the world of web application development. As a part of this course, you'll be able to work on real-life industry projects, gaining hands-on experience. Our instructors will mentor you, helping you transform your app concepts into tangible solutions during the training.
Comprehensive Course Materials
All course materials are digital, providing easy reference throughout your training.
Earn an Angular Course Completion Certificate
Upon completing our Angular Course, you will be awarded a prestigious certificate in AngularJS Training.
Continued Career Support
Even after you have completed the training, our experts are here to assist you. Feel free to reach out with any questions or concerns related to the AngularJS Course, as we are committed to supporting you on your journey to success. We offer mock AngularJS Interview Questions and Answers for students after completing the Course.
Concepts in AngularJS Training in Pondicherry at FITA Academy
AngularJS MVC Architecture 
AngularJS MVC Architecture is founded on the Model-View-Controller (MVC) pattern, a widely adopted software design paradigm for the development of web applications. This approach has gained significant popularity due to its ability to separate the application's logic from the user interface layer, promoting a clear division of responsibilities.
Model: This component takes on the crucial role of managing application data. It handles requests from the view and follows the controller's directives to keep itself updated.
View: Responsible for presenting data to users, the view can display all or specific portions. Additionally, it specifies the data's format based on decisions made by the controller. These views are typically script-based template systems like JSP, ASP, and PHP and seamlessly integrate with AJAX technology.
Controller: The controller acts as the intermediary, managing the interaction between models and views. It responds to user input, performs validation, and conducts business operations that modify the data model's state.
Understanding TypeScript
The course curriculum of Angular Training in Pondicherry has a module explaining TypeScript. It is a superset of JavaScript commonly used with the AngularJS framework for web development. TypeScript provides developers with enhanced features, including type checking and static code analysis, contributing to better code quality and maintainability. When used within the AngularJS framework, TypeScript allows developers to write more structured and error-resistant code for building dynamic, single-page web applications. It adds type annotations and interfaces, making it easier to spot and prevent common programming errors during the development process. TypeScript in AngularJS combines the flexibility of JavaScript with the benefits of a statically typed language, resulting in more robust and efficient web applications.
Components of TypeScript
Language: TypeScript introduces a statically typed superset of JavaScript, adding features like type annotations, interfaces, and enhanced syntax to help developers write more structured and error-resistant code.
TypeScript Compiler (TSC): TSC is the TypeScript compiler that translates TypeScript code into standard JavaScript. It checks for type errors during compilation, helping catch issues before runtime.
TypeScript Language Service: This service provides additional tools for TypeScript development. It's commonly integrated into code editors and IDEs. Features include statement completion, signature help (showing function signatures), code formatting, and syntax highlighting.
While AngularJS is primarily associated with JavaScript, TypeScript can be used with it, especially in more extensive and complex projects where TypeScript's static typing and tooling support can be advantageous. Angular is a modern JavaScript framework with native support for TypeScript and is often used with it. Enrol in FITA Academy's AngularJS Training in Pondicherry to learn all the modern scripting techniques.
Templates
AngularJS templates consist of HTML files enriched with AngularJS elements such as attributes and directives. Directives act as markers, allowing the targeting of specific attributes or classes to define their behaviour as needed. When combined with models and controllers, templates manipulate the user's browser view in Angular applications.
Static Templates: These templates are defined within script tags and require attributes like id and type with the "text/ng-template" value for proper functionality.
Dynamic Templates: As the name suggests, dynamic templates are designed to adapt to runtime environments. Angular compiles and renders them upon user request, providing a flexible and responsive user experience. By enrolling in the Angular Training in Pondicherry, the students can use templates and incorporate CSS, form controls, filters, and expressions.
Angular Pipes
Angular pipes serve as a means to illustrate the transformations applied within the template. They convert data into a visually appealing format, enhancing the attractiveness of HTML templates. It's important to note that AngularJS pipes do not alter the underlying data values.
Built-in Angular Pipes
AngularJS provides an array of built-in pipes, each with a specific function designed to address various tasks. Leveraging these built-in Angular Bootstrap pipes simplifies development, enhancing code readability and stability. Below, we provide a comprehensive list of all the built-in Angular pipes available in the language.
AngularJS Routing 
Routing in AngularJS is a pivotal feature for users seeking to navigate through different pages within a single-page application seamlessly. It allows developers to create distinct URLs for varying content sections within an application. The ngRoute module facilitates this navigation, ensuring users can access different pages without needing a complete application reload.
AngularJS Training in Pondicherry at FITA Academy empowers developers by offering parameterised routes, enabling the dynamic generation of routes and handling diverse data based on these parameters. Developers can define route patterns with placeholders for these parameters, and AngularJS efficiently extracts values from the URL, making them readily accessible within the corresponding controller. This parameterisation of routes proves invaluable when creating dynamic pages or managing specific data queries within the context of a single-page application
Component Styling in AngularJS
In this section, we will explore how to apply styles to the host element of a component in AngularJS, and we'll gain a fundamental understanding through practical examples. This task uses the 'ng-style' directive with the component's HTML element. CSS properties play a crucial role in defining the aesthetics of the component.
Colour: This property sets the font colour, influencing the text's visual appearance.
Background colour: It defines the component's background colour, enhancing its visual appeal.
Font size: This property determines the font size within the component, affecting readability.
Padding: Used to specify the spacing around the text or content within the component, enhancing layout and alignment.
The Angular Training in Pondicherry at FITA Academy explains all the components of the Angular framework. It allows the students to tailor the visual presentation of the components to meet specific design and user experience requirements.
Testing in AngularJS
Unit testing, as the term suggests, involves examining individual components of an application in isolation. In this discussion, we will explore unit testing implementation using Jasmine and Karma within the context of an AngularJS application.
Jasmine is a robust JavaScript testing framework rooted in Behavior-Driven Development (BDD) principles. It equips developers with essential tools and structures for crafting unit tests that evaluate the functionality of JavaScript code.
While not a testing framework or assertion library, Karma plays a pivotal role in testing. It serves as a versatile tool designed to execute JavaScript test cases efficiently. Karma boasts compatibility with various JavaScript testing frameworks, with Jasmine being a supported option. Moreover, Karma offers the flexibility to test cases across web browsers and via command-line interfaces. This adaptability allows developers to configure Karma for local development environments and on Continuous Integration (CI) servers.
The Course curriculum of the Angular Training in Pondicherry at FITA Academy has a module devised for Testing concepts which integrate Jasmine and Karma and empower developers to conduct rigorous unit testing for AngularJS applications, enhancing code quality and reliability.
AngularJS vs. Angular
AngularJS and Angular are two frameworks used in web and mobile front-end development, each with advantages. AngularJS is known for transforming static HTML into dynamic HTML. In contrast, Angular represents an upgrade to AngularJS, offering improved speed, a modular structure, command-line interface support, and enhanced capabilities for building dynamic single-page applications (SPAs), among other benefits. While many developers recognise the advantages of transitioning from AngularJS to Angular, the migration process can be complex, leading to some hesitation. FITA Academy provides one of the best AngularJS Courses in Pondicherry, where you can learn about the numerous new features introduced in each Angular version that make upgrading compelling for most organisations.
Advantages of Angular over AngularJS:
Architecture: AngularJS relies on the concepts of scope and controllers, which can be rigid and challenging to reuse. In contrast, Angular adopts a hierarchical structure of components and services, facilitating the reuse of elements while enhancing their testability and maintainability.
Framework: AngularJS is versatile but less secure and manageable than Angular. Angular enforces a structured, component-based approach and ensures accurate data exchange between components, making developing and maintaining larger applications in recent Angular versions seamless.
Language: AngularJS utilises traditional JavaScript, making it easy to grasp for developers. However, the absence of type-checking can lead to unnoticed compile-time errors. Angular leverages TypeScript, a language known for its uniformity and flexibility. It enhances code quality, reduces runtime errors, and supports multiple platforms but also offers backward compatibility with JavaScript, increasing code safety and error detection during development.
Mobile Support: AngularJS was not initially designed for mobile apps, while Angular 5 and later versions support service workers, a vital component for Progressive Web Apps (PWAs). Although you can use frameworks like Ionic with AngularJS for mobile support, it may impact user experience. Angular's modular architecture significantly reduces memory usage on mobile devices.
Material Design: Angular 5 introduced the Component Dev Kit (CDK), the foundation of Angular's component library, allowing development teams to create UI components. Angular 7 seamlessly integrates with Material Design Components, enabling the development of responsive, cross-platform applications. This UI enhancement is a compelling reason for organizations to migrate to Angular.
Speed: AngularJS is efficient, but its code can become sluggish in larger applications due to the extensive use of scopes and bindings. Angular 6 introduced Ivy, a new rendering engine that offers faster compilation, reduced package size, improved debugging, enhanced flexibility, and backward compatibility.
Data Binding: AngularJS's two-way data binding can lead to performance bottlenecks. Angular's template syntax includes property binding, event binding, template statements, interpolation, and more, improving overall application efficiency and data exchange speed.
Tooling Support: AngularJS relies on third-party Integrated Development Environments (IDEs) like WebStorm, while Angular comes with its command-line interface (CLI), which reduces development time and allows developers to easily manage Angular-specific entities like modules, components, services, and directives.
Scheduled Updates: Angular follows a regular, six-month update cycle to stabilise critical applications.
The Angular Training in Pondicherry at FITA Academy allows students to upgrade from AngularJS to Angular and offers significant advantages. The latest versions of Angular are well-equipped to meet these needs.