Course Highlights and Why should I learn the Soft Skills Course in Chennai at FITA?
Expertly crafted Soft Skills Course modules to meet with the global industry requirements.
Courseware that is devised by Industrial Experts to have a better understanding of various attributes of Soft Skills namely - Emotional Intelligence, Conflict Resolution, and Communication skills.
Proficient Soft Skills Mentors with more than a decade of experience in the Corporate domain as a Soft Skill Developers/Trainers
Immersive Soft Skills Training to make you a person who has imbibed the characteristics of appealing personality, positive attitude, self-confidence, and emotional intelligence.
Interactive Instructor-led Soft Skills Classes in Chennai at FITA.
Regular Brush -up of the previous Soft Skill classes to strengthen your management and interpersonal skill sets.
Smart Classrooms with Applied Method of Soft Skills Training in Chennai at FITA.
Professional Soft Skills Training at a nominal cost with certification upon successful completion of the Soft Skills Course.
Flexible Soft Skills batch timings - Weekend, Weekday & Fast track Soft Skills Training in Chennai at FITA.
FITA provides 100% Placement assistance and guidance to all the eligible students after the successful completion of the training.
We have tie-ups with more than 600+ companies ranging from small to large scale companies.
FITA Academy has an Active Placement Cell that helps the students to land in their dream careers.
Upcoming Batches
| | | | |
| --- | --- | --- | --- |
| 05-10-2023 | Weekdays | Thursday (Monday - Friday) | |
| 07-10-2023 | Weekend | Saturday (Saturday - Sunday) | |
| 09-10-2023 | Weekdays | Monday (Monday - Friday) | |
| 14-10-2023 | Weekend | Saturday (Saturday - Sunday) | |

Classroom Training
Get trained by Industry Experts via Classroom Training at any of the FITA branches near you
Why Wait? Jump Start your Career by taking the Soft Skills Training in Chennai
Instructor-Led Live Online Training
Take-up Instructor-led Live Online Training. Get the Recorded Videos of each session.
Travelling is a Constraint? Jump Start your Career by taking the Soft Skills Course Online!
Syllabus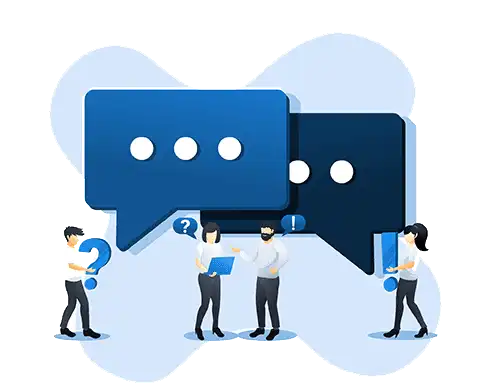 Have Queries? Talk to our Career Counselor
for more Guidance on picking the right Career for you! .
Trainer Profile
FITA Training Institute ardently practices and implements the Applied method of learning. Soft Skill Mentors at FITA trains and equips the knowledge of the students with the correct blend of ( Practical + Theoretical) Soft Skills subject to the students.
Soft Skills Instructors at FITA Academy Trains the students with the essential soft skills that are prevalent in the Corporate industry.
Soft Skills Instructors at FITA are the Expertise in the Soft Skills Development field.
Soft Skills Mentors at FITA are the Real-time Soft Skills Developers, from the Corporate offices and MNC's and they provide hands-on training of the Soft Skills Development.
Soft Skills Tutors at FITA enhance the personality traits of the students by giving them an exhaustive training on interpersonal communication and crisis handling training.
Soft Skills Mentors at FITA provide equal one-to-one attention to all the students in the batch, and they equip the student with an in-depth Soft Skills Training that is much needed to survive in a Corporate field with complete hands-on sessions.
Soft Skills Instructors at FITA guide and aids the students in the Resume Building process. They also assist and train the students on how to present themselves during an interview and how to answer the questions diligently with coherence with numerous mock interview sessions.
Features
Real-Time Experts as Trainers
At FITA Academy, You will Learn from the Experts from industry who are Passionate in sharing their Knowledge with Learners. Get Personally Mentored by the Experts.
LIVE Project
Get an Opportunity to work in Real-time Projects that will give you a Deep Experience. Showcase your Project Experience & Increase your chance of getting Hired!
Certification
Get Certified by FITA Academy. Also, get Equipped to Clear Global Certifications. 72% FITA Academy Students appear for Global Certifications and 100% of them Clear it.
Affordable Fees
At FITA Academy, Course Fee is not only Affordable, but you have the option to pay it in Installments. Quality Training at an Affordable Price is our Motto.
Flexibility
At FITA Academy, you get Ultimate Flexibility. Classroom or Online Training? Early morning or Late evenings? Weekdays or Weekends? Regular Pace or Fast Track? - Pick whatever suits you the Best.
Placement Support
Tie-up & MOU with more than 1500+ Small & Medium Companies to Support you with Opportunities to Kick-Start & Step-up your Career.
Soft Skills Certification Training in Chennai
About Soft Skills Certification Training in Chennai at FITA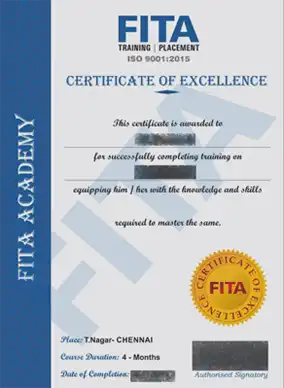 Soft Skills Certification Training in Chennai
Soft Skills Course Certification a valid piece of evidence that demonstrates your accomplishment. Soft Skill Course Certification testifies that you have completed the Soft Skills Training successfully at FITA Academy. With real-time training on different scenarios such as Professional Communication with peers, Communication in Project Presentation, Time Management, Crisis Management, Social Attitude, and Emotional Intelligence, this certification authenticates that you have obtained the required Soft SkillSets that are prevalent in the Corporate field. Affixing this certificate along with your resume at the time of the interview aids in opening the gate for the wider career opportunities.
Soft Skills Certification Course in Chennai at FITA inherits the required Soft Skills that are necessary for a professional to work in the Corporate field under the mentorship of Expert Soft Skills Developers. Soft Skills Training in Chennai at FITA is provided by real-time Soft Skills Developers from the MNC's who have 8+ years of experience in the Corporate domain.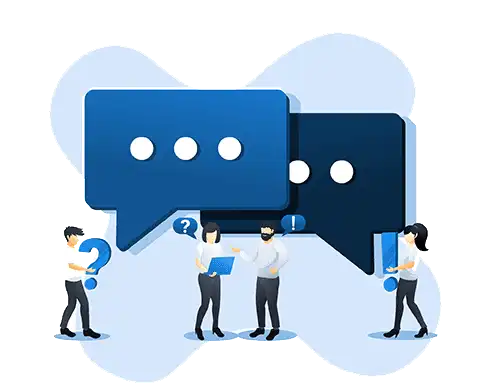 Have Queries? Talk to our Career Counselor
for more Guidance on picking the right Career for you! .
Student Testimonials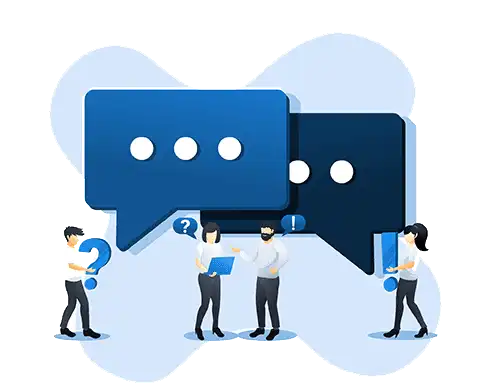 Have Queries? Talk to our Career Counselor
for more Guidance on picking the right Career for you! .
Additional Information
Facing your interview or gaining confidence at a workplace, let it be anything, all you need is a professional Soft Skills Training in Chennai to make you interview ready or work-ready. Companies are looking for candidates who possess a range of soft skill competencies. Top companies' recruiters are looking for candidates' ability to communicate clearly and respond compassionately. Many factors stand as an obstacle for you to grab that dream job. Communication, leadership, teamwork, presentation, problem-solving are some of the skills that any company would look for in any candidate sitting for an interview.
Why Soft Skill Training?
Soft Skills Training is a combination of various skills that train you in both professional attire like dressing etc, and internal skills like speaking boldly and fluently, interacting efficiently. It indicates that there is more than just qualification to be noted in a candidate. Organizations look into personal and interpersonal skills also. It creates an assurance that the candidate will perform well not only on basis of output but also on team relationships.
What Do We Offer At FITA?
Training according to industry standards
Certified trainers
Top certification
Intensive training
Practical exposure
High-quality infrastructure
Productive study materials
Flexible class timings
Individual attention
What Do You Get Out Of Soft Skill Training?
One has to be suitable for a job not only on the basis of technical qualifications but also on the basis of various other skills that are required at the workplace. If a person is not good at communicating understandably then there is no use of being technically knowledgeable. A person should know to present himself in the workplace. He/ She should be able to coordinate and work with a team without any issues. Valuable soft skills also include the ability to balance the commercial work and the employees of the organization. The ability to be flexible, handle different situations and different people are also a part of soft skills. Soft skills are a set of skills that not only affect an individual but also the people around him/her. Though the name states that it is a 'SOFT' skill, it is something very crucial to any individual and companies too. These soft skills can be imparted to a person in various methods which you can see at FITA.
You need not worry about any of these if you are planning to join the Soft Skill Course in Chennai at FITA Academy. At FITA we make sure that each and every aspect that is required at a workplace is covered under the Soft Skill Training program. FITA has the most result-oriented Soft Skill program.
Why Prefer FITA For Soft Skills Training?
The training for technical courses and language-related courses is different as a technical course is training the challenges with practicality and language course is about provoking the learning habit. Soft skill is about communication skills and the emotional intelligence required to handle the different tasks in the companies. How we take this training forward and make the course a wrap of interesting learning material is given below. Join the best Soft Skills Training Institutes in Chennai to gain comprehensive knowledge.
FITA has experience in placing the trainers who can make the world of learners as interesting. Since soft skills training is behavioral science trainers apply the practical and theoretical approaches to make the class as interesting.
Job cycles require constant follow-ups and team coordination to work with others. Communication with an application of soft skills makes the difference between the average performer and the potential performer. We at FITA understand the role and have adhered to the facts to provide quality training to the students.
Learning is an essential skill in any job as it is a source of knowledge. Soft skill is about taking every task of the job as an interesting one and applies the learning path to the job. FITA gives information about the different companies and job roles which create the virtual interest to the candidates. Best Soft Skills Training in Chennai will groom the skills from the basics to the advanced level.
Friendliness and discipline are part of professionalism. Soft skill training at FITA brings the skills required to take up the job roles. Soft skill training at FITA will train the candidate with the interactive skills and relationship skills needed to handle the clients.
The concentration and the short time memory are essential to handle mundane tasks of the big corporates. Soft skills help the employees to get relieved from the stress and manage the work process in the companies. FITA trains the student to become an influential communicator and possess high concentration.
Set the high goals and achieve the targets in the business. Soft skills also help to solve the problems with creativity and aim for the big goals. Soft Skills Training Centers in Chennai render training to the students to handle the challenging tasks with patience.
Outcome after completing the soft skills training
Big corporates provide complex tasks and soft skills are on-demand as it is the life skill for the candidate. Handling complex tasks help the corporates to enhance productivity and thus the professionals with soft skills are paid rewardingly for the work. Soft Skill Training Courses in Chennai at FITA will help you to get placed in a reputed company.
Soft skills lay the difference among the employees. Soft skills motivate the employee to complete the jobs with perfection and speed. For completing the day to day task soft skill training makes the employee the best employee. FITA provides Soft Skills Trainer Certification Chennai for the students after completing the soft skill training.
Soft skills are required at the top of the management to handle the project and it yields the best return on investment. Learning soft skills is the best choice as it is the life skills that stand for a relatively long time with the learner. Soft skill workers work for blue-collar jobs and hence they learn from the top management to handle the business. Ask for the Soft Skills Training Fees in Chennai and choose the best institute for your learning journey. FITA proudly presents the soft skill training with a proven record in the placements.