Course Highlights and Why Embedded Training in Chennai at FITA Academy?

Expertly curated Embedded Course modules that are in sync with the industry standards of the Embedded Technology.

Courseware that is tailored by Expert Embedded Engineers to comprehend the complete Embedded System Stack and Embedded Micro Architecture concepts.

Proficient Embedded Mentors at FITA Academy with a decade of experience in the Embedded Platform.

Exhaustive Embedded Training in Chennai at FITA Academy to make you comprehend the vital concepts namely Embedded Software, Compiler Phases, Network Processors, and Data Layouts of the Embedded Processor.

Immersive Mentor-led Embedded Course in Chennai at FITA Academy.

Regular abstract of the previous Embedded Classes is bestowed to the participants to strengthen their technical competence.

Technically Updated Classrooms with Applied Method of Embedded Training in Chennai at FITA Academy.

Professional Embedded System Training at an economical price with an accomplishment certificate on completing the Embedded Training.

Flexible Embedded Batch timing formats - Weekday, Fast Track, and Weekend Embedded Classes in Chennai.

FITA Academy Training Academy renders the students with 100% of Placement Assistance for all the participants who have undergone the Embedded Training successfully.

FITA Academy Training Academy have Recruitment & Placement Association with 600+ Business Entities.

FITA Academy Training Academy has a Placement Platform that caters the participants proficiently to ace their career in the aspired path.
Upcoming Batches
09-12-2023
Weekend
Saturday (Saturday - Sunday)
11-12-2023
Weekdays
Monday (Monday - Friday)
14-12-2023
Weekdays
Thursday (Monday - Friday)
16-12-2023
Weekend
Saturday (Saturday - Sunday)

Classroom Training
Get trained by Industry Experts via Classroom Training at any of the FITA Academy branches near you
Why Wait? Jump Start your Career by taking the Embedded Training in Chennai!
Instructor-Led Live Online Training
Take-up Instructor-led Live Online Training. Get the Recorded Videos of each session.
Travelling is a Constraint? Jump Start your Career by taking the Embedded Online Course!
Syllabus
Introduction To Embedded Systems
PLDs Introduction
Data and Signal Processing
Introduction to Microcontrollers
ARM Controllers
Microprocessors
Mixed-Signal Processing
8051 Microcontroller
Introduction to System On Chip(SoC)
Application Development Using 8051 And ARM-7
Using Internal Peripherals (Architecture, Memory, Addressing Modes, Instruction set, Timers/Counters, Stopwatch, UART)
Using External Peripherals (LED, Segment Displays, LCD, RTC, EEPROM, etc.)
Trainer Profile
The Embedded Course Trainers at FITA Academy upskills the application of the Embedded technology to the participants with the correct blend of conceptual and practical knowledge
Embedded System Mentors at FITA Academy imparts the students with the Job-oriented skills
Embedded Instructors at FITA Academy Institute are Certified and Handpicked Professionals from the Embedded Technology platform
Embedded System Tutors at FITA Academy Institute are Real-time Embedded professionals with 10+ years of experience on this platform and they train the students with industry-relevant techniques and practices
Embedded Mentors at FITA Academy Institute enrich the technical competence of the participants by training them extensively on the practices that are prevalent in the Embedded field
Embedded System Trainers at FITA Academy Training Institute provides the maximum individual focus to all the learning participants and in-depth training of the Embedded technology with hands-on practices
Embedded System Instructors at FITA Academy Training Institute guide the students in the Resume Prep process.
The Embedded Mentors at FITA Academy Training Institute boosts the confidence in the students to face the interview with boldness by training them immensely on the interview techniques and tips.
Learn at FITA Academy & Get Your
Dream IT Job in 60 Days
like these Successful Students!

Features of Embedded Training in Chennai at FITA Academy
Real-Time Experts as Trainers
At FITA Academy, You will Learn from the Experts from industry who are Passionate in sharing their Knowledge with Learners. Get Personally Mentored by the Experts.
LIVE Project
Get an Opportunity to work in Real-time Projects that will give you a Deep Experience. Showcase your Project Experience & Increase your chance of getting Hired!
Certification
Get Certified by FITA Academy. Also, get Equipped to Clear Global Certifications. 72% FITA Academy Students appear for Global Certifications and 100% of them Clear it.
Affordable Fees
At FITA Academy, Course Fee is not only Affordable, but you have the option to pay it in Installments. Quality Training at an Affordable Price is our Motto.
Flexibility
At FITA Academy, you get Ultimate Flexibility. Classroom or Online Training? Early morning or Late evenings? Weekdays or Weekends? Regular Pace or Fast Track? - Pick whatever suits you the Best.
Placement Support
Tie-up & MOU with more than 1500+ Small & Medium Companies to Support you with Opportunities to Kick-Start & Step-up your Career.
Why Learn Embedded Training in Chennai at FITA Academy?
Live Capstone Projects
Real time Industry Experts as Trainers
Placement Support till you get your Dream Job offer!
Free Interview Clearing Workshops
Free Resume Preparation & Aptitude Workshops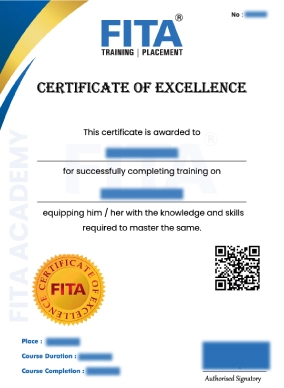 Embedded Certification Training in Chennai
Embedded Course Certification is valid evidence that specifies that the candidate has imparted the required knowledge of the Embedded technology and its concepts. With a real-time Embedded based project experience and case studies are given at the end of the Embedded Training Course, this certificate mentions that the aspirants have incorporated the mandatory professional skills that are highly demanded in an Embedded Engineer at a Workspace. Annexing this Embedded Course accomplishment certificate helps in acknowledging your profile over others in the interview and leads to a pathway to access wider career opportunities.
Embedded Certification Course in Chennai at FITA Academy upgrades the career possibilities of the students by training them immensely with required coveted skillsets under the mentorship of the real-time Embedded professionals. Embedded Training in Chennai at FITA Academy Training Insitute is provided by Well-experienced Embedded professionals and they train you practically on how to apply and use the technology in a real office environment.
Have Queries? Talk to our Career Counselor for more Guidance on picking the
right Career for you!
Placement Session & Job Opportunities after completing Embedded Training in Chennai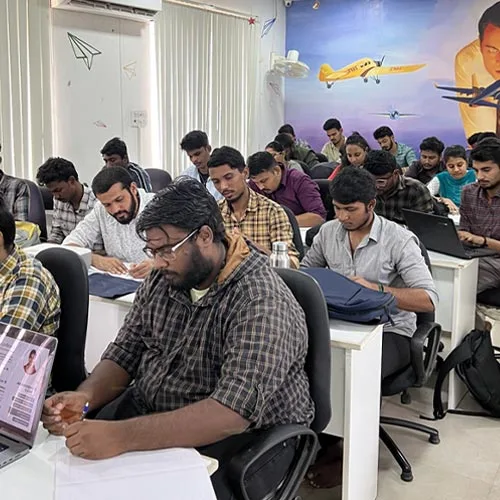 Embedded System Technology is one of the best mainstream careers at present in the industry and there is a dire need for skilled Embedded professionals in the current situation. This is because in the present generation the electronic gadgets have turned out to be a ubiquitous part of our lives. As we rely on these gadgets for most of our routine functions. For Example, washing machines, mobile phones, refrigerator, printers, televisions, and other electronic gadgets are the essential items that which makes our work smoother and seamless. All these devices function through the interconnection of the software and hardware technology which primarily requires Embedded Technology for smooth functioning.
The notable domains where this Embedded Technology is highly implemented are AeroSpace, Food Industry, Defense, Automobiles, Space, Industrial machines, Agriculture, Constructions, Manufacturing sites, and Telecommunication sectors.
The reputed organizations that seek for a professional Embedded Engineer are Google, Microsoft, Adobe, Accenture, Infosys, Cognizant, Samsung, Bosch, Simens, Airbus, Toshiba, Zensar, Volvo, L&T, TATA, Elexi, and Wipro. The common job profiles that are offered in these companies are Embedded Software Engineer, Embedded Hardware Engineer, System Software Engineer, Application Software Engineer, and Embedded System Trainer.
The median pay offered to an entry-level Embedded Engineer in India is Rs. 3,70,000 to Rs. 4,50,000 yearly. With years of experience, the package may range up to Rs. 5, 20,000 to Rs, 9,50,000 per annum. Globally, an Embedded Software Engineer can earn up to $ 107, 515 annually. Embedded System Training in Chennai at FITA Academy is completely hands-on training that equips the students with the correct knowledge and skillsets that are needed to work as an Embedded Engineer under the mentorship of Real-time Professionals. And Embedded technology also has a myriad of career opportunities in the long run as well. Choosing this as your mainstream career will definitely lead you to a lucrative career path.
Success Story of Embedded Training in Chennai
I completed my Embedded Training in Chennai at FITA Academy. Wider coverage of Embedded System building block and the tools that are used in creating an Embedded system. The Embedded Course Trainers at FITA Academy are real-life professionals and they helped me gain a very good understanding of Embedded Technology.
The overall training of the Embedded Course @ FITA Academy Institute was good. My trainer thought the Software & Advanced optimization concepts extensively to us. A humble thanks to my Embedded Trainer who helped me in understanding the concepts at ease. Good Work FITA Academy!
The Embedded Training Course at FITA Academy had a good weightage for both the conceptual and practical aspects. Furthermore, FITA Academy helped me out very well in the Placement needs. The Placement officer persistently notified me of the job openings. Also, they helped me build my resume. Thank you FITA Academy!
I did my Embedded System Training in Chennai at FITA Academy. Hands-on training in Embedded Technology was provided at FITA Academy! I was earlier not very fond of taking up the course but on my friend's suggestions and reviews from two to three reliable persons made me take up the course. The training was up to market expectations. Also, the courseware is neatly devised. Really quality training was provided.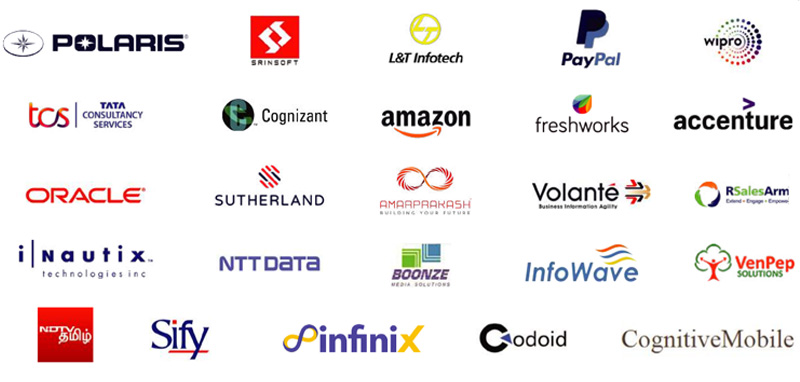 Frequently Asked Question (FAQ) about Embedded Training in Chennai
Additional Information of Embedded Training in Chennai
Looking for Best Embedded Training in Chennai, FITA Academy No 1 embedded Systems Training Institutes in Chennai offering professional training by Industry experts. Call 93450 45466 to know more about the Embedded Training.
What is Embedded Systems?
Embedded system is the advanced technology with a dedicated function within a large electrical or mechanical system. It is the part of the complete device that includes hardware, software, and mechanical parts. Embedded technology now controls every device used today. 97 percent of microcontrollers are contrived as part of embedded systems.
Embedded systems range from small portable devices such as MP3 players and digital watches to large utility installations like factory controllers, traffic light, and complex systems like MRI, Avionics, and Hybrid vehicles. Embedded technology is now used in various domains like Mobile technology, Automation, telecom, Mechanical, automotive systems, medical, Military, Vending machines, Airplanes, Product Designing, Product Development, PCB Designer, RTOS Development, Testing, etc. Using these components, various devices can be developed like infusion pumps, pedometers, electronic gadgets, AC, etc.
Intended Audiences & Prerequisites for the Embedded System Course in Chennai 
Intended Audience: This course is ideal for any fresher who wish to begin their careers in the Embedded technology domain. Also, the Embedded Course is appropriate for professionals namely Computer Science Professionals, Professionals from an Electrical Engineer background, and Operating system managers. The Embedded Course in Chennai at FITA Academy equips the participants efficiently right from their basics under the guidance of Expert Mentors.
Prerequisites: For the Embedded Training in Chennai at FITA Academy we don't ask for specific prerequisites. Yet having a prior understanding of the C and C++ concepts will help the students to understand the Embedded technology concepts easily. Embedded Training in Chennai at FITA Academy Institute is provided by professional Embedded Engineers and they train the students with utmost practical exposure of the Embedded technology concepts and its applications in a real-time environment.
Scope Of Embedded Systems
With the advent of the latest technologies, companies now are replacing manual operation with automation with the latest mechanical devices. Leading companies started investing in embedded research and development and manufacturing. It increases the career opportunity of aspirants skilled in manufacturing Embedded devices. Most of the students now aware of the employment opportunities available in Embedded systems. Taking Embedded Systems Training in Chennai will help aspirants to enter the lucrative field of embedded systems.
Why Embedded Training In Chennai At FITA Academy?
Learning evergreen technology from FITA Academy makes your career to be a rich one. Our embedded courses include all recent technologies like ECE, E&I, EEE, Mechatronics, Robotics, ETC. FITA Academy is home to practical, real-time and placement focused training in Chennai. Our embedded training is carried by experienced trainers based on industry standards and training students for real-world challenges.
As a leading embedded training institute in Chennai, we are committed to providing practical oriented training
Work on real-time industry projects
Embedded programming in real hardware
Experienced tutors with 8+ years of industry expertise
Our embedded course in Chennai is for fresher to get placed in top MNCs
Interact with industry stalwarts
Quality training and course materials in sync with industry standards
After completing our embedded training, you can start your career as a hardware engineer, test engineer, embedded architect, software engineer, hardware engineer, component engineer, etc.
Usage of embedded technology for other technologies
Integrating various technologies into the same head embedded requires formal training. For instance to integrate the Machine Learningand the embedded technology the design in distributors or the in-depth assistance is used. Join the Embedded System Course Chennai is the best course to precede in professional life.
The IP of the machine learning software can be wrapped to create a set of blocks building that can be focused on a targeted system. For using the data it is essential to use the IoT to collect the data. Before using the data for the AI tools it can be used for rule-based streaming analytics.
Embedded system is the technology which is used for huge technologies like electronic payment solutions, mobile communication, aeronautics, railways, and automobiles. The Embedded device provides the advantages of adaptability, accuracy, power, reliability, and speed for the smaller size.
Emerging Trends in the embedded technology
The computing functions and the communications are carried out with the embedded technology and the whole field is undergoing the transformation. The embedded technology is used for the traditional computing platform.
Mobile phones usage
Mobile phones are used for multiple purposes from the individual perspective and business perspective and this has created a huge demand for the embedded technology. Join the Embedded System Training in Chennai to know the impact of embedded over mobile phones.
Chip manufacturing
The chip manufacturers create the processors with much more performance requirements as the demand is for high power and high thermals. The cost of the peripherals increased to match the speed of high performance. Join the Embedded Training in Chennai to know about the production of the different types of chips.
The chip production demands the specification now. Some of the models of the companies using the specific chips are Intel, Transmeta, and Philips. Intel CPU introduced the new IP STB design. Intel is expanding production in the area of media players and home media systems. Embedded apps are produced by companies like net silicon, Transmeta, and Philips Semiconductor. The automotive technology, industrial control, and medical usage are introduced with Philips with features like flash memory, CAN, RAM, ADC, and PWM. Join the best Embedded System Course Chennai to promote technical skills.
Another product called net silicon is using the NET + ARM series processor and the products are NS9775 with 32 bit, 200 MHZ with microprocessor with independent video channels. The TI has a proposal to create the OMAP architecture series. The TM5700 and TM 9500 have good performance when compared to the last generation products.
The power requirements and on-chip memory are used in both the RAM and Flash in the applications with the help of the embedded technology. MCU products are increasing due to the production by the companies like Atmel Corp, Infineon technologies, Atmel Corp, Infineon technologies, and RDC semiconductor. Join the Embedded Training in Chennai at FITA Academy to learn intensively about the training.
Multi-core performance
The deployment and the development of the different devices need a multi-core performance like a multi-mission, multiprocessor, multithread, and multi-board debugging. RTOS boundaries comprise frameworks, runtimes, and tools for managing software. Join the Embedded System Course Chennai to know about the multi-core performance in the embedded technology.
Security
Embedded security is an essential part to focus on digital security. The new systems integrate, operate, and became net-centric. Embedded technology aids for the post-processing, identification, alerting, and capturing of the security.
International market and local market
The embedded technologies are used to survive in the market to access the local and international market. In definitive terms, the embedded technology offers both the local access of the devices and supporting systems. It also aids for the multi-language support to reach globally. Join the Embedded System Training in Chennai to know about the connectivity among the devices for local and international usage.
Point of sale terminal
The dual aspects are used for advertising with POS technology. This is achieved through the connected mobiles and back end integration. This is beneficial for buyers and sellers. Healthcare, advertisement, entertainment, and automotive are the wide range of industries in which the Embedded technology is bringing in huge changes. FITA Academy has proven records in the Embedded Training in Chennai and we are happy to create the learning community.