Course Highlights and Why AngularJS Training in Bangalore at FITA Academy?

The Angular Course modules at FITA Academy are meticulously compiled in the aspect to provide a comprehensive understanding of the Angular 8 version and its components.

The AngularJS Courseware is curated in the prospect to make the learners comprehend the concepts on how to build the Single Page Applications and how the AngularJS enables support in the development process.

The AngularJS Training in Bangalore at FITA Academy makes you familiar with end-to-end testing and unit testing of the AngularJS applications.

The AngularJS Course at FITA Academy equips the students with creating classes, interfaces, variables, functions, and modules using the AngularJS.

You will become proficient with angular CLI and you will be able to build components with CLI.

Able to add the headers to the requests and handle the errors efficiently.

Know-how to prudently separate the views, controllers, and models layers of the applications and apply them using AngularJS.

Demonstrable knowledge on how to apply the built-in pipes for transforming the data.

The AngularJS Trainers at FITA Academy provide a holistic understanding of the MVC Architecture clearly to the students.

In-depth knowledge on how to work with the Dependency Injections, Services, Directives, Custom Pipes, TypeScript, and Angular forms.

The AngularJS Trainers at FITA Academy are Real-time Frontend Web Developers and they provide hands-on exposure to the learners and hone in the required skills that are sought in the Web Application Development industry.

The Angular Training in Bangalore at FITA Academy provides Career Assistance to all the students who have completed the AngularJS Training.

The AngularJS Training sessions are scheduled flexibly - Online, Weekend, Weekday, and Fastrack AngularJS Classes.
Upcoming Batches
11-12-2023
Weekdays
Monday (Monday - Friday)
14-12-2023
Weekdays
Thursday (Monday - Friday)
16-12-2023
Weekend
Saturday (Saturday - Sunday)
23-12-2023
Weekend
Saturday (Saturday - Sunday)

Classroom Training
Get trained by Industry Experts via Classroom Training at any of the FITA Academy branches near you
Why Wait? Jump Start your Career by taking the AngularJS Training in Bangalore!
Instructor-Led Live Online Training
Take-up Instructor-led Live Online Training. Get the Recorded Videos of each session.
Travelling is a Constraint? Jump Start your Career by taking the AngularJS Online Course!
Syllabus
Module 1 - Getting to know about JavaScript
Introduction to Javascript
Control Structures
Loops in Javascript
Operators in Javascript
Handling functions
Objects and Functions in Javascript
Javascript DOM
Javascript Events and Event Handling
MODULE 2: GETTING INTO THE ANGULAR WORLD
Angular Advantages
Opportunities for Angular
Angular Versions
AngularJS to Angular 6
Semantic Versioning
MODULE 3: INTRODUCTION TO TYPESCRIPT
Understanding TypeScript
Basic Types
Working with Variables
Working with Arrays
Working with Classes
Working with Objects
Working with Interfaces
Working with Constructors
Type Definitions
Compiling TypeScript
Linting
MODULE 4: ES2015 PRIMER
Understanding Let and Const
Working with Template Strings
Mastering Lambda Functions
Working with Generics
Working with Modules
MODULE 5: ENVIRONMENT SETUP
Node / NPM
Polyfills
Babels
TypeScript
Module Bundler (Webpack)
Code Linting
Test Setup
Application File Structure
AngularCLI
Code Editors
MODULE 6: MODULES
Why and when to use Modules
Understanding NgModule
Working with Declarations in Modules
Using Providers
Managing Imports
How to use Bootstrapping
The Core Module
Shared Modules
MODULE 7: COMPONENTS
Introduction to Components
Working with Component Architecture Patterns
Decorator Metadata
State & Behaviour in Angular
Inputs and Outputs
MODULE 8: TEMPLATES
Inline vs External
Mastering Template Expressions
Data Bindings
Data Bindings Syntax
Working with Data & Event Bindings
Working with Built-in Structural Directives
Working with Built-in Attribute Directives
MODULE 9: CUSTOM DIRECTIVES
Directives Overview
Types of Directive
Create your own Attribute Directive
Writing Attribute Directive Code
Respond to User-Initiated Events
Pass values into the directive with an @Input data binding
Binding to an @Input property
Bind to an @Inputalias
Write a harness to try it
Create your own Structural Directive
NgIf case study
Inside *ngFor
Inside NgSwitch directives
The <ng-template>
Working with <ng-container>
TemplateRef and ViewContainerRef
MODULE 10: PIPES
Using pipes
Built-in pipes
Parameterizing a pipe
Chaining pipes
Custom pipes
The Pipe Transform interface
Power Boost Calculator
Pipes and change detection
Pure and impure pipes
Next steps
MODULE 11: SERVICES & DEPENDENCY INJECTION
Getting familiar with Services
Building a Service
Getting familiar with Dependency Injection
Working with Injectors
Working with Providers
Registering Providers with real-time examples
MODULE 12: LIFECYCLE HOOKS & CHANGE DETECTION
Understanding Component LifeCycle
Using ngOnInit
All lifecycle Hooks
Understanding Change Detection
Working with Zone.js
MODULE 13: ROUTING & ADVANCED ROUTING
The Component Router
Defining Routes
Working with Navigation
Understanding Route Params
Child Routes
Route Guards
Route Resolves
MODULE 14: MASTERING TEMPLATE-DRIVEN FORMS & MODEL-DRIVEN FORMS
Introduction to forms
Overview of Template-driven forms
Understanding Validations
Introduction to 'Reactive' forms
Form Group & Form Control Class
Validators Class
MODULE 15: ASYNCHRONOUS OPERATIONS & ADVANCED HTTP
Introduction to Async
Promises
Working with Observables
Event Emitter
Async Pipes
Handling HTTP Request / Response
Headers & Request Settings
Providing HTTP
MODULE 16: COMPONENT STYLING
Introduction to Angular Styling
Using Component Styling
Style Scope
Shadow DOM
Loading Component Styles
MODULE 17: WORKING WITH ANIMATIONS
Introduction to Animations
Animations Setup
Understanding States & Transitions
Entering and Leaving from States
Animatable Units
Automatic property calculation
Understanding Animation Timing
Multistep Animation using Keyframes
MODULE 18: TESTING ANGULAR APPLICATIONS
Introduction to Testing
Unit Testing
E2E Testing & Protractor
Setup Jasmine Framework
Component Test Basics
Component Test Scenarios
Karma
MODULE 19: SECURITY & INTERNATIONALIZATION
Importance of Security
Security in Angular
Sanitize the Dangerous Values
Trusting Values
bypassSecurityTrustHtml
bypassSecurityTrustScript
bypassSecurityTrustStyle
bypassSecurityTrustUrl
bypassSecurityTrustResourceUrl
Cross-site Request Forgery
Using ng2-Translate
MODULE 20: PERFORMANCE, OPTIMIZATION & DEPLOYMENT
Change Detection Strategy
Running outside the Zone
Production Mode
Understanding Web Workers
Precompiling (AoT)
Lazy Loading
Deployment Best Practices
Trainer Profile
The Angular Training in Bangalore at FITA Academy who have diverse experience in the Web Development and Frontend field
The AngularJS Mentors at FITA Academy provides equal emphasis on the conceptual and industry-oriented practical training of the AngularJS concepts
The AngularJS Instructors at FITA Academy provides intensive Instructor-led training with hands-on practices of the AngularJS applications
AngularJS Tutors at FITA Academy support all the learners with personalized mentorship and trains them proficiently on the tools and techniques that are used in the Web Application Development process
The AngularJS Trainers at FITA Academy inculcate all the skills in you to build dynamic Single Web page applications
AngluarJS Mentors at FITA Academy provides the necessary feedback, guidance, and confidence in the students to face the interviews boldly
AngularJS Instructors at FITA Academy upskills your knowledge with recent developments and updates that are practiced in the Web Development industry.
Learn at FITA Academy & Get Your
Dream IT Job in 60 Days
like these Successful Students!

Features of AngularJS Training in Bangalore at FITA Academy
Real-Time Experts as Trainers
At FITA Academy, You will Learn from the Experts from industry who are Passionate in sharing their Knowledge with Learners. Get Personally Mentored by the Experts.
LIVE Project
Get an Opportunity to work in Real-time Projects that will give you a Deep Experience. Showcase your Project Experience & Increase your chance of getting Hired!
Certification
Get Certified by FITA Academy. Also, get Equipped to Clear Global Certifications. 72% FITA Academy Students appear for Global Certifications and 100% of them Clear it.
Affordable Fees
At FITA Academy, Course Fee is not only Affordable, but you have the option to pay it in Installments. Quality Training at an Affordable Price is our Motto.
Flexibility
At FITA Academy, you get Ultimate Flexibility. Classroom or Online Training? Early morning or Late evenings? Weekdays or Weekends? Regular Pace or Fast Track? - Pick whatever suits you the Best.
Placement Support
Tie-up & MOU with more than 1500+ Small & Medium Companies to Support you with Opportunities to Kick-Start & Step-up your Career.
Why Learn AngularJS Training in Bangalore at FITA Academy?
Live Capstone Projects
Real time Industry Experts as Trainers
Placement Support till you get your Dream Job offer!
Free Interview Clearing Workshops
Free Resume Preparation & Aptitude Workshops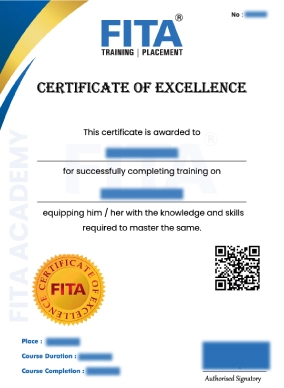 Angular Certification Training in Bangalore
On completing the Angular Training in Bangalore at FITA Academy you will be bestowed with a certificate on the successful completion of the AngularJS Course. This AngularJS Certificate implies that you have obtained in-depth knowledge of the AngularJS concepts and Frontend Frameworks. It also states that the candidate has imbibed all the skills that are needed for building a robust Single Page Web Application. The AngularJS Training in Bangalore at FITA Academy is rendered by skilled professionals who have 10+ years of experience in the Web Development field. Affixing this testimony with your resume at the time of the Interview aids in boosting your profile and thus enhances the credibility of your skills and knowledge gained. The Android Training in Bangalore at FITA Academy provides extensive training on the AngularJS architecture and its components with real-time examples and case studies. By the end of the AngularJS Training program at FITA Academy, you will inculcate in-demand skills that are required for a Frontend Web Developer. The Angularjs certification course is designed to meet the needs of today's software developers. Angularjs Training in Bangalore teaches you how to build applications using AngularJS and professionals from FITA Academy. We also have a separate HR team for student placement assistance and career counseling. The faculty are seasoned in the field and can guide you on what to do with your new skills. Upon certification, you'll be able to start implementing the skills you have acquired.
Have Queries? Talk to our Career Counselor for more Guidance on picking the
right Career for you!
Placement Session & Job Opportunities after completing AngularJS Training in Bangalore

The very name Angular itself denotes that is the JavaScript framework, which is developed by Google to build robust Single-page Web applications on the Frontend. This is basically built over TypeScript which is actually a superset to JavaScript. A majority of the Software Developers prefer Angular for building native Mobile or Web apps in a single shot without having to dabble around multiple platforms. This is one of the significant reasons why Angular is more popular among developers. And this mandated the surge for AngularJS Developers in the market recently this is because a Website is the index of any business or service in the present world. It creates the very first impact on your business, so building interactive and dynamic websites have become a basic norm in the present technologically driven world. So, the organization of all scales has begun to build dynamic websites for their businesses to engage the customers. To adhere to the above statement, some of the big giants that recruit AngularJS Developers are IBM, Intel, Google, Cisco Systems, Wipro, Infosys, Accenture, Capgemini, iGate Global Solutions, and Tech Mahindra and IBM.
The common job profiles that are offered on completing the AngularJS Course are Web Developer, JavaScript developer, Web app developer, UI/UX developer, and Front end web developer. The median salary package that is offered for an entry-level candidate in India is Rs. 3,50,000 to Rs. 4,20,000 yearly. With years of experience and skillsets obtained the packages may differ. The Angular Training in Bangalore at FITA Academy provides exhaustive training on the AngularJS Applications and their Architecture elaborately under the mentorship of expert Web developers. The AngularJS Instructors at FITA Academy support the student's necessary career guidance and up-gradation of in-demand skills.
AngularJS is a popular JavaScript framework that many companies worldwide have used. It is a good choice for those who want to learn how to build web applications.
After completing AngularJS training in Bangalore, you can start your career as an AngularJS developer or become an AngularJS consultant.
It's not just about learning AngularJS, but about learning how to build a career with it. Some are:
Web Developer
If you are familiar with front-end technologies like Angular JS, you definitely meet Front End Developer. As the name implies, every website or mobile app needs a front end to show the content on the browser. There are two kinds of developers who work in this field. One type is the full stack developer, whereas another one is only a frontend developer. A frontend developer plays the role of providing the look and feels to the websites and apps. This developer usually works alone, and he does not require any backend support. He needs to know about the latest trends in the industry. Another kind of person is the back-end developer who works closely with the team to provide the functional aspects behind the scenes. Sometimes they don't know much about javascript, but they are good at coding. It is now a good time to prepare for the job market after completing the best angular js training in Bangalore.
Success Story of AngularJS Training in Bangalore
I completed my AngularJS Training in Bangalore at FITA Academy. The Training faculty of the AngularJS Course @ FITA Academy were real-time Web Developers and they trained us with more real-life examples and situations. I am happy that the training practices were up to the industry standards. If you are a fresher, you can surely try here!
I took the AngularJS 8 training @ FITA Academy at my friend's suggestion. The curriculum of AngularJS was updated to the recent version. Also, this training session had a good amount of practical training. Regular assessment sessions with proper evaluation were given at FITA Academy! Thanks, FITA Academy!
Completed the AngularJS Training at FITA Academy. The overall training was excellent. My Angular tutor was so friendly enough to clear all my doubts. Good training approach and the Support team was really helpful in rescheduling the missed sections. I am looking forward to doing my further courses here!
This is one of the Professional institutes so far I have seen in my lifetime. AngularJS is a completely hands-on program that helps the learners to understand clearly. The coursewares are designed precisely to adhere to the advanced concepts that are immensely practiced in the industry. Also, the faculties of the AngularJS Course were highly skilled and efficient! Great work FITA Academy! Keep it up!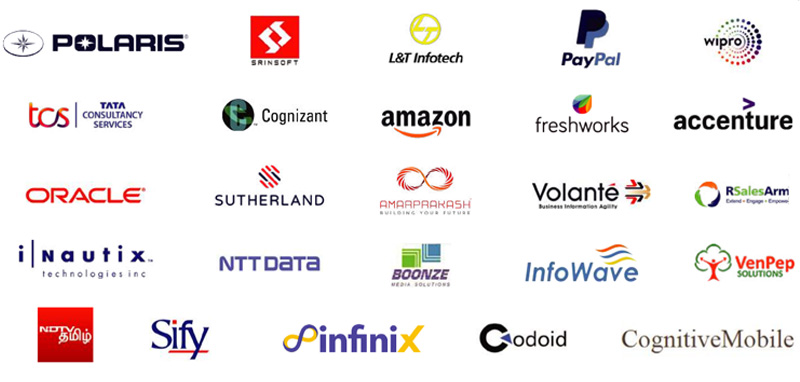 Frequently Asked Question (FAQ) about AngularJS Training in Bangalore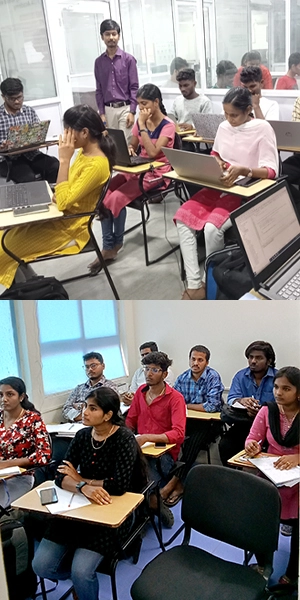 In Quest of best AngularJS Training in Bangalore? Your search ends at FITA Academy, the best AngularJS Training Institute in Bangalore – opens the door of opportunities to make an excellent career by learning AngularJS.
AngularJS is an open-source web framework based on JavaScript for developing single-page applications. AngularJS, maintained by Google helps to address various challenges arising in the development of single-page web applications. AngularJS comprises the necessary components for the dynamic functioning of web pages and provides frameworks for a better user interface in web-based applications.
The Prime function of AngularJS is to provide a powerful framework for web applications by infusing the necessary components into the webpage thereby negating the need for complete reloading of web pages from the server for every action performed. AngularJS reutilizes the unchanging components for reducing the buffer time to provide accelerated website performance.
With the booming internet era, companies are clear on the opportunities provided by cyberspace to develop and grow their businesses. To develop a robust website or webpage, AngularJS has become an undeniable choice by a vast majority of organizations. Strong fundamentals in AngularJS can fetch you an excellent career in a top MNC with a handsome salary package.
Angular Training in Bangalore at FITA Academy provides best-in-class training on the current industrial requirements in AngularJS. Join FITA Academy to be trained under the guidance of expert AngularJS developers.
Why AngularJS?
AngularJS comes in handy while developing dynamic web-based applications since it overcomes the limitations of using HTML.
AngularJS provides a robust framework utilizing HTML code templates to develop web pages with multiple features and functions.
AngularJS is easy to learn and does not require lengthy coding to achieve the desired action in optimal time.
AngularJS extends the HTML vocabulary for the convenient development of Single-page applications.
AngularJS combines the MVC components automatically and simplifies the development and testing of web applications.
Single-page Applications
Single-page applications encompass web-pages or websites that can provide a better user interface by the dynamic rewriting of the viewing page rather than complete reloading of the page from the servers.
Model–View–Controller (MVC)
MVC is a pattern in software design to enable continuous development and integration of web-based applications and helps to provide an excellent graphical user interface.
Relevance & Beyond
Websites are becoming the face of the organizations to convey the activities of the organizations and explaining the products and services offered by them. It has become indispensable for enterprises to maintain the website with the best user interface and provide dynamic content. Software or web development companies hire skilled AngularJS professionals to develop efficient and powerful single-page applications.
With increased digitalization, organizations take the digital route to reach the consumers, thus the need for robust web applications is increasing exponentially. AngularJS Developers will be most sought in top MNC with a handsome salary package. Join AngularJS Training in Bangalore at FITA Academy to be equipped with AngularJS skills and become a professional AngularJS Engineer.
Candidates interested in learning PHPor Javascript can join PHP Training in Bangalore or JavaScript Training in Bangalore at FITA Academy. FITA Academy also provides best-in-class Node JS Training in Bangalore. Candidates with holistic knowledge in web development with excellent skills in AngularJS, PHP, HTML, and JavaScript can become expert web page developers.
Reasons to Use AngularJS for Modern Web Development
Angular is a JavaScript MVC framework built on top of the HTML5 and CSS3 standards. It uses a directive-based application development approach to allow developers to create reusable code components. These components are called directives, and they can be used as building blocks for web applications.
The main advantages of using this open-source framework are.
Faster Application Development: You don't have to write boilerplate code, or you need to generate markup manually. This helps the developer save time and effort during the application development process. Besides, Angular has an automatic DOM update feature where once all data changes have been made to the model, the controller automatically updates the view. This makes your job simple when creating user interface parts with AngularJs.
Reusability: Angular is written in typescript, so all the elements are declared and typed. This ensures the reusability of the elements. Moreover, if any of the elements contains bugs or errors, then it will not affect other aspects of the project. This keeps things clean and tidy.
Elegant UI Design: Another significant advantage of AngularJS is its ability to style the page. The designers may use AngularJS for design purposes because many prebuilt modules are available. For example, AngularUI includes prebuilt design templates such as Angular Material, Ionic etc. Designers do not have to worry about styling issues when applying colours, fonts, gradients, and animations. In addition, Angular also supports responsive design features and provides different views based on screen size.
Easy Integration: AngularJS can easily integrate with other existing frameworks like jQuery, Emberjs, knockoutjs, meteorjs, Reactjs, Backbone.js, D3.js, Bootstrap etc.
High Performance & Security: AngularJS is written on top of JavaScript and is loosely coupled, then the page gets loaded quickly with fewer resources taken from the server-side. Also, since AngularJS is built according to the best practices, it secures the web pages by checking for XSS attacks, preventing CSRF (Cross-Site Request Forgery) attacks, handling various injection attacks, and ensuring the output of the application is secure. So if your current site doesn't have these security measures, AngularJS may help you out.