Course Highlights and Why Android Training in Pondicherry at FITA Academy
Carefully designed Android course modules are designed to meet global industry standards.
Highly skilled Android trainers with over a decade of experience as mobile app developers.
Industry experts developed course materials to understand Android Fundamentals, Architecture, and the Mobile App Market.
Comprehensive Android App Development Training to equip you with a thorough understanding of the Android Application Lifecycle.
Regular review sessions of previous classes will reinforce your skills.
Flexible batch timings, including weekends, weekdays, and fast-track options are available.
Android App Development Course at an affordable cost, with certification upon successful course completion.
FITA Academy offers 100% placement assistance to eligible students upon completing their training.
An Active Placement Cell helps students achieve their career goals.
Upcoming Batches
| | | | |
| --- | --- | --- | --- |
| 23-09-2023 | Weekend | Saturday (Saturday - Sunday) | |
| 25-09-2023 | Weekdays | Monday (Monday - Friday) | |
| 28-09-2023 | Weekdays | Thursday (Monday - Friday) | |
| 30-09-2023 | Weekend | Saturday (Saturday - Sunday) | |

Classroom Training
Get trained by Industry Experts via Classroom Training at any of the FITA Academy branches near you
Why Wait? Jump Start your Career by taking the Android Training in Pondicherry!
Instructor-Led Live Online Training
Take-up Instructor-led Live Online Training. Get the Recorded Videos of each session.
Travelling is a Constraint? Jump Start your Career by taking the Android Course Online!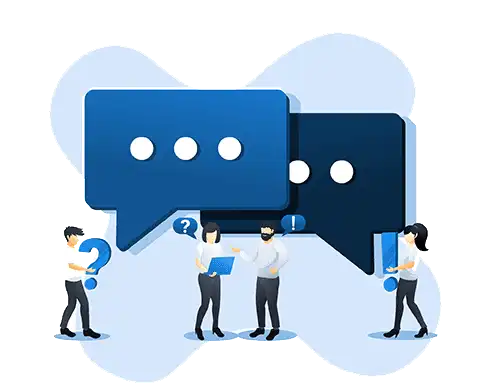 Have Queries? Talk to our Career Counselor
for more Guidance on picking the right Career for you!
Trainer Profile
FITA Academy's Android Training in Pondicherry is dedicated to an experiential learning approach, emphasizing a balanced combination of practical and theoretical knowledge of Android concepts.
Trainers of the Android Development Course in Pondicherry impart industry-focused skills to our students.
The Android App Developer Trainers at FITA Academy possess expertise in mobile application development.
The Trainers are Professional Android App Developers, offering hands-on training in the Android Application Development process.
The Trainers enhance students' knowledge through extensive training in Android App Development and the latest industry-relevant practices.
Android App Instructors provide individualized attention to each student, offering comprehensive hands-on training in Android Application Development.
Our trainers also guide students in professionally crafting their resumes for Android Developer roles,
Trainers provide valuable insights on interview questions and conduct mock interview sessions.
Features
Real-Time Experts as Trainers
At FITA Academy, You will Learn from the Experts from industry who are Passionate in sharing their Knowledge with Learners. Get Personally Mentored by the Experts.
LIVE Project
Get an Opportunity to work in Real-time Projects that will give you a Deep Experience. Showcase your Project Experience & Increase your chance of getting Hired!
Certification
Get Certified by FITA Academy. Also, get Equipped to Clear Global Certifications. 72% FITA Academy Students appear for Global Certifications and 100% of them Clear it.
Affordable Fees
At FITA Academy, Course Fee is not only Affordable, but you have the option to pay it in Installments. Quality Training at an Affordable Price is our Motto.
Flexibility
At FITA Academy, you get Ultimate Flexibility. Classroom or Online Training? Early morning or Late evenings? Weekdays or Weekends? Regular Pace or Fast Track? - Pick whatever suits you the Best.
Placement Support
Tie-up & MOU with more than 1500+ Small & Medium Companies to Support you with Opportunities to Kick-Start & Step-up your Career.
Android Certification Course in Pondicherry
About Android Certification Course in Pondicherry at FITA Academy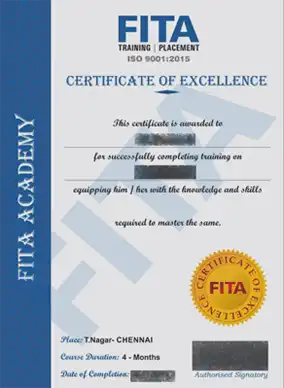 Android Certification Course in Pondicherry
The Android Course offered by FITA Academy in Pondicherry is meticulously designed to equip students with the required skills to excel in interviews and certification exams. The Course covers essential topics such as IDEs, SDKs, App functionality, UI/UX, Data Storage, Data management, Debugging, and Testing. Additionally, it provides comprehensive coverage of other critical subjects, including Data Storage, Permissions, Web Services, Broadcast Receivers, Connectivity, and Third-party Integrations.
Our Android Course in Pondicherry also prepares you for the Google Associate Android Developer certification. This certification evaluates candidate's skills in designing, building, and debugging Android apps, ensuring they can create fully functional Android applications of their choice. The certification is designed for freshers pursuing a career in Android App development.
Entering the Android App development domain presents a promising opportunity for students aspiring to launch their careers as mobile app developers. Android's cross-platform capabilities, open-source nature, user-friendly ecosystem, high earning potential for developers, and presence on millions of intelligent mobile devices worldwide all contribute to its continued growth.
Our Android Course will significantly enhance your mobile app development skills with its up-to-date syllabus, expert trainers, and certification. This certification sets you apart in the job market, validates your expertise, and can lead to attractive salary packages.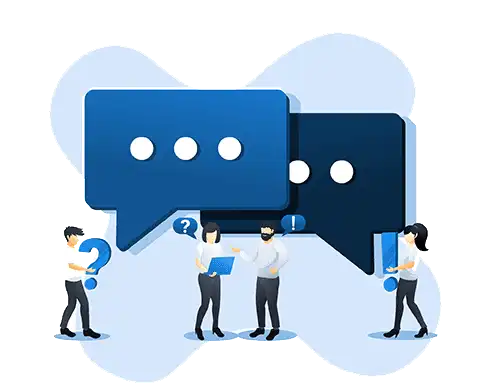 Have Queries? Talk to our Career Counselor
for more Guidance on picking the right Career for you!
Job Opportunities After Completing Android Training in Pondicherry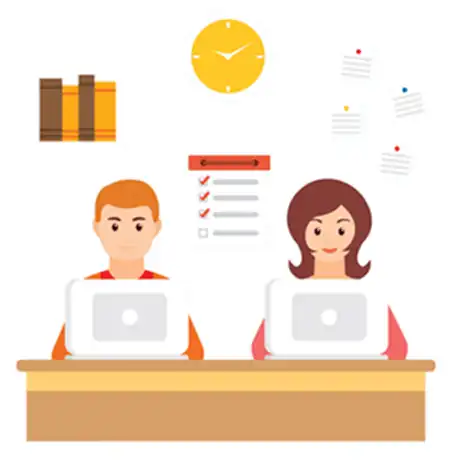 Application development presents a promising career path, primarily due to the consistent growth in smartphone users worldwide. In India, over 75% of smartphones run on the Android OS. Android has made significant strides in integrating artificial intelligence (AI) and machine learning (ML) into its products, with notable examples including Google Assistant and real-time traffic detection. Learn how to build your application with the Android Course at FITA Academy in Pondicherry.
The versatility of Android applications across various industries, including business, education, healthcare, transport, gaming, fashion, music, food, travel, banking, e-commerce, cooking, and events, has led to a surge in job opportunities for developers worldwide.
Top-tier companies actively seek Android developers, including Google, Intel, Ford Motor Company, Amazon, Deloitte, AOL, Stanley Black and Decker, VMware, Facebook, Uber, Yahoo, and Salesforce.
Job roles for Android developers encompass various titles, such as Mobile Application Developer, Android Application Developer, Java Application Developer, Objective-C Developer, Software Developer, Windows Mobile App Developer, and Software Engineer. Salary packages for these professionals vary based on experience, location, skill set, and job responsibilities. Join FITA Academy's Android Training in Pondicherry to contribute to the Android App development landscape significantly.
In India, freshers in Android Development earn an average salary of approximately Rs. 2,59,020 per annum, while mid-level professionals receive an average of Rs. 8,20,884 per annum. Senior professionals in this field can earn more than Rs. 1,316,973 annually. Entry-level Android developers typically earn around Rs. 3,61,800 annually. To learn about the Android App Developer Salary for Freshers, Visit our website.
Student Testimonials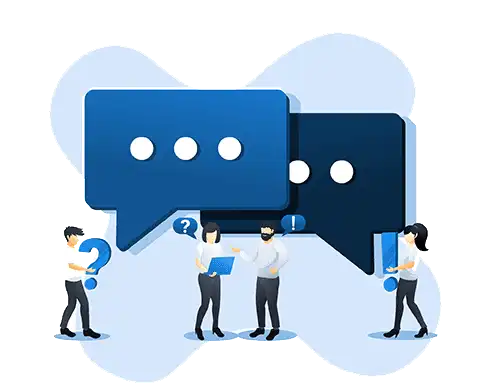 Have Queries? Talk to our Career Counselor
for more Guidance on picking the right Career for you!
Additional Information
Android, a Linux-based operating system initially developed by Google for smartphones and tablets, has evolved into a versatile platform for app development in various electronic devices, including televisions and digital cameras. It's worth noting that Android powers more than 1 billion mobile devices, underlining its widespread adoption and the high demand for Android Programmers in the job market.
FITA Academy's Android Training in Pondicherry offers a comprehensive understanding of Android App development using JAVA, equipping learners with the skills needed for success in this dynamic field.
In recent years, the mobile application development industry has experienced remarkable growth. Enrolling in Android Training in Pondicherry, led by experts in the field, will empower you to contribute to this competitive and rapidly evolving mobile development landscape.
The Android mobile development platform encompasses a complete software ecosystem for mobile devices, comprising an operating system, essential mobile applications, and middleware. This platform is the foundation for building core applications, utility apps, and third-party software. Android provides developers access to a wealth of resources, libraries, and tools that can be harnessed to create feature-rich applications for mobile platforms. Being an open-source platform, Android seamlessly integrates with emerging technologies, fostering continuous innovation and enabling developers worldwide to create cutting-edge mobile applications.
What Can You Expect to Gain from Android Training in Pondicherry?
Learn from Seasoned Android Application Developers
Experienced Android application developers craft our training program. This expertise dramatically enhances the effectiveness of the Course, allowing you to acquire valuable insights into Android app development.
Hands-On Training with Real-World Projects
Our Android Training program is designed to immerse you in Android application development. We offer real-life industry projects as part of this Course to provide practical experience. Our instructors will guide you in turning your app ideas into reality during the training.
Comprehensive Course Materials
Course materials are provided in digital format for easy reference during the training.
Receive an Android Course Completion Certificate
Upon completing our Android Course, you will receive a prestigious certificate in Android app development.
Ongoing Career Support
Feel free to reach out with any doubts on Android Interview Questions and Answers about Android app development even after completing the training. Our experts are here to guide you on your journey to success in Android app development.
What will you learn in the Android App Development Course in Pondicherry?
Android Studio
It is an official integrated development environment (IDE) for Android application development. It is built upon the foundation of IntelliJ IDEA, a Java-integrated development environment known for its robust code editing and developer tools.
Native Mobile App Development
Let's delve into the concept of native mobile app development. Native mobile app development entails creating a mobile application exclusively for a single platform. These apps are constructed using programming languages and tools tailored to a specific native iOS or Android platform.
Cross-platform development
Cross-platform development entails the creation of applications that can function smoothly across various platforms with the help of frameworks and tools such as React Native, Xamarin, and Flutter, which empower developers to build applications that work on Android and iOS.
Android architecture
The Android architecture comprises a diverse set of components designed to meet the requirements of various Android devices. The Android software is based on an open-source Linux Kernel, which includes a collection of C/C++ libraries accessible through application framework services.
Within this architecture, the Linux Kernel primarily delivers essential operating system functions to smartphones, while the Dalvik Virtual Machine (DVM) is the platform for executing Android applications. To become proficient in building applications, join FITA Academy's Android Training in Pondicherry.
The critical components of the Android architecture:
Applications
Application Framework
Android Runtime
Platform Libraries
 Linux Kernel
 Core Java
Android App Development Process uses Core Java. The modules of Core Java include Java Programming Fundamentals, Control Structures, Loops, and OOPS Concepts.
Structured Query Language (SQL)
Structured Query Language is to access, create, and manage databases established by the American National Standards Institute.
SQLite
SQLite is a software that offers a relational database management system. It is known for its lightweight nature regarding installation, database administration, and resource requirements. SQLite's notable features include being self-contained, server-less, and requiring zero configuration. To learn the query languages to build applications from real-time experts, enrol in FITA Academy's Android Classes in Pondicherry.
Web services
SOAP (Simple Object Access Protocol)
SOAP serves as a messaging protocol that facilitates communication among the various components of a distributed application. SOAP can be utilized over standard protocols, including the web-centric Hypertext Transfer Protocol (HTTP).
SOAP emerged as an intermediary language designed to enable communication between applications employing diverse programming languages, thus allowing them to interact over the internet. SOAP offers flexibility and independence, empowering developers to create SOAP-based Application Programming Interfaces (APIs) in various languages while incorporating additional features and capabilities.
RESTful represents a stateless, client-server architecture in which web services are considered resources and can be uniquely identified by their Uniform Resource Identifiers (URIs). REST client applications employ HTTP GET/POST methods to access RESTful web services. REST does not prescribe any particular protocol but is utilised over HTTP/HTTPS in nearly all instances.
In contrast to SOAP web services, Restful web services are lightweight and do not adhere to a specific standard. They offer flexibility regarding data types for both request and response, allowing for using XML, JSON, text, or any other suitable format. Know about building Android Applications efficiently with the guidance of experts by joining the Android Training Institute in Pondicherry.
JavaScript Object Notation, often abbreviated as JSON, is an open format for exchanging data easily understandable by humans and machines.
Volley is an HTTP library designed to simplify and accelerate networking tasks in Android applications. The motivation behind its creation stemmed from the Android SDK lacking a networking class that could operate seamlessly without disrupting the user experience.
Retrofit is an easy and fast library to retrieve and upload data via a REST-based web service. Retrofit manages receiving, sending, and creating HTTP requests and responses. It resolves issues before sending an error and crashing the application. It pools connections to reduce latency.
Retrofit is a straightforward and efficient library for fetching and sending data through RESTful web services. It effectively handles the intricacies of crafting and processing HTTP requests and responses, preemptively addressing errors to prevent application crashes. Additionally, it optimizes performance by managing connection pooling, thereby reducing latency.
Android Enterprise Mobility Management (EMM)
Android device policies encompass API support for device functionality and app lifecycle management. No coding or integration is necessary for communication between management and Android devices. Enrollment tokens bind devices, and Google Play is integrated into the device. Policies are designed to oversee employee knowledge. These policies include minimum password requirements, app installation through Google Play for employees with remote access, and managing updates. For shared usage, policies can include features like app locking for a single app or a group of apps. Additionally, certain mobile device features, such as location tracking, camera access, and notifications, are disabled.
Exploring Trends in Android App Development
In addition to the course modules, FITA Academy's Android classes in Pondicherry ensure that students stay informed about the latest industry trends.
Instant apps have emerged as a new trend in Android development, allowing users to test apps or games before installing them on their devices.
Google Flutter is gaining traction as a platform for developing native interface apps for both Android and iOS. Its flexibility and compatibility make it a popular choice among developers.
Android apps incorporate more AI features like chatbots, voice translators, and intelligent predictions to enhance user experiences.
Chatbots are becoming increasingly prevalent in Android development, enabling businesses to respond rapidly to customer inquiries.
Internet of Things (IoT) technology is popularly used in health and education, with projects like Edmodo, C-pen, and Nymi integrated into IoT networks. These advancements reflect the growing connectivity of devices to the internet.
Enrol in the Best Android Training Institute in Pondicherry at FITA Academy to acquire the skills to create your app and successfully publish it on the Play Store.