Course Highlights & Why German Classes in Pondicherry at FITA Academy?
FITA Academy's German curriculum has been developed from the Global DELF syllabus.
The curriculum and modules for FITA Academy's German Classes in Pondicherry are designed to assist students in attaining high grades in significant certification programmes and exhibiting their CEFR-level proficiency.
We provide complete training for receiving the highly recognised DELF certification for levels A1 to C2.
In order to improve proficiency in real-world circumstances, our German Language Classes in Pondicherry incorporate real-world exercises and projects.
FITA Academy's class schedule is flexible and provides weekend and weekday programmes.
Regular practice tests will help you achieve a good score on the German Certification Exams.
The course materials were created to aid students in social situation management.
Upcoming Batches
| | | | |
| --- | --- | --- | --- |
| 08-06-2023 | Weekdays | Thursday (Monday - Friday) | |
| 10-06-2023 | Weekend | Saturday (Saturday - Sunday) | |
| 12-06-2023 | Weekdays | Monday (Monday - Friday) | |
| 17-06-2023 | Weekend | Saturday (Saturday - Sunday) | |

Classroom Training
Get trained by Industry Experts via Classroom Training at any of the FITA Academy branches near you
Why Wait? Jump Start your Career by taking the German Training in Chennai!
Instructor-Led Live Online Training
Take-up Instructor-led Live Online Training. Get the Recorded Videos of each session.
Travelling is a Constraint? Jump Start your Career by taking the German Online Course!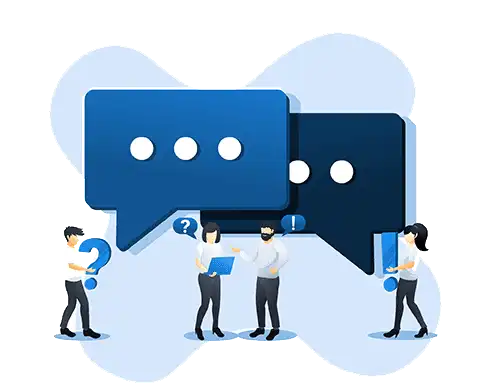 Have Queries? Talk to our Career Counselor
for more Guidance on picking the right Career for you!
Trainer Profile
The Goethe-Zertifikat is an internationally recognised certification in German, and our German language experts help and train students to achieve this goal.

Our German teachers are native speakers with a combined 8+ years of expertise in the field.

For your professional success, our German language classes in Pondicherry present you with the most updated curriculum.

Our skilled instructors assist students in organising their career goals around the mastery of German for success and growth.

Using a variety of course materials, textbooks, and other resources, our instructors assist students in developing their German communication skills.

The instructors at FITA Academy's German Classes in Pondicherry provide comprehensive training to help you become a natural speaker.

Our instructors prioritize the development of the student's reading, writing, listening, and speaking skills equally.

The German instructors at FITA Academy provide in-depth instruction in the language's grammar and structure.
Features
Real-Time Experts as Trainers
At FITA Academy, You will Learn from the Experts from industry who are Passionate in sharing their Knowledge with Learners. Get Personally Mentored by the Experts.
LIVE Project
Get an Opportunity to work in Real-time Projects that will give you a Deep Experience. Showcase your Project Experience & Increase your chance of getting Hired!
Certification
Get Certified by FITA Academy. Also, get Equipped to Clear Global Certifications. 72% FITA Academy Students appear for Global Certifications and 100% of them Clear it.
Affordable Fees
At FITA Academy, Course Fee is not only Affordable, but you have the option to pay it in Installments. Quality Training at an Affordable Price is our Motto.
Flexibility
At FITA Academy, you get Ultimate Flexibility. Classroom or Online Training? Early morning or Late evenings? Weekdays or Weekends? Regular Pace or Fast Track? - Pick whatever suits you the Best.
Placement Support
Tie-up & MOU with more than 1500+ Small & Medium Companies to Support you with Opportunities to Kick-Start & Step-up your Career.
German Certification Language Course in Pondicherry
About German Certification Language Course in Pondicherry at FITA Academy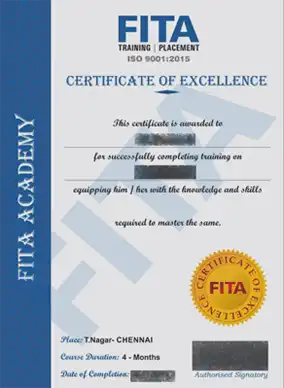 German Certification Language Course in Pondicherry
Students who successfully complete the best German classes in Pondicherry are issued a completion certificate. The majority of companies will recognise this certification as evidence of your subject-matter expertise. It serves as documentation of the professed abilities and information acquired during enrollment. It verifies that you have mastered all the responsibilities and exams required to succeed as a German professional.
A German certificate from a reputed institution opens the door to countless career and professional prospects. If you have certification from the FITA Academy's German language course in Pondicherry, your chances of landing a job with international corporations in India and overseas will increase.
Our German language instructors at FITA Academy will support and assist you in clearing the international Goethe-Zertifikat exam. There are a total of six levels of proficiency certification, with Level 1 being the most fundamental.
Level 1:

German A1 Certification

Level 2:

German A2 Certification

Level 3:

German B1 Certification

Level 4:

German B2 Certification

Level 5:

German C1 Certification

Level 6:

German C2 Certification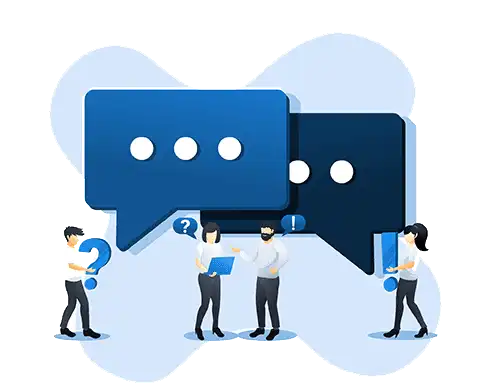 Have Queries? Talk to our Career Counselor
for more Guidance on picking the right Career for you!
Job Opportunities After Completing German Classes in Pondicherry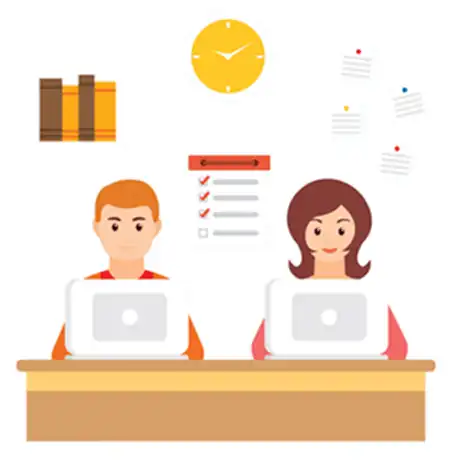 When it comes to international politics, economics, and society, Germany is a major player. Relationships between those at the top and those at the bottom of the hierarchy benefit from the ease of communication made possible by a common language. People are moving and going to university or jobs there more often, especially from India. This is concrete proof of Germany's abundance of opportunities and great quality of life.
Learning German will take you places, both literally and metaphorically in your professional life. Many prominent multinational corporations have their headquarters in Germany. Being able to speak German will set you apart from other applicants if you're searching for a job at one of these firms. Enroll in German courses in Pondicherry to impress future employers with your level of proficiency in the language.
German is currently spoken by more than 130 million people worldwide. People in business who frequently travel should learn German. IT, engineering, accounting, healthcare, management, finance, tourism, human resources, hospitality, and many other areas can all use this skill set.
German speakers who can teach, write, edit, and translate the language are in high demand. Numerous multinational corporations such as TCS, Amazon, , Deutsche Bank, Accenture and many more are always looking for qualified German speakers to fill open positions. Experts in the German language can expect an annual salary of about 6 million Indian rupees in the country of India. In nations such as the United States and Canada, a German language specialist might expect making close to $75,000 per year in salary.
Student Testimonials
The German language classes in Pondicherry for me were superb. I decided to study for the A2 level. I am quite pleased with the way they conduct their training. Now I intend to continue my training here at FITA Academy and get my B1 certification also. My confidence in clearing this certification level has been increased by their assurance that I would succeed with their help. Thank you, FITA Academy!
I have taken the German Course in Pondicherry before, so I know what to expect. I've been learning it on and off for more than two years, from various online resources and I often give up because it's too hard. But now, the way the FITA Academy trains me has really impressed and satisfied me. I have become a lot more efficient, and I'm planning to take my B1 level Certification exam. Thanks.
FITA Academy's German language course in Pondicherry were really helpful for me. I took level B and C to study in Germany. FITA Academy's intensive training helped me speak like a native. The course met CEFR requirements, and m y trainer helped in my doubts and made me easily to stud. Thanks FITA Academy and my trainer, I cleared my German examinations and now I pursue my dream higher education.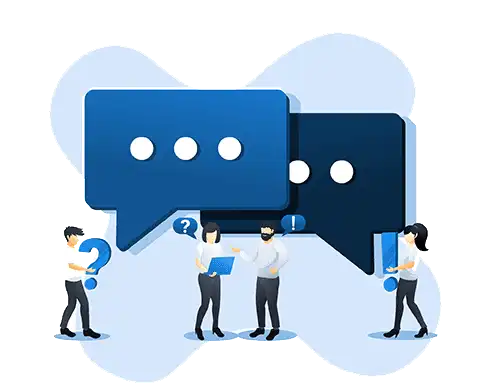 Have Queries? Talk to our Career Counselor
for more Guidance on picking the right Career for you!
Additional Information
In West Central and Eastern Europe, German is the most widely spoken language. German is one of the official languages and is spoken by more than 100 million people across Europe. German is the second most widely spoken language in Europe, after English, and one of the main business languages. Following is a list of nations where German is recognised as the official language.
Germany

Switzerland

Austria

Liechtenstein

Belgium (co-official)

Luxembourg( co-official)
Additionally, German is a native language in the nations listed below.
Poland, Hungary, Romania, Russia, Ukraine, the Baltic republics, and the Czech Republic are members of the European Union. It is the language of websites and the second most widely used scientific language. Aside from this, Germany alone produces 80,000 books annually, second only to New York in terms of annual book production.
German has a significant impact in India as it is the foreign language most commonly studied by students and working professionals to broaden their job prospects. Learn to read, write, and speak German proficiently by taking the German Language Course in Pondicherry at FITA Academy under the direction of certified instructors.
Learning Outcomes of German Classes in Pondicherry at FITA Academy
Knowing the fundamentals of German

Introduce yourself to others in German.

German Salutations and Greetings

German inquiries regarding others

Reading and Writing German Fluently

Fluently able to communicate in German
Interesting German facts
The most widely spoken language in Europe is German. Based on what Wikipedia says:
German is the eleventh most spoken language in the world, with approximately 1.4% of the global population speaking it.

German is an official language in Austria and Liechtenstein in addition to Germany.

It is an official language of the European Union, Switzerland, Belgium, and Luxembourg.

German is a minority language in countries such as Denmark, Hungary, Italy, and Poland. Numerous scholars and musicians of international fame hail from Germany.

Scholars such as Sigmund Freud, Albert Einstein, and Johann Sebastian Bach revolutionised their respective professions, hence establishing English's reputation as the "language of thinkers and writers."

The German language recognises three genders: masculine, feminine, and neuter.

The German language makes considerable use of compound words, and the German alphabet has more than one consonant compared to the English alphabet.

There are more than 5,3 million words in German. In the German language, all nouns are capitalised.

Try to find a German newspaper where the majority of the letters are capitalised, as it is required to capitalize all nouns.

Learning German on one's own is a challenging and time-consuming approach as German has a wide grammatical structure and vocabulary. Therefore, German Classes in Pondicherry at FITA Academy may provide students with an in-depth understanding of all key German-learning themes and professional training.
How does learning German help me in my professional life?
The belief that learning German is difficult is widespread. The majority of German spelling is phonetic, and the pronunciation of German words is predictable. You should just pay attention to the spelling and letter combination. Most German terms sound identical to their English counterparts.

There is only one present tense in German. For instance, We assist you. There is a distinct future tense in German.

Numerous speakers always employ the present tense when discussing the future. As in, We will assist you tomorrow.

German expresses the past with the present perfect tense. I played cricket with my friends, for instance.

In general, German develops new words by prefixing or suffixing existing words. It also creates new words by prefixing and suffixing the root words.

By combining prefixes and suffixes, German develops numerous new words. If a person has a solid foundation in the language's fundamentals, learning German will be straightforward. FITA Academy's German Classes in Pondicherry teach pupils the fundamentals of the language. FITA Academy features skilled tutors who are language experts and effectively impart skills to students.
How simple is it to master the German language course in Pondicherry
The following is a list of German components that people find challenging to master
Verb Conjugations: Verb conjugation is the process of transforming a verb to express the person, gender, number, tense, or aspect of a sentence. Changing the spelling and pronunciation of verbs mostly depends on the subject and tense.
Irregular verbs and Regular verbs: You must be able to distinguish between regular and irregular verbs, as well as know when and where to utilise each.
Noun and Genders: Nouns and gender are fully random in German. Each noun can be masculine, feminine, or neuter, and the majority of them lack gender-specific constraints. Typically, you should remember the gender of each noun.
Grammatical cases: The German language continues to employ four grammatical cases. Nominativ, Genitiv, Dativ, and Accusative are their respective forms.
These topics form the foundation of German, which must be learned professionally. To have a thorough understanding of grammar and use it appropriately, you must learn from subject-matter specialists. FITA Academy's German courses in Pondicherry teach these essentials in an interactive setting. In German Classes, we provide students with a comprehensive academic programme in addition to teaching them to speak German proficiently.