Course Highlights and Why Machine Learning Course in Pondicherry at FITA Academy?
Modules for the Machine Learning Course in Pondicherry at FITA Academy have been designed to adhere to international industry standards.
Industry experts designed the courseware to help students understand the concepts comprehensively.
Expert machine learning instructors with over 8 years of platform experience.
A thorough Machine Learning training program will equip you with the concepts and methods of Machine Learning.
Regular review sessions of the prior classes are offered to help you improve.
At FITA Academy in Pondicherry, smart classrooms offer hands-on machine learning training.
With certification upon successful course completion, professional machine learning training is available at an affordable price.
After completing the Machine Learning Training in Pondicherry, FITA Academy offers eligible students 100% Placement Assistance.
We have alliances with more than 600 companies, from minor to large-scale businesses.
FITA Academy has a Placement Cell to assist students in choosing the right career.
Upcoming Batches
| | | | |
| --- | --- | --- | --- |
| 23-09-2023 | Weekend | Saturday (Saturday - Sunday) | |
| 25-09-2023 | Weekdays | Monday (Monday - Friday) | |
| 28-09-2023 | Weekdays | Thursday (Monday - Friday) | |
| 30-09-2023 | Weekend | Saturday (Saturday - Sunday) | |

Classroom Training
Get trained by Industry Experts via Classroom Training at any of the FITA Academy branches near you
Why Wait? Jump Start your Career by taking the Machine Learning Training in Pondicherry!
Instructor-Led Live Online Training
Take-up Instructor-led Live Online Training. Get the Recorded Videos of each session.
Travelling is a Constraint? Jump Start your Career by taking the Machine Learning Online Course!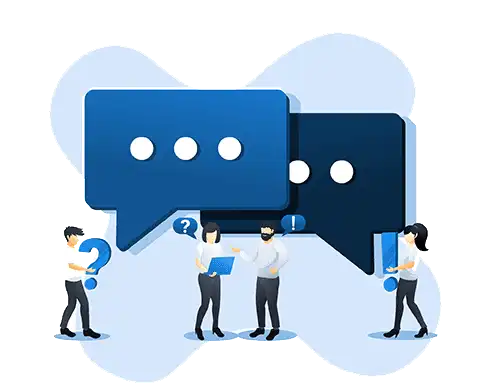 Have Queries? Talk to our Career Counselor
for more Guidance on picking the right Career for you!
Trainer Profile
At FITA Academy, the trainers offer a blended approach combining theoretical and practical knowledge in machine learning concepts.
Instructors specialising in machine learning impart relevant business skills.
FITA Academy Upskills enhances students' knowledge by offering comprehensive training in Machine Learning Algorithms and the latest industry-relevant practices.
The Machine Learning Trainers at FITA Academy possess expertise in Machine Learning.
The trainers possess more than a decade of hands-on practical experience.
At FITA Academy, Machine Learning in Pondicherry has experienced professionals actively working in the field, offering practical, hands-on training in Machine Learning techniques.
Our trainers incorporate contemporary subjects, methodologies, and tools into the course curriculum to stay current with evolving trends.
Our trainers support students in crafting professional resumes and enhancing their confidence through valuable insights on interview questions and mock interview sessions, helping them prepare for job interviews.
Features
Real-Time Experts as Trainers
At FITA Academy, You will Learn from the Experts from industry who are Passionate in sharing their Knowledge with Learners. Get Personally Mentored by the Experts.
LIVE Project
Get an Opportunity to work in Real-time Projects that will give you a Deep Experience. Showcase your Project Experience & Increase your chance of getting Hired!
Certification
Get Certified by FITA Academy. Also, get Equipped to Clear Global Certifications. 72% FITA Academy Students appear for Global Certifications and 100% of them Clear it.
Affordable Fees
At FITA Academy, Course Fee is not only Affordable, but you have the option to pay it in Installments. Quality Training at an Affordable Price is our Motto.
Flexibility
At FITA Academy, you get Ultimate Flexibility. Classroom or Online Training? Early morning or Late evenings? Weekdays or Weekends? Regular Pace or Fast Track? - Pick whatever suits you the Best.
Placement Support
Tie-up & MOU with more than 1500+ Small & Medium Companies to Support you with Opportunities to Kick-Start & Step-up your Career.
Machine Learning Certification Training in Pondicherry
About Machine Learning Certification Training in Pondicherry at FITA Academy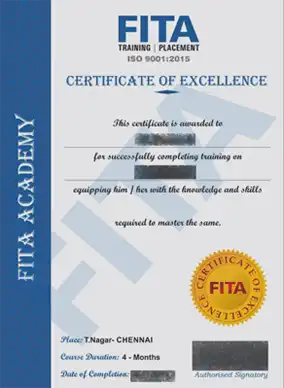 Machine Learning Certification Training in Pondicherry
A Machine Learning Course Certification is a professional credential that signifies the candidate's comprehensive understanding of Machine Learning Algorithms and their practical applications. Artificial Intelligence (AI) encompasses Machine Learning as a critical component, enabling software applications to make more accurate predictions without explicit programming. By completing a real-time project as part of the course, this certification attests to the candidate's proficiency as a Machine Learning Engineer. Including this certificate on your resume elevates your profile during job interviews and unlocks many career prospects. FITA Academy offers 100% Placement Assistance to qualified students, boasting a vast network of collaborations with more than 600 companies, from small businesses to major corporations.
The Machine Learning Certification Course offered by FITA Academy in Pondicherry refines the essential skill sets needed to excel as a professional Machine Learning Engineer under the mentorship of our industry-experienced professionals. Our Machine Learning Training in Pondicherry is conducted by experts with over 8 years of hands-on experience in the Machine Learning field. Furthermore, you can take advantage of benefits such as interview guidance and corporate training.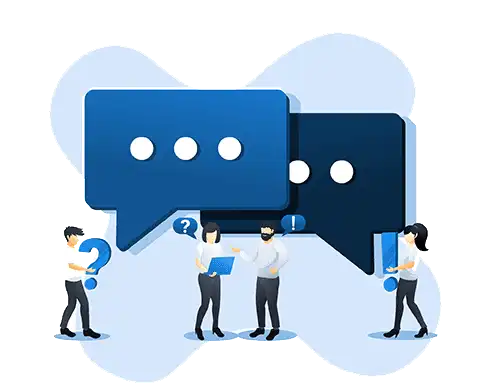 Have Queries? Talk to our Career Counselor
for more Guidance on picking the right Career for you!
Job Opportunities After Completing Machine Learning Course in Pondicherry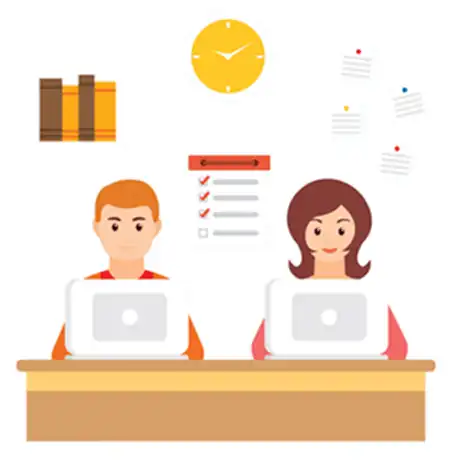 In recent years, machine learning technology has garnered significant attention from many IT professionals. This heightened interest is due to its widespread adoption across various industries, including Automotive, Robotics, Information Technology, Gaming, Banking and Finance, Media, and Entertainment, where businesses leverage Machine Learning techniques to augment their operations.
According to reports published by Gartner Inc., Machine Learning Technology was projected to generate approximately 2.3 million jobs by the end of 2020. Additionally, it was anticipated that Machine Learning would create 9.8 times more jobs than it did three years prior. Prominent companies that hire Machine Learning Engineers include Google, Amazon, Adobe, Facebook, Apple, Bosch Group, Accenture, Wipro, Uber, and JP Morgan Chase & Co.
Some examples are Senior Artificial Intelligence Engineers, Machine Learning Engineer, Data Scientists, Data Science Engineer, Senior Software Engineer, Full Stack Data Science Engineer, Software Developer, Full Stack Machine Learning Engineer, MLOps engineers, Senior Researcher, Machine Learning Architect, Technical Lead, Data Mining Engineer, R&D Engineer, Data Analyst, Associate, NLP Engineer, etc.
Several companies that recruit Machine Learning experts include Accenture, IBM India, RBS India Development, Mphasis, India Infoline, and more. On average, an entry-level Machine Learning Engineer can expect an annual salary ranging from Rs. 7,50,000 to Rs. 8,20,000 in India, while globally, Machine Learning Engineers earn an average yearly salary of approximately US $108,547. To know about Machine Learning Engineer salary for Freshers, Visit our website. The job opportunities significantly increase after completing the Machine Learning Course in Pondicherry at FITA Academy, as there is a strong demand for machine learning engineers.
Student Testimonials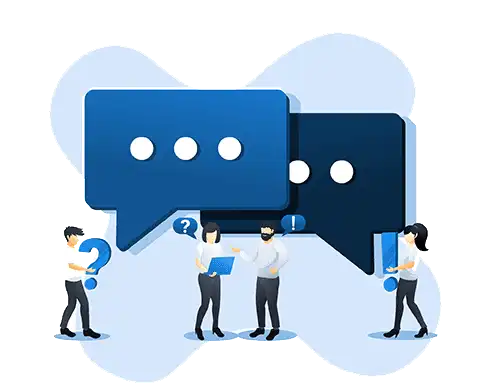 Have Queries? Talk to our Career Counselor
for more Guidance on picking the right Career for you!
Additional Information
Machine learning skills are in high demand across various sectors, including technology, healthcare, finance, and more, making it a valuable addition to your professional skill set. At FITA Academy, we offer guaranteed placement assistance, competitive pricing, and flexible scheduling options.
Why Choose Machine Learning Training in Pondicherry at FITA Academy?
At FITA

Academy

, we strive to meet and exceed these expectations in providing our students with an exceptional learning experience.
One of the most crucial aspects of any educational institution is its faculty. Finding competent and approachable instructors can be daunting, but we have carefully selected our trainers from the industry to ensure the best possible education for our students.
When you enrol in our Machine Learning Course in Pondicherry, you can be confident in the quality of instruction you'll receive.
In addition to outstanding faculty, we understand the importance of a well-equipped infrastructure.
We have made sure that all the necessary facilities are readily available at a convenient location. Our commitment to hands-on experience means we equally emphasise theoretical knowledge and practical application.
Perhaps the most critical element of your training is your future placement, and we have a dedicated team of specialists to help you in this regard.
They will provide all the essential information about upcoming interviews and job opportunities.
We also offer comprehensive study materials related to your course and ongoing guidance even after you complete your studies.
When you join the Machine Learning Course in Pondicherry at FITA

Academy

, you opt for a comprehensive solution to kickstart your career. Join us today and embark on a path to success.
What do you learn in the Machine Learning Course at FITA Academy in Pondicherry?
Artificial Intelligence (AI) includes Machine Learning as one of its components and empowers software applications to make more precise predictions without requiring explicit programming. It is a data analysis process that automates the creation of analytical models, falling under the AI umbrella. The core concept revolves around computers adapting, learning, and gaining experience. Machine Learning is centred on enabling computer applications to access and utilise data independently.
Deep Learning employs layered algorithms to construct an 'artificial neural network' capable of autonomous Learning and intelligent decision-making. It is a specialised subset of the broader field of machine learning.
Artificial Neural Network
An artificial neural network (neural network) is a computational model designed to emulate the functioning of human brain cells. Artificial neural networks (ANNs) employ learning algorithms that can autonomously adapt and learn from new input.
Natural language processing
Natural language processing (NLP) is a field within computer science, particularly a subset of artificial intelligence (AI), focused on enabling computers to comprehend text and spoken language, similar to human comprehension.
Advantages of Machine Learning Course
Enhances accuracy in technology applications within the software industry and assists in sales forecasting.
Utilises artificial intelligence by training machines with large volumes of data, making it a valuable tool.
High demand for individuals with machine learning expertise in research and marketing divisions. Leading companies such as Microsoft, Google, Amazon, IBM, and Intel have outlined investment strategies for machine learning.
Increases precision in research fields and mitigates potential business losses through proactive measures.
Aids in spam detection and enhances data and business security.
Algorithmic Concepts
Machine learning algorithms include supervised, unsupervised, and reinforcement learning.
Supervised Learning involves algorithms like Regression, Random Forest, K-nearest neighbours (KNN), Decision Trees and Logistic Regression.
Unsupervised Learning encompasses algorithms such as K-Means and Apriori, which operate without labelled data.
Reinforcement Learning operates on a trial-and-error model, learning from past experiences and mistakes to make decisions. Examples of this type of algorithm include the Markov Decision Process.
To understand these algorithms and their applications in machine learning, consider enrolling in the FITA Academy's Machine Learning in Pondicherry.
Algorithms in Supervised Learning
This algorithm determines the estimated values based on the relationship between dependent and independent variables. The optimal line is called the regression line, which follows the formula Y=a*X+b. Here, Y represents the dependent variable, X represents the independent variable, A represents the slope, and B represents the intercept. After fitting the best-fit line, additional details are determined. There are two variations of linear regression: superficial, which involves only one independent variable, and multiple, which involves more than one independent variable.
Logistic regression is a component of regression algorithms that predicts event occurring probability. It utilises the logic of occurrence to make final decisions. Unlike ordinary regression, which minimises sample values based on errors, logistic regression uses parameters to maximise sample values. To gain expertise in this field, consider pursuing a Machine Learning Certification at a professional institute like FITA Academy.
Join the Machine Learning Training in Pondicherry at FITA Academy to improve your chances in the competitive job market.
A decision tree classification method incorporates continuous dependent and categorical variables. It makes decisions by simulating the Microsoft game Jezzball and employs techniques like Gini, information gain, entropy, and Chi-square to group-provided data.
KNN (K-Nearest Neighbors) Method
KNN is used for classification and relies on majority voting to classify new cases. Choosing the value K is a key challenge when implementing KNN modelling. Typical values are employed for variables to avoid bias, and this method is typically applied during the preprocessing stage.
Random Forest involves collecting and combining decision trees to facilitate the classification of new objects based on their attributes. It samples the training set from a set of cases, and the value of M remains constant. Each tree in the ensemble is filled with data and contributes to the final decisions.
Become proficient in algorithmic concepts of Machine Learning by taking the Best Machine Learning Training in Pondicherry at FITA Academy.
SVM (Support Vector Machine)
SVM involves classifying data in an n-dimensional space using coordinates referred to as support vectors. New data is categorised into distinct groups using a decision boundary represented by a black line. The classification of the new data depends on where it falls with the test data, and the options are separated and examined for potential movement within the categories.
This algorithm is based on Bayes' theorem. It classifies items by examining their physical features. For example, classifying an apple considers characteristics such as red colour, a size of 3 inches, and a round shape. If these criteria are met, it classifies the item as an apple. This method is straightforward and exhibits strong performance compared to other classification methods.
Algorithms in Unsupervised Learning
K-Means is an unsupervised algorithm that simplifies classification by grouping data into clusters. Data points are assigned to the nearby centroids, and each cluster has its own centroid. The total sum of squares within clusters and data points helps determine the value of K. As the number of clusters increases, this value decreases.
Hierarchical clustering is a clustering approach rooted in connectivity, where it groups data points that exhibit closeness or similarity by a chosen similarity or distance metric. The underlying assumption is that data points close are inherently more alike or interconnected than those situated at a greater distance.
Dimensionality reduction algorithms capture various details such as preferences, dislikes, purchases, feedback, browsing history, demographics, and personalised attention. These algorithms enhance the performance of other machine learning methods like PCA, Random Forest, Decision Trees, and Factor Analysis.
Bayes's Theorem in Machine Learning
Bayes's theorem is used in machine learning to measure the probability of an event and its conditions before it occurs. Understanding Bayes's theorem is essential for various machine-learning applications. Consider enrolling in Machine Learning Training in Pondicherry to explore the extensive uses of machine learning across different industries.
Distinguishing Between Variance and Bias in Machine Learning
Variance and bias are distinct concepts in machine learning. Bias pertains to using a simpler algorithm for learning and training, while variance involves the utilisation of a more complex algorithm for these purposes in machine learning. Bias can lead to inadequate accuracy in a project, while variance can result in algorithm overfitting, where it becomes overly sensitive to variations within the training data. A balanced combination of these two components is employed in projects to minimise errors and manage application complexity.
Describe the methods used to assess Machine Learning models
The datasets are typically divided into training and test sets to evaluate Machine Learning models. Techniques like cross-validation are employed to create composite training and testing datasets. Performance metrics such as the F1 score, accuracy, and confusion matrix are then utilised to gauge the model's performance. These constitute the evaluation methods for Machine Learning models.
Describe Google's Initiative for Training Self-Driving Car Data
Google employs Recaptcha to gather training data for self-driving cars, particularly for labelling storefronts and traffic signs. Additionally, data collected via Google X is harnessed to train new models. These self-driving cars exemplify the cutting-edge application of machine learning.
Enrol in FITA Academy's Best Machine Learning Course in Pondicherry to enhance your prospects in the competitive job market
Common Machine Learning Interview Questions
Machine learning is a specialised field within data science. To help students confidently approach interviews and avoid feeling overwhelmed, we have compiled a comprehensive set of frequently asked interview questions. Our goal is to enhance students' knowledge and readiness, enabling them to tackle challenging interview scenarios confidently. We present carefully curated questions to enrich your understanding, equipping you with the answers needed to excel in interviews. Machine learning interview questions can be algorithm-based, programming-based, and industry-specific. Given the widespread use of machine learning, industry knowledge is also crucial for interview preparation. Delve deeper into this topic with us as we provide you with interview questions to aid your preparation. Join our Machine Learning Training in Pondicherry at FITA Academy to gain an in-depth understanding of the technology and become an expert.
The Future Prospects of Machine Learning
Machine learning remains a formidable challenge. Within the realm of Machine Learning, the prominent contender is "deep learning," which involves the creation of intricate mathematical constructs known as neural networks fueled by extensive data. The outlook for Machine Learning is encouraging, as it is hailed as an exceptionally potent instrument capable of addressing previously unsolvable problems.
Latest Developments in the Machine Learning Industry
Machine learning, a subset of data science, leverages machine performance to analyse machine-related data. Major tech giants such as Google, Azure, and Amazon extensively employ machine learning. We aim to give students insights into industry practices and how these companies harness machine learning for improvement. Machine learning algorithms outpace traditional ones by a staggering 200-fold in speed. The increasing demand for analysis driven by performance and necessity underscores the growing need for machine learning expertise.
Machine learning is a fascinating subject with diverse applications in data analysis. The machine learning course at FITA Academy equips individuals with the skills needed to become efficient data analysts. Various machine learning algorithms have created career opportunities, including density function algorithms, state space for categorisation, experiment management frameworks, and 3D scatter plot visualisations. Enrol in FITA Academy's Machine Learning Training in Pondicherry to enhance your prospects in the competitive job market.