Course Highlights and Why Advanced Excel Training in Pondicherry at FITA Academy?

The Curriculum of Advanced Excel Training in Pondicherry adheres to global industry standards and demands.

Certified Excel Trainers with over a decade of experience, proficiently guiding students in Excel Spreadsheets.

An Extensive Excel Training covers everything from basics to advanced Excel skills.

Engaging in instructor-led Excel Training at FITA Academy in Pondicherry.

Regular review sessions to reinforce Excel concepts covered in previous classes.

Flexible batch schedules are available for weekdays and weekends.

Professional Excel Classes in Pondicherry at an affordable price, including certification upon course completion.

Industry Experts meticulously curate course materials, ensuring a comprehensive grasp of Excel Functions, Formulas, Pivot Tables, and Data Visualisation.

FITA Academy's Active Placement Cell assists students in pursuing their dream careers. FITA Academy connects to over 1500 companies and provides 100% placement support.
Upcoming Batches
09-12-2023
Weekend
Saturday (Saturday - Sunday)
11-12-2023
Weekdays
Monday (Monday - Friday)
14-12-2023
Weekdays
Thursday (Monday - Friday)
16-12-2023
Weekend
Saturday (Saturday - Sunday)

Classroom Training
Get trained by Industry Experts via Classroom Training at any of the FITA branches near you
Why Wait? Jump Start your Career by taking the Advanced Excel Training in Pondicherry
Instructor-Led Live Online Training
Take-up Instructor-led Live Online Training. Get the Recorded Videos of each session.
Travelling is a Constraint? Jump Start your Career by taking the Advanced Excel Course Online!
Trainer Profile
The Instructors provide hands-on training in Microsoft Excel Spreadsheets, allowing students to gain practical experience.
The Excel Trainers are highly skilled in industry-relevant skill sets as they are software development and IT experts.
The Instructors provide personalized attention to every student throughout the Excel Course.
The Trainers deliver immersive training in current industry practices.
FITA Academy's Excel Trainers provide a balanced mix of practical and theoretical Excel Spreadsheet concepts to ensure students acquire fundamental knowledge.
The Trainers actively support students in crafting professional resumes, boosting their confidence with valuable interview insights.
FITA Academy's Excel Trainers boast a proven track record of success in their respective fields, offering students the benefits of their expertise and experience.
The Instructors of Excel Classes In Pondicherry also provide valuable insights regarding interview questions and facilitate mock interview sessions.
Learn at FITA Academy & Get Your
Dream IT Job in 60 Days
like these Successful Students!

Features of Advanced Excel Training in Pondicherry at FITA Academy
Real-Time Experts as Trainers
At FITA Academy, You will Learn from the Experts from industry who are Passionate in sharing their Knowledge with Learners. Get Personally Mentored by the Experts.
LIVE Project
Get an Opportunity to work in Real-time Projects that will give you a Deep Experience. Showcase your Project Experience & Increase your chance of getting Hired!
Certification
Get Certified by FITA Academy. Also, get Equipped to Clear Global Certifications. 72% FITA Academy Students appear for Global Certifications and 100% of them Clear it.
Affordable Fees
At FITA Academy, Course Fee is not only Affordable, but you have the option to pay it in Installments. Quality Training at an Affordable Price is our Motto.
Flexibility
At FITA Academy, you get Ultimate Flexibility. Classroom or Online Training? Early morning or Late evenings? Weekdays or Weekends? Regular Pace or Fast Track? - Pick whatever suits you the Best.
Placement Support
Tie-up & MOU with more than 1500+ Small & Medium Companies to Support you with Opportunities to Kick-Start & Step-up your Career.
Why Learn Advanced Excel Training in Pondicherry at FITA Academy?
Live Capstone Projects
Real time Industry Experts as Trainers
Placement Support till you get your Dream Job offer!
Free Interview Clearing Workshops
Free Resume Preparation & Aptitude Workshops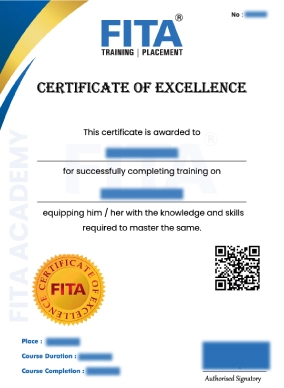 Advanced Excel Certification Training in Pondicherry
Acquiring certification in Excel courses validates a candidate's in-depth command of Microsoft Excel Spreadsheets. This certification is achieved through hands-on experience throughout the course, affirming the candidate's fundamental competencies for practical Excel spreadsheet tasks. Including this certification in a candidate's resume can give them a competitive advantage during interviews, demonstrating their commitment to elevating their expertise in this domain. Moreover, a Certificate in Advanced Excel Courses expands a candidate's career horizons, unlocking doors to roles requiring a more profound comprehension of Microsoft Excel. Excel Course Certification is a widely acknowledged credential that can substantially augment a candidate's professional profile.
FITA Academy in Pondicherry offers an Advanced Excel Certification Course covering the essential Excel skills for a professional work environment. Experienced professionals lead the course with over a decade of expertise in the IT industry. FITA Academy's Advanced Excel Training in Pondicherry emphasises acquiring practical knowledge and skills relevant to current industry standards. The trainers bring a wealth of practical experience and expertise, sharing their real-world insights with students and preparing them for a successful career. The program offered by FITA Academy aims to provide the practical skills and knowledge to the students to excel in a professional setting. Under the guidance of experienced trainers, students receive high-quality education that enables them to attain the necessary expertise.
Have Queries? Talk to our Career Counselor for more Guidance on picking the
right Career for you!
Success Story of Advanced Excel Training in Pondicherry
I decided to join an Excel Course. When looking for the Best Excel Training Institute in Pondicherry, I found that FITA Academy provides the best one with affordable cost and flexible timing. I Joined the Advanced Excel Course there. The Trainers were so good at teaching. They were very patient.
I did an Advanced Excel Course at FITA Academy. My instructor taught me every module very clearly. Whenever I had doubts about concepts, the trainer helped me understand. They never hesitated to teach the concepts again and again. And they also assist us in building my resume. They have an active placement cell which provides placement support. Thank You.
I joined the Excel Course at FITA Academy at an affordable fee. The Trainers are
industrial experts. They clearly explain concepts. And they guided us to work with real-time projects. I am aware of building my resume professionally after taking this course.
I am working. I needed to learn an Excel Course to update my skills in my career. So, I decided to join FITA Academy's Excel Training in Pondicherry. The advantage I got from this institution is flexible class hours since I am working. The instructors made me proficient in Excel. I gained a course completion certificate.
I enrolled in an Excel Course at FITA Academy. The Trainers are real-time professionals with over a decade of IT Industry experience. They make us understand every concept thoroughly. They provided a Course completion certificate and placement support after completing the course.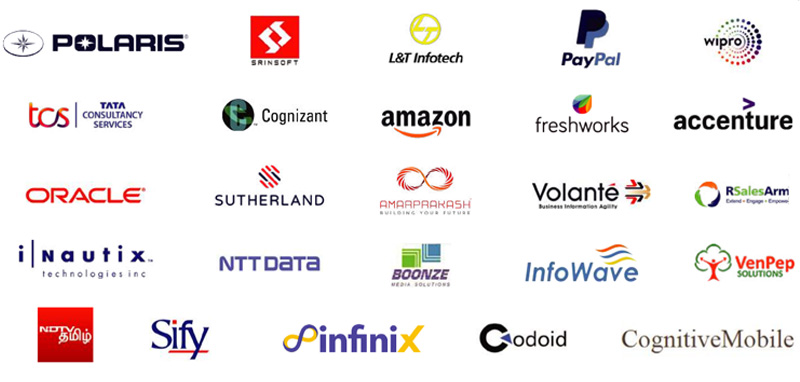 Frequently Asked Question (FAQ) about Advanced Excel Training in Pondicherry
Additional Information of Advanced Excel Training in Pondicherry
Excel
Microsoft Excel, a vital component of the Office Suite, is a powerful spreadsheet program designed for business applications. It empowers users to efficiently format, arrange, and perform calculations on data within a spreadsheet.
Utilizing software like Excel simplifies organizing data, making it more accessible as information is updated or added. Excel comprises numerous cells organized in rows and columns, serving as containers for data input.
Furthermore, Excel seamlessly integrates with other Microsoft Office applications, enhancing compatibility and productivity within the Office suite. This versatile spreadsheet software is accessible across Windows, macOS, Android, and iOS platforms.
Utilise Microsoft Excel and elevate your data management and analysis skills with FITA Academy's Advanced Excel Training in Pondicherry. In today's data-driven world, Excel is not just a tool; it's a powerhouse that empowers managers, business owners, scientists, and professionals from various domains to manage and analyse data efficiently. While many of us use Excel daily, mastering it can significantly boost productivity and help you make more informed business decisions. At FITA Academy, we transform Excel users of all levels, from beginners to intermediates, into Excel power users.
Why Choose Excel Training in Pondicherry at FITA Academy?
Practical Learning: Our curriculum comprises real-world examples and hands-on exercises, ensuring you gain practical experience immediately applicable to your work.
Expert Guidance: You'll learn from experienced instructors who are experts in Excel and its applications in various industries.
Flexible Course Fee: Advanced Excel Course Fees in Pondicherry vary based on the level of training you require. Contact us for detailed pricing information and available discounts.
Course Objectives
Effectively utilise the Office Assistant for enhanced productivity.
Master the usage of Excel formulas, unlocking their full potential.
Harness data formatting with alpha and numeric options in Excel.
Differentiate between functions and formulas and apply them proficiently.
Automate tasks using macros, both for simple and complex operations.
Future of Excel
Microsoft Excel is a contender for being one of the most widely embraced spreadsheet applications, boasting a longstanding presence in the business arena. Nevertheless, Excel faces heightened competition from other contemporary spreadsheet software solutions in today's landscape. According to data from askwonder.com, the suite of applications within Google Suite, which encompasses Google Sheets, reportedly caters to a user base of approximately 2 billion individuals each month. In contrast, Microsoft Excel is believed to serve 750 million to 1.2 billion users on a global scale monthly. It is worth noting that both Google and Microsoft do not publicly disclose monthly usage figures for their respective spreadsheet programs, rendering precise assessments challenging.
Recent Update in Excel
The most recent Excel update introduces new add-ons, including Insert Pictures into Cells and Set Default Theme for Windows and Mac Insider users.
Additionally, Mac Insider users gain functionality like Automatically Crop Pictures. Excel for web users now offers the option to Format Individual Data Points in your Charts.
You can elevate your decision-making and analysis capabilities by learning Excel Training in Pondicherry. Our training will equip you with various formatting and filtering functions, giving you a competitive edge in data management.
Excel Skills for Career Advancement
Proficiency in Excel opens doors to various job profiles, including
Data Analysts
MIS Executives
Financial Analysts
Market Research Analysts
Big Data Analysts
Data Architects
Big Data Engineers
Excel skills are crucial for career advancement in these roles, as they involve data entry, verification, analysis, and administration tasks. Learn the Advanced Excel Training in Pondicherry at FITA Academy to simplify complex tasks in accounting, journalism, teaching, freelance writing, photography, design, or even managing household responsibilities.
Excel's Versatility in Business
Excel boasts over 500 formulas for daily transactions. These formulas can perform various operations, from calculating sums and averages to finding counts, minimums, and maximums. Excel can also assist in data lookups, conditional formatting, ranking values, rounding, date and time calculations, financial computations, percentage calculations, and more. Its versatility makes it indispensable in various job roles, from high-profile positions like accounts executives and business analysts to less conventional roles like journalism and freelance writing.
Embark on your journey to Excel mastery with FITA Academy's Excel Training in Pondicherry. Join us today and harness the full potential of this legendary platform for data management and analysis.
Curriculum for Advanced Excel Training In Pondicherry 
At FITA Academy, our Advanced Excel Training is designed to provide you with a comprehensive understanding of Excel's powerful features and functionalities. We believe that hands-on, practical learning is the key to mastering Excel, and our curriculum reflects this philosophy.
Excel Basics and Essentials
Introduction to Excel: Understand the interface and its fundamental components.
Creating and Formatting Worksheets: Learn how to create, format, and customize worksheets to suit your needs.
Cell Management: Master cell management techniques, including data entry, editing, and formatting.
Data Validation: Explore data validation tools to ensure data accuracy and consistency.
Data Analysis and Visualization
Data Sorting and Filtering: Learn how to sort and filter data to extract valuable insights efficiently.
Pivot Tables: Master creating and manipulating pivot tables for in-depth data analysis.
Charts and Graphs: Create visually compelling charts and graphs to represent data effectively.
Conditional Formatting: Use conditional formatting to highlight significant data trends and patterns.
Automation with Macros
Introduction to Macros: Understand the concept of macros and their importance in automating tasks.
Creating Macros: Learn how to record and write macros to streamline repetitive actions.
Macro Security: Explore macro security options to protect your workbooks.
Our Advanced Excel Training in Pondicherry is not just about theoretical knowledge; it's about equipping you with practical skills you can apply professionally. Each module is carefully crafted to provide hands-on experience and real-world scenarios, ensuring you emerge from the course as a proficient Excel user.
Advanced Excel Techniques
Data Consolidation: Discover advanced data consolidation techniques for complex datasets.
What-If Analysis: Perform scenario analysis and goal-seeking using Excel's What-If tools.
Solver Tool: Solve complex optimisation problems using the Solver add-in.
Data Management and Collaboration
Data Import and Export: Import data from external sources and export Excel data to other formats.
Data Linking: Link data between multiple worksheets and workbooks for seamless collaboration.
Data Protection: Explore data protection options, including password protection and sheet/workbook security.
Formatting Data Series
Formatting data series customizes the appearance of data within charts or graphs, including colour, style, markers, and other visual attributes.
Enhances clarity and visual impact, aiding data interpretation.
Excel Tips and Tricks
Keyboard Shortcuts:Speed up your work with essential Excel keyboard shortcuts.
Productivity Tips: Discover time-saving tips and tricks for increased productivity.
Troubleshooting: Learn how to troubleshoot common Excel issues effectively.
Advanced-Data Tools
Text to Columns tool splits a column into multiple columns using a delimiter.
External Data Connections link Excel to sources like SQL Server databases, other Excel workbooks, or external databases, enhancing the data model.
Learn the Advanced Excel Training in Pondicherry at FITA Academy to gain expertise in advanced data tools.
Power Pivot
An Excel add-in is extending the Microsoft Analysis Services tabular.
Allows users to develop ROLAP models and utilize pivot tables for data exploration.
VBA Programming
Introduction to VBA
Understand the fundamentals of VBA and its role in Excel.
Navigate the VBA Editor and become familiar with its interface.
Create and manage VBA projects and modules.
Enrol in the Excel Training in Pondicherry at FITA Academy to learn about Advanced Excel skills with VBA Programming.
VBA Basics
Learn VBA syntax, variables, and data types.
Explore conditional statements and loops for decision-making and repetitive tasks.
Understand error handling techniques to write robust VBA code.
Working with Objects
Master the concept of objects and how they relate to Excel.
Manipulate Excel workbooks, worksheets, and cells using VBA.
Create, modify, and format charts and shapes programmatically.
Functions and Procedures
Create custom functions and subroutines to automate specific tasks.
Pass arguments to functions and procedures for dynamic behaviour.
Use built-in Excel functions within your VBA code.
User Forms and Interaction
Design and create user forms to enhance user interaction.
Capture user input and manipulate Excel data based on user choices.
Build custom dialogue boxes for data entry and reporting.
Join the Advanced Excel Course in Pondicherry at FITA Academy to equip yourself with practical skills that can significantly boost your career, efficiency, and analytical capabilities. Whether you're in finance, data analysis, project management, or any other field, Excel proficiency is a valuable asset.
Advanced VBA Techniques
Work with external data sources, such as databases and web APIs.
Automate data import, export, and transformation processes.
Develop VBA applications for specific business needs.
The Power of VBA in Excel
Automate Repetitive Tasks: Streamline daily Excel tasks and save hours of manual work by automating them with VBA macros.
Customize Excel Functions: Create custom functions to perform specialized calculations tailored to your unique business requirements.
Interact with External Data
Connect Excel to external data sources.
Fetch real-time data.
Update your Excel workbooks automatically.
Enhance Reporting: Design professional and interactive reports and dashboards using VBA-powered user forms and charts.
Boost Productivity: Empower yourself and your team to work more efficiently, analyse data faster, and make data-driven decisions.
Excel with VBA: Your Path to Excel Mastery
Excel becomes an even more potent tool when combined with VBA programming. Join FITA Academy's Advanced Excel Training in Pondicherry to embark on your journey to becoming an Excel expert. Enrol now and discover how VBA can revolutionise your work with Excel data.
Benefits of Learning an Advanced Excel Course
Allows you to automate repetitive tasks. Thereby saving time and reducing errors. You can create complex reports and analyses more efficiently.
Provides powerful tools for data analysis, making it easier to uncover insights, trends, and patterns in large datasets.
Advanced Excel functions and features help minimise calculations and data manipulation errors.
You can create professional-looking reports, dashboards, and charts to communicate your findings effectively.
Advanced Excel is widely used in finance for budgeting, financial modelling, risk analysis, and investment valuation.
Excel can be used to track project timelines, budgets, and resources. You can create Gantt charts, project schedules, and task lists.
We can create visually appealing charts and graphs, making it easier to convey complex information to others.
Advanced users can write macros and VBA code to automate tasks, create custom functions, and customise Excel to their needs.
Since Excel is versatile, it can handle various tasks, from simple data entry to complex statistical analysis. It's adaptable to various job roles and industries.