Course Highlights and Why MERN Stack Course in Pondicherry at FITA Academy?

The MERN Stack Training in Pondicherry at FITA Academy encompasses four key technologies: MongoDB, Express, React, and Node.js.

Industry experts have thoroughly designed the curriculum to ensure a comprehensive understanding of the concepts.

The Course introduces Web Development, covering topics such as working on Websites, the benefits of learning Web Development, the history of Web Development, and more.

Upon successful course completion, participants receive a professional Machine Learning Training Certification at an affordable price.

Regular review sessions of previous classes are conducted to facilitate improvement.

FITA Academy provides 100% Placement Assistance to eligible students.

Established partnerships with over 600 companies, ranging from small to large enterprises, students benefit from a wide range of placement opportunities.

The Dedicated Placement Cell supports students during interviews and offers corporate training to enhance their professional skills.

The Course empowers students to work with data, including Query Collections, performing Aggregation Operations, understanding Data Models and Schemas, Handling Transactions and Indexes, and Managing Security and Replication.
Upcoming Batches
09-12-2023
Weekend
Saturday (Saturday - Sunday)
11-12-2023
Weekdays
Monday (Monday - Friday)
14-12-2023
Weekdays
Thursday (Monday - Friday)
16-12-2023
Weekend
Saturday (Saturday - Sunday)

Classroom Training
Get trained by Industry Experts via Classroom Training at any of the FITA Academy branches near you
Why Wait? Jump Start your Career by taking MERN Stack Training in Pondicherry!
Instructor-Led Live Online Training
Take-up Instructor-led Live Online Training. Get the Recorded Videos of each session.
Travelling is a Constraint? Jump Start your Career by taking the MERN Stack Online Course!
Trainer Profile
The Instructors of the MERN Stack Course in Pondicherry at FITA Academy are seasoned corporate professionals with practical experience working with the MERN Stack JavaScript framework.
MERN Stack Instructors interact with each student, assisting the students in working with real-time projects.
These experts hold positions in renowned IT companies. FITA Academy prioritizes the trainer's skills and knowledge rather than solely considering their company affiliations.
The MERN Stack training professionals possess advanced expertise in all MERN Stack technologies, including MongoDB, Express, React, and Node.js.
The MERN Stack training experts possess immediate and direct knowledge of this JavaScript framework, as they have worked closely with it and have been involved in developing dynamic and impressive websites.
The Instructors of the MERN Stack Classes in Pondicherry guide students in professionally creating their resumes for Android Developer roles.
They also offer valuable insights into interview questions and conduct mock interview sessions.
Learn at FITA Academy & Get Your
Dream IT Job in 60 Days
like these Successful Students!

Features of MERN Stack Course in Pondicherry at FITA Academy
Real-Time Experts as Trainers
At FITA Academy, You will Learn from the Experts from industry who are Passionate in sharing their Knowledge with Learners. Get Personally Mentored by the Experts.
LIVE Project
Get an Opportunity to work in Real-time Projects that will give you a Deep Experience. Showcase your Project Experience & Increase your chance of getting Hired!
Certification
Get Certified by FITA Academy. Also, get Equipped to Clear Global Certifications. 72% FITA Academy Students appear for Global Certifications and 100% of them Clear it.
Affordable Fees
At FITA Academy, Course Fee is not only Affordable, but you have the option to pay it in Installments. Quality Training at an Affordable Price is our Motto.
Flexibility
At FITA Academy, you get Ultimate Flexibility. Classroom or Online Training? Early morning or Late evenings? Weekdays or Weekends? Regular Pace or Fast Track? - Pick whatever suits you the Best.
Placement Support
Tie-up & MOU with more than 1500+ Small & Medium Companies to Support you with Opportunities to Kick-Start & Step-up your Career.
Why Learn MERN Stack Course in Pondicherry at FITA Academy?
Live Capstone Projects
Real time Industry Experts as Trainers
Placement Support till you get your Dream Job offer!
Free Interview Clearing Workshops
Free Resume Preparation & Aptitude Workshops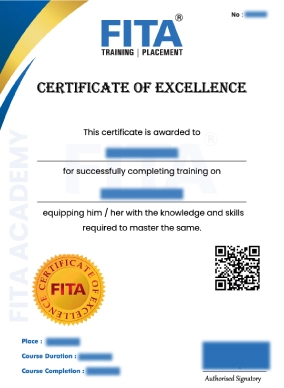 MERN Stack Certification Training in Pondicherry
The MERN Stack is a popular framework for JavaScript web development and has gained widespread adoption among web developers worldwide. Another alternative is the MEAN Stack, which serves a similar purpose but incorporates technology, whereas the MERN Stack uses React. Angular and React create user interfaces for web applications and websites. Opting for a MERN Stack Certification course is highly recommended today for aspiring web development professionals. The framework is in high demand and extensively utilized by leading IT companies to build compelling websites.
Another advantage of learning the MERN Stack framework is that students must master only two programming languages: JavaScript and JSON. Proficiency in these two languages is sufficient to work with the MERN Stack Framework, as all the code required for developing websites or web applications is written in JavaScript. These codes handle both the client-side and server-side development of web applications.
To effectively grasp the concepts during the MERN Stack Course in Pondicherry, there are specific prerequisites that one should understand. These prerequisites include HTML, CSS, HTTP and REST, JavaScript, Git, Github, Web Architecture, Database storage, NPM, and soft skills. Even if students have limited knowledge of these concepts, the trainers start from the basics, covering all these essential concepts and ensuring that students understand the MERN Stack framework. Incorporating the MERN Stack Certification in Pondicherry into your resume enhances the quality of your profile. Enrolling in the MERN Stack Course at FITA Academy in Pondicherry will significantly strengthen and upgrade students' knowledge of the MERN Stack framework, ultimately empowering them with proactive expertise.
Have Queries? Talk to our Career Counselor for more Guidance on picking the
right Career for you!
Placement Session & Job Opportunities after completing MERN Stack Course in Pondicherry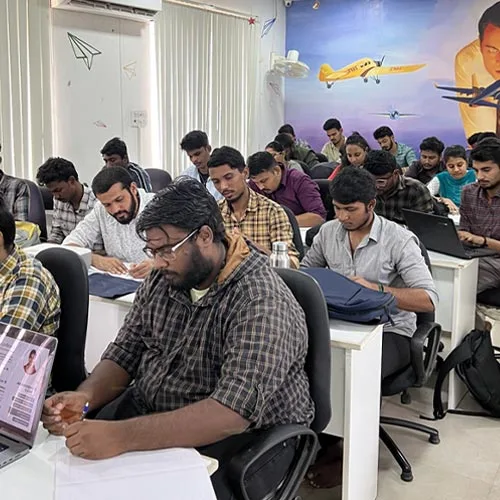 The MERN Stack has high demand due to its utilization of JavaScript as the sole programming language and its status as a full-stack framework encompassing all the essential components for front-end, back-end, and database development.
The MERN Stack framework combines four prominent technologies: MongoDB, Express, React, and Node.js, each serving a specific role in developing practical and valuable websites for organizations. MongoDB acts as the No-SQL database for storing application data. Express is the web framework for Node.js, aiding developers in writing back-end code and designing APIs. React is for writing front-end code, a client-side JavaScript framework for creating user interfaces. Node.js is a JavaScript Runtime Environment to run their code on the server.
The MERN Stack is a comprehensive web development framework that empowers developers to build websites entirely using a single programming language, JavaScript. Regarding job opportunities for individuals who have completed the MERN Stack certification course, various roles are available, including Full Stack Developer, MERN Stack Developer, Software Developer (MERN Stack), and more. Prominent companies in India, such as LinkedIn, Google, Amazon, and BookMyShow, hire MERN Stack professionals.
Now, let's delve into the salary prospects for these professionals in India. Entry-level MERN Stack Developers can expect to earn around Rs. 5,50,000 annually. Mid-level professionals typically earn approximately Rs. 8,07,000 annually, while experienced individuals earn around Rs. 18,00,000 annually. To Know about MERN Stack Developer Salary for Freshers, Visit our website.
To further your knowledge of the MERN Stack Framework and potentially understand its intricacies, consider enrolling in FITA Academy, the best among the MERN Stack Training Institutes in Pondicherry.
Success Story of MERN Stack Course in Pondicherry
I enrolled in the MERN Stack Course. Their expert trainers, currently active in the industry, gave us real-time project experience. The concepts were thoroughly explained, and they even helped me craft my resume and prepared me for interviews. Thank you, FITA Academy.
Joining FITA Academy's MERN Stack Classes in Pondicherry is a worthwhile decision. Their expert trainers and flexible course timing made it a great learning experience. With a limited number of students per batch, there's ample opportunity to interact with the trainers and gain a clear understanding of the material.
I decided to join the MERN Stack Course in Pondicherry at FITA Academy. The course curriculum was well-structured, and the knowledgeable trainers guided us through real-time projects, making it easy to grasp the concepts without any doubts.
I registered for the MERN Stack Course at FITA Academy in Pondicherry to enhance my web development skills. The course design was excellent, simplifying even the most complex modules and concluding in a valuable course certification.
FITA Academy's MERN Stack Course is a comprehensive program that allows students to explore four key technologies: MongoDB, Express, React, and Node.js. The trainers are highly interactive and provide support from joining until you receive your course certification. Additionally, their active placement cell assists students in preparing for interviews.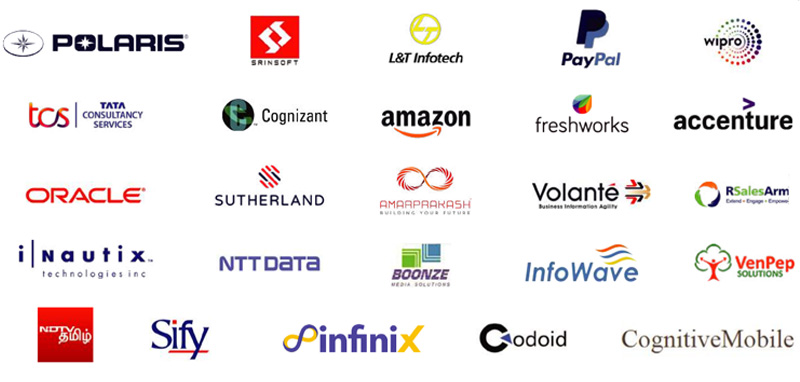 Frequently Asked Question (FAQ) about MERN Stack Course in Pondicherry
Additional Information of MERN Stack Course in Pondicherry
This course enriches participants' skill sets through comprehensive instruction in the core technologies MongoDB, Express, React, and Node.js, collectively known as the MERN stack, which is entirely built on JavaScript.
What do you learn in the MERN Stack Course in Pondicherry at FITA Academy?
MERN Stack
MERN represents a suite of technologies that facilitates swift application development, widely embraced by developers across the globe. The primary objective of the MERN stack is to empower developers in crafting applications using JavaScript.
MongoDB
MongoDB is a NoSQL database management system that stores data in document format with key-value pairs resembling JSON objects. MongoDB empowers users to establish databases, schemas, and tables, providing the Mongo shell—a JavaScript interface for managing, querying, and updating records. Learn the MERN Stack Course in Pondicherry at FITA Academy to use JavaScript to excel in all Four Technologies.
NoSQL in MongoDB
MongoDB stands as an open-source, non-relational database management system. Non-relational databases, often called NoSQL (Not Only SQL), offer an alternative approach to traditional relational databases. They prove particularly valuable when handling extensive sets of distributed data. MongoDB is a versatile tool for managing document-based information, allowing data storage and retrieval.
MongoDB is pivotal in high-volume data storage, enabling organizations to store vast data while maintaining high-performance capabilities efficiently. Organizations leverage MongoDB for its versatile functionalities, including ad-hoc querying, indexing, load balancing, aggregation, execution of server-side JavaScript, and a host of other features.
Data Modeling in MongoDB
MongoDB presents a malleable data schema, diverging from the SQL database paradigm, where you must predefine a table's schema before data insertion. MongoDB collections have no rigid requirements to adhere to a specific document structure.
MongoDB Query and Projection Operator
The MongoDB query operator includes comparison, logical, element, evaluation, Geospatial, array, bitwise, and comment operators. FITA Academy's MERN Stack Training in Pondicherry allows the students to gain comprehensive knowledge of all the operations carried out in MERN Stack.
Reasons for using MongoDB
Replication: MongoDB offers replication through replica sets, which consist of multiple MongoDB instances to ensure high availability. The primary server handles read and write operations, while secondary replicas maintain data copies for failover support.
Scalability: MongoDB supports vertical scaling (increasing the power of an existing machine) and horizontal scaling (adding more machines to expand resources).
Load Balancing: MongoDB handles load balancing without requiring a dedicated load balancer, achieved through vertical or horizontal scaling.
Schema-flexibility: MongoDB is schema-less, allowing it to manage data without predefined structures.
Document-based: Data in MongoDB is stored as documents with key-value pairs, offering greater flexibility than traditional SQL databases.
ExpressJS
ExpressJS serves as a Node.js framework, streamlining the creation of back-end code and eliminating the need for developing numerous Node modules. It offers a variety of middleware options to maintain code conciseness. FITA Academy's MERN Stack Course in Pondicherry instructors provide valuable insights into Middleware and its functioning.
How does Middleware work with Express js?
Express.js is a framework for managing webpage routing and Middleware, operating within the request and response cycle. Middleware is activated after the server receives a request and before the controller actions generate a response. Middleware accesses the request and response objects and the "next" function, enabling it to handle request processing before the server dispatches a reaction. An application built on Express comprises a sequence of middleware function invocations.
What is a Single Page Application (SPA)?
A Single Page Application (SPA) is a web application engineered to appear as a singular, unchanging page. This design philosophy enhances user-friendliness and navigation by allowing users to view the entire application's content on a single page.
SPA-based applications concentrate on one task simultaneously, facilitating a more coherent and consistent user experience. Users can progress through each step seamlessly without frequent page transitions.
Single Page Application vs Multi Page Application
A single-page application is characterized by its use of a solitary web page that leverages JavaScript to fetch both markup and data independently, subsequently rendering pages directly within the user's browser. SPAs are designed to load and function within a single HTML page without needing multiple reloads. They excel in scenarios where tasks such as downloading files or rendering images would be time-consuming on traditional web pages. Typically, SPAs comprise HTML and JavaScript, often supplemented by server-side languages like PHP to process data and provide results.
Multiple Page Applications (MPAs) involve users navigating through multiple distinct web pages, and each page typically necessitates reloading. This approach may offer users different clarity than SPAs, as they must load and switch between various pages. Enrolling in FITA Academy's MERN Stack Training in Pondicherry enables students to develop proficiency in MERN Stack Technologies by utilizing JavaScript.
Advantages of Single Page Applications (SPAs)
Single Page Applications offer several compelling advantages compared to traditional web applications, including:
Simplicity: SPAs are simpler to develop and maintain as they require creating only one HTML file, eliminating the need for server-side modifications.
Reusability: Developers can reuse JavaScript, CSS, and HTML code across multiple pages, and tools are available for packaging these components into reusable modules.
Security: SPAs provide enhanced security options, as they can be protected by firewalls or require user login credentials, bolstering the protection of web pages.
Reasons for using Express JS 
Fast Server-Side Development: Express accelerates server-side development, saving significant time.
Middleware: Middleware functions are request handlers with access to the request-response cycle, enhancing application functionality.
Routing: Express facilitates URL endpoint handling in response to client requests.
Templating: It provides templating engines for dynamic content generation on web pages.
Debugging: Express simplifies debugging by pinpointing error locations.
ReactJS
ReactJS is a JavaScript library tailored to craft UI for mobile and single-page applications (SPAs). It allows developers to write JavaScript code and construct UI components, leveraging a virtual DOM for optimal performance.
React JS – Flux and Redux
Flux is an architectural pattern that separates the responsibility for reading and modifying data. It comprises components like Store, Action, View, and Dispatcher to manage data flow.
Inspired by Flux, Redux simplifies the Flux pattern by introducing Reducers and a centralized store. Actions are dispatched to Reducers, which update the store, leading to view updates. Joining FITA Academy's MERN Stack Classes in Pondicherry empowers students to cultivate expertise in MERN Stack Technologies by harnessing the power of JavaScript.
Reasons for using React JS
JSX (JavaScript Syntax Extension)
Virtual DOM
Unidirectional data binding
High performance
Extensibility
Conditional expressions
Component-based architecture
Simplicity
NodeJS
NodeJS is an open-source JavaScript runtime environment enabling the execution of server-side code. It incorporates the node package manager (npm), which grants access to a wide selection of node modules and packages. NodeJS, developed on the Chrome JavaScript Engine ensures efficient code execution.
Client-side scripting
Web browsers execute client-side scripting, which involves running code transferred from a web server to the user's computer over the internet. This code operates directly within browsers and is employed for tasks such as validations and handling user events. Client-side scripting enhances interactivity by executing multiple actions without requiring server interaction. However, it typically cannot connect to databases on a web server or access the browser's file system. It enables page alterations based on user choices and can create cookies to store data on the user's computer.
Server-side scripting
Web servers handle server-side scripting, primarily used for generating dynamic web pages. Server-side scripting can access the file system residing on the web server and operates within a server-side environment running a scripting language. It supports various scripting languages and retrieves and generates content for dynamic pages. Server-side scripting often requires the download of plugins and generally offers faster load times compared to client-side scripting.
Reasons for using Node JS 
Asynchronous and Event-driven: The non-blocking feature handles multiple API requests concurrently, which enhances efficiency.
Single-threaded Architecture: Node.js follows a single-threaded, event-looping architecture and promotes scalability.
Quick Execution: It uses the V8 JavaScript runtime engine, making code execution fast.
Cross-platform Compatibility: It is adaptable to various operating systems, which allows cross-platform development.
Fast Data Streaming: Processes data streams quickly to optimize the performance.
No Buffering: Node.js applications do not buffer data.
These technologies comprise the foundation of the MERN (MongoDB, Express, React, Node) Stack. To excel as a skilled MERN Stack developer, individuals must cultivate expertise in testing, both front-end and back-end development and possess a comprehensive understanding of JavaScript. Additionally, familiarity with tools such as JQuery, PHP, Symfony, and MySQL is crucial. Enrolling in FITA Academy's MERN Stack Certification program can be instrumental in gaining the essential knowledge required to master this framework.