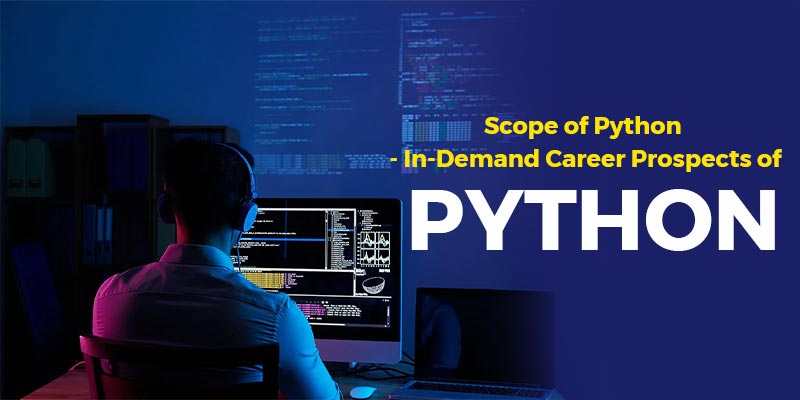 Scope of Python – In-Demand Career Prospects of Python
Python is widely popular, but it is gaining importance gradually. We all know Python is a powerful programming language with many outstanding features. The programming language, on the whole, benefits developers with the ease of programming. Many developers worldwide and businesses stick to Python to solve the problems they face with the technology. So today, let us know what the fantastic career opportunities it provides for its aspirants are.
Career Prospects in Python
Listed below are some of the famous well-known career prospects in Python, which are:
Python Developer – This is Python's most fundamental job prospect. A Python Developer is expected to
Develop Websites
Solve Data Analytics Problems
Write Rre-usable and efficient codes
Improve Data Algorithms
Perform Data Protection and Security Issues.
An entry-level Python developer earns around Rs. 4,90,361 per annum. Mid-level professionals earn around Rs. 5,52,889 per annum. Experienced professionals earn around Rs. 9,80,242 per annum.
Python jobs are vast; therefore, Python aspirants have many domains to choose from to base their careers.
Learning Python Course in Chennai at FITA  Academy helps students to get a broad knowledge of the Python Programming language.
Data Analyst – Data Analyst is one of the most intriguing and the most exciting jobs in the Python domain. This job role expects Data Analysts to extract meaningful information from large sets of Data. Those willing to work as Data Analysts are expected to be skilled in Python Frameworks such as Pandas, SciPy, etc. Let us see some of the key responsibilities of Data Analysts.
Evaluate Data utilizing Statistical techniques and provide reports.
Create and implement Databases and Data Collection Systems.
Obtain Data from Primary and secondary sources and maintain Data Systems.
Find, Evaluate and interpret trends and patterns in complex data sets.
Cleansing Data.
Closely work with management to prioritize business needs.
Create new process improvement opportunities.
An entry-level Data Analyst earns around Rs. 3,56,015 per annum. A mid-level professional earns around Rs. 7,04,937 per annum. An Experienced professional earns around Rs. 9,76,955 per annum.
India has lots of Python Job Opportunities for freshers as it is one of the powerful and leading programming languages.
FITA Academy provides the best Python Training in Chennai for students by helping them get trained under expert Python professionals.
Product Manager – Product Managers are responsible for researching what their customers are seeking and their current needs. They then have to report to their company about their customers' needs with facts and data. They are also responsible for suggesting to their businesses the following product they have to come up with to satisfy their customers' needs.
Some of the key skills that are expected from the Product Managers are
Domain expertise
Business Expertise
Leadership skills
Operational ability
The key responsibilities of the product managers are,
Clearly define the product's vision, strategy, and roadmap.
The needs of the market/customers are gathered, managed, and prioritized.
Acts as a customer advocate by communicating the user's or buyer's needs.
Works closely with engineering, sales, marketing, and support to ensure that the business case and customer satisfaction goals are met.
Enroll in our Python Online Course which teaches the Python Programming language in the best professional way.
Educator
Those who have attained expertise in the Python Programming language can also opt for teaching Python to Students. There are many schools, colleges, and training institutes that hire proficient Python Developers. This profession also has a good scope as there is always a demand for Python professionals who need to teach good Python.
Learn Python Online at FITA Academy if classroom sessions are not convenient for you.
Financial Advisors
Since Python is extensively used in the Banking sector to speed up their process, business schools have implemented learning the course along with Python. Therefore if you are eager to work in the finance field, learning Python will be a good choice.
FITA Academy conducts Python Training in Bangalore too and provides the same quality training through the best Python professionals.
Data Scientist –  A Data Scientist is responsible for obtaining, evaluating, and interpreting large amounts of data to find meaningful information from them. They employ different strategic methods such as Statistics, Programming, etc to evaluate the data that they have obtained. Some key responsibilities of Data scientists are,
Get Data from the Sources
Cleanse the Data
Integrate and store the Data
Initiate Data investigation and Exploratory Data Analysis
Choose potential models and algorithms
Implement Data Science techniques such as Machine Learning, Statistical Modeling, and Artificial Intelligence.
Measure and enhance results.
Present the final result to stakeholders.
Improve the process based on the feedback.
Perform the process again to solve a new problem.
An entry-level Data Scientist earns around Rs. 3,56,015 per annum. Mid-level professionals earn around Rs. 5,72, 562 per annum. Experienced professionals earn more than Rs. 1,000,000 per annum.
Enrolling in the Python Course in Bangalore will enhance your overall knowledge of Python by exposing you to the real-time Python projects.
Machine Learning Engineer – A Machine Learning engineer is responsible for training machines, programs, and other computer-based systems to apply their learned knowledge to make predictions. If you are skilled in Python then the Machine Learning Engineer role will also be suitable for you
An entry-level Machine Learning Engineer earns around Rs. 5,16,604 per annum. Mid-level professionals earn around Rs. 7,05,428 per annum. Experienced professionals earn more than Rs. 1,000,000 per annum.
FITA Academy conducts the best Python Training in Coimbatore for students to help them gain comprehensive knowledge of the Python Programming language.
What does the future of Python look like
Python future scope is bright as many powerful technologies depend on Python. Let us see what technologies depend on Python. Artificial Intelligence, Neural Networks, Natural Language and Text Processing, Deep Learning, Machine Learning, Big Data, and Data Science. These are the technologies that depend on Python at a large scale. Therefore Python Developers have a bright future and can choose any of the above-mentioned domains on to base their careers on. Due to the high dependency on Python, Python Developers pay scale also increases to a greater extent
There are some other reasons that state the future scope of Python is good and strong.
Python has been continuously voted as the favorite programming language for the contentious years by developers around the world. This fact clearly states that Python is here to stay.
Python caters to the different needs of the IT domain and thus emerged as a popular programming language which also clearly states that Python has a bright future.
Python is a versatile, robust, and comprehensive programming language which means it has solutions for all the problems that the IT domain has.
Python can also be used to write Test Scripts and test mobile devices' performance.
These facts clearly show that Python has a bright scope in the future as it has impressive and dynamic features, commendable frameworks, and more to serve in the best way possible.
Enroll in our Python Course in Coimbatore and get skilled and competent in the Python programming language by getting trained under the best Python experts.
What is Python? A Brief History of Python!
Python is generally a popular back-end programming language used to develop websites and software applications. But today python has evolved more to perform tasks like automation, data analysis, and also data visualization. Python has many aspects to it. It is a general-purpose programming language meaning it is not restricted to a singular use. Python is also an Object-oriented and high-level programming language which means it mostly deals with objects. It is also an interactive, interpreted, dynamically typed programming language.
Python has high-level data structures, dynamic typing, dynamic binding, and more interesting frameworks like Djangol Pyramid, Flask, Bottle, SciPy, Pandas, Ipython, Mumpy, and more to ease the work of Programmers. Python is still the ruling language in the current year with Java and JavaScript being the second and third most popular programming languages in the current trend. Python was first released on February 20, 1991, by Guido Van Rossum. Guido Van Rossum was the chief designer and developer of the Python Programming language until 12 July 2018. Later Python Core developers appointed a five-member "steering council" to lead the project.
The Python Scope is very bright as it is a leading programming language that is used in almost all advanced technologies.
Python is used in a variety of real-world applications
The following are some examples:
Website Development
Game Development
Development of Scientific and Numeric Applications
Development of Artificial Intelligence and Machine Learning Software.
Development of Desktop GUI Applications
Development of Software
Development of Enterprise and Business Applications
Development of Language Applications
Development of OPerating Systems
Development of Web Scraping Applications
Development of Image Processing and Graphic Design Applications
As we can see Python is used in various domains due to its nature of simplicity and being a beginner-friendly language.
Python and its uses
Python is capable of creating web applications.
Python can create workflows.
Python can be connected to database systems where it can read and modify files.
Python can process Big Data and can perform complex mathematics
Python is also used for Rapid Prototyping and Production-ready Software Development.
Why Choose Python among other programming languages?
Python has multi-platform compatibility which means it can work on any operating system such as Windows, Mac, Linux, Raspberry Pi, etc.
Python is a simple and developer-friendly language that has simple syntax similar to the English Language
Python gives developers the benefit of writing fewer lines of code than any other programming language.
Python has an interpreter system that executes codes as soon as it is written. It means that prototyping can be very quick in Python.
Since python has multiple aspects, it can be treated in a procedural, functional, or object-oriented way.
Some Big MNCS using Python are:
Instagram uses Python as its back-end language.
Google uses Python as a Full-stack Programming language.
Spotify's Mobile Application is built using Python.
The Netflix application is built using Python.
Uber Application is built using Python.
Dropbox uses Python.
Pinterest uses Python as a Full-stack programming language.
Reddit uses Python
NASA uses Python for Application Development
YouTube, Amazon, and PayPal also use Python.
And many more Small and Medium IT companies and many other sectors use Python in one or the other way.
Why is Python Popular for
The advantages provided by the Python programming language are the reason for its worldwide appeal. Take a look at the characteristics of the Python programming language.
1. Python is compatible with a variety of programming paradigms
Python is a multi-paradigm programming language with capabilities such as object-oriented programming, imperative programming, procedural programming, functional programming, and reflective programming.
2. Python comes with a large library and a set of tools
Python offers a large set of standard libraries and tools that improve the language's general functionality and make it easier for programmers to develop code. The following are some of the most useful Python libraries and tools.
Functions, constants, types, and exceptions are all built-in.
Multimedia services, file formats, and file and directory access.
Tkinter Custom Python Interpreters, Internet protocols and support, data compression and archiving, modules, and other GUI development tools are available.
Scrappy, wxPython, SciPy, matplotlib, Pygame, PyQT, PyGTK, and others are examples of Python libraries.
3. Python has a large and active community
This is why python is a popular programming language for web development. If you're experiencing trouble building a Python program, you can ask your question directly to the Python community, and you'll get a response with a solution. You'll also find a lot of new ideas for python technology and updates to the versions.
4. Python is Designed to Make Code More Readable
Python's code readability is far superior to that of other programming languages. For example, instead of curly brackets, it employs whitespace indentation to delimit the code block. Isn't it fantastic?
5. Python has fewer lines of code than other programming languages
The python programming language allows code to be written in fewer lines, minimizing programmers' efforts.
Conclusion
Now we have seen the importance of the Python Programming language in the IT world and the career prospects in Python. Thus learning Python is always beneficial as it will really enhance your career opportunities. Python is and will continue to be the powerful programming language so freshers and aspirants can confidently choose Python as their specialization and can have solid career growth.