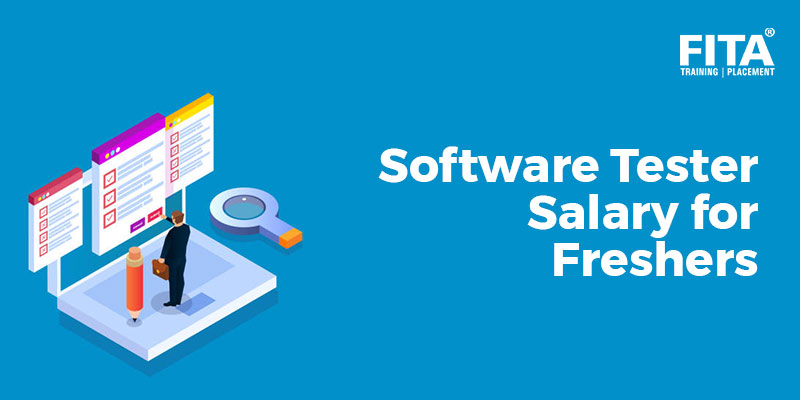 Have you ever tested a software? Are you passionate about testing an application? You have landed on the correct page. Alike software developer's the need and vacancy for software tester roles are also rising. So, in this blog we will talk about the software tester salary for freshers who will be the emerging test architect of the next-generation IT world.
Software tester roles play a crucial role in stabilizing the software standard throughout the series of versions. Also, the role concerned with reporting of bugs, issues and feedback over released applications.  Before applying for software tester roles, it is important to know more about its demand and significance in today's IT Job market. Let's begin our discussion with an overview of a software tester followed by significance, roles, and relevant salary package. 
About Software Tester
A Software tester involved in the quality assurance stage of software development and deployment as a software tester. The tester is responsible for automated and manual tests to guarantee that the software developed by developers is suitable for purpose. Then the tester should ensure any defects or issues are fixed before it's released to the general public. A Software Tester plays a key role in the sustenance of all IT firms.
Demand for Software Tester in IT Job Market
The demand for software testing operations and testers are growing day to day. The global market for software testing has crossed billions of dollars. Similarly, recent trends in software testing includes functional testing, high demand for managed services, non-functional testing, and regression testing. Therefore, freshers seeking a software tester role are highly impactful candidates for the future IT market with an optimal software tester salary for freshers in upcoming years. 
Software Tester Salary Structure
The gross pay of any fresher is usually less than 5.0 LPA. Also, the payscale range varies from different IT firms, work locations, and the years of work experience. Here we will show you the approximated salary structure of a software developer through various IT companies. 
IT Firms and their Salary Packages – IT companies across countries afford different freshers salary packages for different roles. Similarly, odd roles across different companies have different salary structure, here are the list of approximated salary package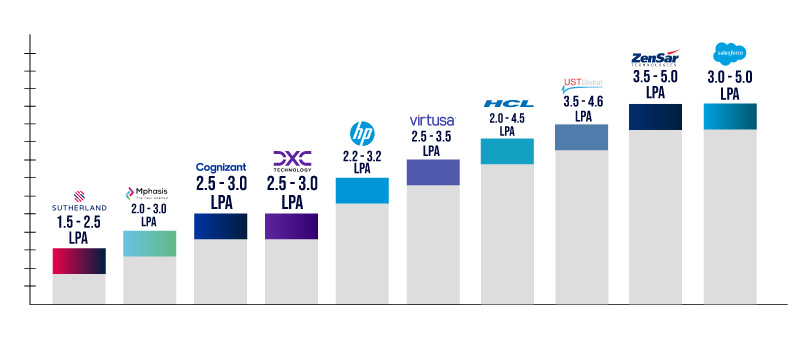 Salary Package Based on Work Locations – Alike IT sectors, the average software tester salary for freshers per month

varies as per the company or work locations. It is because the salary structure is defined based on the living expense and cost of living in the respective areas. The following chart shows the approximate salary structure of a software tester in India.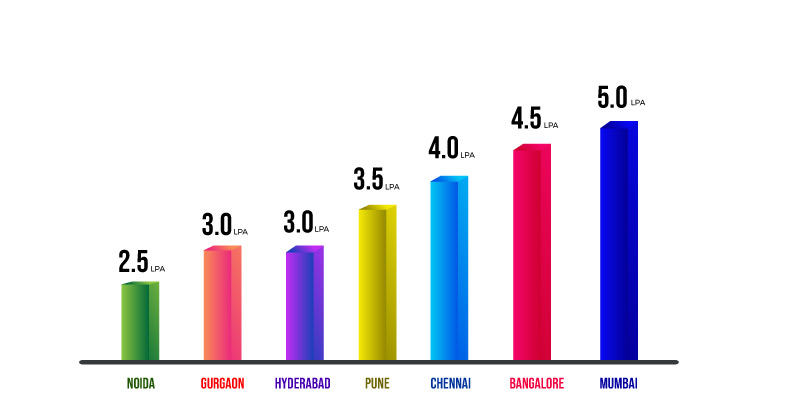 Years of Work Experience – The salary package for experienced differs based on their years of hands-on experience. With respect to the rating and report submitted by employees, we have shown the approximated salary below

Types of Job Roles – Software Tester have three freshers roles at various IT companies. So, the software tester salary for freshers

depends upon the role and their responsibilities
Increase the chances of getting more salary increment through learning Artificial Intelligence Course in Chennai for AI based software testing development methods. 
Qualification Required to become a Software Tester
Freshers looking for a good software tester salary for freshers must possess two kinds of technical and non-technical skills in addition to academic criteria.  They are as follows 
Academic Criteria:

To be considered for a software tester role, the candidate is expected to have a minimum degree of bachelor's in computer science, information systems, mathematics, or any other equivalent qualification. 

Non-Technical skills:

Freshers must possess good analytical skills to write and implement test cases for new software products and services; excellent verbal and communication skills for increasing the global collaboration; Time and organization management skills; and passion to become an exceptional software tester.

Technical Skills:

As a software tester, the applicant must have fundamental skills in the following domains: Database, SQL, Oracle,

MySQL

, and other SQL Series; basic understanding of Linux and other operating systems,

Selenium

, UFT, TOSCA; knowledge on experience of a management test tool; management of direct trafficking tools; and other relevant skill such as manual & automated testing, performance testing, and business analyst.

Additional Skills:

Apart from academic and technical skills, certifications in JSON, Axure, and OmniGraffle are highly considered as weightage to the resume. 
Learn Software Testing Course in Chennai to increase the chances of getting your resume considered. 
General Responsibilities of a Software Tester
Work with software developers and project support teams to understand the scope of projects by meeting with system users.

Plan projects based on business needs

Applications and software systems to be monitored

Stress testing, performance testing, functional testing, and scalability testing should all be done.

Test scripts to develop and run

Tests both manually and automatically

Test in a variety of settings, including online and mobile.

Fill up bug reports

Evaluate the code, plan the resources, and examine the documentation

Ensure that departmental and project deadlines are met.

Confirm quality

Offer impartial feedback to project teams working on software development

To reduce risk, troubleshoot, and solve design testing.

Inform software development, and business user teams of your results

Go to several project locations

At the same time work on numerous projects document analysis

Analysis of documents

Convey results to technical and non-technical colleagues coordinate with project teams in other regions of the world
Description, Roles, and Responsibilities of a Software Tester Roles as a Freshers 
Each role of a software tester is associated with certain roles and responsibilities. Let's discuss the crucial roles and different responsive tasks in the following section
Quality Assurance Trainee Tester
Junior quality assurance testers collaborate with other teams to test software. They report and track software defects, as well as assist in their resolution. In most cases, junior QA testers work in an office setting. This role is usually full-time and reports to other testers at the senior level. Companies that deal with online applications, video games, and software hire them. Those who are well-suited to this vocation like solving problems and collaborating with others. As a QA Trainee, they have the following key roles and responsibilities
Perform software testes and other protocols.

Communicate with clients and other stakeholders for global collaboration.

Reporting bugs to seniors, and other senior members.

Collaborative work with team members for the company's growth.

Perform automation testing programs to identify issues and other concerns.
Learn development and operations for manual or different software testing strategy through enrolling DevOps Training in Bangalore at FITA Academy. 
Quality Assurance Software Tester
Customers rely on quality assurance (QA) testers to offer high-quality, flawlessly running software and online applications. They test and assess new and current applications to find and fix bugs, malfunctions, and other issues with the user experience.They are associated with the following key roles and responsibilities
Executes test cases in a variety of situations.

Documenting and Evaluating Test findings.

Detects, logs, and reports problems and malfunctions in programmes.

Keeping track of flaws and assists with troubleshooting.

Writing test processes are reviewing the test scripts.

QA activities are pushed forward in collaboration with engineers.
Enroll for Software Testing Course in Bangalore to enhance your testing skill set and learn a newer approach to software test and operations. 
Quality Assurance Analyst
A QA analyst is usually in charge of the testing portion of the manufacturing process to guarantee that the finished goods fit the company's requirements. Among the responsibilities is determining if items are functional, dependable, and satisfy the expectations of the end user. The normal professional development for a QA analyst is in a management or executive post, depending on the internal organizational structure of a corporation. During their role, they have the following key roles and responsibilities
Create and implement product testing strategies.

Identify methods and scenarios for product and service quality control.

Process product evaluations and report problems and mistakes to the development team.

To the development team, provide quantitative and qualitative conclusions from test results.

Monitor and track progress in resolving product issues.

Ascertain that the completed product meets product specifications and meets end-user expectations.

Improve the product's efficiency by identifying opportunities for improvement.

Compare findings from the current market for similar items.
Applicants are encouraged to learn the leading course Python Training in Bangalore to become an exceptional software tester for developing Python-coded software testing programs. 
Manual Tester
A Manual tester, also known as a software tester or software test engineer, creates test plans to evaluate new and current software, debug code, and enhance the usability of software systems. Manual Tester collaborates with the development team to ensure that high-quality software is produced.They are responsible for the following key tasks
Examine and evaluate the system specs.

Develop efficient tactics and test plans in collaboration with QA Engineers.

Execute (human or automated) test cases and assess results Evaluate product code in accordance with specifications

Make logs to keep track of testing phases and faults.

Bugs and inaccuracies should be reported to development teams.

Assist in the resolution of problems

Work with cross-functional teams to guarantee quality throughout the software +development lifecycle by doing post-release/post-implementation testing.
The software tester salary for freshers per month ranges from 30,000 INR to 40,000 INR depending on the critical tasks assigned, work locations, and IT firms.
Preparation Guide to Become a Exceptional Software Tester
Interview Preparation
We will present you with reliable materials for the best interview preparation in this part. We can now discover a plethora of instructions and blog entries for interview preparation, but each resource has its own set of critical defects. As a result, in progress of the importance and demand for software tester jobs, we've compiled a list of the best interview tips for freshers. As a result, it is suggested that applicants consult Java and  Software Testing Interview Questions and Answers. These resources will provide appropriate information because they are prepared in a basic, accessible manner ideal for both beginners and professionals. It will also improve the skill set and passion of participants as they prepare for the interview process.
Based on our study on software tester salary for freshers, we recommend that IT aspirants begin their career progression right away by enrolling in a Software Testing Course Online, where the applicant will receive great training and a guarantee of employment opportunity. Freshers are urged to begin a featured IT career that has a greater scope and applications in the future as the software tester positions are in high demand in the IT employment market. Finally, we hope that this article has provided you with all of the information you need to apply for software testers  jobs in India.