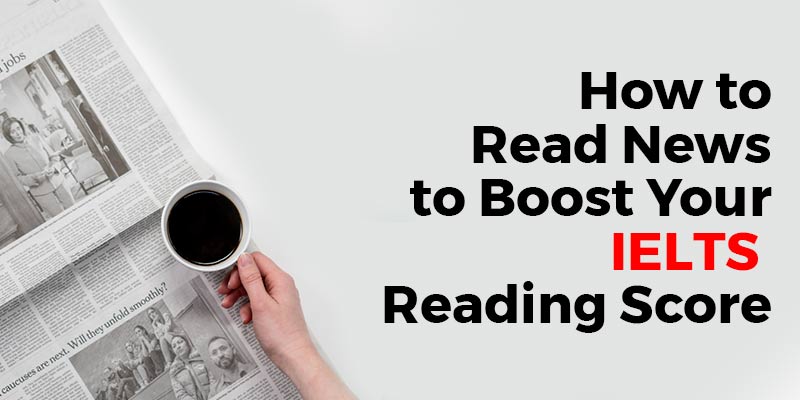 If you're a person who spends a good portion of your day reading newspapers, magazines, and other publications, then you should know how to increase your IELTS reading score. The reason you need to know how to do this is that, if you don't know how to read the news, you will be at a disadvantage when it comes to taking the test. It's a very smart move to invest some time every day into learning how to read the news and other courses that will help you do that. To learn how to do that, though, you have to make sure you have a good grasp of the English language. Otherwise, you'll be wasting your time.
One method that you can use to help yourself learn how to read the news is to choose three or four news stories that interest you and then read each of them in roughly 20 minutes apiece. For instance, if you're focusing on the stock market, you can choose the top stories from the New York Stock Exchange, the Wall Street Journal, and various other publications. Then, you simply repeat these topics each day for a month. If you're focusing on international news, you might want to read a few different sources from around the world so that you can gain an additional understanding of the current events in the areas where you live. When you're done, you should have a fairly comprehensive understanding of the day's events.
This isn't the best approach if you're trying to get IELTS reading scores. Since you're reading about current events, you want to make sure that you understand how to read the news properly. For example, if you don't understand how to understand sarcasm when reading about the stock market, you can't apply it to the news properly and expect your IELTS to result in a great score. Therefore, you need to learn to recognize the different kinds of sarcasm when you're reading any type of news media.
You can also apply this method when learning about specific news. For instance, if you're interested in learning about the political scene in your country, you can read about specific news reports and determine how they make you feel. However, if you read about specific things, you'll need to determine how those things will affect your life. For example, if a certain event happens abroad, you might be afraid that your government might do something drastic to protect its citizens. You should be able to draw a clear line between what you want to happen and how you feel about the events that are taking place.
If you're interested in trying to increase your IELTS reading score, you can also read news using a variety of methods. For example, you can read news articles online or you can sign up for subscriptions to news websites. You can also read news and business magazines, which usually contain some basic information but at the end they include a lot of very detailed information. In fact, even news channels on television often have segments where they read the news from different countries.
Once you get comfortable with learning the basics of news and reading other people's text messages, you can start planning how to increase your IELTS reading score by finding ways to actually memorize material that you've read. The good news is that there are many different ways to learn how to remember material that you've read. Some of the most basic memorization tricks are things like making lists of words or phrases, taking short paragraphs and chunks of text, and breaking down long sentences into several shorter ones. Once you know how to make a list of terms or phrases, you can start building a vocabulary that you'll be able to use when you're speaking. Do you need to improve your IELTS score? FITA Academy has the best IELTS coaching in Chennai. They are a reputed and experienced center with over 10 years of experience teaching students how to obtain high scores in IELTS.
Of course, learning how to increase your IELTS reading score by reading the news has a lot to do with being able to comprehend what's being said in the news. It's amazing how many people are simply unaware that the media release that they are reading was written by someone who doesn't speak English! That's not to say that they shouldn't be worried about what's being said, but it's not the best time to focus on what they don't understand. Instead, focus on what does sound reasonable. If you're trying to get a government report ready for your class, you'll want to make sure that you can read the release and understand it well enough to pass it. A final thought for those wanting to know how to increase your IELTS reading score by reading the news involves how much time you spend online. When people are frustrated with certain stories, they often look for news about the same story elsewhere, or they simply look elsewhere on the Internet. If you're a news junkie, you may want to check out stories from your local newspaper or other news channels on your laptop or tablet computer first. To have clarity over it you can opt for IELTS Online Classes or If you are in a Metropolitan city you can check the list of the top 10 IELTS Coaching Centre in Chennai. Once you've read several stories from different sources, you can compare them and decide which ones you prefer. Or, you may decide that you already know everything you need to know and move on to another method for increasing your IELTS reading score by reading the news.